I used to love flying when I was a kid; sometimes it was even more exciting than the actual trip itself. My favorite part was take-off and I didn't even flinch when there was a little (or lot) of turbulence – in fact, I actually thought it was fun. Humph, how times change. As I get older, my anxiety expands proportionately. I'm now paranoid about pretty much everything, flying being at the top of the never-ending list. I'm totally fine if the ride is smooth, but if there's even a hint of turbulence, I automatically think we're about to plummet to a gruesome death. I say a silent little prayer to let me live just one more day and then let out a big dramatic sigh of relief as the wheels touch the ground, and immediately laugh at myself for acting like such a baby.
My flight this past weekend followed a similar sequence of events, full of violent turbulence and know-I'm-going-to-die thoughts, followed by an immediate bout of relieved laughter when we landed. After all that stress, I decided that since I survived, I deserved to indulge a little and break my no pasta rule I've got going on for the wedding. I LOVE pasta, it's my biggest weakness when it comes to food, so as you can imagine it has been incredibly hard to give it up. But when your life flashes before your eyes, the diet flies out the window for a day and this girl gets to eat whatever she wants.
We start off with LOTS of roasted garlic.
Can we talk about roasted garlic for a second? It's pretty much the equivalent of butter to me, but 100 times healthier and with MUCH more flavor. My absolute favorite way to have it is smothered on a crusty piece of baguette with a smear of goat cheese – heaven. I may even eat it by the spoonful like it's fro yo; err ok maybe not – kind of like how people eat peanut butter by the spoonful, yeah kind of like that, except better.
Roasting garlic at home is one of the simplest flavor weapons you can have in your back pocket and it will make you house smell DIVINE – as long as you love the smell of roasting garlic, which you should.
Cut off the top of the garlic head, drizzle olive oil in all the creaks and crevices of each and every clove, season with salt and pepper, wrap up in foil and bake away. What results is pretty much liquid gold, except it's more of a paste, but pasty gold just doesn't sound right… If you're using the roasted garlic as a spread, you can squeeze it all out, but if you're using it in this pasta, try to keep the cloves whole.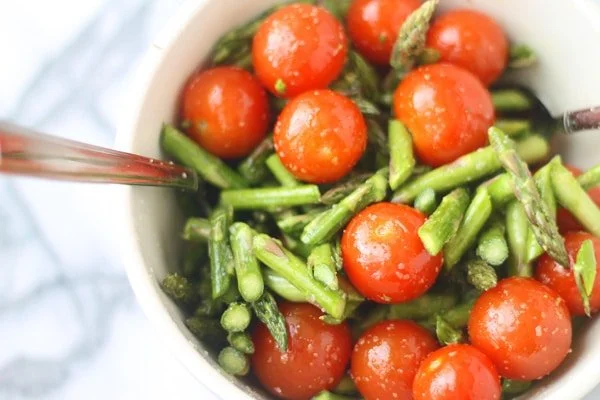 Next up, roasted cherry tomatoes and roasted asparagus. As you can see we've kind of got a roasting theme going on here, rightfully so, since tomatoes aren't quite up to par yet. It just makes everything taste better from veggies to fish – when in doubt, roast.
And the sauce? A non-sauce made with only olive oil and smashed garlic – not every pasta has to be drowned in a bath of heavy red sauce or heart clogging cream sauce – sometimes simple (and healthy) is best. If you have garlic infused olive oil on hand, you can definitely use it instead, I didn't since I have a thing for infusing my own oil, but take the shortcut if you please, I won't judge.
I chose angel hair pasta for this particular dish, I love the thin strands of pasta and if I'm being totally honest with you, the tiny size of the pasta kind of makes me feel like I'm eating less carbs than rigatoni or penne, even though I'm totally not.
Everything is tossed together, seasoned with salt and pepper and topped off with shaved parmesan cheese.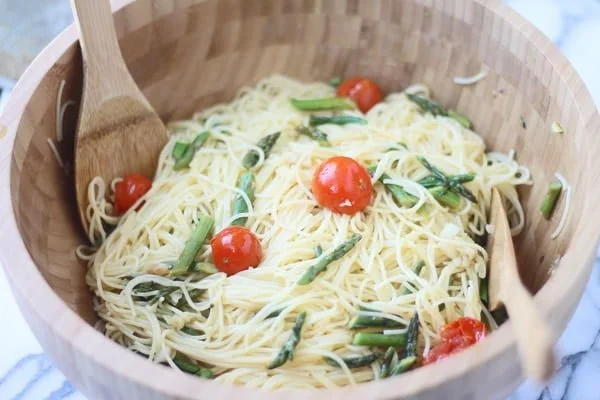 Simplicity at its finest.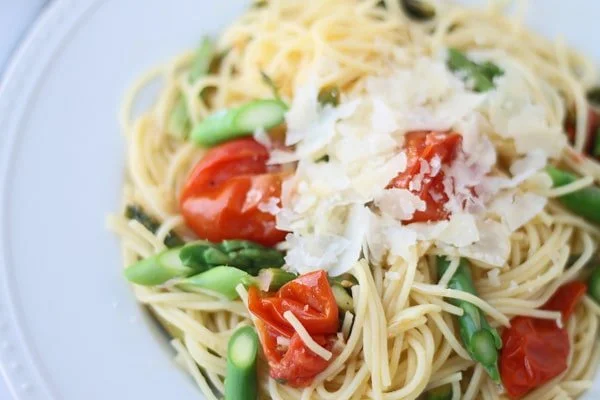 Spring Pasta: Angel Hair with Roasted Garlic, Cherry Tomatoes & Asparagus
Author:
Nicole-Cooking for Keeps
Ingredients
3 small or 2 large heads of garlic
4 cups chopped asparagus
1 pound + 4 ounces cherry tomatoes
1 ½ tablespoons olive oil
1 teaspoon salt
¼ teaspoon pepper
½ teaspoon garlic powder
¼ cup olive oil +4 garlic cloves, smashed OR ¼ cup garlic infused olive oil
14 ounces angel hair pasta
½ teaspoon salt
⅛ teaspoon pepper
shaved parmesan cheese
Instructions
Preheat oven to 350 degrees. Cut off the tops of the garlic heads. Cut a large sheet of foil and place garlic in the middle. Drizzle the tops with a liberal dousing of olive oil. Season with a little salt and pepper. Bring sides of foil up and enclose garlic so no air can escape. Roast garlic until soft, about 35-40 minutes. Can be roasted up to three days in advance.
In a large bowl, toss asparagus, tomatoes, olive oil, salt, pepper, and garlic powder. Pour onto a rimmed baking sheet. When the garlic has 25 minutes left in the oven, add the asparagus and tomatoes. Bake for 20-25 minutes until tomatoes start to burst.
In a small saucepan combine garlic and olive oil. Turn the stove on to a low heat, cook for 15 minutes, and make sure the heat is low enough; you do not want the garlic to brown.
Cook pasta in a large stockpot, filled with water seasoned liberally with salt.
Transfer pasta (do not rinse) to a large serving dish. Add roasted garlic, asparagus, tomatoes, and infused olive oil. Toss together. Add ½ teaspoon salt and ⅛ teaspoon pepper. Toss until incorporated. Season to taste with more salt and pepper if necessary. Serve with lots of shaved parmesan cheese.