The heat is off.
The windows are open.
The grass is green.
Tulips are EVERYWHERE.
You know what that means??
Snow is right around the corner.
Just kidding. Sort of.
With Kansas you never know, as it's not completely uncommon to see the white stuff blanket streets and freshly bloomed tulips in May, but this year, I'm going to err on the side of optimism and say officially it's spring….for good.
Thank the lord.
Just as the brown bushes and branches metamorphosis into lush, vibrant colors this time of year, most of my meals mimic the same movements – hearty red sauces transform into light, olive oil based sauces with plenty of green veggies. Dull, but comforting beef stew is swapped out for airy, pureed veggie-based soups. Bright asparagus is roasted in lieu of butternut squash. And my favorite meat-heavy, red-sauced pizza is briefly pushed aside for flatbreads and pizza that get a spring facelift with a slew of fresh spring vegetables.
I wasn't sure whether to call these carb-y bites of spring a flatbread or pizza, because while it is shaped like a pizza, the homemade whole-wheat crust doesn't have any yeast in it, making the texture in between a crispy pizza crust without the chew, and a naan flatbread without the soft exterior.
The recipe is actually one I swapped and adapted from this copy cat Imo's pizza I made a few years ago. Only a few ingredients make up the composition of the dough, and a quick knead brings it together in less five minutes. I let it rest for about five minutes, but anything longer than that isn't necessary.
Now, the topping. Herbed ricotta. I've been going through this stuff faster than my husband pummels through a bag of potato chips or peanut butter stuffed pretzels (embarrassingly fast). It's seriously simple to put together, and one of the most versatile spreads in my repertoire to date. It's perfect stuffed in raviolis, dolloped on salads and even just served simply with a little bit of charred ciabatta bread (my personal favorite way to eat it) for a super easy precursor to a meal. You can really use any combination of herbs you prefer, but here I used chopped basil, dill and parsley. I grated in a couple cloves of garlic, seasoned it with salt and pepper, gave it a quick stir and done.
Once you're ready to cook up your flatbreads, the dough is divided into two balls, rolled out to the size of your skillet (I use a 12 inch cast-iron skillet), and then thrown into the pan (along with a little olive oil) over a pretty high heat. You'll immediately see the dough start to bubble and crisp up on the sides, after a few minutes peek a little bit underneath and when you see the bottom is golden brown and super crispy, flip and slather the cooked side with the herbed ricotta.
I happened to find zucchini, asparagus and corn all on sale so that's what I used for the topping, but again, you can use whatever is available at your market. Because the veggies need a little bit of moisture, I drizzled everything with a little bit of olive, seasoned it with salt and pepper, grated a little bit of parmesan cheese over the top and then popped it into a 550 degree oven to finish cooking the crust and char the veggies up a little bit.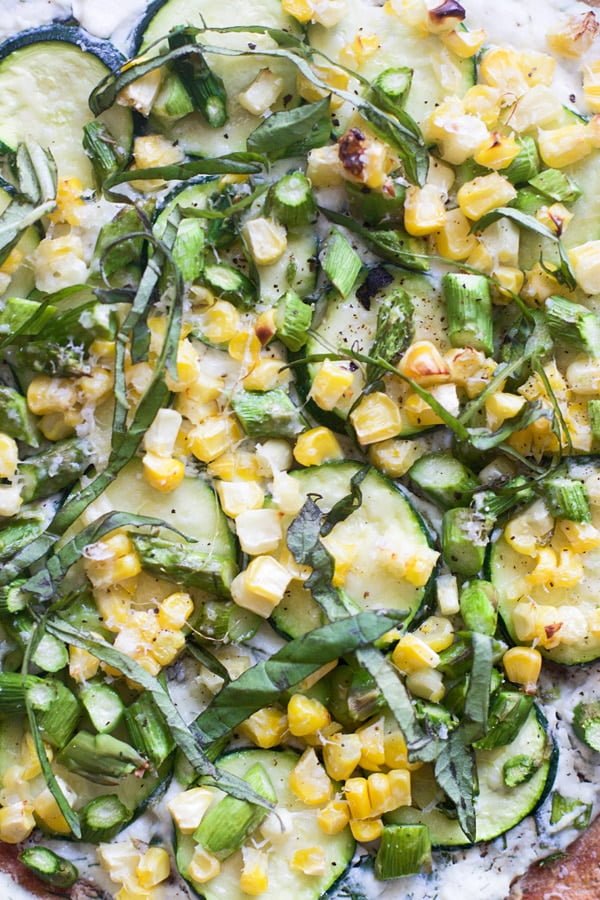 A final dusting of grated parmesan cheese is sprinkled over the hot flatbreads before they're divided and conquered…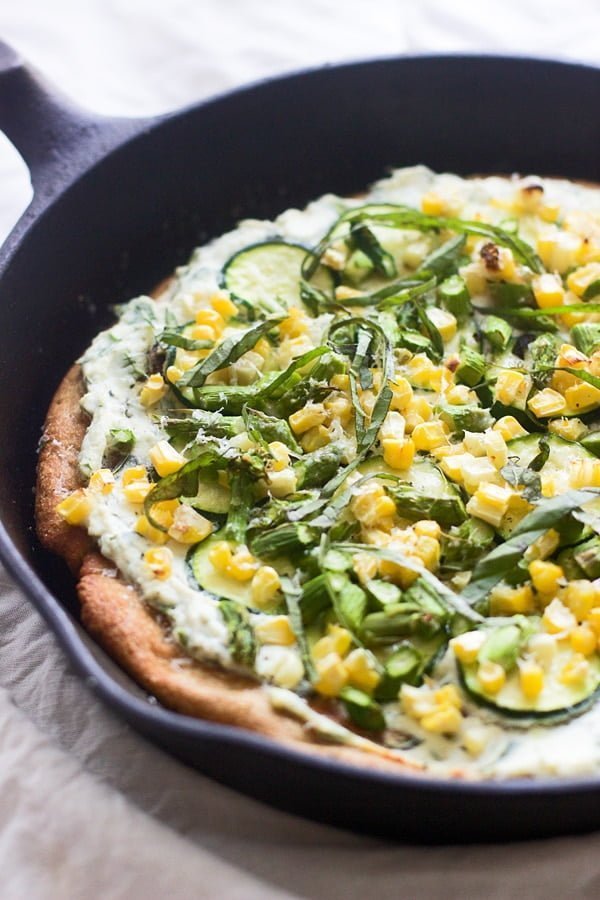 Spring Skillet Flatbreads with Herbed Ricotta and Homemade Whole-Wheat Crust
These spring flatbreads have a yeast-less whole-wheat crust that make them come together in under 40 minutes from start to finish!
Serves:
makes 2 10-12-inch flatbreads
Ingredients
Crust
2 cups + 2 tablespoons white whole-wheat flour
2 teaspoons salt
1 teaspoon baking powder
2 teaspoons olive oil
2 teaspoons dark molasses
½ cup + 2 tablespoons of water (maybe more depending on the moisture level)
Remaining ingredients
1 pound whole-milk ricotta cheese
3 tablespoons chopped fresh basil, (plus more for garnish)
1 tablespoons chopped fresh dill
2 green onions, chopped
1 tablespoons flat-leaf parsley, chopped
¾ teaspoon salt
¼ teaspoon black pepper
2 garlic cloves, grated
2 small zucchinis, very thinly sliced
2 ears of corn, cut from the cob
1½ cups chopped asparagus
4 teaspoons olive oil
¼ cup parmesan cheese, plus more for sprinkling
Instructions
Preheat oven to 550 degrees.
In a bowl whisk together flour, salt and baking powder.
In a measuring cup, mix together olive oil, molasses, and water. Add to dry ingredients. Using a wooden spoon, mix until a dough comes together. If the dough is still very dry, add a few more tablespoons of water until it comes together. Transfer to a lightly floured board and knead just until the dough comes together and is smooth. Divide into two balls. Set aside for five minutes.
In another small bowl, combine ricotta, basil, dill, green onion, parsley, salt, pepper and garlic. Season to taste with salt and pepper.
Roll each ball of dough out to the size of two 10 or 12-inch cast-iron skillets or non-stick pans.
Heat your pans to a medium-high heat. Add one teaspoon of olive oil to each pan. Swirl to coat. Add dough to pan, let bubble and crisp up on the sides. Peek underneath and once the dough is golden brown and crispy, flip.
Spread half of the ricotta mixture on to each flatbread. Layer half zucchini on top, and then sprinkle with asparagus and corn.
Drizzle top with one teaspoon each of olive oil. Season veggies with a little bit of salt and pepper.
Sprinkle each flatbread with ⅛ cup of parmesan cheese.
Pop into the oven and cook until veggies are cooked, but still toothsome to the bite and slightly charred, about 10-15 minutes.
Garnish with more grated parmesan cheese and chopped basil.