Sun-Dried Tomato and Chicken Lasagna Roll Ups with Pesto Cream are every bit as rich and delicious as they sound. They're the perfect dish to serve a crowd, and trust me, the crowd will be impressed!
I've eaten plain Greek yogurt for the last five breakfasts I've had, slurped a smoothie for at least four of my last seven lunches and showed an indescribable amount of restraint when it comes to those late-night sugar cravings I've found myself in the midst of at 10pm.
So, like any sane person, I decided to reward myself with something ridiculously indulgent. After a lengthy internal debate deciding on my poison of choice, I settled on pasta as I often do, and then finally, on these Sun-Dried Tomato and Chicken Lasagna Roll Ups, a recipe idea I've had jotted down in my journal for well over a year, but one I've been putting aside until I lost all those lingering baby pounds.
I've never been a huge lasagna fan, simply because creamy-based sauces have my heart, and I love the ritual of twirling long spaghetti-like noodles on to my fork, but if you take some of my favorite flavors, and THEN stuff it in a lasagna noodle, well, then lasagna is my new favorite pasta dish.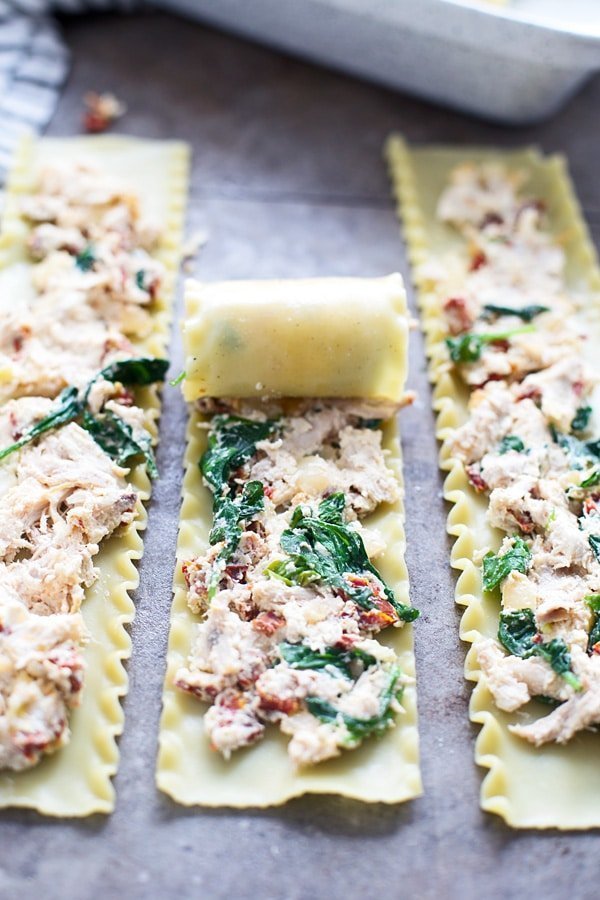 The filling is sort of a riff on this sun-dried tomato pasta I made a while back, which is full of sautéed onion, garlic, sweet sun-dried tomatoes, spinach, goat cheese and cream. In this version, I swapped out the cream and goat cheese for homemade whipped ricotta, and added in a handful of nutty parmesan for a sharp, salty flavor which I adore.
Using homemade ricotta is obviously an extra step, but I personally, have not been able to find a ricotta brand that is as tasty as my version, and I always have whole milk and cream in my fridge, so it's also more cost-effective for me to make my own anyways. If you don't have the energy to make your own, or just don't want to, you can definitely buy store-bought, just make sure it's whole milk and a brand you trust.
While the filling cools, the sauce is whipped up in the same pan the filling was cooked in, and with only three ingredients – heavy cream, parmesan and pesto – it comes together super quickly and easily.
Once all the components are ready to go, the lasagna sheets are smothered with filling, rolled up, nestled into a pan, covered in sauce, sprinkled with cheese and popped in to the oven to bake.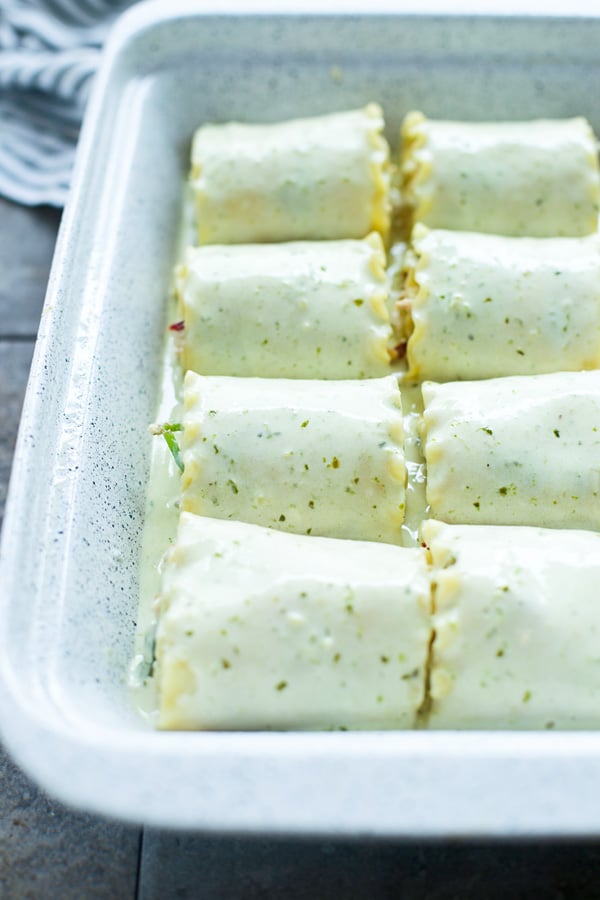 While this isn't a whip-it-up-on-a-weeknight kind of dish, because as most lasagna recipes do, this takes a bit of time, I promise, it won't leave you handcuffed to the stove for an entire day. If you time it right, it should take about an hour and half to make this from beginning to end, although someone who isn't super familiar with cooking may take a bit longer. The key is to multitask, so while the noodles cook, make the filling. While the filling cools, make the sauce. While the sauce thickens, stuff the noodles. It's all about efficiency, because when something is this good, you want it to be on the table in as little time as possible.
Happy Friday all!
Sun-Dried Tomato and Chicken Lasagna Roll Ups with Pesto Cream
Author:
Nicole ~ Cooking for Keeps
Ingredients
8 lasagna sheets
1 tsp. olive oil
1 cup diced onion
½ tsp. salt
2 large garlic cloves, minced
5 oz. sun-dried tomatoes, chopped (about 1 cup)
½ cup sweet vermouth
2 cups shredded rotisserie chicken
3 cups baby spinach
1 cuphomemadeor good-quality whole milk ricotta
1 cup parmesan cheese, divided
1½ cups heavy cream
½ cup pesto (store-bought is fine)
2 cups shredded mozzarella
Instructions
Preheat oven to 350 degrees. Grease a 9x12 baking dish with non-stick cooking spray. Fill a large stock pot with water. Bring to a boil and season with salt.
Cook pasta noodles until aldente (Usually about 1 minute less than package says). Make sure to separate noodles after you put them in the boiling water, so they don't stick, I use tongs. Use tongs to remove noodles and lay on a baking sheet to cool. Make sure the noodles aren't touching, so they don't stick.
While the noodles cook. Heat a large saute pan to a medium heat. Add olive oil and onion. Saute until onion is slightly softened, about 3 minutes. Add garlic and ¼ teaspoon salt. Saute another 1-2 minutes until garlic is softened and fragrant. Add sun-dried tomatoes. Cook another minute and then add sweet vermouth. Simmer until reduced by half. Add chicken and spinach. Toss until spinach has wilted. Remove from heat, transfer to a bowl and let cool. Wipe pan clean.
While the mixture cools, add cream to the same saute pan. Heat to a simmer and add ½ parmesan cheese. Whisk until smooth and the cheese has melted. Turn the heat off and whisk in pesto.
Add ricotta, ½ cup of parmesan and remaining salt to the filling. Stir to combine. Season to taste with salt and pepper.
Evenly divide the filling between each lasagna sheet. Use a spoon or knife to spread the filling across the entire pasta sheet. Roll the sheets up and place seam-side down in pan.
Pour the sauce over the rolls. Cover with mozzarella.
Bake in the oven until the cheese has melted and the sauce is bubbly, about 25 minutes.