If chicken dinners all looked and tasted like Creamy Chicken with Olives and Sun-Dried Tomatoes, we'd eat chicken every single day of the week! Seared chicken breasts are simmered with caramelized onions, sun-dried tomatoes and salty olives in a luxurious white wine cream sauce. 30 minutes from start to finish.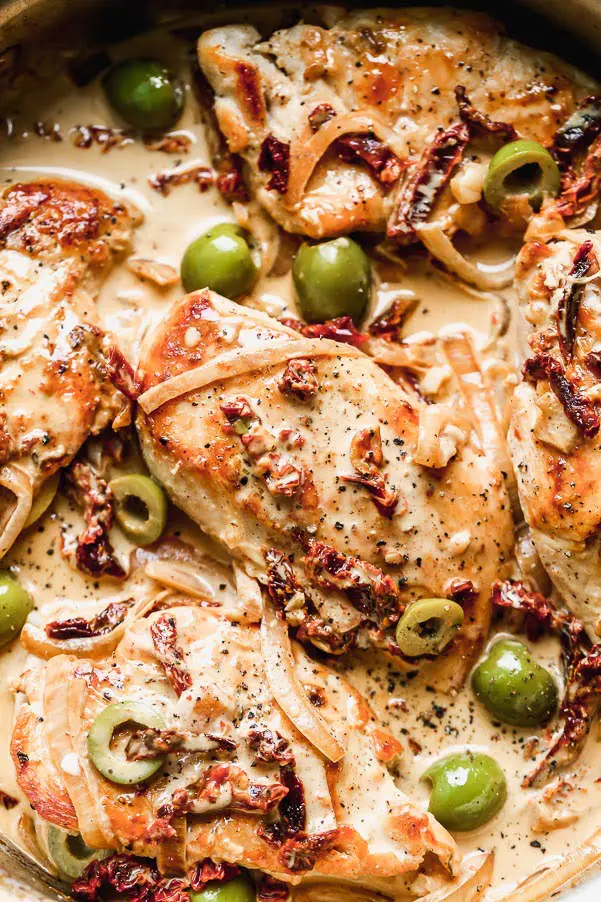 Creamy Chicken with Olives and Sun-Dried Tomatoes
When someone divulges their weekly dinner menu and reveals to me they eat chicken and veggies for dinner pretty much every night of the week, I think to myself, "Why?" Especially when you can eat things like Creamy French Onion Pasta and Chicken Pot Pie.
But then I wonder if they're eating anything resembling today's Creamy Chicken with Olives, and I give them the benefit of the doubt. Because IF this is what they're eating, then sign me up for chicken and veggies every night for the rest of eternity.
(I'd also be perfectly happy with Cheesy French Onion Chicken or Spinach and Feta Stuffed Chicken.
This creamy, completely irresistible chicken dinner is salty, sweet, savory, briny, and full of so many good things.
Good things including caramelized onions bathed in garlic and white wine. Tender, sweet sun-dried tomatoes drenched in cream sauce. And salty, briny olives scattered all around. Oh, and there's perfectly seared and seasoned chicken breasts in there as well.
Chicken with Olive and Tomatoes – the perfect combo.
Creamy Chicken with Olives and Tomatoes isn't something you might naturally gravitate towards when thinking of the perfect combination of ingredients. But let me assure you, the slightly eccentric pairing of olives, sun-dried tomatoes and caramelized onions is a true hero in the flavor department.
It also helps that all of the friendly ingredients are simmered in a creamy white wine sauce spiked with a squeeze of fresh lemon juice – always a good thing.
I would normally advise you to serve this with a big bowl of pasta or creamy orzo but you're probably going to want to drench each bite of chicken in as much sauce as possible. (Although I won't judge if you serve it over a big scoop of some of our favorite mashed potatoes.)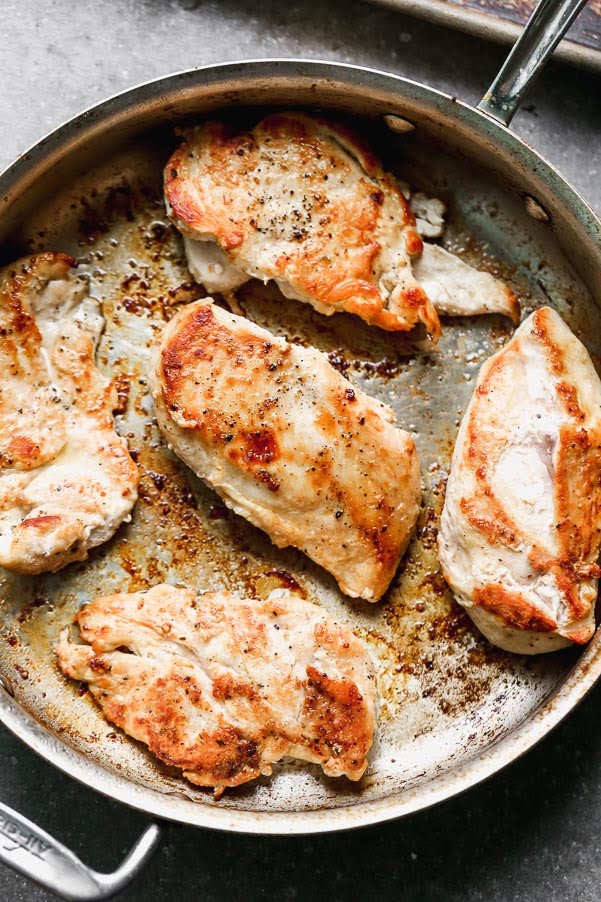 Ingredients in Creamy Chicken with Olives
Butter and olive oil. I find the combination of olive oil and butter is best for searing chicken breasts. The butter gives the chicken plenty of flavor, while the oil aids in keeping the chicken brown instead of burning.
I also use a little bit more butter to cook the onions later on.
Chicken. If you like a heartier dinner, I'd suggest using chicken breasts on the larger side. But if you like smaller portions, like I do, try using six smaller chicken breasts. Or three large chicken breasts and cut them down the middle horizontally so you end up with six small breasts.
Onions and garlic. Normally I use the onions and garlic as a base for flavor, but here I actually partially caramelize them so they're more of a star ingredient opposed to a background singer.
White wine. A little dry white wine adds so much flavor to cream-based sauces and it's a great way to deglaze the pan after the chicken cooks. You want all those little bits and pieces stuck on the bottom of the pan to flavor the sauce later on.
Lemon juice. Not only do I love the flavor of lemon in my cream sauces, especially in Chicken with Olives, but it helps to cut the richness of the cream just a little bit.
Cream. Glorious, heavy cream. There is really nothing else that makes a more velvety, rich sauce. I love how it naturally thickens up after simmering, and of course, I love the richness it gives to a blank canvas like chicken.
Sun-dried tomatoes. If you haven't used sun-dried tomatoes before in your pasta or chicken recipes, you need to start now. They add a lovely sweetness, and I adore the chewy texture they add to dishes. Here, the sweetness of the tomatoes nestled up next to the sweetness of the caramelized onions makes for the perfect duo.
For this particular recipe, I don't like to use sun-dried tomatoes packed in olive oil. Since we already use olive oil and butter for cooking the chicken, I don't want to add any more fat. You can find sun-dried tomatoes packaged in bags like these
, typically in the produce section.
Olives. I wanted an olive that was briny, but not overly salty. These Mezzetta Italian Castelvetrano Green Olives
fit the bill. They're buttery, and so delicious. Aside from complementing the cream sauce and caramelized onions perfectly in Chicken with Olives, these guys are also perfect for cheeseboards or just for snacking.
How to make Chicken with Olives
Sear the chicken. Season the chicken very well with salt and just a touch of pepper. (This is just a personal preference, if you like a lot of pepper, then by all means, add more.) Add a little bit of butter and olive oil to a large skillet set over a medium heat. Once the skillet is hot and the butter has melted, add the chicken.
Sear on both sides until super brown. It should take about 3-4 minutes per side. Remove the chicken from the pan and set aside on a large plate or platter.
Caramelize the onions. Add the rest of the butter, the onions, and a little bit of salt to the same pan. Cook the onions over a medium heat until they start to soften, 1-2 minutes. Lower the heat to medium-low and continue to cook until the onions are soft and slightly caramelized, another 3-4 minutes. Add garlic. Cook another minute.
Make the sauce. Pour in the white wine. Use a wooden spoon to scrape up all the brown bits from the chicken and onions – this is pure gold!
Stir in cream and lemon juice. Bring the sauce up to a boil and then reduce it to a simmer. Add the chicken (along with all those delicious juices accumulated on the plate) back to the pan with the sauce.
Stir in the tomatoes and olives. Add in the sun-dried tomatoes and the olives. Give the skillet a shake and continue to simmer until the sauce is thick and the chicken breasts are cooked all the way through, about 4-5 minutes.
Can this be made in advance?
Yes! I actually made this all on a Tuesday, let it cool completely and then reheated it on Wednesday night. The important thing to remember is to not overcook the chicken. As we all know, chicken, especially chicken breast, has a tendency to get incredibly dry if it cooks too long, Even slightly undercooking the chicken would be a good idea.
Reheat everything over a medium-low heat until the chicken reaches 165-degrees on a meat thermometer. If needed, add a little bit of chicken stock to loosen the sauce up.
What are Italian Castelvetrano Olives?
Unlike a traditional Spanish olives, these guys are from Sicily, Italy. They're beautifully green, have a buttery taste, with a little bit less salt than a traditional olive. I'm obsessed.
If you can't find them or don't want to shell out the $5-$6 per jar, don't fret, just grab some good-quality Spanish olives from your grocery store's olive bar. (But they're totally worth the price!)
Substitutions and Tips and Tricks for Recipe Success
Be sure to season the chicken with plenty of salt. Chicken needs that extra kick of seasoning!
Use a wooden spoon to scrape up ALL of those little brown bits at the bottom of the pan. They are a key contributing factor in what makes Chicken with olives so delicious!
I wouldn't recommend subbing out half and half or anything for the cream. Since we add lemon juice to the chicken with olives, you run the risk of curdling any type of dairy aside from cream. Stick with it. 🙂

Creamy Chicken with Olives and Sun-Dried Tomatoes
Creamy chicken with olives and sun-dried tomatoes isn't your average chicken dinner. Seared chicken breasts are simmered with caramelized onions, sun-dried tomatoes and salty olives in a luxurious white wine cream sauce.
Ingredients
1

tbsp

olive oil

1

tbsp +2 tsp

unsalted butter

6

small

chicken breasts or three large breasts split in half lengthwise

1/2

medium

onion, sliced

1/4

tsp

kosher salt

1

large

garlic clove, minced

1/2

cup

dry white wine

3/4

cup

heavy cream

1

tbsp

lemon juice

1/2

cup

sliced sun-dried tomatoes

1/2

cup

green manzanilla olives
Instructions
Season chicken breasts liberally with salt and a little bit of freshly cracked black pepper.

Heat a large skillet to a medium heat. Once the pan is hot, add 1 tablespoon each of butter and olive oil. When the butter melts, swirl the pan to combine the two. Add the chicken breasts, sear until golden brown and crusty on both sides, about 3-4 minutes side. Remove from the pan and set aside.

Add remaining two teaspoons butter to the skillet. Once the butter melts, swirl the pan to coat. Add onions and 1/4 teaspoon salt. Toss onions. Cook onions for 1-2 minutes until slightly softened and then turn the heat down to medium-low. Continue to cook onions until soft and caramelized, another 5-6 minutes. Add the garlic and cook for 1-2 minutes until slightly softened.

Pour in wine. Use a wooden spoon to scrape up all the brown bits on the bottom of the pan. Bring wine to a simmer and cook until reduced by half, about 1-2 minutes. Add in cream and lemon juice. Bring to a boil and reduce to a simmer. Add chicken back in along with sun-dried tomatoes and olives. Simmer until the chicken is cooked through and the sauce is thick, about 3-4 minutes.

Season to taste with salt and pepper.
Nutrition Information
Serving:
1
serving
,
Calories:
459
kcal
(23%)
,
Carbohydrates:
8
g
(3%)
,
Protein:
50
g
(100%)
,
Fat:
23
g
(35%)
,
Saturated Fat:
10
g
(63%)
,
Cholesterol:
191
mg
(64%)
,
Sodium:
570
mg
(25%)
,
Potassium:
1200
mg
(34%)
,
Fiber:
2
g
(8%)
,
Sugar:
4
g
(4%)
,
Vitamin A:
691
IU
(14%)
,
Vitamin C:
8
mg
(10%)
,
Calcium:
50
mg
(5%)
,
Iron:
2
mg
(11%)