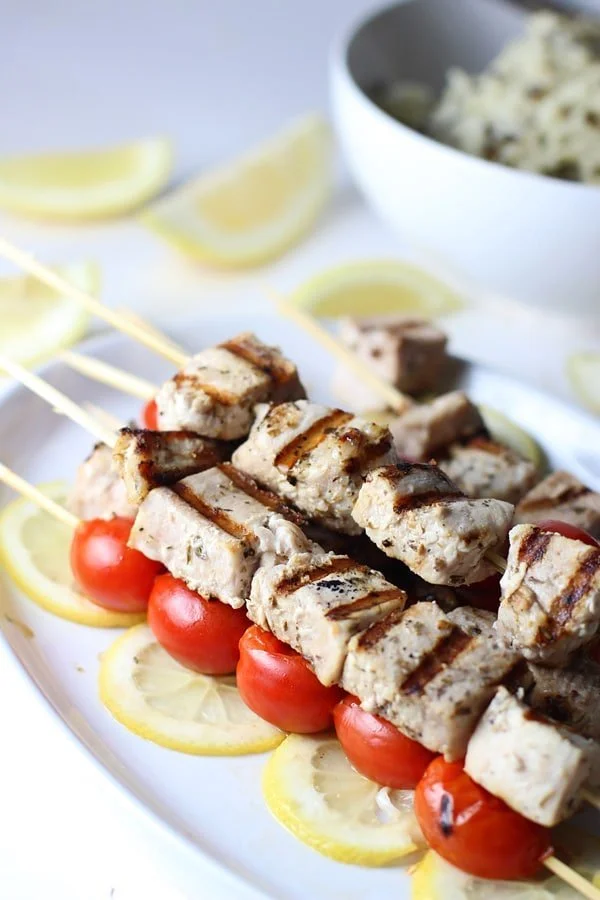 Going through the 757 pictures of our trip is truly wonderful and is soliciting all kinds of nostalgic memories already. I can taste the food again. Hear the quiet stillness the morning brought. Smell the briny ocean water. Feel the warmth of the sun on my face.
All good things.
But they're also bad things.
Bad because I'm here and not there. Bad because each picture reminds me how relaxed and carefree I was for ten whole days. Bad because I want to go back.
Unfortunately my finite vacation funds, future renovation plans, and adult responsibilities in the next couple years do not allow for a Greece trip as often as I would like, so the only way I'm going to be able to go to Greece from now on, is to bring Greece to me. Of course that's in the form of food, so while this is my last official post about my time there (along with another, more detailed guide to come later), Greek food is going to be something that comes around pretty frequently here. I've filled my food journal with pages of plans, some including lobster spaghetti (below), which was perhaps, the best meal of the entire trip as well as the best lobster I've ever had in my life; this seriously decadent moussaka, a traditional Greek meat and eggplant casserole (also below); among a million other dishes.
Simplicity and fresh ingredients are key in Mediterranean cooking. There's nothing overly fussy about Greek food, but everything tastes as if there is. Of course being so close to a body of water, there's an abundance of seafood everywhere you go, below is one of the many fish markets that we discovered. This particular one was in Mykonos; all the fisherman would bring their catch in from the sea, weigh them here and sell them to restaurant owners or seafood distributions where they'd be packed up and sent to directly to the restaurant.
Every morning we had breakfast at an adorable little restaurant right in front of the fish market and a little Farmer's market (below), where we'd watch the daily routine take place. Once the seafood was purchased they'd head over to the makeshift market just steps away and pick up fresh tomatoes, squash blossoms, eggplant and fresh herbs. It was almost like watching a scene straight out of a movie, a movie I could have sat and watched over and over and over again.
While in Santorini we had heard about a restaurant rumored to have the freshest seafood on the island, and was told it was somewhere we absolutely could not miss – and of course I always do as I'm told. The item to order? The aforementioned lobster spaghetti.
The setup of the restaurant just proves how fresh the seafood was, when you sit down, the owner of the restaurant comes over and guides you back to the kitchen where the fresh catch of the day literally stares you down from the case in front of the kitchen. They explain each fish, and how much it costs (everything is per kilo), you pick what you want, and then you watch the grill master do his thing from your table. Pretty cool huh? I don't want to delve too far into right now, because I'm planning on sharing a whole post completely dedicated to recreating this lobster dish, but I will tell you, the rumors were true, it's not to be missed and was worth every bit of the 90 Euro per kilo price tag.
So while I'm tinkering around in the kitchen trying to expose the secret (they wouldn't reveal how they make it), I'm sharing a dish I do know the secret to, and that we loved. Just as lobster was, swordfish was on pretty much every menu we saw, and more times than not, that's what Kevin ordered. Most of the time it came simply grilled with just a bit of lemon, but I thought it would be nice to combine the simple grilled swordfish with another, super traditional Greek dish we loved – Souvlaki.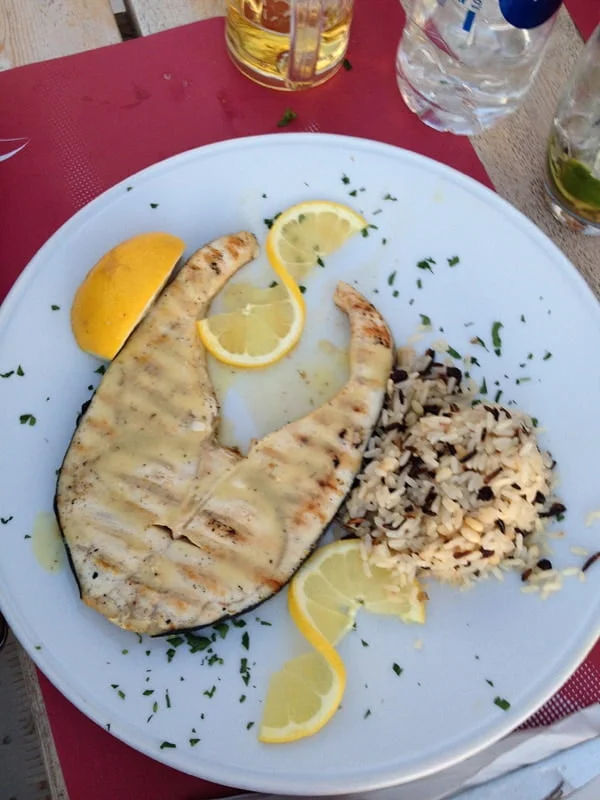 Souvlaki sounds so interesting, but all it really consists of, is grilled pieces of meat marinated in lemon, oregano, olive oil and garlic. The meat is threaded on to skewers, grilled and served with pita bread and tzatziki sauce. Typically Souvlaki is made with chicken or pork, but swordfish was actually on sale at the grocery store, so I thought it'd be perfect to take our favorite fish from Greece and turn it into my own version of Souvlaki. I cut the swordfish into 1-inch cubes and stayed traditional by tossing them in a quick marinade of lemon juice, oregano and olive oil and then let it sit for about a half hour. If you're using chicken, go ahead and marinate it overnight, the seafood can't hang out too long in the lemon, since the juice is an acid it will start to cook the fish, and you don't want to end up with ceviche instead of nice charred pieces of grilled fish.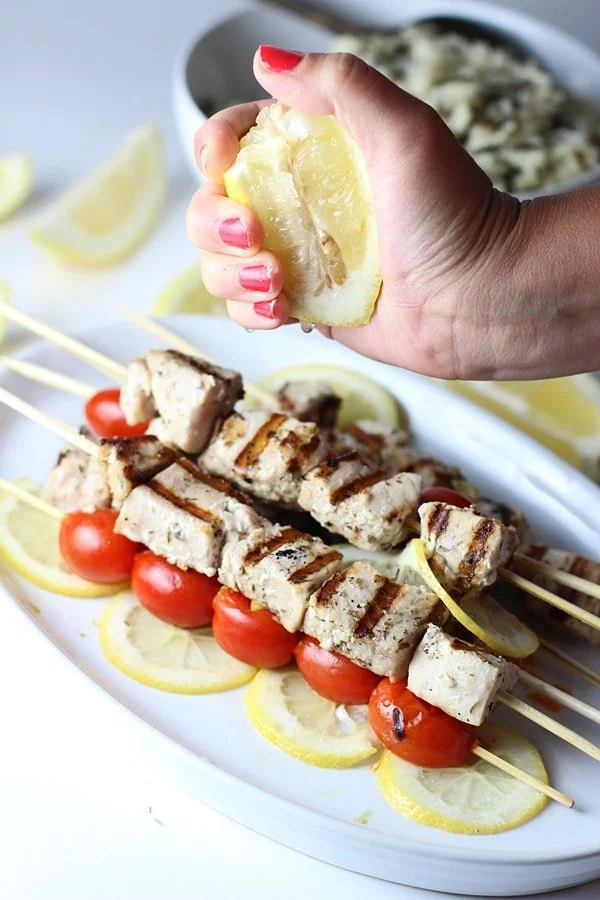 While the fish is grilling I made a quick lemon and garlic sauce to drizzle over the hot fish. I heated some olive oil in a small sauté pan to about a medium heat, threw in three cloves of minced garlic until the garlic was soft (but not brown!), removed it from the heat, and tossed in some lemon juice, salt and pepper.
Once the fish is done cooking, the sauce gets drizzle over the fish, and dinner is served! Easy peasy. I served it with some grilled skewered cherry tomatoes I had in the fridge and some wild rice (which was served with most meals over there), but they would also be great on their own with a little side salad or even served as an appetizer.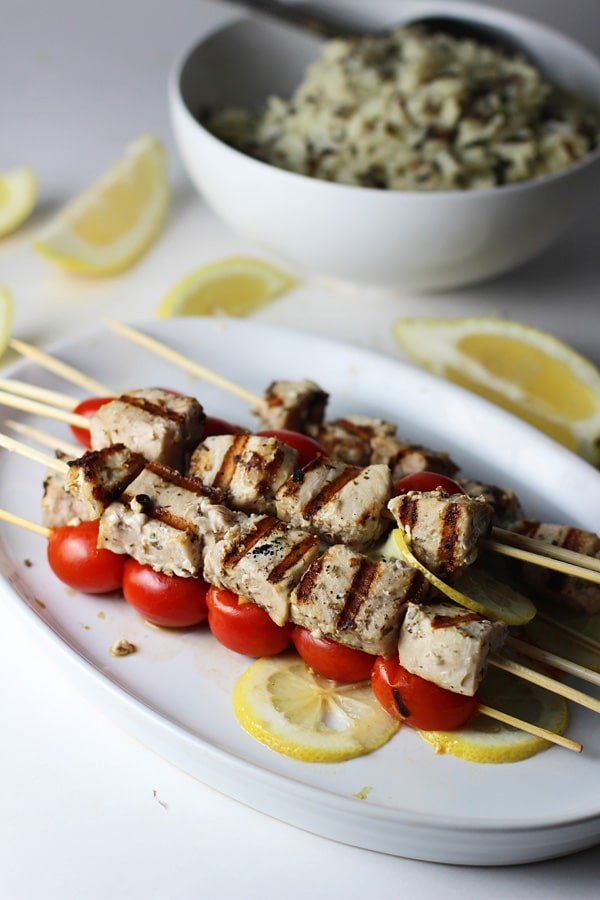 It's been so fun sharing my experience in Greece with you guys, but it's time to move on! Although as I said before, I'll still be cooking quite a bit of Greek food, sharing a full guide at a later date and sharing that lobster spaghetti once I perfect it – which could take years! Below is one last photo dump of some random pictures.
Happy Monday everyone!
The entrance to our adorable boutique hotel in Mykonos…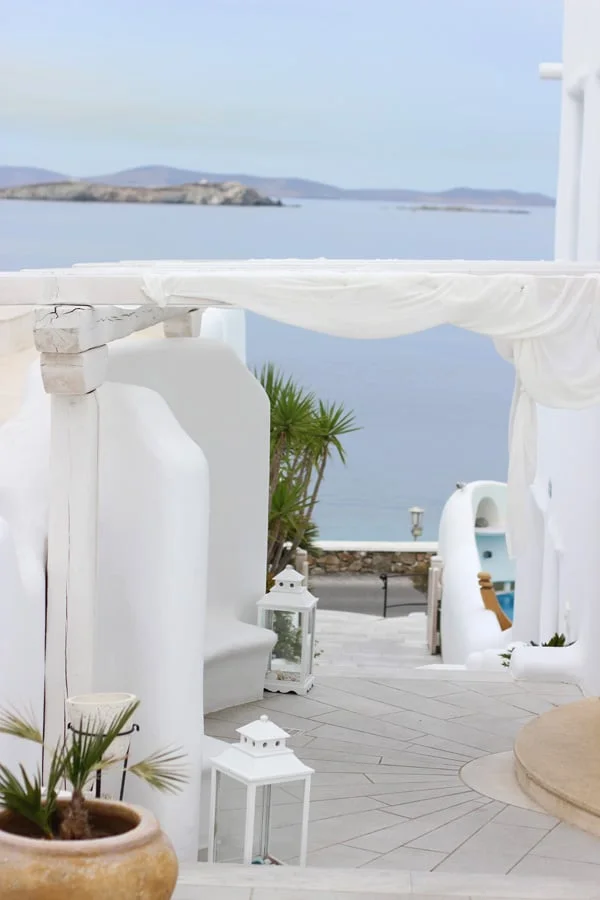 My favorite bakery in Mykonos with the BEST spanakopita I've ever had…
Some of the Greek pastries that made me gain five pounds…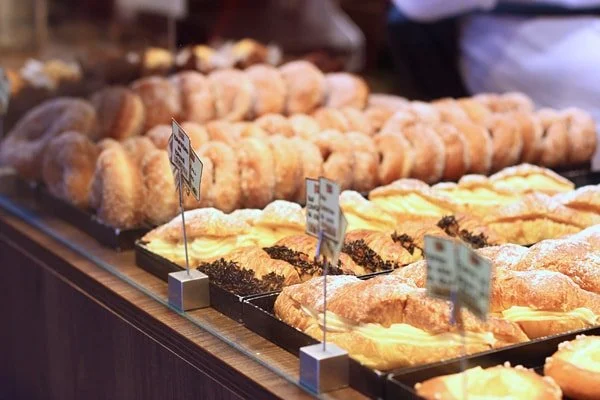 Oia, Santorini at night…
Swordfish Souvlaki (Lemon and Garlic Swordfish Skewers)
Ingredients
1 pound swordfish cut into 1 inch cubes
Juice of two lemons , divided
2 teaspoons oregano
3 tablespoons olive oil, divided
Salt
3 garlic cloves, minced
1 pint cherry tomatoes
Instructions
Heat the grill.
Toss swordfish with juice of one lemon, oregano and 1 tablespoon olive oil. Let sit for 20 minutes.
Skewer on to skewers (if wooden, soak for at least an hour before). Season with salt and pepper.
Skewer tomatoes onto skewers
Grill tomatoes and swordfish until charred and cooked through, about 2-3 minutes.
While the fish and tomatoes are grilling, make the sauce. Heat the olive oil over a medium heat, add garlic. Cook until fragrant and soft, about two minutes. Remove from heat and add lemon. Season with salt and pepper.
Once fish is done cooking, drizzle with lemon and garlic.
Serve with rice, pita bread and tzaziki sauce.