Every time I make a new lobster recipe, I immediately deem it the best dish I've ever made. Forget this blueberry butter cookie gelato, this thai butternut ramen or this mushrooms lasagna, because lobster trumps EVERYTHING. This wasn't always the case since I've only recently become a lobster aficionado, due to one life-changing dish of fresh-from-the-sea lobster spaghetti Kevin and I gorged on in a picturesque setting in Santorini almost exactly one year ago.
Previously I'd only had tired, unremarkable versions of lobster, all prepared haphazardly, and with a common denominator of dried-out, chewy meat. Maybe it was purely bad luck, or maybe I was ordering lobster at all the wrong places, but either way, I hadn't tried anything that could ultimately convert me from a crab lover to a lobster lover until that fateful day in May of last year. (I still adore crab as well.)
One of my girlfriends is currently on her honeymoon in Santorini and has (much to my excitement and jealously) sporadically updated us via Facebook on their adventures. So far I've been taunted by her stunning pictures of volcano views, blue-dipped, white-washed architecture, glasses of wine amongst tasty nibbles and….the one and only…lobster spaghetti.
I think shrill squeals were heard down the block when images of my beloved lobster spaghetti popped up on my screen over the weekend. Of course, the photos immediately conjured up feelings of nostalgia, which in turn sent me directly to the grocery store to pick up some lobster for dinner – I didn't even care that it wasn't on sale in the slightest.
Initially I had planned on whipping up this version of the lobster spaghetti I recreated last year, but I've also been thinking about coming up with my own version of a lobster roll for eons. The decision between the two was made easy when I realized I wasn't really feeling up to cooking an entire lobster this time around (or the attached price tag), and knew I could use just the tail meat for a perfect lobster roll, which happens to be my favorite part anyways.
For the two of us, I got 4, 4-ounce tails, and had the butcher split the top part of the shell down the middle and then cooked it up using my fool-proof method, guaranteed to yield perfectly succulent and tender meat every single time. First, I melt a touch of butter in a skillet and then add in a pretty liberal hand of garlic. The lobster gets thrown in, and once the shells start to pink, I take them off the heat and finish cutting them, so that they're split into two pieces. They then go flesh-side down in the pan to soak up all that garlicky butter flavor until the flesh is white and the shells are completely red.
At this point, the lobster is ready for whatever recipe you've got up your sleeve, but here, I took the meat out of the shell, chopped it into (large) bite-sized pieces and popped it into the fridge to chill before I lightly dressed it.
Now, of course, a lobster roll isn't complete with out the roll portion of the equations, and think the way I've done it here is pretty genius…Instead of using a plain hot dog bun or run-of-the-mill bread, I bought freshly baked, crispy hoagies, cut a V in the inside, cut off just a sliver of the outside, and then brushed the insides and outsides with extra garlic butter leftover from cooking the lobster. I sprinkled it all with a little bit of dried parsley, a little bit of salt and then popped them into the oven until they turned slightly golden brown.
Double-sided, garlic bread….hoagies. Good lord.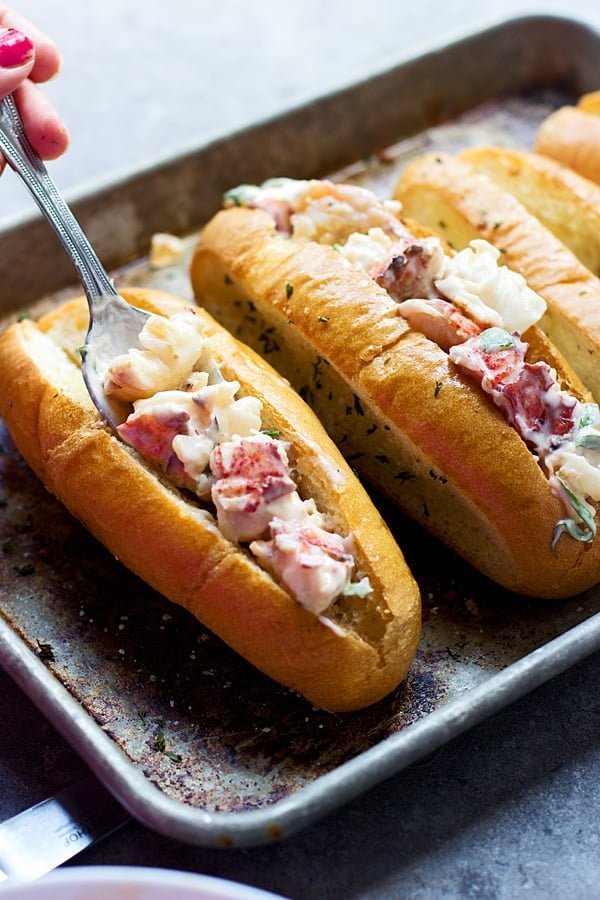 Like a crab cake, you really want the lobster meat to shine through here (especially when you pay an obscene amount of money for it), so simplicity is key. A touch of light mayo is tossed with the chilled lobster pieces, along with plenty of lemon juice and fresh tarragon. It's seasoned with a little bit of salt and pepper, and that's it. The meat is split evenly between each garlic bread rolls, sprinkled with a little bit more tarragon and lobster rolls are DONE.
While the ingredient list is humble, the flavors are anything but. The sweet, perfectly cooked lobster is front and center, but you can definitely pinpoint an essence of lemon and tarragon which I love. And the garlic bread hoagies?? Do I even need to convince you to make these??
If you're a lobster lover, I'm sure you're already hightailing it to the grocery store, and if you're not?? Maybe I can be the one to convert you???
Tarragon and Lemon Lobster Rolls with Garlic Bread Hoagies
Ingredients
2 8-ounce lobster tails, split down the middle
5 tablespoons of butter, divided
4 teaspoons garlic, minced
2 hoagie rolls
½ teaspoon dried parsley
2 tablespoons light mayo
3 teaspoons lemon juice
2 teaspoon chopped tarragon
¼ teaspoon salt
Instructions
Preheat oven to 350 degrees.
Cut a deep V into the middle of each hoagie roll and remove the center piece. Cut the outer edges of each hoagie off so you have a flat area exposed to butter.
Heat a medium skillet, to a medium heat. Add three tablespoons of butter and two teaspoons of garlic. Add lobster tails. Cook in the garlic butter until the tails are bright pink, as they cook spoon the garlic butter over the meat. Turn the tails to make sure each side gets cooked.
Turn the heat down to low and transfer the tails to a cutting board. Remove the meat from the shells. Chop into bite-sized pieces.
Add the meat back to the garlic butter and toss until coated.
Transfer the meat to a bowl and pop in the fridge to cool.
While the meat cools, add remaining butter and garlic to the skillet. Heat the garlic butter on low until the garlic is softened. Remove from heat.
Using a pastry brush, brush the butter on the inside and outside of each hoagie. Sprinkle inside out outside with dried parsley and season with plenty of salt (both on the inside out outside).
Place on baking sheet and bake for 8-10 minutes or until slightly crispy and just barely golden brown.
Once lobster has cooled, toss with mayo, lemon juice, tarragon and salt. Season to taste with salt and pepper.
Stuff lobster in rolls.
(Visited 11,474 times, 1 visits today)