This Butternut Squash Crostini is such a great fall appetizer! Crisp pieces of bread are slathered with a whipped butternut squash and ricotta mixture, topped with italian sausage and kale. Hearty and delicious!
For more easy crostini recipes, but sure to hop on over to our Tomato Basil Bruschetta, these 5-Ingredient Shishito Pepper and Whipped Ricotta Crostini, and these Roasted Grape and Ricotta Crostini. (I guess I have a thing for ricotta and bread, huh?)
Butternut Squash Crostini
When the weekend ends with bloody Mary's at 9am and ends with these Butternut Squash Crostini and a hearty roast chicken, it's a very good weekend.
These little crostini are the epitome of fall. Warm butternut squash and whipped ricotta is slathered on toasted chewy baguette slices, and then topped with a salty/savory combo of sweet Italian sausage and wilted kale.
It's basically fall on a piece of bread.
And I could not be more in love.
Now that it's officially fall, I'm diving head first into all things pumpkin, butternut squash, apple and slow-cooked. I've been completely head over heels for the combination of kale with my favorite turkey Italian sausage lately, so I wanted to incorporate those two ingredients in my meals plans for last night. I spotted a butternut squash, some whole milk and an old baguette in my fridge and these crostini were born.
Homemade whipped ricotta
Whole milk was magically transformed into homemade ricotta cheese, I'm not recommending you do this step unless you happen to have a giant vat of whole milk or cream sitting in your fridge, in this particular recipe, store-bought is just fine. But in my, case, I figured, why not? I have whole milk, some time and it could not be easier (and cheaper!) to make. If you're interested, here's a great recipe for it, but I'll also give you a synopsis.
Set a sieve lined with cheesecloth over a large bowl.
Bring two quarts of milk, one cup of heavy cream, and 1/2 teaspoon salt to a boil in a large pot. Stir in three tablespoons of lemon juice and turn the heat down to low.
Stir mixture for three to four minutes until it has curdled. Pour the mixture into the cheesecloth lined sieve. Let set for an hour until all the liquid has drained.
So easy, right?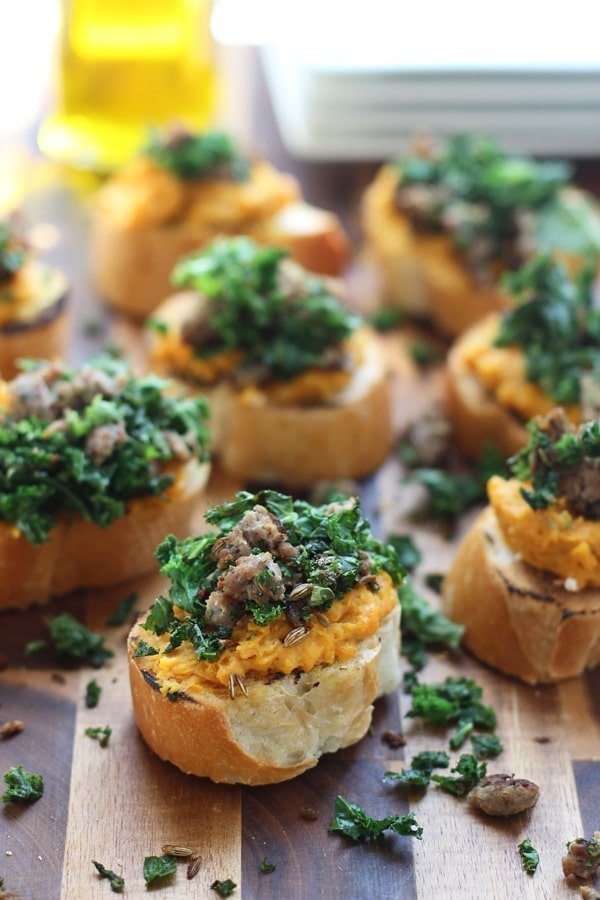 How to make Butternut Squash Crostini
Cube butternut squash and toss with a little bit of olive oil, brown sugar, cinnamon, cumin and salt. Spread on a baking sheet and pop in the oven to roast.
While the squash cooks, brown up a little bit of turkey Italian sausage in a non-stick skillet. Once it's cooked, throw in a few big handfuls of chopped kale over the top, and let it wilt.
After the squash is softened, whip it up in the blender along with ricotta. Season with a little bit of salt and pepper.
Brush crostini with olive oil and either toast in a 325-degree oven or char over a gas flame.
Spread the crostini with the squash mixture. Top with sausage, then kale.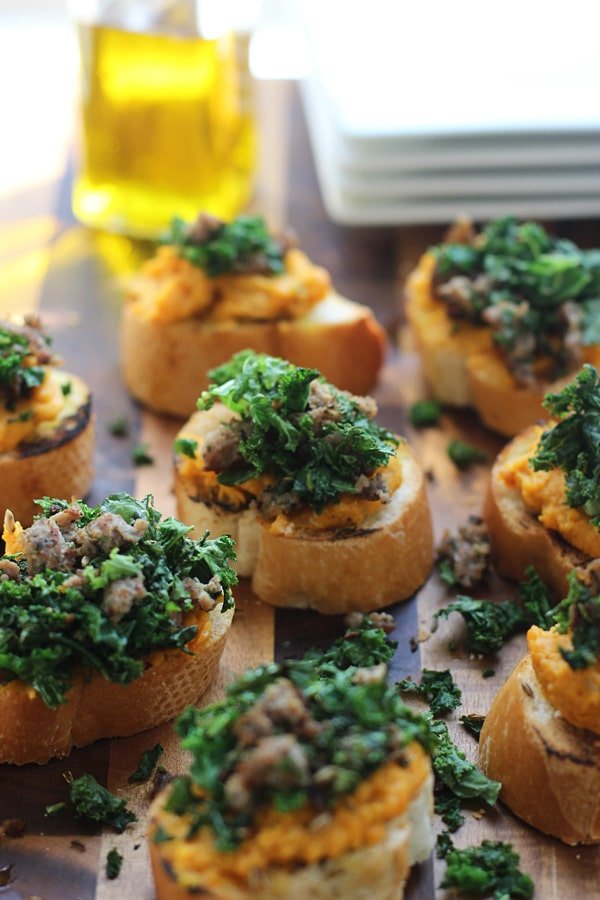 How to Prep Butternut Squash Crostini ahead of time.
Slice the bread and store in a ziplock baggie.
Roast the squash and puree with ricotta. Serve in an airtight container for up to three or four days.
Brown up the sausage and kale separately. Store in airtight containers separately.
When you're ready to serve, toast bread in the oven. Warm sausage and kale up on the stove.
Assemble as directed.
Substitutions and Tips and Tricks for Recipe Success
Don't toast the bread too much. You want it crisp, but still chewable.
Season as you go! The bread, whipped butternut squash mixture, and the kale should also get a hit of salt and pepper.
Season with salt in pepper in the end.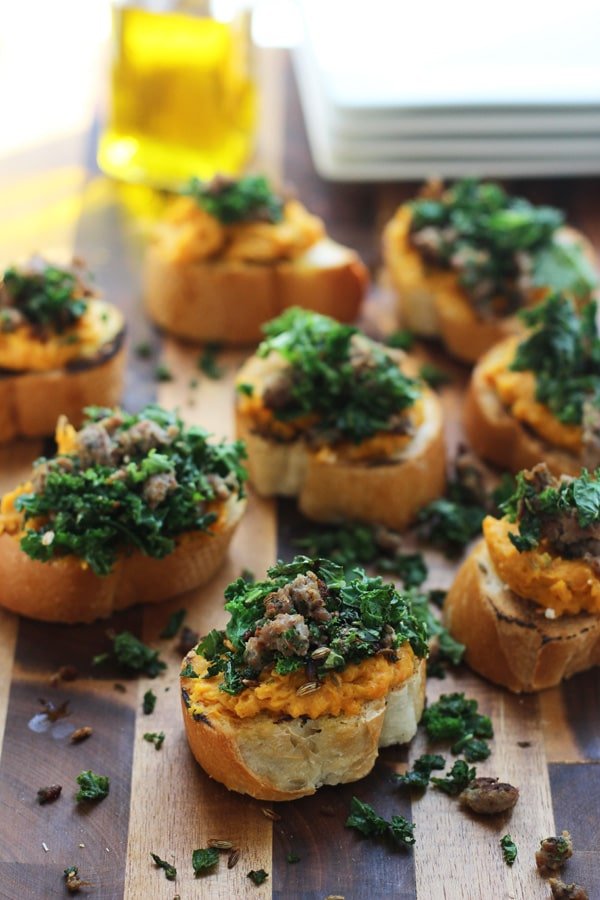 Butternut Squash Crostini
This Butternut Squash Crostini is such a great fall appetizer! Crisp pieces of bread are slathered with a whipped butternut squash and ricotta mixture, topped with italian sausage and kale. Hearty and delicious!
Ingredients
1 1/2

cups

cubed butternut squash (about 1/2 small squash)

2

tsp

olive oil, plus more for drizzling

1

tbsp

brown sugar

1/8

tsp

ground cinnamon

pinch

ground cardamom

1/4

tsp

kosher salt

1/2

cup

whole-milk ricotta

2

links

turkey italian sausage

2

cups

packed kale, chopped

1/2

baguette cut into 1/2-inch pieces
Instructions
Preheat oven to 375 degrees. Toss squash with olive oil, brown sugar, cinnamon, cardamom and salt. Roast for 15 minutes or until soft. 

In a mini food processor, add squash. Puree. Add ricotta and whip until light and combined with squash. Season with salt and pepper. 

In a small non-stick skillet. Brown turkey sausage over a medium-high heat. Once sausage is brown add chopped kale. Cook until wilted. Remove from heat and season with salt and pepper. 

Drizzle crostini with olive oil. Season with salt and pepper. Over a gas burner or grill, toast until slightly charred. Spread whipped squash on crostini. Top with sausage and kale mixture.
Nutrition Facts
Butternut Squash Crostini
Amount Per Serving (1 crostini)
Calories 70
Calories from Fat 27
% Daily Value*
Fat 3g5%
Cholesterol 5mg2%
Sodium 128mg6%
Potassium 139mg4%
Carbohydrates 10g3%
Protein 3g6%
Vitamin A 3021IU60%
Vitamin C 17mg21%
Calcium 54mg5%
Iron 1mg6%
* Percent Daily Values are based on a 2000 calorie diet.
(Visited 2,345 times, 1 visits today)