Green Goddess Homemade Ricotta Dip is our new favorite appetizer to serve when we're entertaining. The ricotta dip starts with a base recipe of homemade ricotta, and then whipped up with plenty of fresh tarragon, garlic, scallion, and lemon – all classic components of a green goddess dressing. (If you want to skip making homemade ricotta, you can swap out an equal amount of whole milk, plain ricotta.)
Homemade Ricotta Dip – Green Goddess Style
Here's a question.
Why would anyone time the time make homemade cheese?
Immediately off the top of your head you may drift into thoughts of, "What's the point?" or, "Can't you just buy it at the store and save yourself the hassle?"
Here's the deal. I would have agreed with you before I actually tried homemade ricotta. But after my own inspection on many occasions, I've come to the conclusive fact that homemade ricotta is creamier, lighter, and infinitely better than anything you can buy at the store – and I'm hooked.
Our version of Homemade Ricotta Dip starts with a base recipe of plain homemade ricotta. From there, we whip it up with all my favorite parts of green goddess dressing – tarragon, lemon, garlic and plenty of scallion.
It's fresh, light, and perfect served alongside a cheeseboard or as a stand-alone appetizer with cubed bread, sliced peppers, or pretty much anything on the planet.
Ingredients in Homemade Ricotta Dip
Whole milk and heavy cream. The combination of whole milk and heavy cream is absolutely necessary to achieve the correct consistency in homemade ricotta. Because milk or dairy needs to curdle to create the ricotta, you use a majority of milk.
Heavy cream does not tend to curdle because the fat content is so high, so we add just a little bit to ensure the homemade ricotta is nice and creamy.
Lemon juice. As mentioned previously, for the milk and cream to turn into ricotta, you need some sort of acid to separate the curds from whey. Lemon juice does the trick! It doesn't add an overly lemony flavor to the homemade ricotta because all of the whey will be tossed out and we will just keep the curds (the ricotta!).
Tarragon. Fresh tarragon is a classic ingredient in green goddess dressing. It has a slightly anise flavor, in the must lovely subtle way. It also has hints of citrus which pairs nicely with the lemon juice we add later.
Scallion. A true green goddess dressing has a bunch of different herbs, but for simplicity reasons, I just stuck to two. I love the mild onion flavor scallions have without overpowering the homemade ricotta dip.
Garlic. Gotta have little punch of garlic in there! I use one large clove, but if you don't like the flavor of raw garlic, start with one small clove or half of a large clove.
Lemon. I use lemons in two ways, first with the zest, second with the juice.
Salt. We only add a little bit of salt to the base ricotta recipe, so be sure to season the ricotta dip with more.
How to make Homemade Ricotta
Of course, you don't wake up knowing how to make homemade ricotta, so once I figured out I loved it, I set out to find the perfect recipe. After a little research and perusing through various cooking sites, I settled on this variation on the Epicurious website. It seemed pretty straightforward and had plenty of raving reviews so I was hopeful this was the recipe for me. Here's how it's done:
Prep everything. Line a sieve with cheesecloth. If you don't have a cheesecloth, you can also line a strainer with paper towels or a very thin kitchen towel. It will take longer for the mixture to drain, but it should work.
Bring the milk and cream to a boil. Add the whole milk, heavy cream, and salt to a very large pot. Slowly bring the mixture up to a boil, and then recuse to a simmer.
Curdle the milk. Turn the heat up, so the milk and cream mixture is very lightly boiling. Slowly pour in the lemon juice while stirring the mixture with a wooden spoon. Continue to stir the mixture (while boiling) until the milk curdles and the curds separate from the whey. Do this for three minutes. Once all of the whey and curdles are separate, slowly pour the mixture into the cheesecloth-lined sieve or strainer.
Drain the mixture. In some cases, the mixture will drain very fast, other times it may take up to an hour. If you're in a hurry, you can gently stir the mixture so the liquid drains a little bit faster.
Make the whipped ricotta. Add the tarragon, scallions, garlic, lemon zest, and lemon juice to the bottom fo a food processor. Pulse until they are finely chopped and resemble a paste-like consistency. Add ricotta, salt, and freshly cracked black pepper. Pulse until whipped and combined with the herbs. Season to taste with salt and pepper.
Chill and serve! You can serve this homemade ricotta dip room temperature or cold!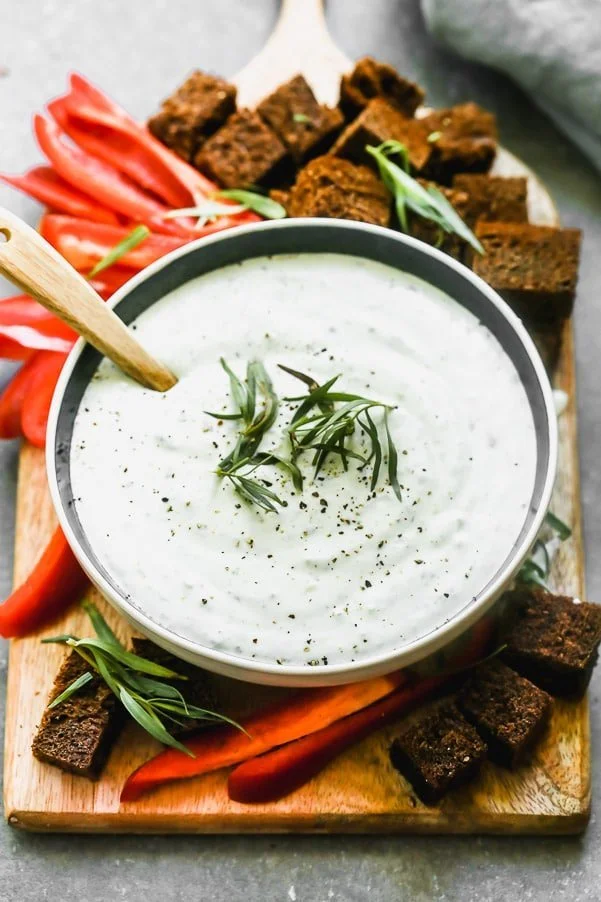 You have dip, now you need things TO dip. Here are our favorites.
Sliced red, green, yellow, or orange bell peppers
Sliced cucumber
Toasted ciabatta bread
Cubed pumpernickel bread
Triscuit crackers
Pita bread or Naan
Grilled chicken tenders
Other ideas to utilized our Homemade Ricotta Dip
Spread the ricotta dip on the bottom of a plate and top with grilled chicken, salmon, or steak.
Spoon a dollop of homemade ricotta dip on top of our Crispy Chicken Piccata.
Use this ricotta dip instead of our plain ricotta in this Grilled Baguette with Roasted Tomatoes
Instead of using store-bought ricotta in our Ricotta Meatballs, use this. Can you imagine the flavor in those meatballs?!
Can I make this in advance?
Yes! This ricotta dip will last up to a week in the fridge.
Substitutions and Tips and Tricks for Recipe Success
If you don't have lemon juice, you can also use any type of vinegar to curdle the milk mixture.
Add in fresh basil for a true take on green goddess.
If your milk mixture doesn't curdle, add a little bit more lemon juice, while the mixture is boiling until it does.
Be sure to completely drain the ricotta, it will be thinner than ricotta from the store, but should still set up nicely.
If you don't want to make your own ricotta, buy store-bought WHOLE MILK ricotta. You'll need two cups. Also, you want to make sure it's a ricotta with no sugar, otherwise, your homemade ricotta dip will have an off sweet flavor.
Useful tools used in today's post
*If you purchase any of these, I will receive a small commission.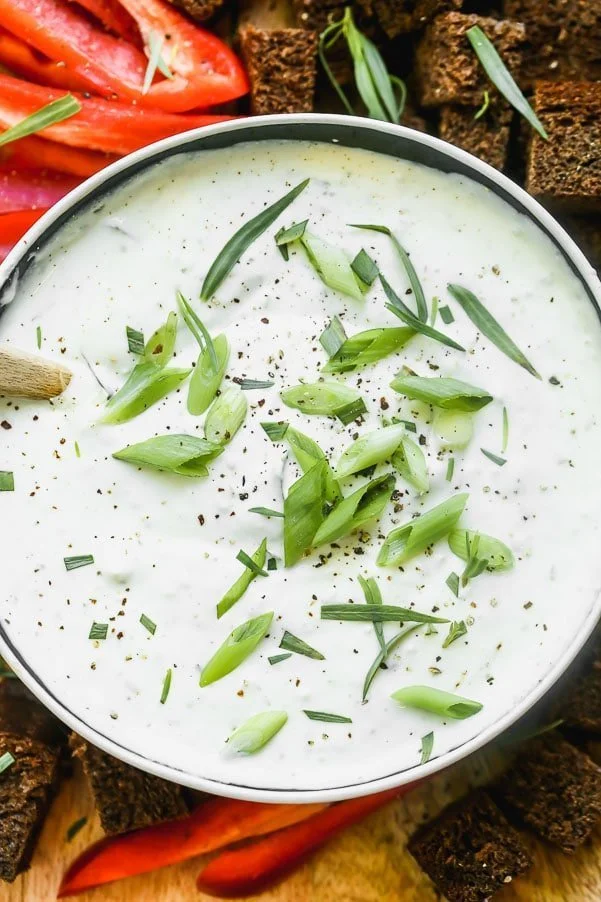 Homemade Ricotta Dip - Green Goddess Style
Our Green Goddess Homemade Ricotta Dip is our new favorite appetizer to serve when we're entertaining. The ricotta dip starts with a base recipe of homemade ricotta, and then is whipped up with plenty of fresh tarragon, garlic, scallion, and lemon - all the classic makings of a green goddess dressing. If you want to skip making homemade ricotta, you can swap out an equal amount of whole milk, plain ricotta.)
Ingredients
2

quarts

whole milk

1

cup

heavy cream

3

tbsp

lemon juice

1

tsp

kosher salt, divided

1/4

cup

packed tarragon, taken off stems

2

scallions, sliced

1

large

garlic clove

zest of 1 lemon

1

tbsp

lemon juice

1/8

tsp

freshly cracked black pepper
Equipment
Large stock pot

Cheesecloth

Sieve
Instructions
Set a sieve lined with cheesecloth over a large bowl.

Bring milk, heavy cream, and 1/2 teaspoon salt to a boil in a large pot. Slowly stir in lemon juice and turn the heat down to low. (You still want the mixture to be lightly boiling or simmering.) Stir mixture for three minutes until it has curdled and all of the curds have sepearted from the whey. Pour the mixture into the cheesecloth-lined sieve. Let set for up to an hour until all the liquid has drained.and you are just left with ricotta.

Add the tarragon, scallions, garlic, lemon zest, lemon juice, 1/8 teaspoon pepper, and remaining 1/2 teaspoon kosher salt to the bottom of a food processor. Pulse until the mixture is finely chopped and is close to a paste consistency.

Add the ricotta and continue to pulse until whipped and everything is combined. Season to taste with salt and pepper.

Transfer to a serving dish and serve right away, or store for up to a week in an airtight container. Serve with crostini, bread, and crudites.
Tips
If you want to use store-bought ricotta, make sure it's WHOLE MILK, and equals two cups. 
Nutrition Information
Serving:
1
1/4 cup serving
,
Calories:
249
kcal
(12%)
,
Carbohydrates:
13
g
(4%)
,
Protein:
8
g
(16%)
,
Fat:
19
g
(29%)
,
Saturated Fat:
11
g
(69%)
,
Cholesterol:
64
mg
(21%)
,
Sodium:
404
mg
(18%)
,
Potassium:
340
mg
(10%)
,
Sugar:
12
g
(13%)
,
Vitamin A:
821
IU
(16%)
,
Vitamin C:
3
mg
(4%)
,
Calcium:
287
mg
(29%)
,
Iron:
1
mg
(6%)