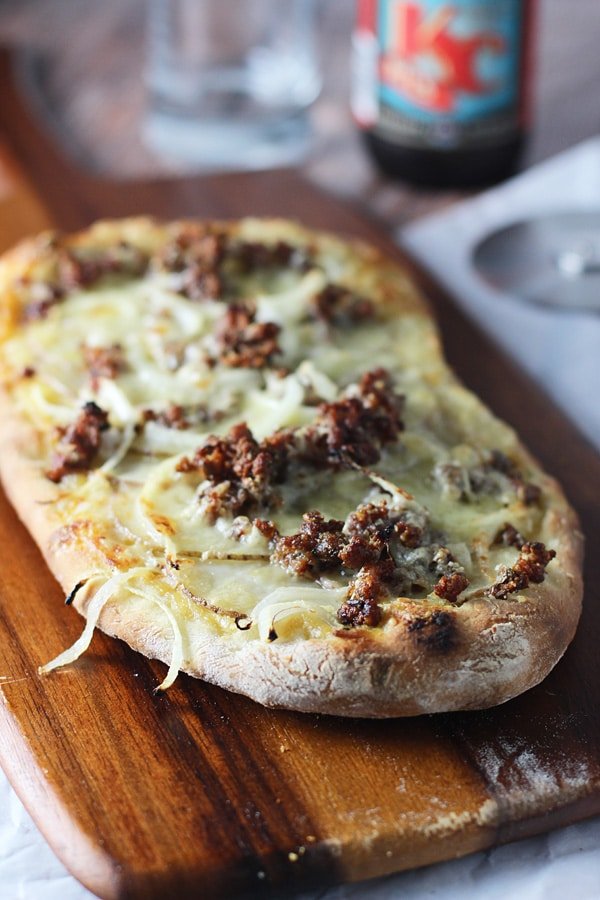 White pizza. Thoughts?
Apparently it's a controversial topic according to this Huffinton Post article. Is it pizza? Is it flatbread? Neither?
While typically I'm a pizza purist (think New York or St.Louis style), every once in a while, white pizza is a welcomed change. Plus, for some reason I've convinced myself that it's actually healthier than a traditional pizza, don't ask me why, because I'm well aware most varieties are laden with an Alfredo or butter-based sauce – thankfully this is not that pizza.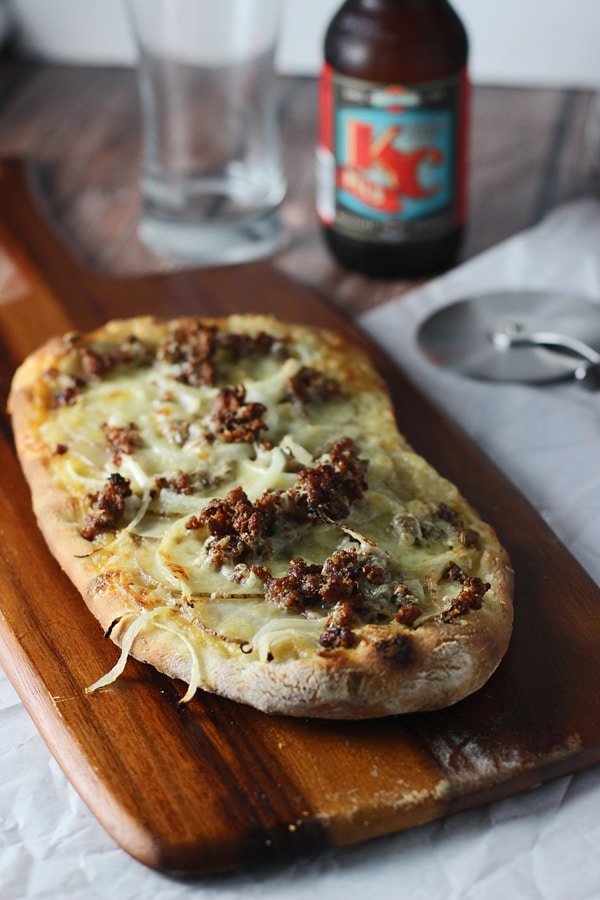 Huff Post's four (very valid) points in where white pizzas go wrong?
1. White pizza will always be compared to red pizza – true; and while this version will never take the place of my favorite Margarita or New York style cheese pizza, like I mentioned before, it's nice for a change.
2. Most become gummy and gooey – an extremely high oven temperature and pre-heated pizza stone keep this white pizza insanely crisp.
3. They're boring – pureed roasted garlic serves as the "sauce" in this version, while aged sharp cheddar cheese replaces mozzarella. It's all dotted with local Italian sausage and thinly sliced onions for an (in my opinion) anything but lackluster combination
4. White pizza attracts toppings that should never go on a pizza – The roasted garlic "sauce" isn't even close to a traditional pizza sauce, but in this case it just works. The thinly sliced potatoes that were once shocking to see on a pizza have become increasingly more common on local pizza joint menus across the country.
I think they hit the nail right on the head with their argument, white pizza should never even come close to being compared to traditional pizza; it must boast a seriously crispy, sturdy structure, it must be exciting, and there better not be any ingredients on it that you wouldn't see on a traditional pie. (Although my roasted garlic sauce is walking a fine line to that last rule.)
Hopefully they'd approve of this guy…I know I did.
Hope you guys have an awesome weekend!
White Pizza with Roasted Garlic Sauce, Aged Cheddar, Potatoes and Italian Sausage
Smothered with a roasted garlic base, and covered in aged cheddar cheese, thinly sliced potatoes and italian sausage, this is anything but an ordinary pizza!
Ingredients
1 batch of your favorite pizza dough
2 large heads of garlic
2 tablespoons of olive, divided
¼ teaspoon salt, plus more for seasoning
2 red potatoes, sliced paper thin on a mandoline (this is important, if the potatoes are thick, they won't cook through)
1 ½ cups aged cheddar cheese
¼ cup parmesan cheese (plus more for sprinkling)
2 links mild Italian sausage, removed from casings, crumbled and cooked
½ small onion, thinly sliced
Instructions
Preheat oven to 350 degrees. Cut the top ¼ off of the garlic heads and place on a large piece of aluminum foil. Drizzle with one tablespoon of olive oil. Sprinkle with salt and pepper. Bring two opposite ends of the foil up together and then fold down. Seal other two edges. Place in the oven, and roast for 45-1 hour until garlic is soft. Once you remove the garlic turn the oven up to 550 degrees and place pizza stone in the oven. Heat for 20-30 minutes.
Remove roasted garlic from skin and place in a mini food processor or blender. Add remaining tablespoon of olive oil and salt. Blend until smooth. Season to taste with salt and pepper.
Roll dough out to desired shape (this time I made two rectangular pizzas), place dough on pizza wheel covered in cornmeal (so that the dough slides off easily).
Cover with roasted garlic spread. Place potatoes around pizza. Sprinkle with half the cheddar cheese, followed by the sausage and sliced onions. Cover with remaining cheddar and parmesan. Drizzle with a little bit of olive oil.
Slide pizza into oven and cook for 8-10 minutes until brown and bubbly. Serve immediately.