I am not a vegetarian. Not even close. However, last week I had an out-of-the-blue craving for meatless tacos, and I switched up my entire meal plan for the week just so I could make them. It's not that I'm normally against a veggie-centric or meatless meal, I love vegetables way too much, it's just that in my tacos, I always prefer a meat of some sort. Whether it's beef, chicken, pork, or fried fish, doesn't matter, but something meat or seafood based is always present, which now that I think about it, could actually be due to the fact that I have a husband who asks where the meat is, in just about everything we eat.
So, obviously I was a little hesitant to inform Kevin that we were having tacos filled solely with zucchini and mushrooms. When he got home and peered over the stove, I watched him out of the corner of my eye, just waiting for the usual, where's the meat, speech. Much to my surprise, he didn't utter a word, and not even a look of disapproval was sent my direction. I thought he for sure mistook the mushrooms for steak, and as we assembled our tacos, I gently reminded him that there was no meat lurking beneath the veggies, and he still didn't flinch.
And, guess what? He liked them. He even told me he liked them, unprompted, which never happens if he truly doesn't like something.
And THEN, he finished them, which also never happens if he's feeling lackluster about something.
Moral of the story? These Zucchini and Mushroom tacos, are a crowd pleaser, that even the most passionate carnivore will enjoy.
The ingredients and the preparation for the tacos themselves are pretty straightforward and minimal; basically I just seasoned them as I would ordinary ground beef taco meat – with a heavy hand of chili powder, cumin, oregano, and plenty of garlic and onion.
First, things first though, you have to brown the veggies. I find that it's easiest to cook the zucchini and mushrooms separately since they cook up differently, and I also hold off on seasoning everything until both sets of veggies have browned up nicely. To minimize mess, I first brown up the mushrooms in a little bit of butter (you could also use olive oil or coconut oil), transfer the to a plate, and then brown up the zucchini. Everything goes back into the pan, and then your taco seasonings go in and the veggies finish cooking.
Now, let me back up for a second. PRIOR to cooking up your filling, you're going to want to make the salsa. Making homemade salsa sounds sort of high-maintenance, however, hatch peppers are in full swing right now, and I want to utilize them as much as I possible can before they disappear into fall. The good news is that it's a pretty hands-off process. Just throw the peppers, along with some onion and garlic on to a sheet pan, and roast the heck out of them until they're soft and charred.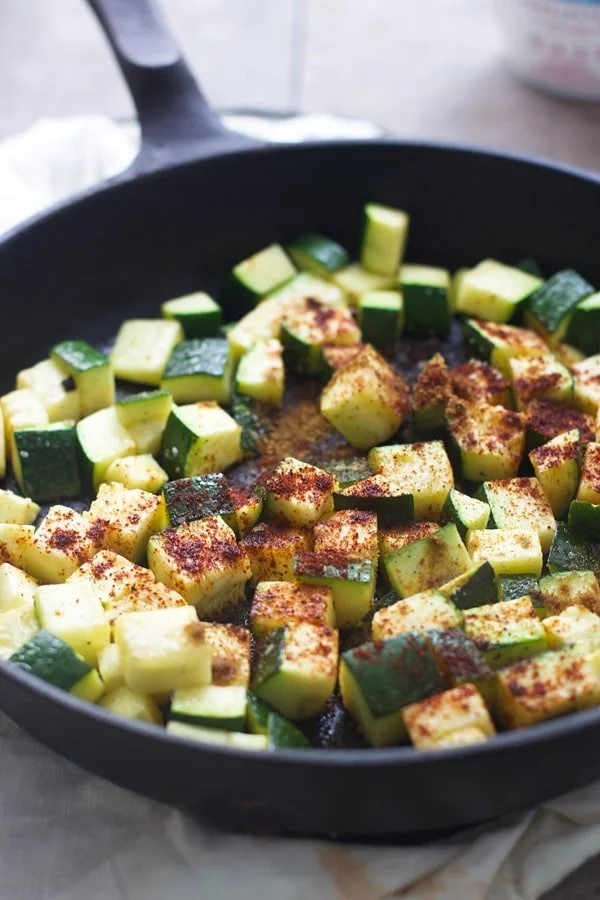 Once it's done everything goes into a food processor, along with some canned tomatoes, cilantro, lime juice, and salt, and it gets pulsed until it's the perfect consistency, which may vary from person to person. For me, the perfect consistency still has a little bit of texture, but is mostly smooth.
To build your tacos, you just pile the mushroom and zucchini in a flour or corn tortilla, spoon some salsa on top, and then top with copious amounts of queso fresco (you could also use Monterey Jack or pepper jack).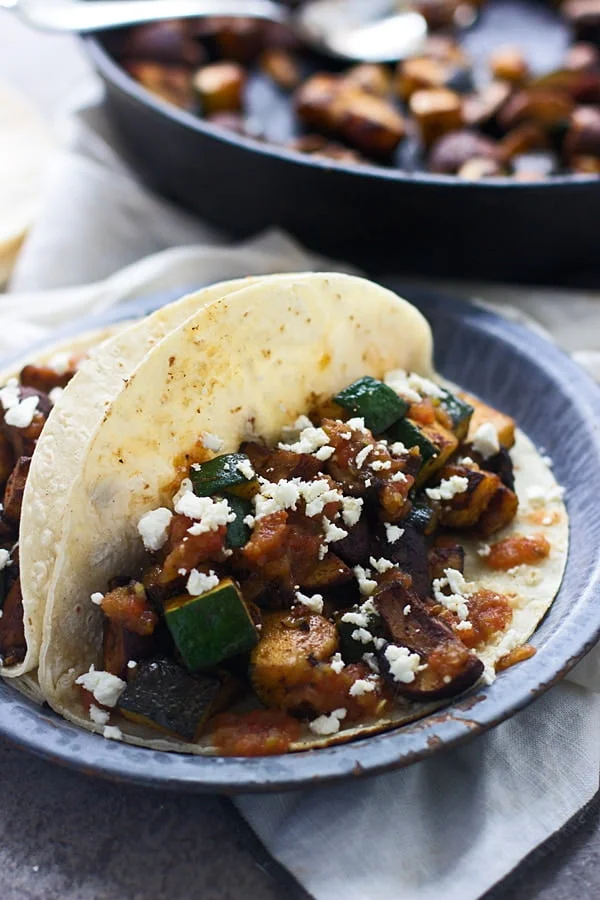 Zucchini and Mushroom Tacos with Hatch Pepper Salsa
Author:
Nicole ~ Cooking for Keeps
Ingredients
2 Tlbs. butter, olive oil, or coconut oil, divided
¼ cup diced onion
¾ lb. zucchini, cut into bite-sized pieces
1 lb. cremini mushroom, quartered
3 garlic cloves, minced
1 Tlbs. chili powder
3 tsp. cumin
2 tsp. dried oregano
1 tsp salt
6-8 taco-sized flour or corn tortillas
¾ cup queso fresco
Optional Toppings:
Sour Cream
Extra Cheese
Chopped Tomatoes
Black Olives
Lettuce
Salsa
2 mild hatch peppers
1 medium onion, quartered
3 garlic cloves, skin on
14 oz. diced, stewed tomatoes
½ cup cilantro
½ tsp salt
3 Tlbs. lime juice
Instructions
Heat a large non-stick skillet to a medium-high heat. Add 1 tablespoon butter. Add onion and zucchini. Cook until zucchini are golden brown, but still crisp, and onion is slightly softened, about 2-3 minutes. Remove from a pan. Add remaining butter to pan and add mushrooms. Cook until brown, about 4-5 minutes. Add zucchini back to the pan, along with garlic, chili powder, cumin, oregano and salt. Cook another, 1-2 minutes until garlic is soft, and seasoning has covered the veggies. Season with salt and pepper.
Spoon filling into tacos, drizzle with salsa and cheese. Add other toppings if you'd like.
For the salsa
Preheat oven to 500 degrees. Put peppers, onions and garlic on a baking sheet. Roast until peppers are slightly charred, turning with tongs as needed. It should take about 15 minutes. If garlic starts to get too brown, pull out.
Transfer peppers, onions and garlic to a bowl. Cover with plastic and let steam for 5 minutes. Peel skin off peppers,and discard stems and seeds.
Add peppers, onions, garlic, tomatoes, cilantro, salt, and lime juice to a food processor. Pulse until you reach desired consistency. Season to taste with salt and pepper.
Preheat oven to 500 degrees. Arrange peppers, quartered