This Easy Basil Pesto is the only recipe you'll ever need. It's easy to throw together requires minimal ingredients, and is good on just about anything.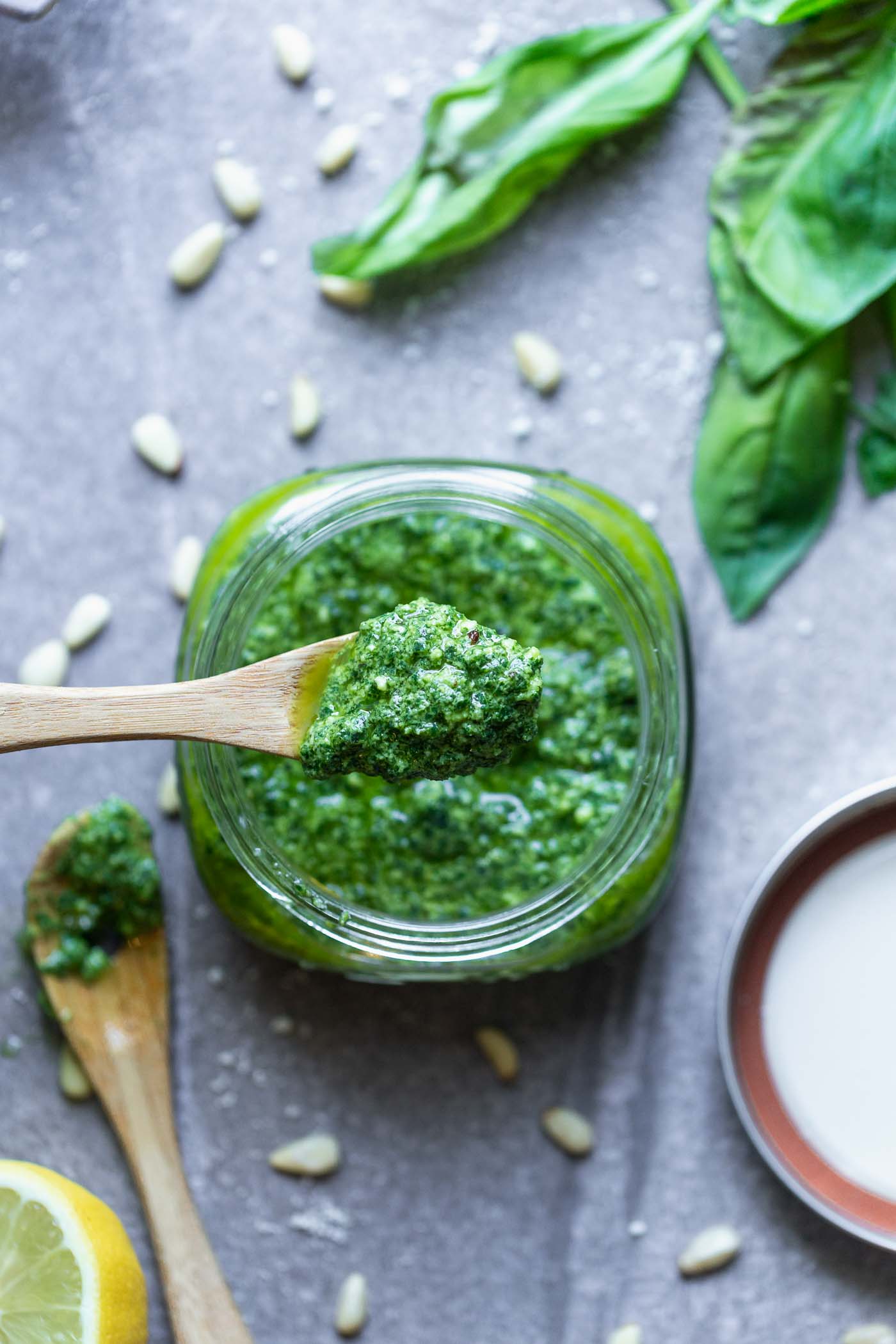 Ok, so basil pesto. I know there are probably thousands, actually probably millions of recipes for basil pesto out there, each one only slightly deviating from the next, but seeing as this is sort an index of my own go-to recipes, I thought it was important to have one in the archives.
So, here it is. My no-fail, perfect-to-me basil pesto.
This is actually the first year I've grown enough basil to put together a full batch of pesto. Each year, without fail, my basil plant grows about three feet tall, but doesn't grow out and produces a pretty pathetic crop of bright green basil leaves. By July, I've usually thrown in the towel and promised myself that I'll do better next year.
This year, what we did different was plant the basil in the ground instead of the pot, and much to our surprise it seemed to do the trick! I haven't had to buy basil from the store all summer long, and I'm pretty much giddy with excitement.
I think for a pesto recipe to be successful, you need to first start with quality basil. This means the leaves need to be vibrant green and plush, if any of your leaves are light green or starting to turn a murky color, throw them out, they'll deter from the final product.
Also, since there are minimal ingredients, each one should be up to par. Meaning, no year-old pine nuts, and certainly no parmesan cheese from a can. This doesn't mean you need to use a $40 bottle of olive oil or spend $10 on a block of Parmigiano-Reggiano – aged parmesan cheese and your standard bottle of Trader Joe's olive oil will work just fine.
In my experience, and according my taste buds, an extra virgin olive oil's strong taste is a little bit too pungent for me, and always seems to overwhelm the taste of basil, so I like to stick to plain olive oil. It's more mild, but still has a distinct taste that I love in pesto.
If you extra virgin olive oil is all you have, swap out a tablespoon or two of it for neutral canola oil/
Before I start to make the pesto, I like to toast my pine nuts. All I do is throw them in a dry pan, and let them sit over a medium heat until they smell nutty and fragrant. Once they cool off, the pesto is ready to be made.
And guys, if you've never made homemade pesto, it couldn't be easier.
For my version, I throw in basil, toasted pine nuts, PLENTY of parmesan cheese, garlic and lemon juice, and blend until it's almost pureed. From there, I drizzle in the olive oil while pulsing the mixer until the pesto comes together.
Because parmesan cheese is so salty by nature, I rarely need to add salt. But, if it suits your taste, season at the very end with salt and pepper.
Now what to do with Easy Basil Pesto.
I actually made this batch of pesto to use in this Prosciutto Chicken Recipe. But it would also be perfect served simply with hot spaghetti and an extra dusting of parmesan cheese. Or in these Pesto Parmesan Gougères, these Pesto Green Beans, or even just as a dip to dunk crusty hunks of bread in.
Easy Basil Pesto
This Easy Basil Pesto is the only recipe you'll ever need. It's easy to throw together requires minimal ingredients, and is good on just about anything.
Ingredients
2

tbsp

pine nuts

2

cups

packed basil leaves

1

large

garlic clove

2

tbsp

lemon juice

1/4

cup

grated parmesan cheese

1/4

cup

olive oil

salt and pepper to taste
Instructions
Add pine nuts to a small skillet. Turn the heat on medium and while WATCHING CAREFULLY, toast pine nuts until they smell nutty and fragrant. Cool completely.

Add pine nuts, basil, garlic, lemon juice and parmesan cheese to a food processor. Blend until almost pureed. While pulsing, slowly drizzle olive oil in until combine. Pulse a few more times. Season to taste with salt and pepper.

To store: Place in an airtight container or mason jar. Drizzle with olive oil.
(Visited 676 times, 1 visits today)