Welp. It's Monday. Again.
At the moment I'm slowly trying to coerce myself to get up out of bed, but I'm glued to the sheets. My doggie is curled up beside me and is one of those positions that make you wonder, how can he be comfortable? But he is. And so am I.
It also doesn't help that I had quite the weekend. I mentioned it briefly on Friday, but for the past three days I've been with some girlfriends of mine on our annual trip back to our college town, reliving our glory days. And while it was glorious, each visit gets harder and harder on my body. It's one of those moments you realize just how removed from college life you are. I cannot wake up at 6am and start drinking bloody marys and expect to make it past 5pm anymore. Yup, this girl was in bed on Saturday by 5pm – and I've got no shame whatsoever.
The upside of going to sleep at 5pm? Sunday morning I woke up feeling like I wasn't going to die, and was completely ready to take on the day. Of course that was after a Sonic breakfast burrito, ice-cold sprite and two hour drive back to Kansas City. (Do NOT look up the nutritional value of those burritos if you ever have one, it's horrendous.)
In my life taking on the day means, I'm ready to cook! And cook I did.
Kevin was also in a similar situation as myself, he spent all weekend in New Orleans for a bachelor party, so I knew he'd want something good-for-the-soul and not overly indulgent to eat, and honestly, after my food-filled weekend, I needed it too.
Dinner was a fennel roasted chicken (to come later!), but our meal started with the pictured whipped ricotta and butternut squash crostini.
Swoon!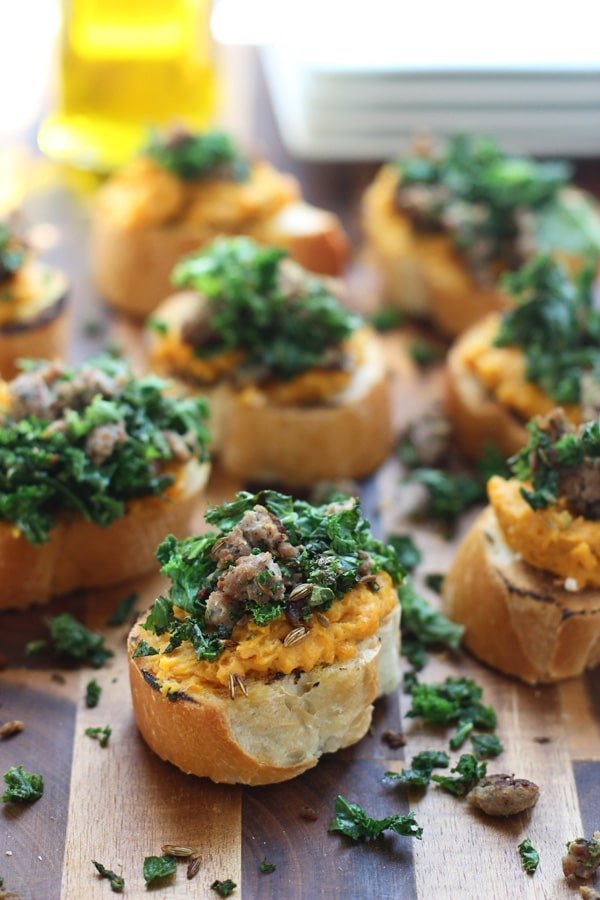 As I said before, now that it's officially fall, I'm diving head first into all things pumpkin, butternut squash, apple and slow-cooked. I've been completely head over heels for the combination of kale with my favorite turkey Italian sausage lately, so I wanted to incorporate those two ingredients in my meals plans for last night. I spotted a butternut squash, some whole milk and an old baguette in my fridge and these crostini were born.
Whole milk was magically transformed into homemade ricotta cheese, I'm not recommending you do this step unless you happen to have a giant vat of whole milk or cream sitting in your fridge, in this particular recipe, store-bought is just fine. But in my, case, I figured, why not? I have whole milk, some time and it could not be easier (and cheaper!) to make.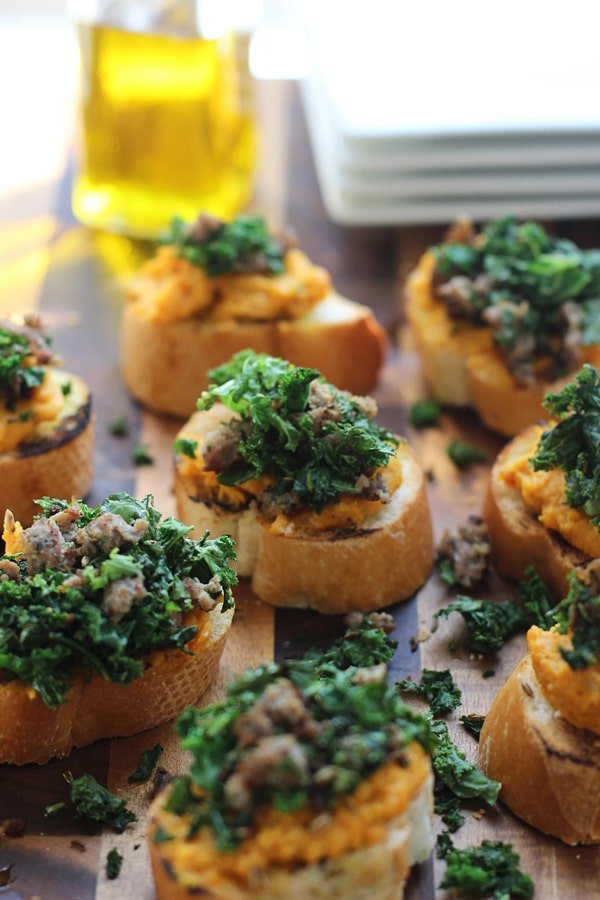 Next, butternut squash is cubed and tossed with a little bit of olive oil, brown sugar, cinnamon, cumin and salt and then popped into the oven to roast. At the same time, I browned up a little bit of turkey Italian sausage and threw a few big handfuls of chopped kale over the top, and let it wilt.
After the squash is softened, it's whipped up in the blender with the ricotta, seasoned with a little bit of salt and pepper and ready to be spread onto toasted crostini. They're topped off with a heaping portion of the browned turkey sausage and kale.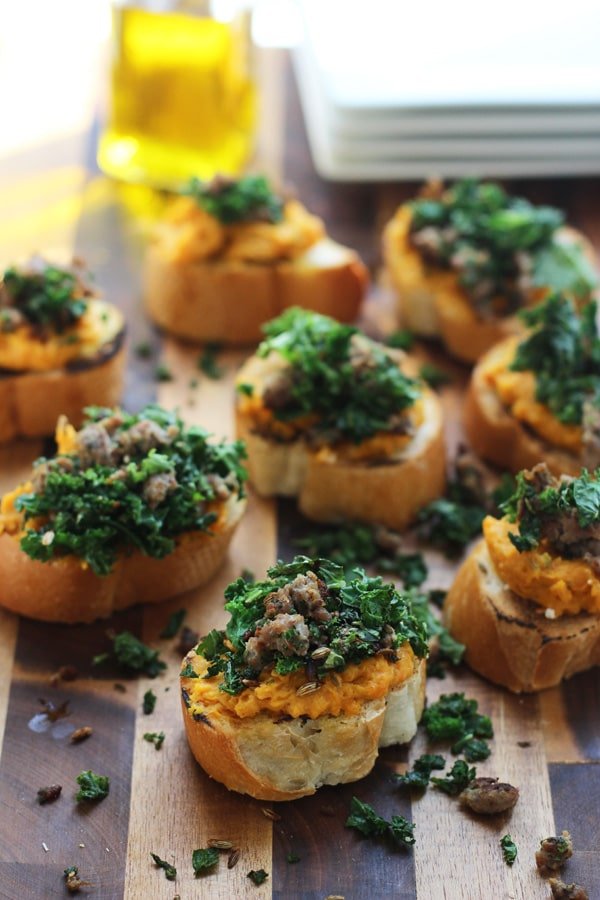 Seriously easy, so fall and probably one of my top five favorite crostini I've ever made – and I've made a LOT of crostini.
Now….If I could just take on the day today…still in bed…help me!
]
Whipped Ricotta and Butternut Squash Crostini with Kale and Italian Sausage
Whipped ricotta and butternut squash is smothered on grilled crostini and topped with kale and turkey italian sausage for the perfect fall appetizer.
Ingredients
½ baguette cut into ½ inch crostini
1 ½ cups cubed butternut squash (about ½ small squash)
2 teaspoons olive oil + more for drizzling
1 tablespoon brown sugar
1/8 teaspoon ground cinnamon
Pinch of ground cardamom
¼ teaspoon salt
½ cup ricotta
2 cups packed kale, chopped
2 links Italian turkey sausage
Instructions
Preheat oven to 375 degrees.
Toss squash with olive oil, brown sugar, cinnamon, cardamom and salt. Roast for 15 minutes or until soft.
In a mini food processor, add squash. Puree. Add ricotta and whip until light and combined with squash. Season with salt and pepper.
In a small non-stick skillet. Brown turkey sausage over a medium-high heat. Once sausage is brown add chopped kale. Cook until wilted. Remove from heat and season with salt and pepper.
Drizzle crostini with olive oil. Season with salt and pepper. Over a gas burner or grill, toast until slightly charred.
Spread whipped squash on crostini. Top with sausage and kale mixture.
http://www.cookingforkeeps.com/whipped-ricotta-butternut-squash-crostini-kale-italian-sausage/
(Visited 1,510 times, 1 visits today)