Do you love tacos? Most people do. Generally, I don't. I'd rather have an enchilada or quesadilla or well, anything else. I have no idea why, it's not like I despise them or anything, I'd just rather order something else. That is, unless it's any type of seafood taco.  Fried fish tacos are usually the culprit but lately tuna tacos have been particularly appetizing to me. There's something about a crispy exterior shell and the hidden gem of rare tuna inside that just makes me giddy.  If it's on a menu I'll immediately order them without even so much as glancing at the other options. That's saying quite a bit since normally I agonize over what to order long enough for everyone at the table to secretly curse me under their breath.
Since I love them so much, I did what I always do and made them at home. And what a treat they were. Even my Kev who turned his nose up at the idea of seafood in a taco, loved them.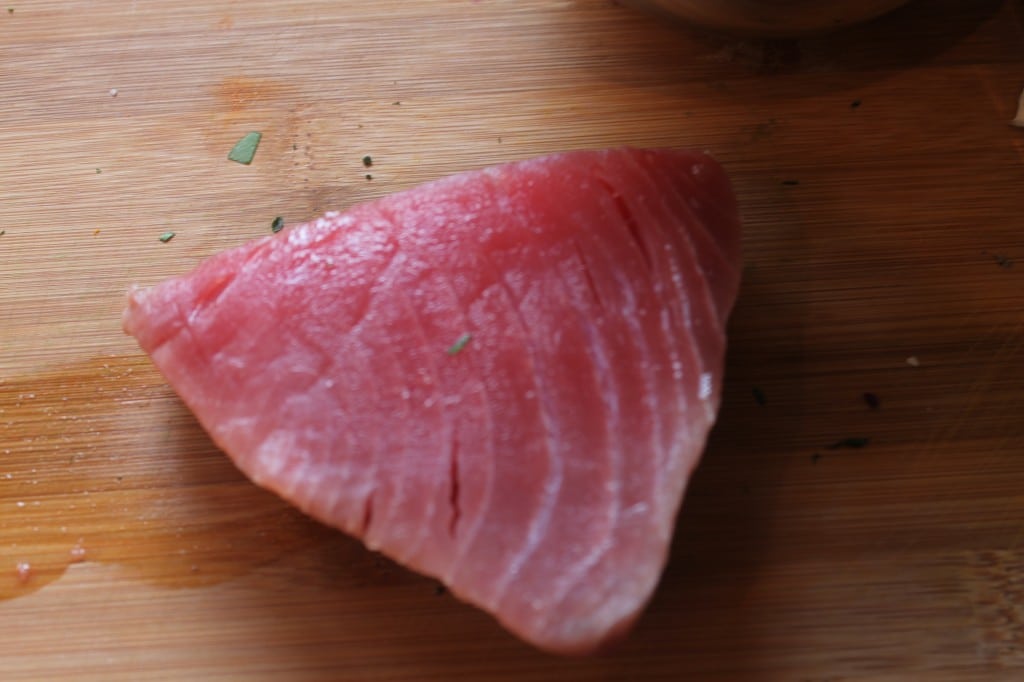 This piece of Ahi was only for two, seeing as there are only two of us at this point, but the recipe below feeds four. Just a little FYI, didn't want you to think this little piece of fish was going to feed a crowd.
Sprinkle both sides of fish with some seasame seeds and salt.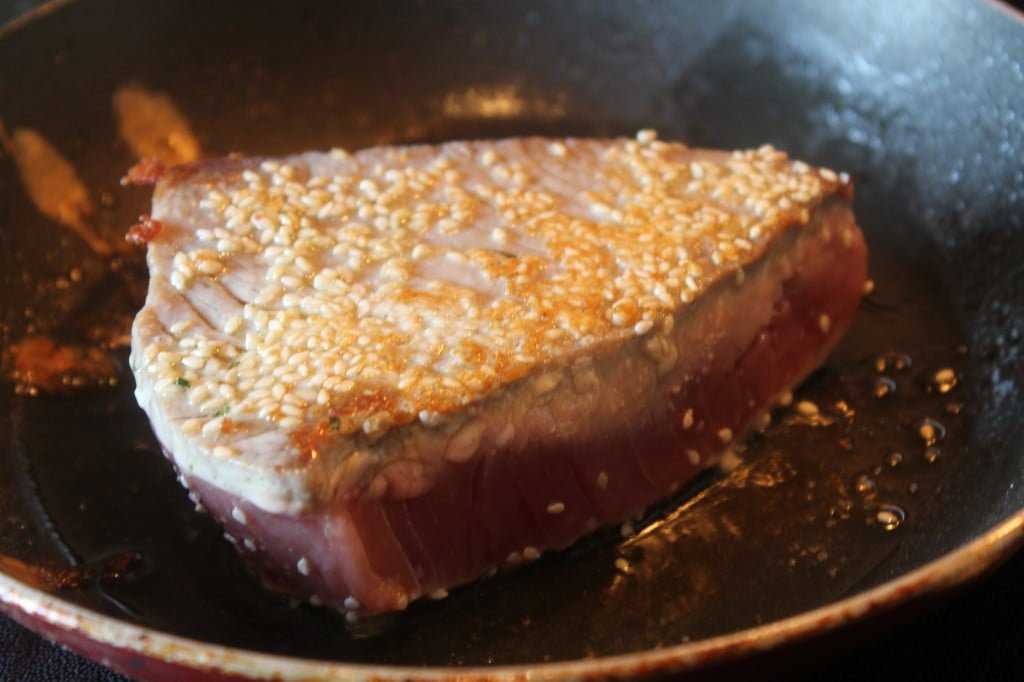 Sear on both sides in a very hot skillet with a little bit of olive or canola oil about one minute per side for rare. Tuna is always best rare. Trust. Set aside for now.
Assemble the slaw. A little bit of shredded carrot, shredded purple cabbage, and some fresh cilantro.  Gorgeous.
Add in a little light mayo, rice vinegar,and because I can't stand to leave this out, a little bit of sriracha, . Sirracha makes everything better. Mix together. Season to taste with salt. Let set while you prepare everything else.
Looking good. Really, this would be great by itself just as a side accompaniment to well, anything.
What kind of vessel you use for the tacos is really a personal choice.  Some days I like soft shells, most days I like crispy, and occasionally I just like lettuce. Today like most days, I was feeling crispy, whatever you choose, they'll be great.  If you're feeling overly ambitious like I usually am, make your own taco shells.  It sounds like a real pain in the who know what, but it's actually relatively quick and quite easy. Start by heating just an inch or so of canola oil in a deep saucepan.
Start to form into the taco shell shape.
Drain on paper towels.
After tuna has rested slice against the grain into 1/4 inch slices. Slice up some avocado as well.
Assembly time! Start with a little bit of slaw at the base of each shell.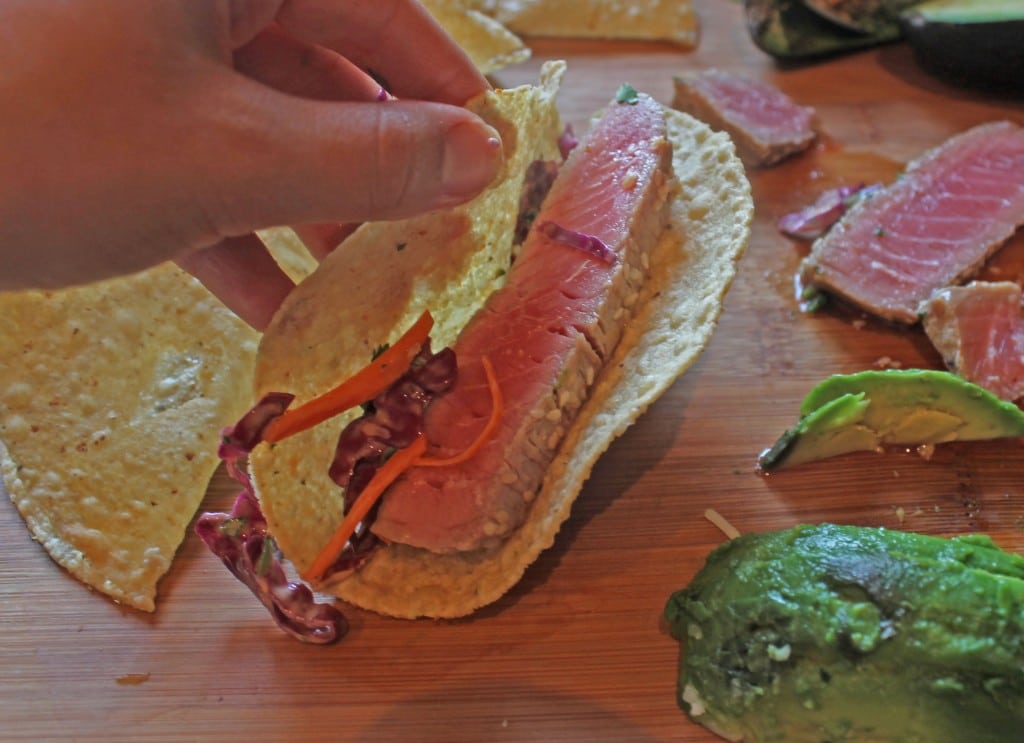 Top with a nice piece of tuna.
Little bit of avocado.
A little bit more slaw and a sprinkle of cilantro.  As always, a squeeze of fresh lime juice ties it all together.
Serve with rice and extra lime.
Tuna Tacos with Sirracha Slaw
Makes 8 tacos
1 lb Ahi or Yellow Fin Tuna
½ tsp sesame seeds
1 ½ tsp salt divided
Canola oil
8 corn tortillas (flour tortillas and store bought corn taco shells with also work)
1 ½ cups shredded red cabbage
½ cup shredded carrots
2 ½ tablespoons chopped cilantro plus more for garnish
3 tablespoons light mayonnaise
½ teaspoon sriracha sauce (or more if you like it extra spicy)
1 ½ teaspoons rice vinegar
1 avocado sliced
To Make Slaw: Combine cabbage, carrot, cilantro, mayo, sirracha, vinegar, and ½ tsp of salt.  Mix until all the cabbage and carrots are coated. Set aside.
To Make Tuna: Coat both sides of tuna filets evenly with salt and sesame seeds. Heat sauté pan to a medium high heat.  Coat the bottom of pan in enough oil to cover, about two to three tablespoons. Sear tuna on both sides about 2 minutes per side for rare. Let rest for a few minutes.  Slice tuna against the grain.
To make taco shells: Heat about one inch of oil in a deep sauce pan to a medium high heat.  To test temperature, put the end of a wooden spoon in the oil, if bubbles form around the spoon, the oil is ready. Drop tortilla in hot oil, form into a taco shell with your tongs.  Fry until crisp about 1 minute.
Assemble:  Place two pieces of tuna into taco shells.  Top with avocado and slaw.  Garnish with cilantro.  I also like to garnish with a little bit of Mexican crema but sour cream will also do.