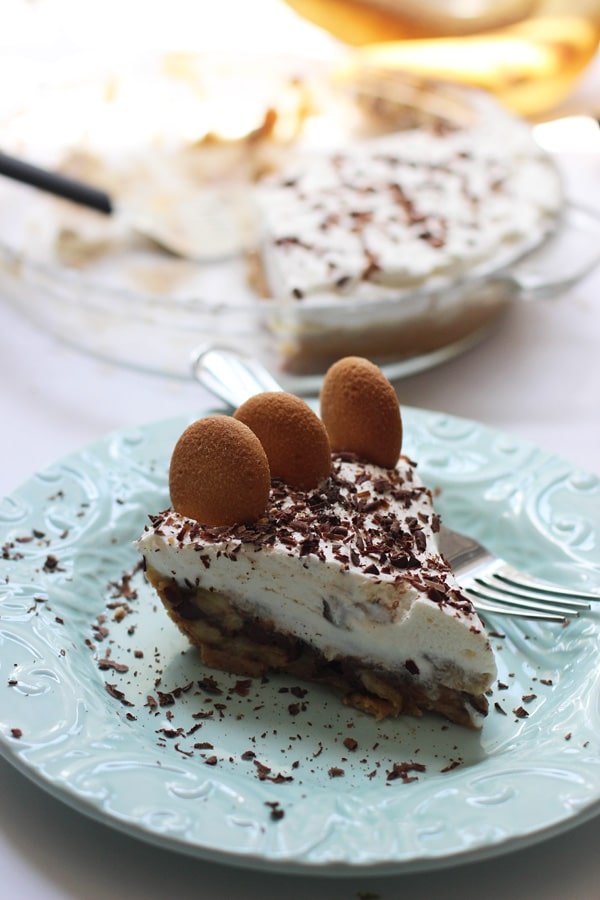 So you know how when you go on vacation you become a gluttonous pig, shoving anything and everything into your mouth within arm's reach? Or how you eat croissants and spanakopitas three times a day just because they're there? And eat copious amounts bread at every meal, even though you're not the slightest bit hungry. And then consequently smother all the bread with butter, because calories and fat don't exist when outside the borders of the US. Oh, annnd you have at least four cocktails a day, because you don't get drunk or hung-over on vacation – and YOLO….
Yes? No?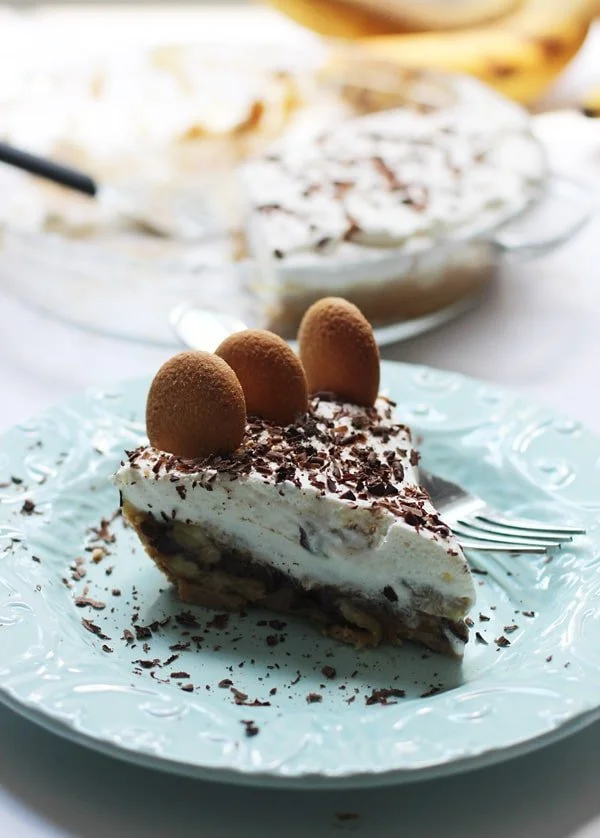 While the sequence of events may not be identical to your vacation, I'm sure you can relate to all the binge eating and drinking, even all you peeps out there that still exercise on vacation like our traveling companions (they ran EVERY DAY!).
The one thing that's not normal about the sequence of events isn't what happened on vacation, but what happened after…
We continued to eat. And eat…and eat…
You see, during our time in Greece Kev was missing out on the American comfort foods – burgers, wings, chicken fingers, pizza – you know all the artery clogging foods that are deemed "American classics". On our last day, completely out of the blue, Kevin made just one meal request – chicken fried steak, mashed potatoes and gravy, rolls and a good ol' fashioned pie.
I begrudgingly obliged.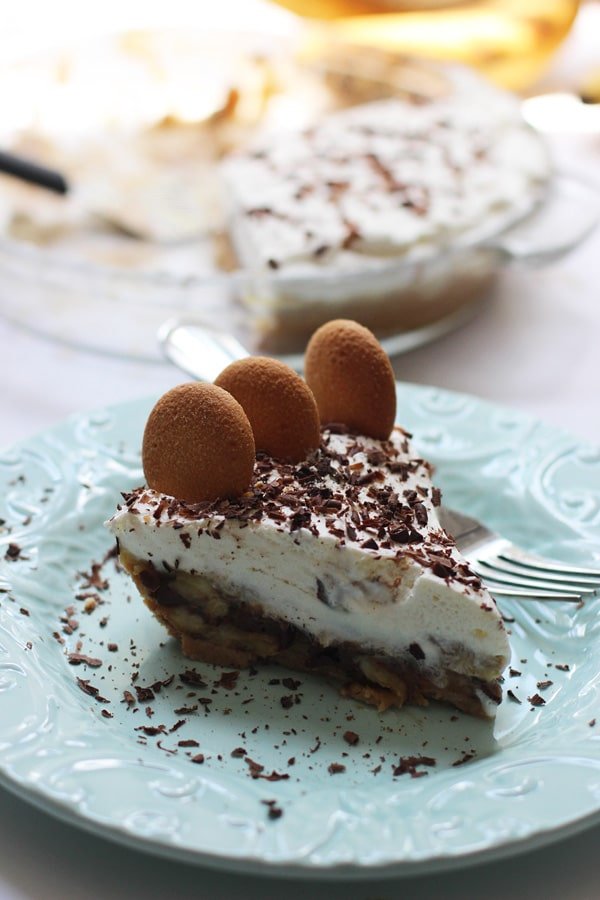 The type of pie was my choice.
I've been wanting to emulate a banana cream pie from a favorite restaurant of mine for some time, so my typical hour-long back and forth decision making process was cut down to mere seconds.
The pastry chef at the restaurant makes one of the most delicious, flaky crusts I've ever had the pleasure of tasting, so I wasn't even going to try and replicate it – I'll leave that to the professionals. I settled on a super easy cookie crust made with crushed vanilla wafers, just a touch of salt and melted butter, in what is honestly my favorite pie crust yet.
The filling is ridiculous easy. Equal parts of 1% milk, almond milk and one ripened banana are heated up in a saucepan, not to a boiling point, but just a scalding hot temperature. (Most professionals keep track of the temperature – I do not because I'm not a professional, but mostly because I'm lazy.)
While the milk and banana mixture is heating up, some sugar, egg yolks, a little bit of milk and cornstarch are whisked together in another small bowl and the hot milk is slowly drizzled in to bring the eggs up to temperature and keep them from curdling. Once the eggs are brought up to temperate the whole mixture is combined with the hot milk. Here is where you need to watch it, turn the heat down to a medium-low and constantly stir the mixture while it thickens up – it should take about five or so minutes.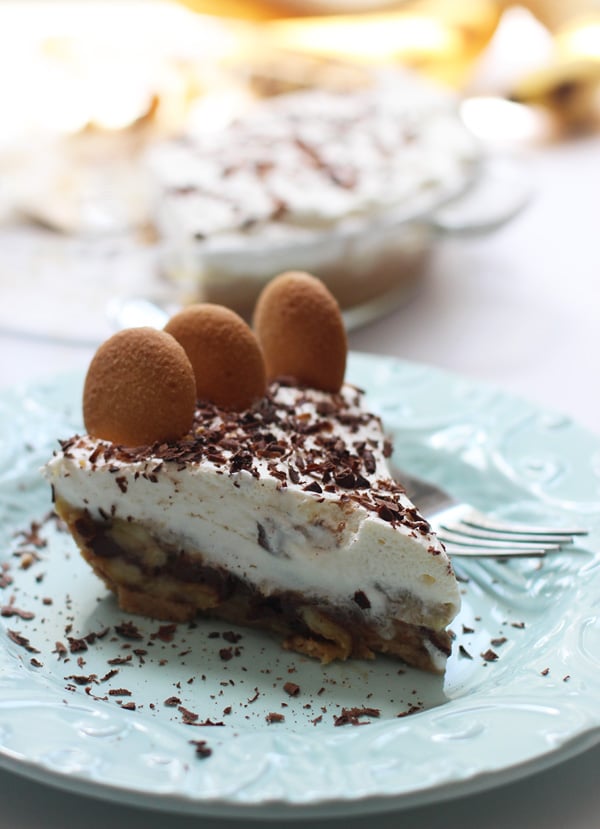 Next up, the CHOCOLATE! This is probably my favorite part of the pie! Rich chocolate ganache is poured into the bottom of the prepared crust that has been covered in sliced bananas, then topped with half of the cooled filling, more bananas and the remaining filling. The whole pie is topped of with homemade whipped cream, chocolate shavings and all the leftover vanilla wafers from the box.
Kevin and I have literally had this every day this week, it's SO good. And while it's not technically low in calories and fat, it's actually significantly lighter than most cream pies, as there's no actual cream in the filling. You could swap out the whipped cream topping for light cool whip if you want to cut the calories even more.
Either way, this pie is a MUST for summer!
Have a great weekend guys!
Banana Cream Pie with Chocolate Ganache and Vanilla Wafer Crust
This banana cream pie is kicked up a notch with a vanilla wafer cookie crust and decadent chocolate ganache bottom layer, making for the ultimate summer dessert!
Ingredients
Crust:
40 vanilla wafers (plus more for garnish)
½ teaspoon salt
4 tablespoons melted butter
Filling:
1 cup 1% milk
1 cup almond milk
½ cup sugar
¼ cup cornstarch
1 ripe (brown) banana, mashed
4 egg yolks
3 bananas (not brown), sliced
Chocolate Ganache:
4 ounces bittersweet chocolate
1 tablespoon butter
⅓ cup heavy cream
Whipped Topping:
1 pint heavy cream
2 tablespoons powdered sugar
1 ½ teaspoons vanilla extract
Instructions
Preheat oven to 350 degrees. Grease a pie dish with butter or non-stick cooking spray.
For the crust: Add cookies and salt to the food processor. Pulse until they are a fine crumb. With the processor on, slowly drizzle melted butter into crumbs. To make sure the crust will hold, grab a small handful of the crust and press, if it sticks together you're good to go, if it's still al little crumbly, add ½ tablespoon more of melted butter. Bake the crust until golden brown, about 15 minutes.
For the filling:
In a medium sauce pan, whisk milk, almond milk and mashed ripened banana. Turn the heat on medium until the mixture is scalding hot, but not boiling. In another bowl, whisk together, egg yolks, sugar and cornstarch. Slowly ladle a little of the hot milk mixture into the sugar and egg mixture to bring the eggs up to temperature. Once you've added about 1 cup of the milk, you can slowly whisk all the eggs and sugar into the hot milk and banana. Turn the heat down to a medium to medium low, and constantly stir (slowly) the mixture until it thickens, about five minutes. Once the custard has thickened, transfer to a bowl and cool.
For the ganache:
In a microwave safe bowl, add chocolate, butter and cream. Heat in 30 second intervals in the microwave, stirring in between each interval until the chocolate and butter is completely melted. Let cool.
Whipped Cream:
In the bottom of a stand mixer, add cream. Using the whisk attachment, whisk on medium-high until the cream is whipped. Add powdered sugar and vanilla, whisk until combined.
Assembly:
Once the custard and ganache have cooled, arrange half of the sliced bananas on the bottom of the crust. Top with ganache, followed by half of the custard, then the remaining sliced bananas, followed by the remaining custard. Place of piece of plastic wrap directly on the custard and chill overnight.
When ready to serve, spread whipped cream over custard. Top with grated chocolate and remaining vanilla wafer for garnish.