Four Ingredient Brie and Brown Sugar Hasselback Sweet Potatoes are the perfect, easy twist on classic sweet potato souffle. Super easy, so delicious.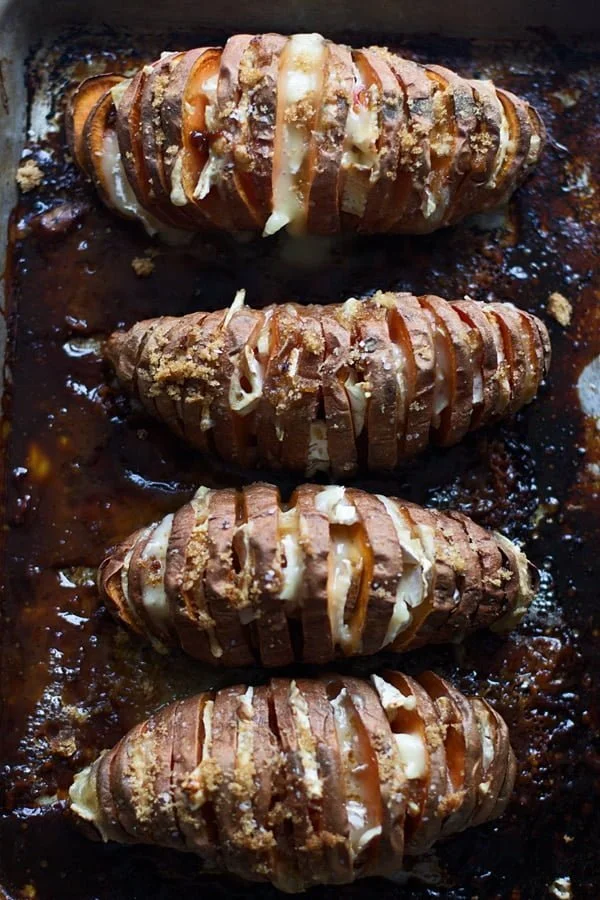 Four ingredients.
Butter + brown sugar + brie + sweet potatoes.
Could you ask for anything more??
I know sweet potato casserole is classically Thanksgiving, but it's not something we had on our menu growing up, which is surprising, since almost all of the other classics gracing Thanksgiving tables across the country made the cut.
We've since introduced it in the recent past because I had a major case of FOMO after seeing countless mashed sweet potatoes piled high with melted marshmallows, brown sugar and a ridiculous amount of butter splattered across the Internet and my Instagram feed. After our inaugural casserole and a rather lackluster response from the family, it's still not something that makes an appearance every year with our other non-negotiable dishes like my Grandma's dressing, mashed potatoes, green been casserole and the rolls I inevitably screw up and obsess over.
I'd guess we end up making an actual casserole every two to three years, so in the interim years we typically find other creative methods to bring sweet potatoes to the table. We've had a chipotle sweet potato gratin, mini sweet potato gratins and this year, and these Brie and Brown Sugar Hasselback Potatoes — possibly my favorite sweet potato rendition yet.
Not only am I kind of obsessed with these, because, well, have you seen them? But because they're SO easy to make, I mean, four ingredients and basically no preparation whatsoever. Just slice the potatoes, brush them with melted butter and pop them into the oven to cook and crisp up.
Once the potatoes are almost fully cooked, they're brushed with more butter, sprinkled with brown sugar, stuffed with brie, sprinkled with more brown sugar and popped back into the oven until the brie is gooey, melted and oozing down the sides of the potatoes.
See YA sweet potato casserole!
Brie and Brown Sugar Hasselback Sweet Potatoes
Author:
Nicole ~ Cooking for Keeps
Ingredients
4 sweet potatoes
2 tablespoons melted butter
½ cup brown sugar
8 ounces brie, sliced thin and cut to fit the length of the sweet potato
Instructions
Preheat oven to 400 degrees.
Slice potatoes ¼-inch thick, making sure to not cut all the way to the bottom of the potato. Line up on a baking sheet. Brush outside and inside with half of butter. Bake for 30 minutes. Remove from oven and brush with remaining butter. Bake another 15 minutes, or until potatoes are fork-tender.
Remove from oven and sprinkle inside with half of brown sugar. Tuck brie in potato slices. Cover with remaining brown sugar, making sure to get into the crevices and top.
Bake another 5-7 minutes until brie and brown sugar is melted.