As I was editing the photos for today's Candied Sweet Potato Fries with Marshmallow Cream, I started to notice, they totally scream fall. Even though I'm completely infatuated with summer (sun, pools, outdoor activities galore!), I guess I'm unconsciously awaiting fall's arrival. After all, I am a little tired of all of my summery clothes, and I'm just itching to finally wear these new jeans, adorable mules, and these sneakers I snagged at the Nordstrom sale last month – along with waay too many other items. Yikes.
If you're not quite ready for fall foods yet, no worries, these sweet potatoes are so tasty, they're totally appropriate to eat any time of year.
And boy, did we eat them.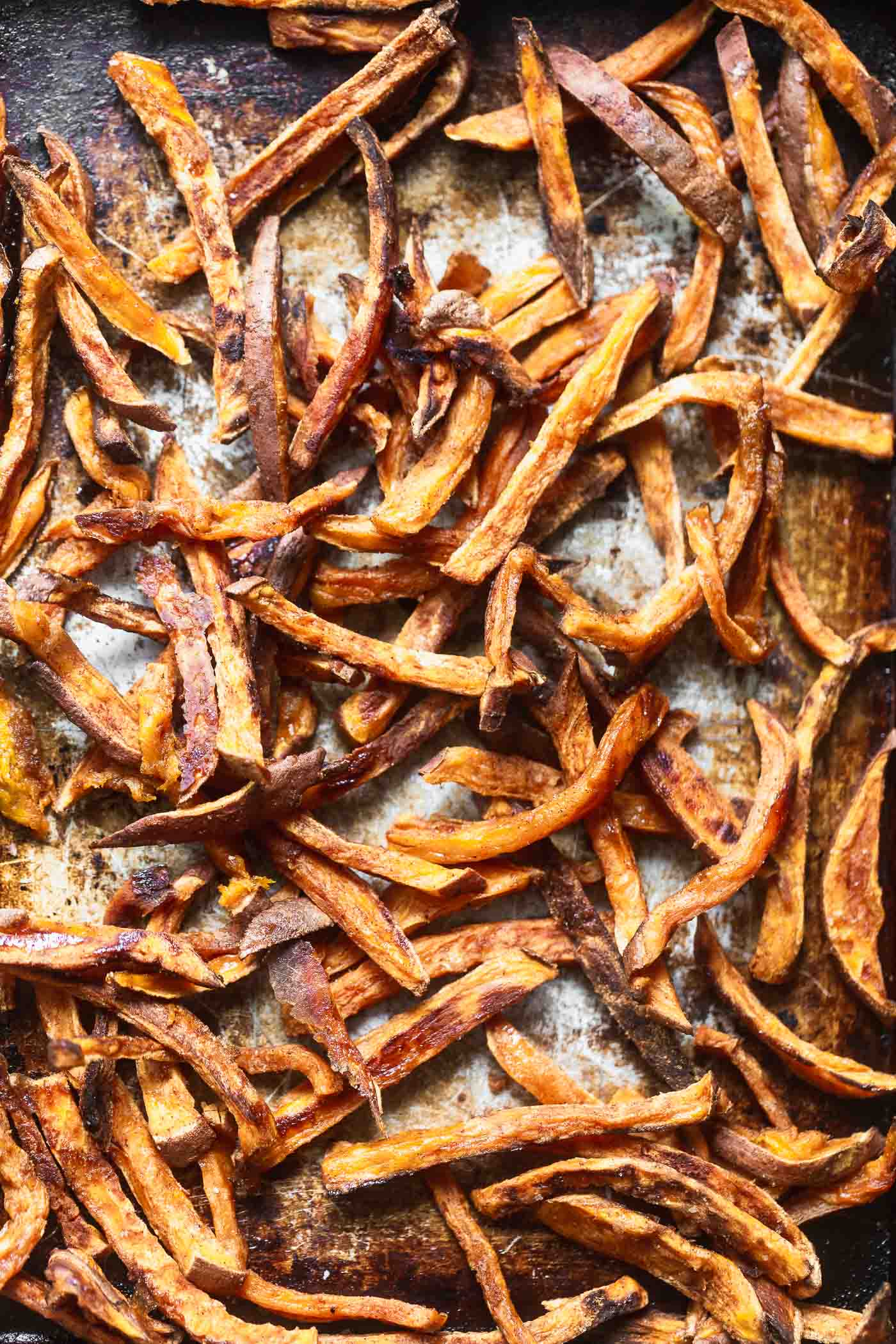 I feel almost ashamed to call these guys a side dish, because with already sweet, sweet potatoes covered in brown sugar and cinnamon, then drizzle with melted marshmallows, they could actually be categorized as some sort of healthier version of dessert. But since cloyingly sweet, sweet potato casseroles around the holidays can be called sides, this one is a shoo-in.
Plus the sugar and marshmallows are used sparingly, and really, if it gets my toddler to eat sweet potatoes, I'm willing to call it whatever.
When it comes to sides, these are one of the easiest, which I love. Because after I've whipped up a fancy burger or anything that takes longer than 15 minutes to throw together, the last thing I want to do is spend forever putting together a side everyone in my family will eat.
As it goes with most "fries" the size you make them doesn't really matter – skinny, fat, whatever – but it's best if they're all generally the same size so they cook evenly. Sweet potatoes have a tendency to burn, so it's really important to keep each one a similar size so they don't burn to a crisp.
You could toss them in olive oil, but I love to use coconut oil whenever it compliments the flavor of what I'm cooking, so that's what I went with. Because sugar also has a tendency to burn when cooked at a high temperature, I left it off until the potatoes were about halfway done cooking, pulled them out and then tossed them with the cinnamon and sugar.
When the fries come out of the oven, they will not seem crispy, but once they sit for a minute or two, they transform into this sticky, crispy sweet potato oblivion, trust me! And if a FEW are still a little limp, it just means they're covered in cinnamon sugar and that much more addictive.
While the fries cool for a minute, the marshmallow cream comes together, which is basically just like making Rice Krispie Treats. Toss some mini marshmallows with coconut oil in a bowl, nuke for 30 seconds, stir and drizzle over the sweet potatoes.
I skip transferring them to any type of serving dish and just let everyone go to town on them while they're still on the baking sheet.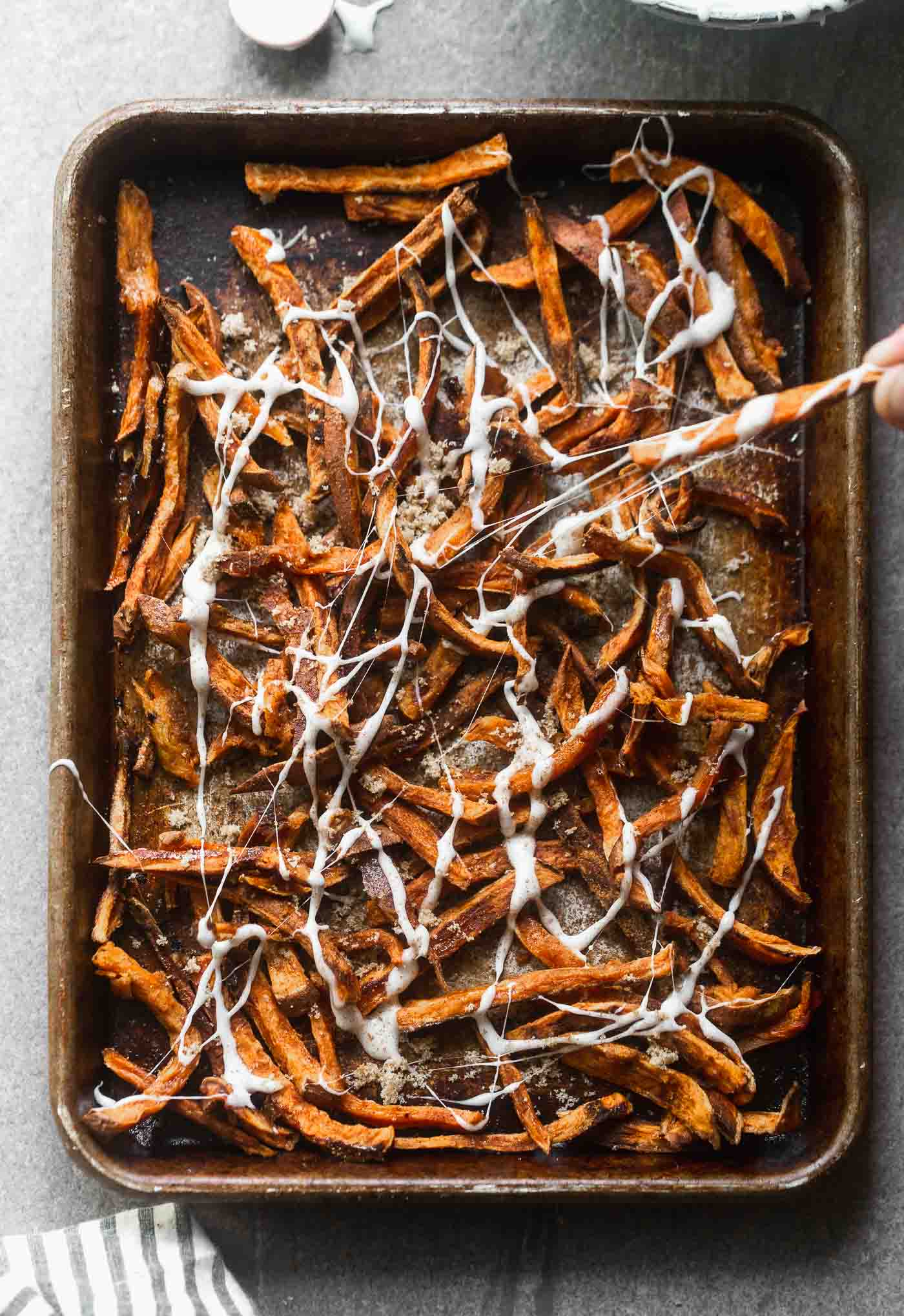 Candied Sweet Potato Fries with Marshmallow Cream
Candied Sweet Potato Fries with Marshmallow Cream: crispy sweet potato fries smothered with gooey marshmallow, cinnamon, and brown sugar. So addictive!
Ingredients
2

medium

sweet potatoes (about 1/2 pound)

3 1/2

tbsp

coconut oil, melted and divided

1

tsp

kosher salt

3

tbsp

packed light brown sugar, divided

1

tsp

cinnamon

1

cup

mini marshmallows
Instructions
Preheat oven to 400 degrees.

Cut sweet potatoes into fries. The size doesn't matter as much as long as they are the same size. Add sweet potatoes to a large bowl. Toss with 2 1/2 tablespoons coconut oil and salt. When the oil has coated the sweet potatoes, transfer to a large baking sheet. Make sure they're spread evenly, you don't want them on top of each other, otherwise they will steam instead of crisp up. If needed, use two pans.

After cooking for 15 minutes. Remove from oven and put them back in the bowl. Toss with 2 tablespoons of brown sugar and cinnamon. Place back on pan and roast another 8-10 minutes until caramelized. When the sweet potatoes come out of the oven, sprinkle with remaining brown sugar.

Add remaining coconut oil to a microwave safe bowl. Add marshmallows. Microwave for 30 seconds until puffed and you can stir them. They should be melted and drizzle easily. (It will be sticky!) If they aren't melted, microwave other 10 seconds until they are.

Drizzle melted marshmallows on sweet potatoes. Serve!
Nutrition Information
Serving:
1
serving
,
Calories:
184
kcal
(9%)
,
Carbohydrates:
28
g
(9%)
,
Protein:
1
g
(2%)
,
Fat:
8
g
(12%)
,
Saturated Fat:
7
g
(44%)
,
Sodium:
437
mg
(19%)
,
Potassium:
262
mg
(7%)
,
Fiber:
2
g
(8%)
,
Sugar:
14
g
(16%)
,
Vitamin A:
10688
IU
(214%)
,
Vitamin C:
2
mg
(2%)
,
Calcium:
32
mg
(3%)
,
Iron:
1
mg
(6%)