Possibly our favorite comfort food of fall, this Chicken Pot Pie with Biscuits is cozy, delicious and a such fun twist on traditional chicken pot pie. We take a classic creamy pot pie filling full of chicken, carrots, celery, and potatoes and stud it with sharp cheddar cheese and then top it off with fluffy, tender cheddar chive biscuits. Heaven in a casserole dish.
For more chicken pot pie recipes, be sure to check out this Easy Chicken Pot Pie, and this Healthy Phyllo Chicken Pot Pie.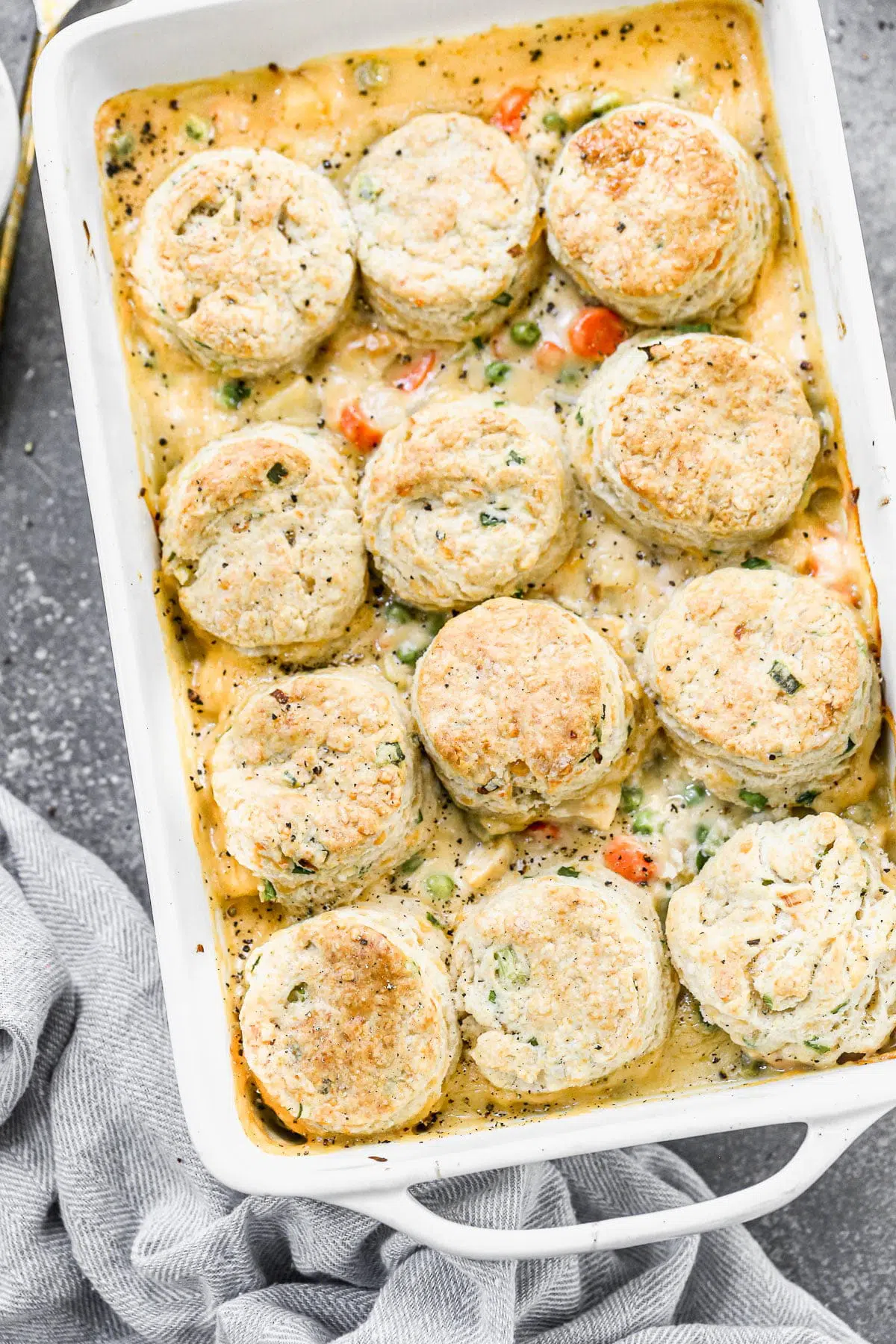 Cheesy Biscuit Chicken Pot Pie
I've made chicken pot pie what seems like hundreds of times and I've also made it every way you can think of. I've mastered it classically with a flaky top and bottom crust. With huge chunks of lobster and pearl onions. Lightened up with phyllo dough and low-fat milk, just to name a few. But I have to admit, today's Cheesy Chicken Pot Pie with biscuits is the best version yet. And honestly, the best I've tasted, period.
While this version doesn't stray too far from the classic, I add an extra layer of flavor in the filling with my favorite way to make dishes a little bit more elegant – dry sherry (like in this Creamy Chicken Noodle Soup). It adds this sweet, almost luxurious taste I can't get enough of when it's laced with creamy sauce, veggies and perfectly cooked chicken.
Cheddar cheese is something you don't find in most chicken pot pie fillings, but I just love the sharp cheesy flavor and texture it gives the filling.
Also, instead of a crispy pie crust for the top layer, I whip up the flakiest, cheesiest, most delicious cheddar chive biscuits, which I nestle right on top of the filling.
Let's get started!
Ingredients in our Chicken Pot Pie with Biscuits
The biscuits
Butter + shortening. My favorite way to make flavorful, flaky biscuits is to use a combination of butter for flavor and shortening, for flakiness. It's the perfect combination because if you just use one or the other, you either get flavor or flakiness, and we want both!
All purpose flour. Some people swear by self-rising flour but I find all-purpose flour works just fine.
Baking powder + baking soda. Baking powder is what makes the biscuits rise. Baking soda is another leavening agent, but often needs to paired with an acid, like buttermilk to activate.
Cheddar cheese. We use a super-sharp cheddar cheese and the sharper the better! You could also swap out the yellow cheddar for white cheddar or any other super sharp cheese.
Buttermilk. Unless I'm making something like shortcakes which require richness, I like to use buttermilk in my biscuits. It adds tang, plus it gives the biscuits a super soft texture.
The filling
Butter. If we're going for it, we may as well use a little bit of butter so saute the veggies. I always try to use unsalted butter so I can control the amount of salt in the dish.
Veggies. You could use whatever veggies you want, but I went classic in our chicken pot pie with biscuits. We use plenty of diced potato, onion, carrots, celery, and frozen peas. Other good additions would be sweet potatoes, pearl onions, or winter squash.
Flour. We need a little bit of flour to thicken up the filling.
Chicken stock. We always use low-sodium chicken stock. Any good quality brand will work great.
Sherry. I am obsessed with dry sherry. It gives our biscuit pot pie an elevated, luxurious taste you can't get with anything else. (We also use it in our Healthy Chicken Tetrazzini.)
Milk. Any kind of milk will work, but we like to use whole milk.
Chicken. You can quickly sear up some chicken or you can use rotisserie chicken as well.
Let's make Chicken Pot Pie with Biscuits
Cook the veggies. Sweat onion, carrot, celery and diced potato in a little bit of butter. Once the veggies are slightly soft, mix the flour in.
Make the sauce. Add in dry sherry, chicken stock and whole milk. Bring the mixture to a boil, reduce to a simmer until it thickens up nicely.
Add everything else. When the filling thickens, turn the heat off and add in the cheese. Stir until it's combined. Fold in the chicken. Lastly, throw the frozen peas in. Make sure to season with salt and pepper!
Pour the filling into a casserole dish and top with the raw biscuits.
How to make the BEST homemade biscuits
Making really great homemade biscuits isn't hard, but there are some things you need to keep in mind.
Fold the dough over itself to create flaky layers. This goes against what I used to think about biscuits in that the less you handle it, the better. However, I've found that when you continue to fold the dough over itself, the result is tall, layered biscuits that are irresistible!
Use cold ingredients! The shortening doesn't need to be cold, but the butter and buttermilk do. I like to cut my butter in to cubes, separate them and then place them back in the fridge while I measure the dry ingredients and shred the cheese.
Be quick! When using your biscuit cutter, go straight down and straight up. If you twist the dough, you may end up with lopsided biscuits.
Use plenty of flour. Dust the biscuit cutter with plenty of flour to avoid sticking.
Do I have to make homemade biscuits??
This is a tough one for me, I say yes. Just because these biscuits are SO good! But if you are really craving a biscuit chicken pot pie when you don't have a lot of time, refrigerated biscuits will also do the trick.
Can I leave the cheese out?
Sure! Just make sure the filling thickens up enough still. You can also use low-fat cheddar if you're worried about fat and calories. But I mean, when you're indulging, might as well go all the way!
Substitutions and Tips and Tricks for Recipe Success
Again, when making the biscuits work with cold ingredients!
Try making this with lobster or shrimp for a seafood version!
Add any of your favorite veggies – pearl onions, sweet potatoes, butternut squash would all be great additions.
You can swap out the whole milk for low-fat milk, it won't be as creamy, but will still work!
For glistening biscuits, brush the tops with egg wash.
If you don't have fresh herbs on top, feel free to leave them off.
If the biscuits start to brown a little bit too much, lower the dish to the bottom part of the oven,.
Other comforting winter dishes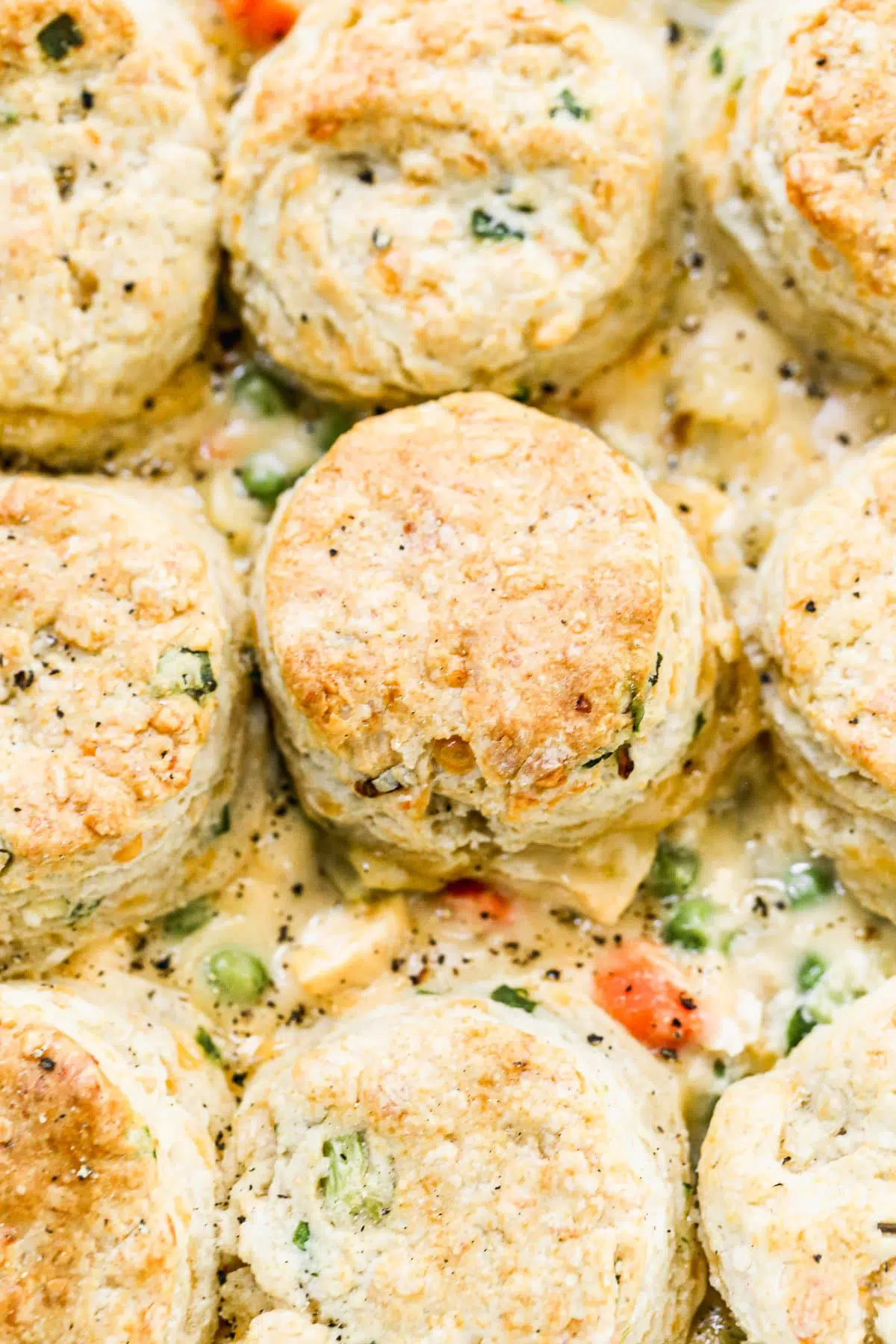 Cheesy Chicken Pot Pie with Biscuits
Possibly our favorite comfort food of fall, this Chicken Pot Pie with Biscuits is cozy, delicious and a such fun twist on traditional chicken pot pie. We take a classic creamy pot pie filling full of chicken, carrots, celery, and potatoes and stud it with sharp cheddar cheese and then top it off with fluffy, tender cheddar chive biscuits. Heaven in a casserole dish.
Ingredients
3

tbsp

unsalted butter

1 1/2

cups

sliced or chopped baby carrot

1 1/2

cups

diced onion

1 1/2

cups

diced red potato

1/2

cup

diced celery

1

tsp

salt

2

medium

chicken breasts, cooked and diced (about 2 cups chicken, see note)

1/3

cup

all-purpose flour

1/3

cup

dry sherry

1

cup

low-sodium chicken stock

3/4

cup

whole milk

1

cup

shredded sharp cheddar cheese (I used 2%)

1

cup

frozen baby peas
The Biscuits
2

cups

all-purpose flour

1/4

cup

chopped chive

3

tsp

baking powder

1/2

tsp

baking soda

1

Tsp

Salt

1

cup

shredded sharp cheddar cheese (I used 2%)

4

tbsp

cold butter cut into cubes

4

tbsp

vegetable shortening

3/4

cup

cold buttermilk

1

egg + 2 tsp. water
Equipment
casserole dish

stock pot

wooden spoon
Instructions
(READ RECIPE AND NOTES BEFORE PREPARING!) Preheat oven to 400 degrees. Grease a 7x11 or 8x12 baking dish with non-stick spray or butter. 

Heat a large skillet to a medium heat. Add 3 tablespoons of butter. When butter melts add chopped carrot, onion, potato, celery and 1 teaspoon salt. Sweat vegetables until softened, but still have a bite to them, about 8 minutes. If they start to brown, reduce the heat a bit.

Add flour to vegetables, stir to combine and cook for 1 minute. Slowly whisk in dry sherry, chicken stock and milk. Quickly stir the liquid with the vegetables to make sure no lumps form. Once the flour, veggies and liquid are incorporated, bring the mixture up to a boil and then reduce to a simmer. Simmer until the mixture has thickened significantly.

Turn the heat off and add in the cheese, while stirring. a little bit at a time until it's all incorporated. Add diced chicken. Stir to combine. Season to taste with salt and pepper. For my taste, I added about another 1/4-1/2 tsp salt.

Add frozen peas to the filling and toss to incorporate.

Transfer to prepared baking dish and top with biscuits. Brush with egg wash mixture. Bake in the oven for 20-25 minutes or until biscuits are golden brown and cooked through and the filling is hot and bubbly. Garnish with chopped chive. 

While the veggies cook and the filling simmers, make the biscuits. Whisk flour, baking powder, baking soda and salt together in a large bowl. Add in chives and cheese. Stir with a fork to combine. Add in COLD cubed butter and shortening. Use a pastry cutter or fork to cut the fat in to the flour mixture. It shouldn't take long, you want there to be small, pea-sized chunks of fat distributed throughout the flour. Some larger pieces of butter are okay.

Once the butter and shortening are cut in, drizzle half of the buttermilk over the flour, chive and cheese mixture. Use your fork to gently toss until evenly coated. Add the other half of the buttermilk and continue to stir until incorporated. DO NOT OVER MIX! There will be a few shaggy pieces, that's okay.

Dump dough out on to a lightly floured surface. Gently knead the dough to bring it together completely. Lightly dust a rolling pin and roll the dough into a 6x8 rectangle. Fold the dough in half over itself and roll into another rectangle the same size. Repeat two more times. The last time you roll the dough into a rectangle, continue to roll the dough out so it's about 1/4 inch inch tall.

Use a 2 1/2-inch biscuit cutter to cut 12 biscuits. If needed, reform scraps of dough to make all 12. Make sure you don't twist the biscuit cutter into the dough, just go straight down forcefully and straight back up. To prevent the cutter from stick, dip in flour before you make each biscuit. Place the biscuits on a small baking sheet and place in the freezer until the filling is complete. 
Tips
If using raw chicken to begin with and not leftover or rotisserie chicken, speed up the cooking process by cooking the chicken first. Split each breast in half lengthwise so you have four thinner portions, season with salt and pepper on both sides and sear in a non-stick skillet with a little bit of olive oil. Prep your veggies as it cooks.
Also, while the vegetables cook, make your biscuits and then pop them in the freezer while you continue to make the filling. Utilizing idle time is the best way to efficiently make recipes! Also, keeping the biscuits in the freezer while everything else finishes up, ensures flaky biscuits!
The serves four people, easy, and six conservative eaters. If your family has big eaters in it, I'd double the filling, but keep the biscuits the same. 
Nutrition Information
Serving:
1
serving
,
Calories:
380
kcal
(19%)
,
Carbohydrates:
38
g
(13%)
,
Protein:
22
g
(44%)
,
Fat:
15
g
(23%)
,
Saturated Fat:
6
g
(38%)
,
Polyunsaturated Fat:
3
g
,
Monounsaturated Fat:
5
g
,
Trans Fat:
1
g
,
Cholesterol:
53
mg
(18%)
,
Sodium:
850
mg
(37%)
,
Potassium:
634
mg
(18%)
,
Fiber:
3
g
(13%)
,
Sugar:
5
g
(6%)
,
Vitamin A:
3692
IU
(74%)
,
Vitamin C:
11
mg
(13%)
,
Calcium:
183
mg
(18%)
,
Iron:
3
mg
(17%)