Don't forget, today is the last day to enter into the KitchenAid mixer giveaway. Clicker here to enter!
Hi hi hi. How was your weekend? Have a good Valentine's Day? Did you get flowers? Chocolates? A nice meal? Pizza? A stiff drink? Shirley Temple? Takeout? Diamonds?
Mine was lovely and started out with some gorgeous roses and tulips along with a few of my favorite things from the hubs. We enjoyed a nice quiet dinner at home and Kevin even let me turn the thermostat up to 73 degrees and blast Celine Dion's greatest hits while we sipped on cocktails and nibbled on hors d'oeuvres. He's a keeper.
Saturday night, we wrapped it all up with a date night to our favorite Italian restaurant where I got not one, but two entrées (fettuccine alfredo and veal parmesan), and two, very stiff dirty martinis. It was glorious.
Speaking of love, I just finished watching the proposal on Keeping up With the Kardashians (yes, embarrassingly I still watch it), and even though I can't stand Kim Kardashian or Kayne West, it was actually really sweet to see their proposal, and I'm not gonna lie, I totally shed a few tears – it was just… breathtaking…
You may de-friend me now.
On the opposite end of the spectrum, I also just watched the first three episodes of House of Cards, and holy crap, I just about jumped out of my seat when the most shocking turn on the planet happened in the very first episode. I won't say what it was in case you haven't seen it, but it was without a doubt the most shocking scene I've ever seen on TV – seriously, my jaw is still on the floor.
In other real life news, I made this chicken tetrazzini about five million years ago, and am just now getting around to sharing it. I don't want you to think it's not worthy, because it is, it's just that there were game day recipes to be made, and there were romantic Valentine's Day dishes to be shared and in the midst of it all, this poor guy kind of got forgotten.
Forgotten no more.


This winter favorite has all over the flavor and comfort-factor of a traditional chicken tetrazzini, but with a fraction of the fat. The heavy cream is swapped out for a part low-fat milk and part chicken stock mixture; the butter is cut back and the full-fat cheddar cheese is swapped out with a 2% milk variety. I still used regular ol' linguini, but you could even substitute it for whole-wheat pasta, rice pasta or even quinoa pasta to lighten it up even more.
So creamy. So decadent. SO comforting. And the best part is I don't have to wallow in self-pity and guilt after I have a serving (or two) for dinner…and…lunch…and breakfast…
Ok, that's a lie, I would most definitely not feel good about myself if I ate for every meal, but you get my point, it's feel-good food.
And because it's midnight on Sunday, that's all I've got for you today.
Happy Monday! Talk to you on Wednesday.
Skinny Chicken Tetrazzini
Author:
Nicole ~ Cooking for Keeps
Ingredients
1 pound linguini
3 tablespoons butter, divided
½ onion, chopped
2 cups sliced mushrooms
1¼ teaspoons salt, divided
¼ cup flour
2¼ cups 1 or 2% milk
1½ cups chicken stock
¾ cup sherry
2 cups shredded 2% milk cheddar cheese
½ cup frozen peas
2 cups, cooked, cubed chicken
Instructions
Preheat oven to 375 degrees. Grease a casserole dish.
Bring a large stock pot filled with water to a rolling boil. Add a generous handful of salt. Cook linguini until aldente. Drain and set aside.
In the same pot, over a medium heat, melt two tablespoons butter. Add onions, mushrooms and ½ teaspoon salt and cook until softened, about five minutes. Add remaining tablespoon of butter, stir until melted.
Stir in flour, cook another minute or so to get rid of the raw flour taste. Remove from heat.
Slowly whisk in milk and chicken stock, making sure there are no lumps. Place back on heat and bring to a boil, then reduce to a simmer. Simmer until thickened, about 5-7 minutes.
Add sherry and simmer another minute or two. Remove from heat.
Add grated cheese, frozen peas and cubed chicken. Stir to combine. Season to taste with salt and pepper.
Transfer to casserole dish and place in the oven. Bake until bubbly and cheese has melted, about 20-25 minutes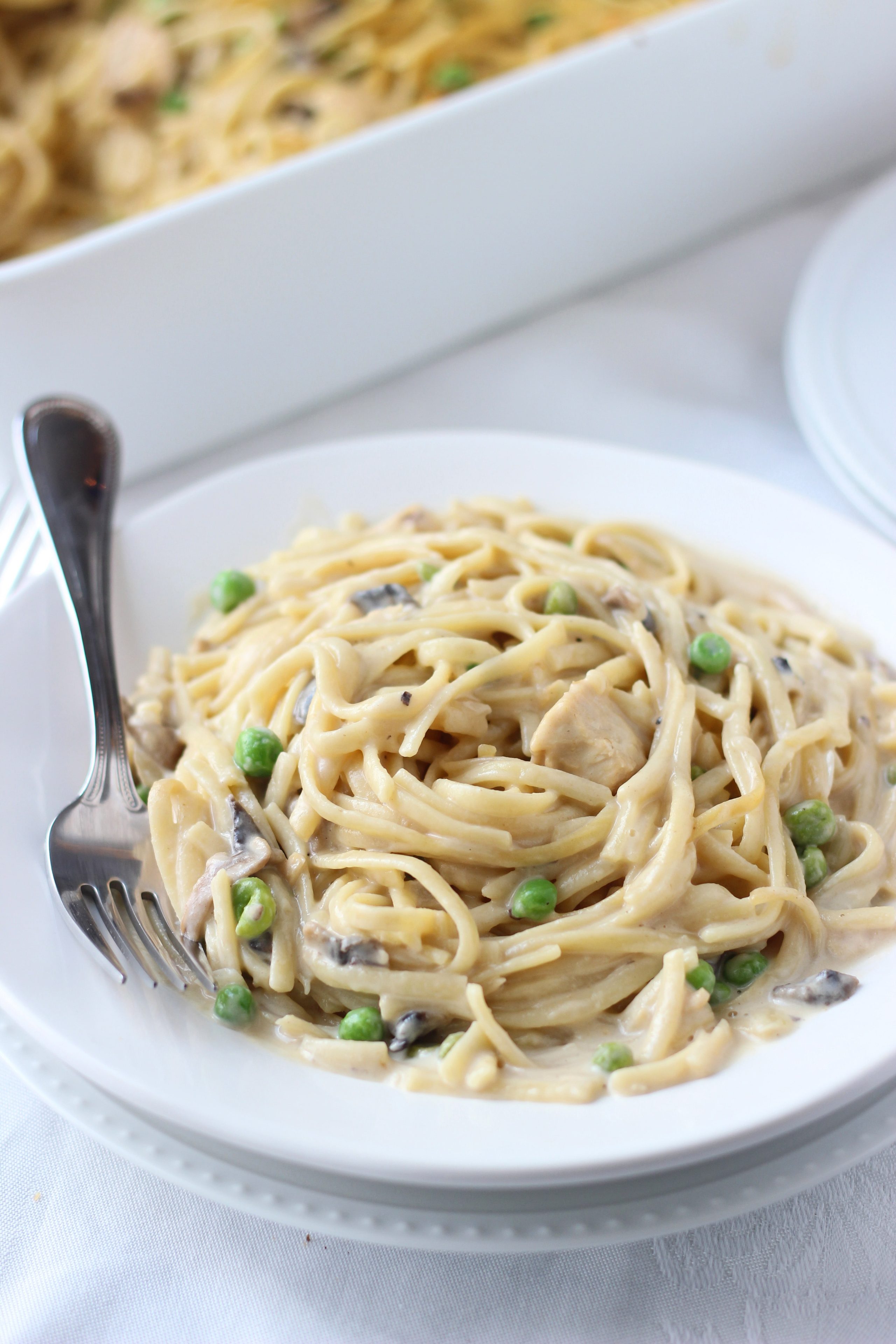 (Visited 25,930 times, 1 visits today)