Healthy Chicken Tetrazzini. I don't think I've seen more beautiful words. Tender chicken, sweet peas, and savory mushrooms all twirled with noodles and smothered with a creamy, cheese-laced sauce. If that's not heaven, I don't know what it.
Healthy Chicken Tetrazzini
If there was ever a dish that epitomized the notion of comfort food, I think it would be chicken tetrazzini.
Although I assume the ideal comfort food dish differs for everyone based on their childhood and upbringing. Cheesy chicken tetrazzini is what makes the nostalgic side of my brain trick because it's something we ate regularly growing up. It's also a dish my Mom brought to friends, neighbors, and family members in times of need, and now, so do I. So I guess I also associate it with the warm and fuzzy feeling helping someone out brings.
When the first freeze comes in October, you can bet I'm whipping up a version of chicken spaghetti to help ease the transition into the cold.
Because the original version of chicken tetrazzini isn't exactly categorized as healthy (or even close to it), I set out on a mission to lighten it up a little bit.
What is Chicken Tetrazzini?
But first, what the heck is chicken tetrazzini? In its simplest explanation, chicken tetrazzini is a creamy noodle dish packed with mushrooms, cheese, and a creamy sauce. It's covered with more cheese, baked, and served casserole-style.
Everyone has their own version and ours, while traditional has an extra dose of flavor from the addition of dry sherry wine. For me, without the nutty flavor of sherry, chicken tetrazzini is merely a creamy, cheesy pasta dish that's indistinguishable from the rest of the creamy, cheesy casseroles out there.
The great thing about sherry?? It's not an ingredient I have to omit to lighten up our original recipe. In fact, I actually double the amount of sherry in healthy chicken tetrazzini to ensure even a lightened-up version doesn't lack any flavor.
We also swap out the heavy cream for a part low-fat milk, part chicken stock mixture. The butter is cut back and the full-fat cheddar cheese is swapped out with a 2% milk variety. I still used regular ol' linguini, but you could even substitute it for whole-wheat pasta, rice pasta or even quinoa pasta to lighten it up even more.
Ingredients in Healthy Chicken Tetrazzini
Skinny Chicken Tetrazzini
Author:
Nicole ~ Cooking for Keeps
Ingredients
1 pound linguini
3 tablespoons butter, divided
½ onion, chopped
2 cups sliced mushrooms
1¼ teaspoons salt, divided
¼ cup flour
2¼ cups 1 or 2% milk
1½ cups chicken stock
¾ cup sherry
2 cups shredded 2% milk cheddar cheese
½ cup frozen peas
2 cups, cooked, cubed chicken
Instructions
Preheat oven to 375 degrees. Grease a casserole dish.
Bring a large stock pot filled with water to a rolling boil. Add a generous handful of salt. Cook linguini until aldente. Drain and set aside.
In the same pot, over a medium heat, melt two tablespoons butter. Add onions, mushrooms and ½ teaspoon salt and cook until softened, about five minutes. Add remaining tablespoon of butter, stir until melted.
Stir in flour, cook another minute or so to get rid of the raw flour taste. Remove from heat.
Slowly whisk in milk and chicken stock, making sure there are no lumps. Place back on heat and bring to a boil, then reduce to a simmer. Simmer until thickened, about 5-7 minutes.
Add sherry and simmer another minute or two. Remove from heat.
Add grated cheese, frozen peas and cubed chicken. Stir to combine. Season to taste with salt and pepper.
Transfer to casserole dish and place in the oven. Bake until bubbly and cheese has melted, about 20-25 minutes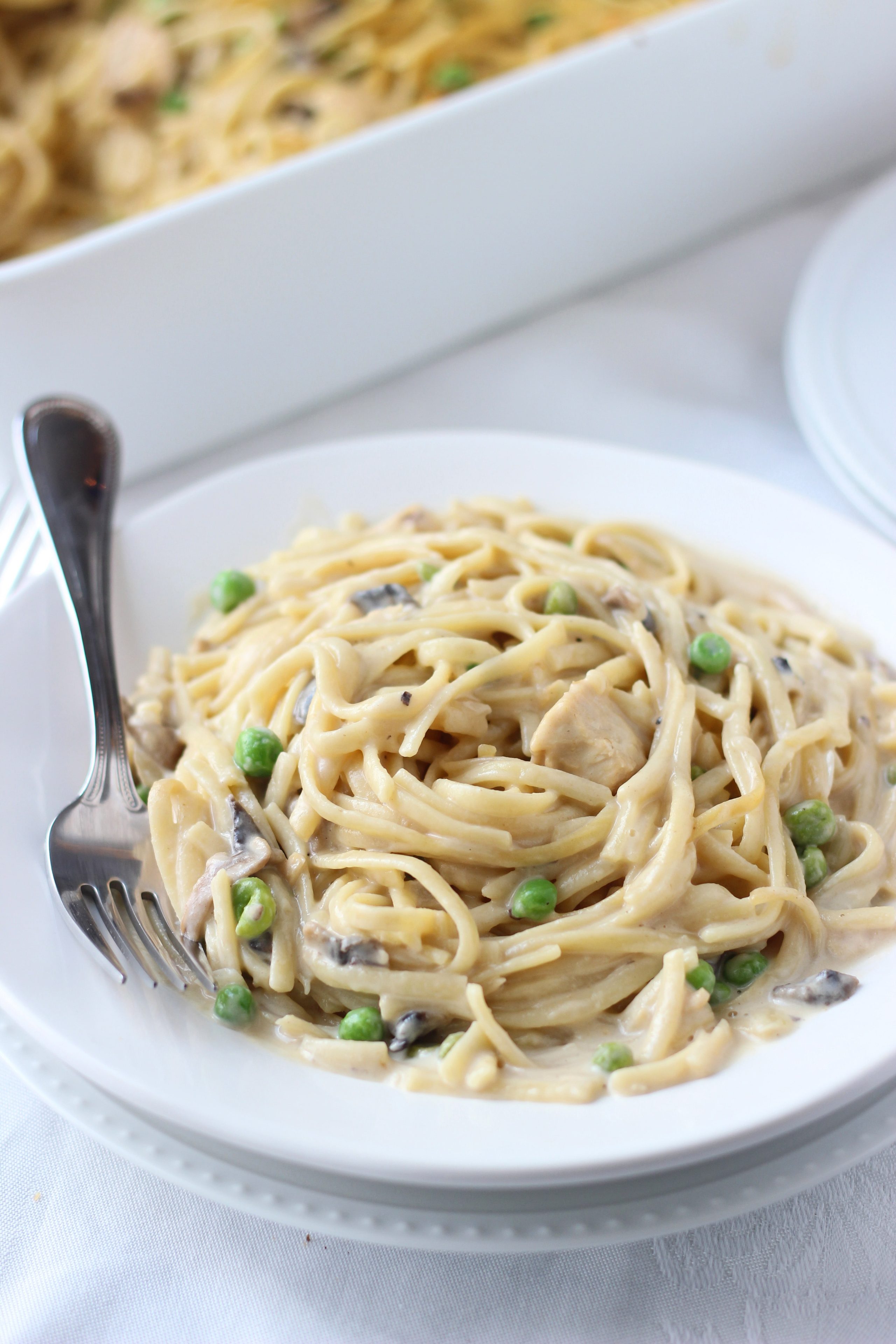 (Visited 28,062 times, 8 visits today)