These Mexican breakfast enchiladas are packed with creamy scrambled eggs, spicy chorizo and plenty of veggies. They're smothered with a cheesy homemade enchilada sauce, sprinkled with cheese and served with fresh cilantro!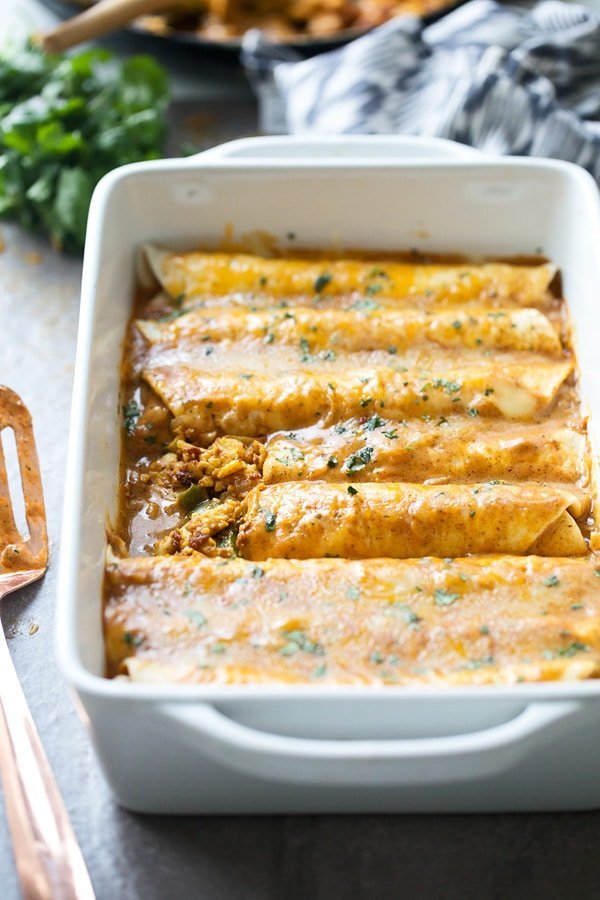 Mexican breakfast enchiladas
Let it be known, these Mexican Breakfast Enchiladas are the best thing you'll do this Cinco de Mayo. Or ever.
The chorizo and soft-scrambled egg filling is melt-in-you-mouth delicious. The homemade enchilada sauce is cheesy, slightly spicy and completely addictive. And the gooey cheese encasing the top?? Well, I don't need to convince you of the deliciousness there, do I?
Since Cinco de Mayo falls on a Saturday this year, I found it perfectly appropriate to start with a tex-mex version of breakfast, so here you go.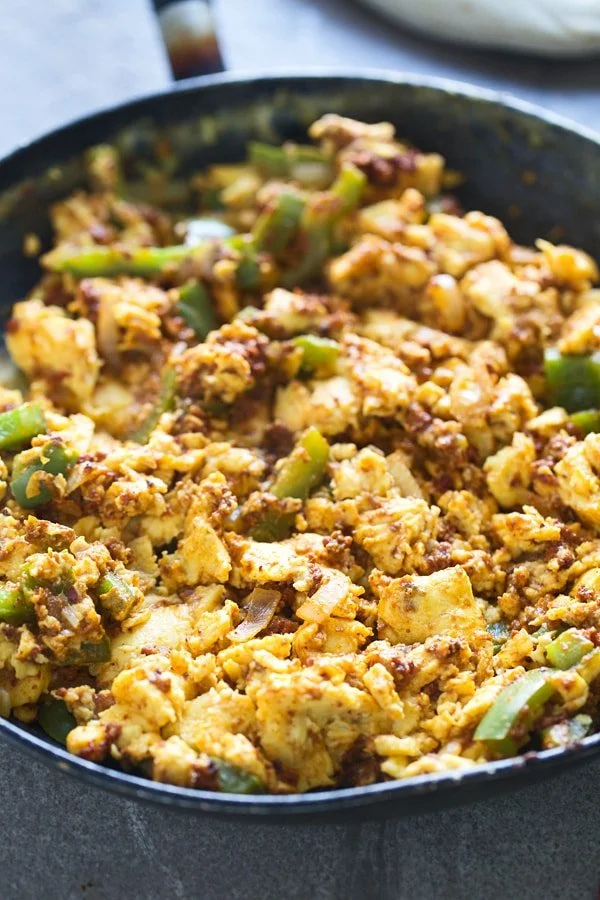 When people used to ask me what my favorite thing to cook was, I'd almost immediately respond with pasta, but according to the archives of this blog, enchiladas take a close second. I've made them at least a dozen ways, although these shredded beef enchiladas, these hatch pepper enchiladas and these classic enchiladas are all at the top of my list of favorites.
Today's breakfast version just shot straight to the top of list.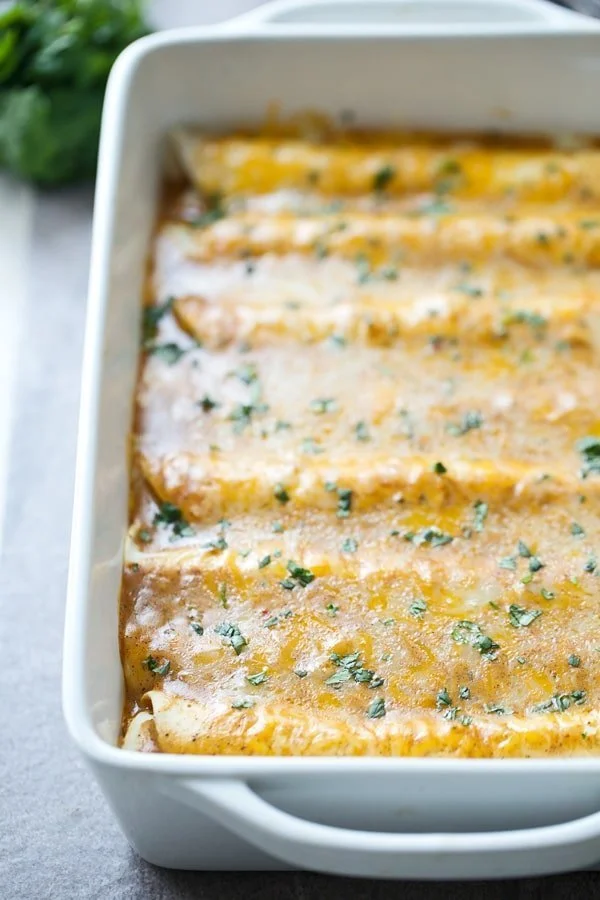 Let's start with the filling. It's simple really.
Mexican chorizo is cooked down in its own fat until it's brown and cooked through, then roughly chopped green peppers and onions go in to soften and soak up all that spicy flavor. Everything is removed from the pan, and then eggs are slow-cooked until they're just slightly underdone. They're removed from the heat and the chorizo, peppers and onions are gently folded in.
While the chorizo and veggies cook (it takes about 15 minutes for this to happen from start to finish), the enchilada sauce is thrown together with tomato paste, chicken stock, chili powder, plenty of cumin, onion, garlic and salt. The mixture is brought to a boil and then left to simmer while the meat and veggies finish cooking and everything is assembled.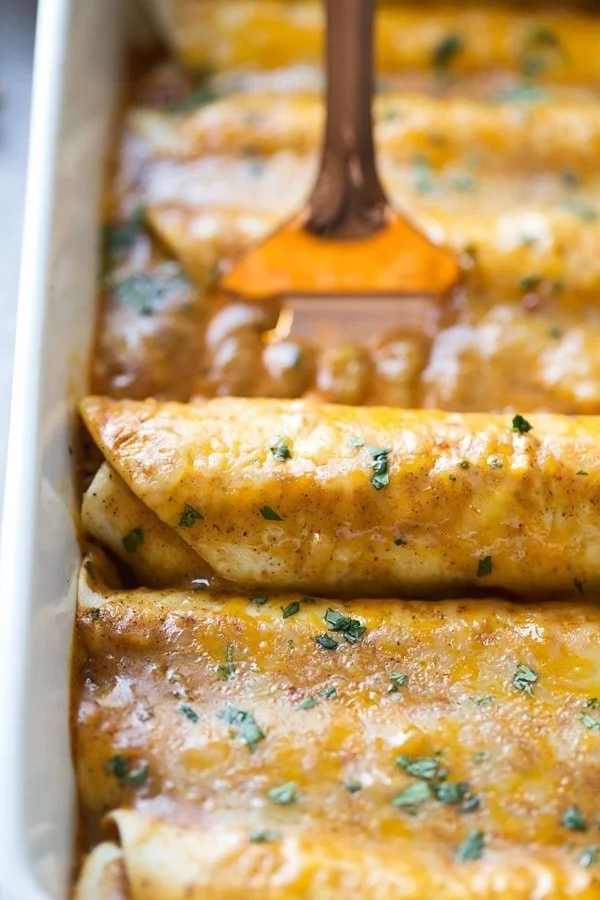 As all enchiladas go, the filling is nestled into tortillas (I used flour), rolled up, covered in enchilada sauce and then sprinkled with cheese. Because we're going the breakfast route and I typically lace my scrambled eggs with cheddar cheese, that's what I used, but really any good melting cheese will work just fine.
The enchiladas get popped into a 350-degree oven until the cheese is melted and the sauce is nice and bubbly. I like to serve them with some chopped cilantro and a dollop of sour cream, but they're equally as delicious straight from the oven with no toppings at all.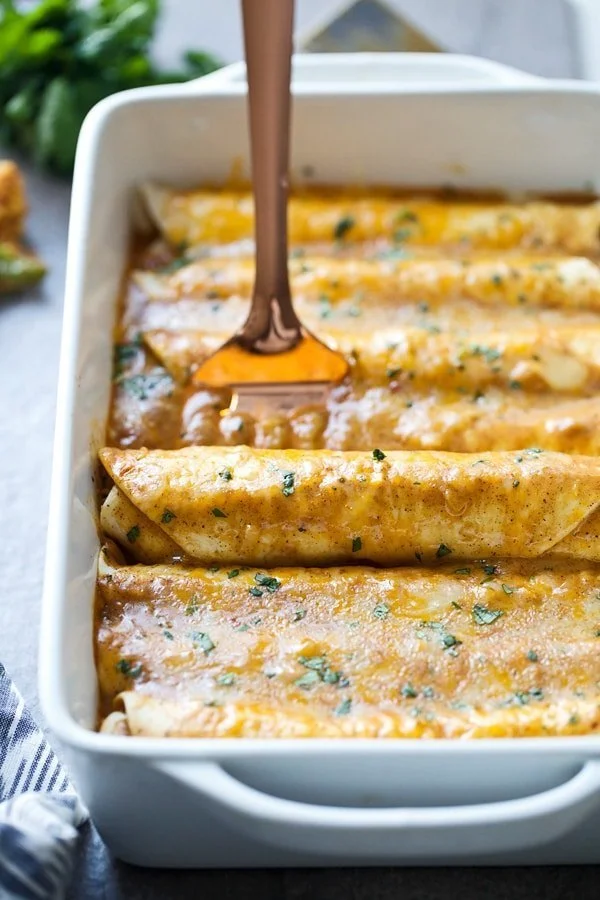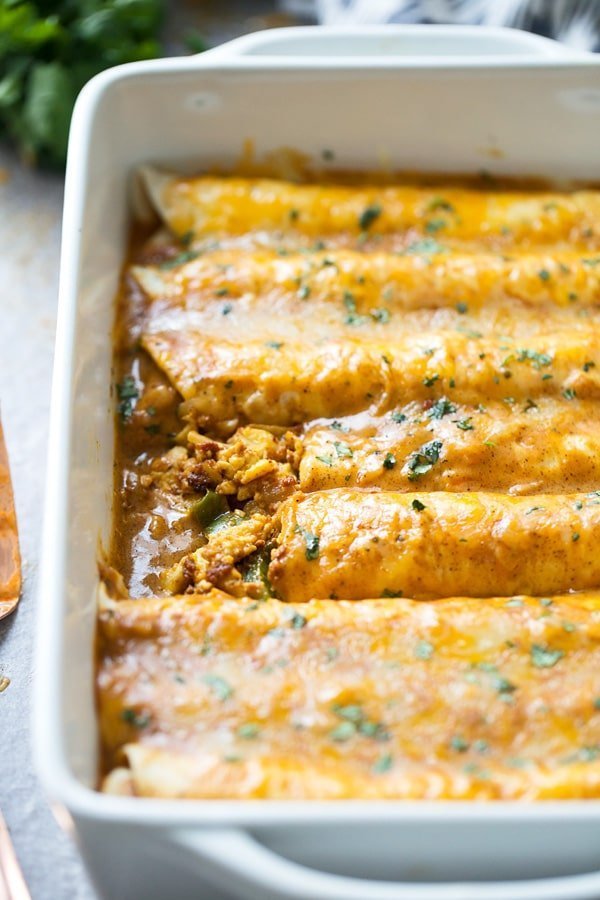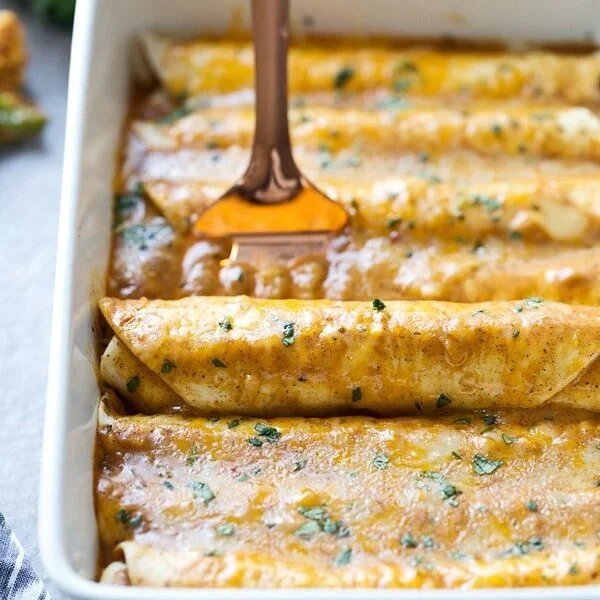 Mexican Breakfast Enchiladas
These Mexican Breakfast Enchiladas are stuffed with cheesy scrambled eggs and chorizo, stuffed into flour tortillas and smothered in an easy homemade enchilada sauce. They're covered with more cheese, and baked - heavenly!
Ingredients
9

oz

Mexican chorizo

2

tbsp + 1 tsp

unsalted butter, divided

1

large

green pepper, roughly chopped

1

small

onion, roughly chopped

10

large

eggs

1/2

cup

half and half

1

tsp

salt

1/4

cup

diced onion

2

large

garlic cloves, minced

2 1/2

tsp

chili powder

1/2

tsp

cumin

1

tbsp.

tomato paste

2

tbsp

all-purpose flour

1/4

tsp

salt

1 3/4

cups

low-sodium chicken stock

1/2

cup

light sour cream (or full fat)

1 1/2

cups

shredded cheddar cheese, divided

8

medium

flour tortillas

1/2

cup

shredded Monterey jack
Equipment
Baking dish

saute pan

Saucepan
Instructions
Preheat oven to 350 degrees.

Heat a large non-stick to a medium heat. Once the skillet is hot, add chorizo. Use a wooden spoon to break the chorizo up and cook brown until cooked through, about 7-8 minutes. Once chorizo is cooked, transfer chorizo to a plate and wipe skillet clean. (It's ok if there's some residual chorizo or brown bits.)

Return the pan to the stove and turn on a medium heat. Once the pan is hot, add 1 teaspoon butter. Once the butter has melted, add green pepper and onion. Saute veggies until softened, but not mushy, about 5-6 minutes. You want the green peppers to still have a slight bite to them. Transfer to the same plate as the chorizo. Wipe clean.

While the veggies finish cooking, heat a medium saucepan to a medium heat. Add 1 tablespoon butter. Once butter melts, add 1/4 cup onion. Saute until softened, about 3-4 minutes. Reduce the heat to low and add garlic, Stir and cook until fragrant and soft, about 1-2 minutes. Add tomato paste, cook 1 minute. Add chili powder, cumin, flour and 1/4 teaspoon salt. Stir and cook for one minute.

Slowly whisk chicken stock in to butter, flour and spice mixture. Bring to a boil and reduce to a simmer. Simmer until slightly thickened, about 8-9 minutes. Once thickened, add sour cream. Bring back the mixture back up to a simmer for 2-3 minutes. Remove from the heat and slowly whisk in 1 cup cheddar cheese. Whisk until cheese has melted. Season to taste with salt and pepper. Set aside.

Add eggs, half and half and 1 teaspoon salt to a large bowl. Whisk until eggs are light in color and frothy.

Heat the same large non-stick skillet to a medium-low heat. Add remaining tablespoon of butter. Once the butter has melted, add eggs. Slowly cook the eggs, stirring with a spatula until they are cooked, but still wet, remove from heat. (They will continue to cook in the oven.) You want them to be the texture of soft scrambled eggs, so it's important to take them off the heat before they finish cooking. Add the chorizo and veggies to the eggs. Toss until everything is combined. 

Spoon 1/2 cup or so of the enchilada sauce in the bottom of a 9x12 casserole dish. Place some filling in the middle of a tortilla and roll up. Place seam-side down in the prepared pan. It should make 8 enchiladas. Pour the remaining enchilada sauce on top.

Toss remaining cheddar cheese and monterrey jack together. Sprinkle on top of the enchiladas. Place in the oven and bake until the cheese is melted, the filling is hot and the sauce is bubbly, about 25 minutes. Garnish with parsley.
Nutrition Information
Serving:
1
enchilada
,
Calories:
437
kcal
(22%)
,
Carbohydrates:
22
g
(7%)
,
Protein:
26
g
(52%)
,
Fat:
27
g
(42%)
,
Saturated Fat:
12
g
(75%)
,
Cholesterol:
313
mg
(104%)
,
Sodium:
1293
mg
(56%)
,
Potassium:
336
mg
(10%)
,
Fiber:
2
g
(8%)
,
Sugar:
3
g
(3%)
,
Vitamin A:
1140
IU
(23%)
,
Vitamin C:
18
mg
(22%)
,
Calcium:
255
mg
(26%)
,
Iron:
4
mg
(22%)