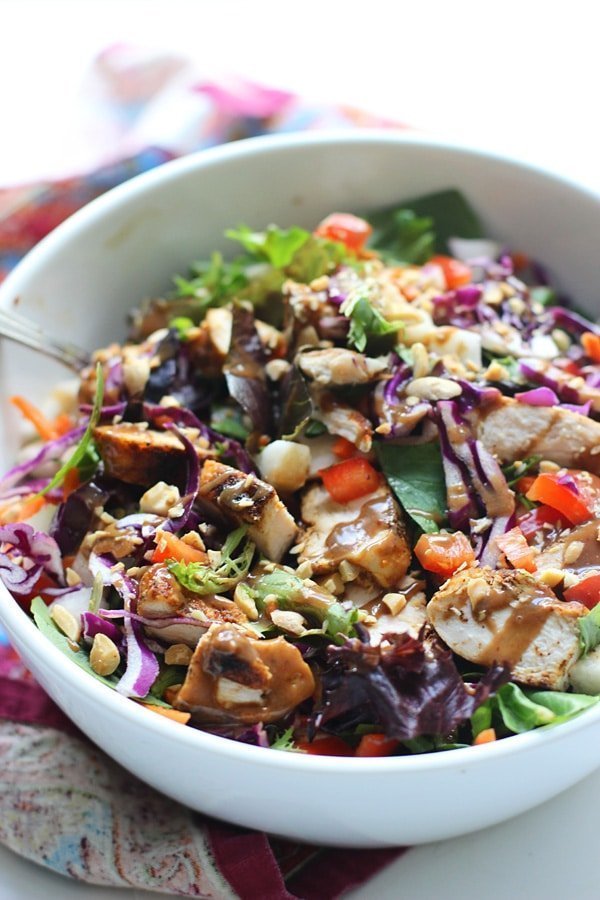 There are a few dishes on various Kansas City restaurant menus I order time and time again. The phenomenal pasta tasting at Lidia Bastianch's restaurant (the ravioli is always the best). The fettuccine alfredo (heart-attack in a bowl) and veal saltimbooca at this favorite home-style Italian restaurant. The perfectly roasted chicken here. The lobster and shrimp spaghetti here. The goat cheese and roasted garlic appetizer here. The chimichanga here. The scallops (or pot pie!) here. The chicken enchilada (going tonight!) here. The fish special with risotto (going tomorrow!) here.
Ok, so I guess I have more than a few. But the one dish I order more than any others, and never get sick of, is this simple spicy chicken salad from a favorite lunch spot of mine. And it's not just me. All my friends order the same salad. Every. Single. Time.
I try to be one of those people that branches out and orders something completely different each time, but, in this case, at this restaurant (and the aforementioned), I can't bear to get anything different, afraid I'll be severely disappointed if I try anything else. So I order it over and over and over again. And I'm happy over and over and over again. Why mess with a good thing?
The actual salad part is pretty straightforward, just some mixed greens with chopped red pepper, peanuts and some cilantro. But it's also chock-full of freshly grilled chicken, then covered in a honey lime vinaigrette and drizzled with the most delicious peanut sauce. THIS is the peanut sauce of all peanut sauces, I spoke about it here, and tried my hand at recreating it after a waiter kindly gave me the ingredient list on the sly, and that I immediately lost. All I could go off were the two ingredients I remember being on the list, LOTS of red pepper flakes and honey.
While my version of the peanut sauce isn't an exact replica, it's pretty darn close, and I'm constantly tweaking it to try and get it as close to perfection as possible, but for now, I'm very happy with the results.
In my adaptation of the salad, I filled it up with a million more veggies than the original – red pepper, water chestnuts, jicama, green onion, shredded carrots, purple cabbage and baby carrots. I also skipped the topping of fried tortilla chips for obvious calorie savings reasons (plus I always take them off anyways), and instead of just tossing all the ingredients together, I first chopped them all up so everything was relatively the same size – so much easier to eat and whole lot prettier.
Everything is tossed together in a giant salad bowl, tossed lightly in honey lime vinaigrette and then drizzled with the peanut sauce and sprinkled with chopped peanuts and cilantro.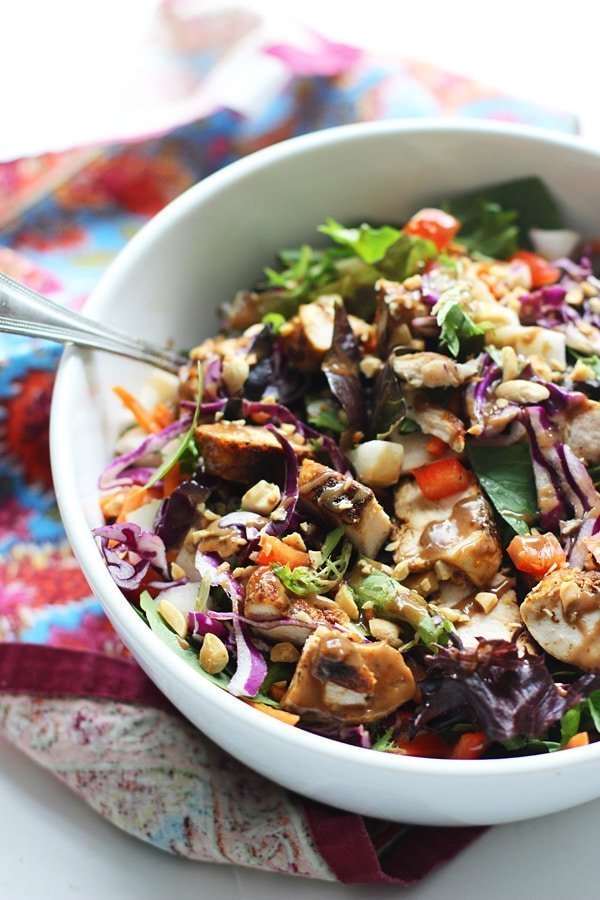 From me to you. My favorite salad of all time.
Enjoy and have a lovely weekend!
P.S When I was edited these photos, the above three photos looked TOTALLY different, now, they kind of look the same. Oops!

Chopped Spicy Chicken and Veggie Salad with Peanut Dressing
This spicy chicken salad is a crowd pleasure and will be your new favorite salad! Filled with grilled chicken
Author:
Nicole ~ Cooking for Keeps
Ingredients
3 small chicken breasts
(Optional blackening seasoning)
1 cup chopped red pepper
1 cup chopped jicama
1 cup shredded carrots
1 cup shredded purple cabbage
½ cup chopped water chestnuts
1 cup chopped baby corn
½ cup shopped peanuts
½ cup cilantro, roughly chopped
3 green onions, thinly sliced
1 cup Peanut Dressing
Honey Lime:
Juice from 2 limes
2 teaspoons honey
¼ teaspoon salt
¼ cup olive oil
Instructions
Heat a grill or grill pan to a medium high. Sprinkle chicken with plenty of salt and pepper or blackening seasoning if using. Grill chicken until cooked through. Cut into bite-sized pieces.
In a small bowl, whisk lime juice, honey and salt. Slowly whisk in olive oil.
Toss lettuce with vegetables through baby corn.
Toss with honey lime vinaigrette.
Starting with just ½ cup of peanut sauce, drizzle over salad, toss. Add more if needed
Top with chopped peanuts, green onion and cilantro.
Nutrition Information
Serving size:
2 cups salad