Cheeeeese…
So.much.cheese.
You know how I like to preach, "All things in moderation?" Well, this would be one of those times my all too familiar saying comes into play.
You absolutely do not want to eat this every day, but you DO want to eat it every once in a while. Like maybe for football season when you don't have to get into a bikini anymore. Or after you've starved yourself for weeks and weeks and deserve a reward. Or maybe after you have already chowed down on jalapeno cream cheese chicken enchiladas, lobster bisque, crab crakes, lots of beer, a burger, more beer and a crispy chicken sandwich from Wendy's, in a short, two day span. One more calorie ridden dish won't hurt, will it?
I get that the aforementioned does not look like a girl that eats in moderation, (and when it's written out, it looks so much worse…yikes) but I promise I do 90% of the time, this weekend was just…I couldn't help it. I mean, do you say no to food that's put in front of you? No, you don't. You just don't.
If I could eat this every day though, I totally would.
Queso fundido differs from a typical dip-able queso you get at most Mexican restaurants; this queso fundido is stringy, elastic if you will and not all that easy to get onto your chip, but boy is it worth the extra effort. Unlike the creamy dip which usually has cream or milk laced througout; this is just pure cheese with a hint of liquid from a little bit of Patron. (Any clear tequila will do though.)
The base starts off with lots of onion, garlic and chopped poblano pepper; it's then hit with a hefty pour of the tequila, reduced and the cheese is slowly stirred into the base until completely melted. Be patient, it will melt into a cheesy, gooey dream. At the last minute the spicy, cooked chorizo is stirred in, and then it goes straight to the oven to broil until brown and bubbly.
Warning! Make sure you have a few people around to share this with; otherwise you will undoubtedly eat the whole thing before you can even stop yourself. And at least with other people you have to at least pretend to have some restraint.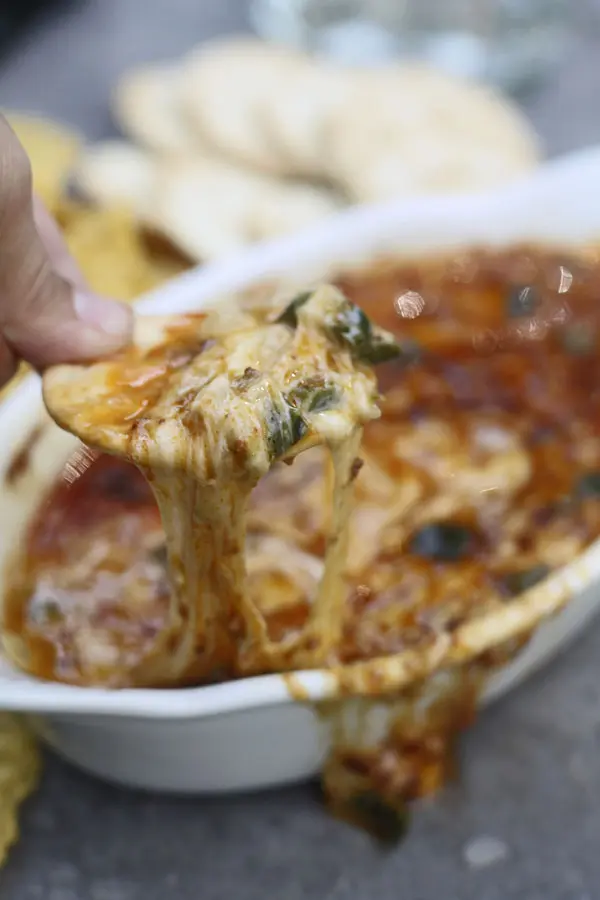 Chorizo and Poblano Queso Fundido
Author:
Nicole-Cooking for Keeps
Ingredients
¼ cup onion, chopped
¼ cup poblano chile, chopped
1 large garlic clove, chopped
Pinch of red pepper flake
¼ teaspoons salt
¼ cup tequila
8.8 ounces Chihuahua cheese, cubed
2 ½ ounces Mexican chorizo, cooked
Instructions
Set your oven on broil.
In a small saucepan, heat a little bit of olive oil over a medium heat. Cook onion, poblano and garlic until soft, about two to three minutes. Season with salt. Add tequila, reduce by half. Stir in cheese a quarter at a time, stirring until cheese is completely melted. Add in salt and chorizo.
Transfer to an oven safe dish and broil until cheese is bubbly and starting to brown, about four to five minutes.
Serve immediately with chips and crackers.