Are you sick of burgers and sliders yet?
I hope not, because I'm clearly not, and probably won't be anytime in the near future, although I'll try to stick to posting them one day a week. Deal?
I will say, I find it pretty tough to get tired of burgers and sliders when each one I make is so vastly different. Different proteins. Different toppings. Different sauces. Different buns. Different flavors.
These guys originated from a battle of the wills between a strong hankering for Mexican food and the need to try and satisfy my insatiable appetite for burgers (as previously mentioned). What better compromise than to combine the two?
But! What kind of Mexican food would make the perfect burger for my mood???
Here's a little Mexican food statistics lesson for you guys. 90% of the time I order enchiladas and cheese dip (as some of you may know) when I go out for Mexican. 5% of the time is an even split between puffy tacos with shredded beef and pork flour flautas– again with cheese dip. The last 5% of the time I order chicken and shrimp fajitas with…you guessed it – cheese dip.
The common denominator in all orders? Cheese dip.
Can any of you NOT have cheese dip with Mexican?
Evidently I need to work on my restraint.
Since I had my fix for enchiladas last week, this week my craving moved on to my second ranked favorite (see above statistics) – fajitas. Aside from being my second favorite of the Mexican dinners, fajitas are almost always my go-to cheater Mexican meal when I'm feeling lazy since they take virtually no effort to prepare. Cut up some veggies (and if you use my salad bar tip, that step is even omitted). Marinate some chicken and shrimp. Throw 'em all into a screaming hot pan. Try to avoid fire alarms going off. Serve with tortillas, sour cream, cheese and salsa. Meal complete. No rolling. No simmering of sauce. No baking. Just some good ol' fashioned stove cooking that goes from your fridge to the table in under 30 minutes.
In this case, ground chicken breast (yes, again with the chicken burger), is mixed with a handful of chili powder, cumin, garlic powder, onion power and salt, formed into patties and seared in a super hot non-stick pan (you can also grill them). Sliced green peppers, red pepper, onion and garlic are quickly sautéed in the same pan after the sliders are cooked, and set aside to make the cheese dip which can also be prepared in the same pan.

Queso. Do you prefer white or yellow?
For me, it depends on where I'm at, if I'm at my favorite Mexican place, hands down, I prefer yellow, but if I'm at pretty much every other Mexican joint in the KC metropolitan area, I choose white.
I've been trying to replicate the white queso from this restaurant for years, which pretty much has a cult following (my in-laws are even known to pack some up for my sister-in-law Ryan to take back east with them), but have yet to perfect it. So while I'm still experimenting with queso imitation, this knock-off will have to do.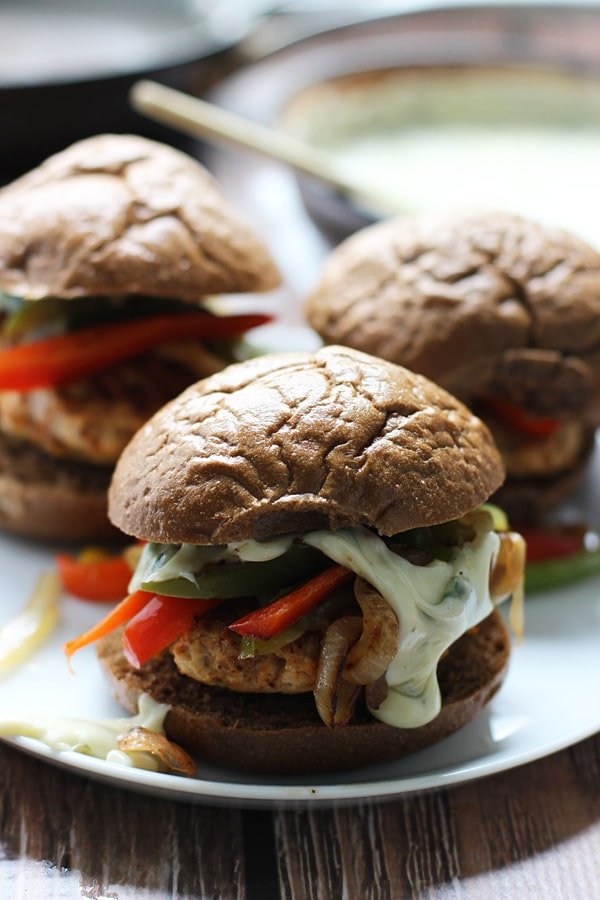 I think today's poblano queso may be the simplest recipe I've come up with to date. White American cheese from the deli counter is slowly melted alongside a little bit of milk (any kind will do) and roasted poblano peppers (see here how to roast your peppers) in a non-stick pan until it's super smooth, liquefied and completely smotherable. That's it. Three ingredients to cheesy queso bliss.
(I do realize smotherable is not an actual word in the English language, but it should be)
Now, I know some of you might be reading this in utter appall since I'm making you use pre-sliced processed white American cheese from the deili counter, but hear me out. The processed stuff melts SO nicely; any other cheese will result in fundido type texture, instead of that creamy, smooth as silk texture we all love about queso.
At its simplest, assembly is just a bun and the fajita chicken patty topped with the veggies and then smothered in the poblano queso; but the topping possibilities are endless. You could finish everything off with a little bit of sour cream and guacamole, or even just a little bit of spicy salsa. In hindsight I would have sautéed a little bit of shrimp to put on top of the burger and then topped with veggies and cheese dip. Lucky for you, the option is still there.
Now, I promise I won't post another slider or burger recipe until at least Wednesday of next week…..
Fajita Chicken Sliders with 3 Ingredient
Fajita chicken burgers turn your favorite Mexican food into one all encompassing bite!
Ingredients
1 pound ground chicken breast
1 ¾ teaspoon chili powder
½ teaspoon cumin
½ teaspoon garlic powder
½ teaspoon onion powder
¾ teaspoon salt
1 tablespoon olive oil
1 red pepper, sliced into strips
1 green pepper, sliced into strips
1 small onion, sliced thin
1 garlic clove, minced
½ pound sliced white American cheese (from the deli counter)
1 large poblano pepper, roasted and cut into a dice
4 tablespoon milk
6-8 slider buns
Salt and Pepper to taste
Instructions
In a large bowl, combine ground chicken, chili powder, cumin, garlic powder, onion powder and salt. Form into 6-8 patties.
Heat a large non-stick skillet to a medium-high heat. Heat 1 tablespoon olive oil. Cook burgers, about 2-3 minutes per side. Set aside.
To the same pan you cooked the burgers in, add veggies. Cook until softened, about five minutes. Remove from pan and set aside.
Reduce the heat down to low. If there is a lot of residue on the pan, wash. Add milk, cheese and chopped poblano peppers. Stir frequently until completely melted.
Build burger. Place patty on bun and top with veggies. Spoon queso over.