Ummm, Thanksgiving is the day after tomorrow. What.
Ok, well I'm quite sure I don't need to tell you that little tidbit, so maybe I'm just reminding myself that's the case, because it doesn't seem even remotely possible. I can remember when I first found out I was pregnant and thinking the holidays were SO FAR AWAY. By the time Thanksgiving rolled around, this child would practically be here! Now, I've got less than three weeks left, and the impending date seems just as far away as Thanksgiving seemed seven months ago.
So, instead of sulking in the fact that I have still have what seems like an eternity to go, I'm going to enjoy these last few weeks, try to relax a little bit and just enjoy the holiday season. Typically I crank out four to five dishes to contribute to Thanksgiving, but this year, I'm taking a step back and only making the stuffing (a mix of cornbread, ciabatta, sweet Italian sausage and cranberries) and rolls (trying to decide betweenthese,these or these). My Mom is handling the turkey, mashed potatoes, gravy, apps, green bean casserole and corn soufflé. Although, even though I've only committed to my rolls and stuffing, I imagine I'll jump in and help her out, because it would be cruel to sit back and watch her knock out all that food without any assistance.
She's making a 22-pound turkey…for 9 people. I'm not sure there's going to be enough to sustain us….
Obviously we're going to have leftovers, and I'm guessing you will too. And what better way to extend the indulgence of the holiday and utilize those leftovers than with a creamy, super easy one-pot pasta??
Cook the pasta, add cream, parmesan, lemon zest, juice, salt, a little bit of fresh baby spinach and chopped-up leftover turkey. Toss to combine. Season with a little salt and pepper.
Easiest leftover meal on the planet, and one that's going to cost you less than ten bucks.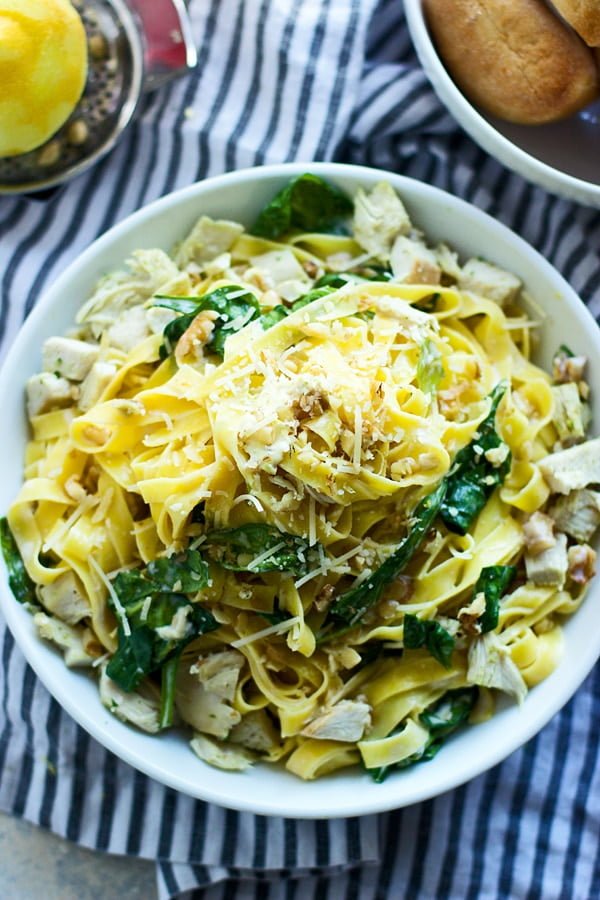 Creamy Lemon and Leftover Turkey Tagliatelle
Ingredients
Hemis Fare Tagliatelle
½ cup heavy cream
1 ½ teaspoons lemon zest
2 tablespoons lemon juice
½ teaspoons salt
¼ cup parmesan cheese
⅓ cup walnuts, roughly chopped
1 ½ cup packed spinach
1 cup diced leftover turkey (white meat)
Salt to taste
Instructions
Bring a large pot of water to a rolling boil. Season with salt and pepper. It should taste like the sea.
Cook pasta until aldente. Reserve ½ cup of cooking liquid. Drain pasta and add back to pot.
Turn the heat on low and add cream, cheese, walnuts, spinach, leftover turkey and salt. Toss until cheese has melted and spinach is wilted.
Season to taste with salt and pepper.