This Creamy Sausage Pasta with Sweet Potato is the perfect fall pasta dish. It's salty, sweet, and only has FIVE ingredients Plus, it comes together in under 30 minutes.
Creamy Sausage Pasta with Sweet Potato
I wasn't born with the innate ability to dominate any type of sport, can't sing for the life of me, and never really mastered the art of coordination. However, I do seem to have a knack for creating delicious, minimal ingredient, and easy pasta dishes, among other tasty creations. Evidenced in today's Creamy Sausage Pasta with Sweet Potato, last month's Garlicky Shrimp Pasta, and this fall favorite – Five Ingredient Spaghetti and Meatballs.
In my younger years being athletically inclined, or having the potential to maybe, possibly, be a country singer seemed much more desirable than being able to crank out tasty food to my friends and family. Come to find out, you need to eat to survive, and my "talentless" self is perhaps somewhat more talented than I gave myself credit for.
The beauty of Creamy Sausage Pasta is I've done the recipe development for you, so any cooking talents I needed to get to this point, aren't necessary to produce the same delicious pasta.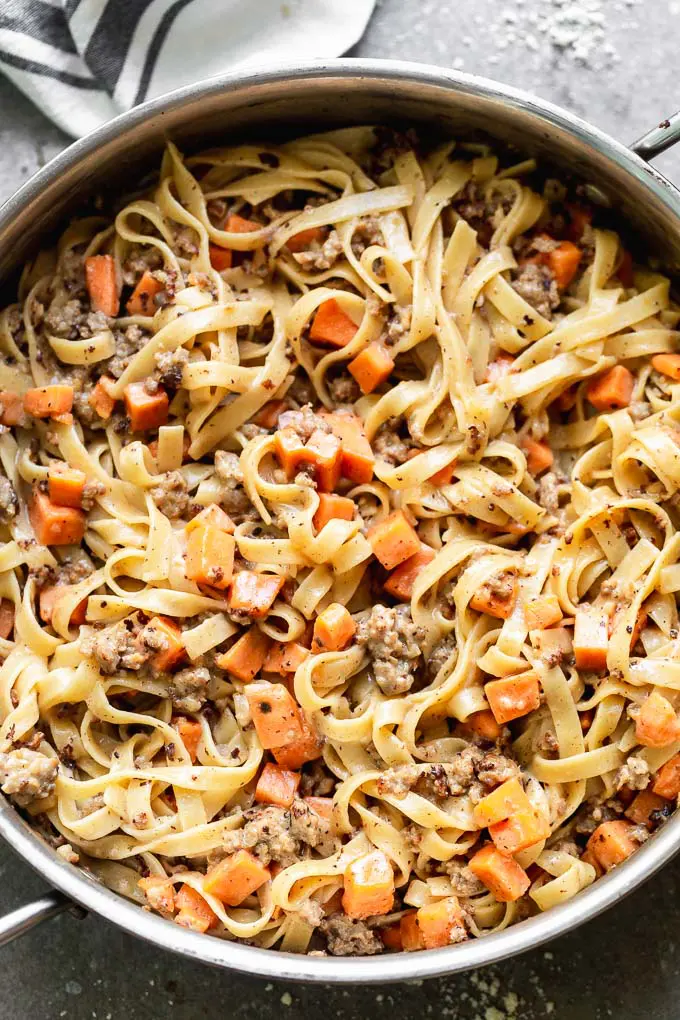 Here's the gist. Silky strands of tagliatelle are studded with salty sausage and hearty sweet potato. The noodles, veggies, and sausage are tossed in a super easy, creamy boursin cheese sauce, and ready to devour. Creamy sausage pasta with sweet potato is slightly cheesy, salty, savory, and so fall. It's one of those pasta dishes that gives you a big warm cozy hug with each bite, but doesn't weigh you down, which I love.
I'm not big on large portions, especially when it comes to pasta, so I'd say this feeds six people. A group with a more hearty appetite may only get four servings out of it, so make a judgement call for your particular appetite. Regardless, this is a cinch to double if you need to feed a crowd, and if there's only two of you, trust me, you'll want the leftovers.
Ingredients in Creamy Sausage Pasta
Sausage. I typically use Italian sausage in most of my pasta recipes, but here, I like the simplicity of just plain bulk sausage. I used mild, but any variation in heat will work just fine.
Sweet Potato. The combination of sweet potato and sausage is forever a favorite in my book. I love the two textures together, I love the sweat and salty play off each other, and I just love that seem like a match made in heaven.
Garlic. Always garlic, right? Honestly though, you could leave it out if you don't have it on hand. It's just in my nature to add garlic to just about everything.
Boursin cheese. As we've talked about many time in minimal ingredient cooking, having an ingredient with a complex flavor profile is always going to help with depth flavor in these simpler dishes. If you haven't had Boursin cheese, basically it's a creamier version of cream cheese that's packed with garlic and herbs. It's great as a spread for crackers, but it makes an equally delicious version of a cream sauce.
Tagliatelle. This is by far my favorite pasta, but what is Tagliatelle? Tagliatelle is a long, wide egg noodle very similar to fettuccine. Typically you'll find it in little nests at the grocery store, and I often find that it resembled fresh pasta a lot more similarly than fettuccine or linguine.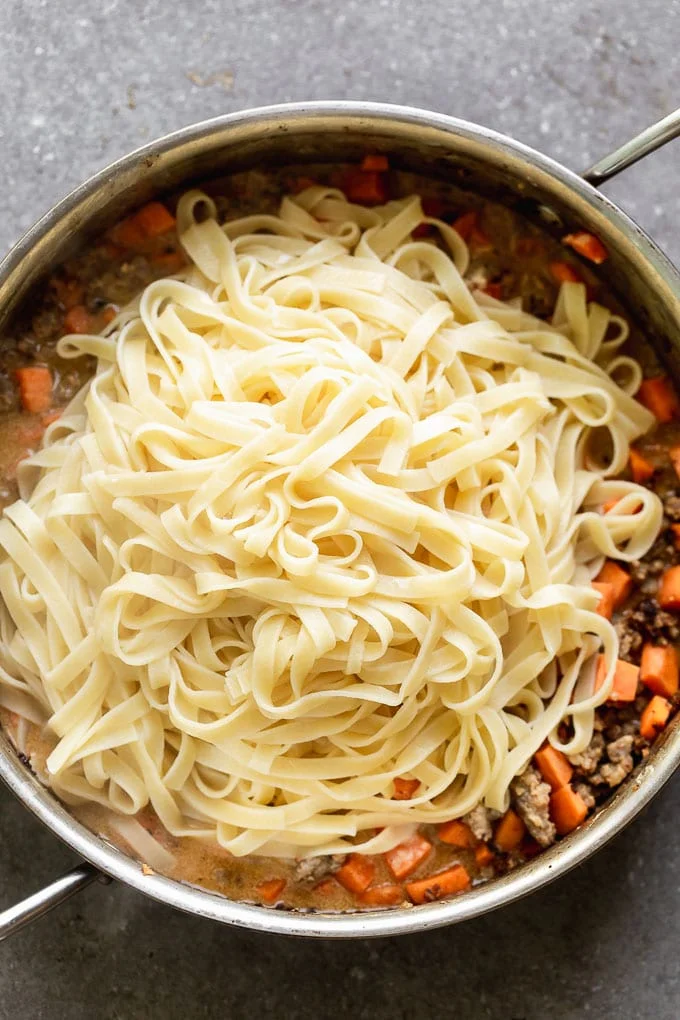 How to make Creamy Sausage Pasta with Sweet Potato
Bring a large pot of water to a rolling boil. I like to do this step first to make sure my water is ready when I'm ready for it. Because pasta can overcook really quickly, I don't add the pasta until I'm certain I'm only a minute or two away from my sauce being completed.
Another key step in cooking pasta, is making sure the pasta water is seasoned appropriately. Pasta doesn't really have any flavor to it, so the only chance you have to season the pasta itself, is during the cooking process. This is also why I always finish cooking the pasta in the sauce, so it will soak up every last bit flavor.
Cook the sausage. Normally I'd cook the sweet potato first because it takes longer to cook, but because I try to utilize every ingredient, I like to cook the sausage before to extract grease from it. Once the sausage is about halfway done cooking, I remove it from the pan and leave the grease. This way I don't have to add additional oil or butter to cook the sweet potatoes in.
Cook the sweet potato. At this point, your sweet potato should already be prepped, but I do want to note that you should cut the sweet potato relatively small. It takes quite a bit of time for sweet potato to cook, so the smaller you cut it, the faster it will cook. I like to cut mine into about a 1/4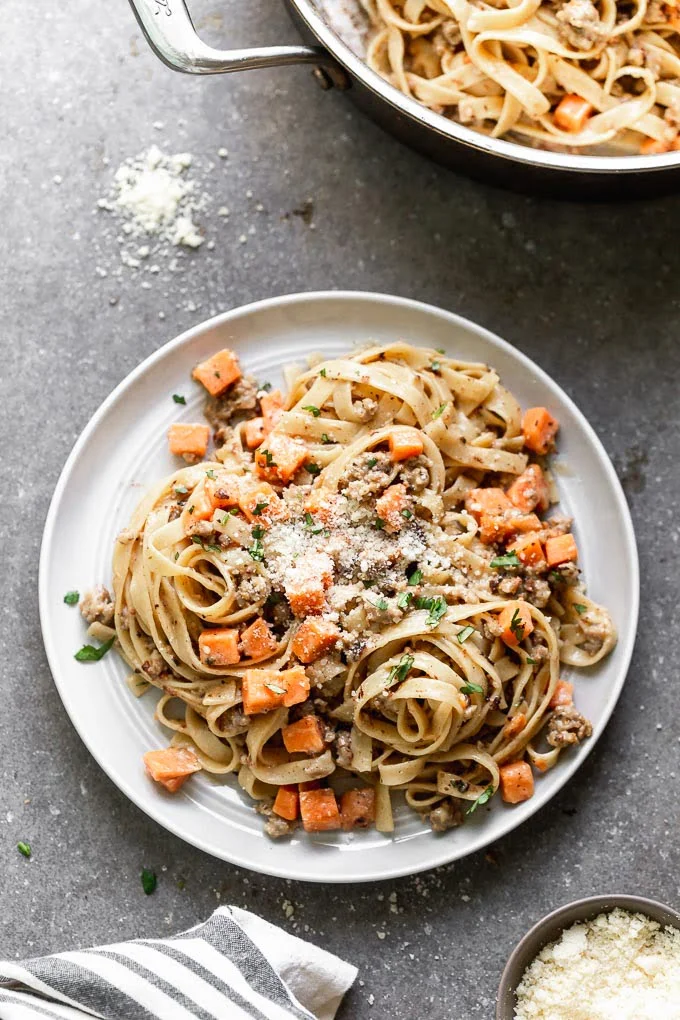 Can I reheat this?
Yes! Creamy Sausage Pasta reheats wonderfully. In fact, Davis and I are eating it leftover, three days later, as I type this. Still just as delicious.
Do I really need to use pasta water?
Yes! You guys. If you haven't discovered the beauty of pasta water, it's time you did. It's the perfect way to add flavor and creaminess to pasta dishes without adding any cream at all. I would say I finish off 90% of my pasta dishes with at least a 1/4 cup or so of pasta water.
Variations on Creamy Sausage Pasta
You could swap out sweet potato for butternut squash
Fry a few sage leaves in the sausage fat and scatter throughout the pasta.
I love the combination of cinnamon and sausage, which also happens to be a great compliment to sweet potatoes. Add a half a teaspoon or so in for a bit of warmth.
Throw in a handful of parmesan cheese for an extra cheesy version of creamy sausage pasta.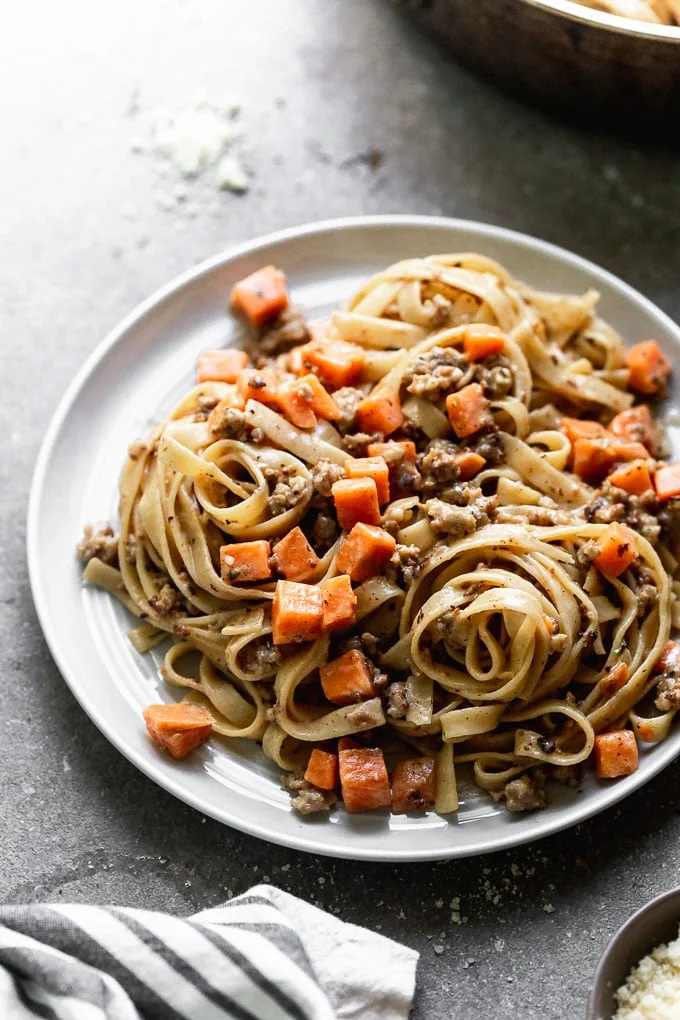 Substitutions and Tips and Tricks for Recipe Success
Swap out the mild bulk sausage for medium or hot. You can also use sweet, mild, or hot Italian sausage. Turkey sausage would also be a great healthier option.
If you have it on hand, use butternut squash instead of sweet potato. The cooking time may differ a little bit.
Instead of Boursin cheese, you can also use cream cheese, mascarpone cheese, or heavy cream.
Swap out fettuccine, pappardelle, or linguine for the tagliatelle.
Be sure to cook the pasta UNDER aldente. It will continue cooking when you toss it with the sweet potato and sausage mixture.
Season every step of the way. The sweet potato should be seasoned. The pasta water should be seasoned. You should also season the pasta right after adding the pasta water. And finally, season to taste in the end.
For more easy Five-Ingredient dinner ideas, check out these recipes
This recent Prosciutto-Wrapped Chicken with Brown Butter is our current favorite easy chicken dinner. It's SO flavorful, easy to throw together, and a real show-stopper.
This easy Faux-Roasted Chicken is a great cheater's roast chicken. It uses the same method as a typical roast chicken recipe, but replaces the whole chicken with breasts or thighs.
Oh my gosh, this ramen carbonara is SO good and perfect for those nights when you want want something comforting FAST.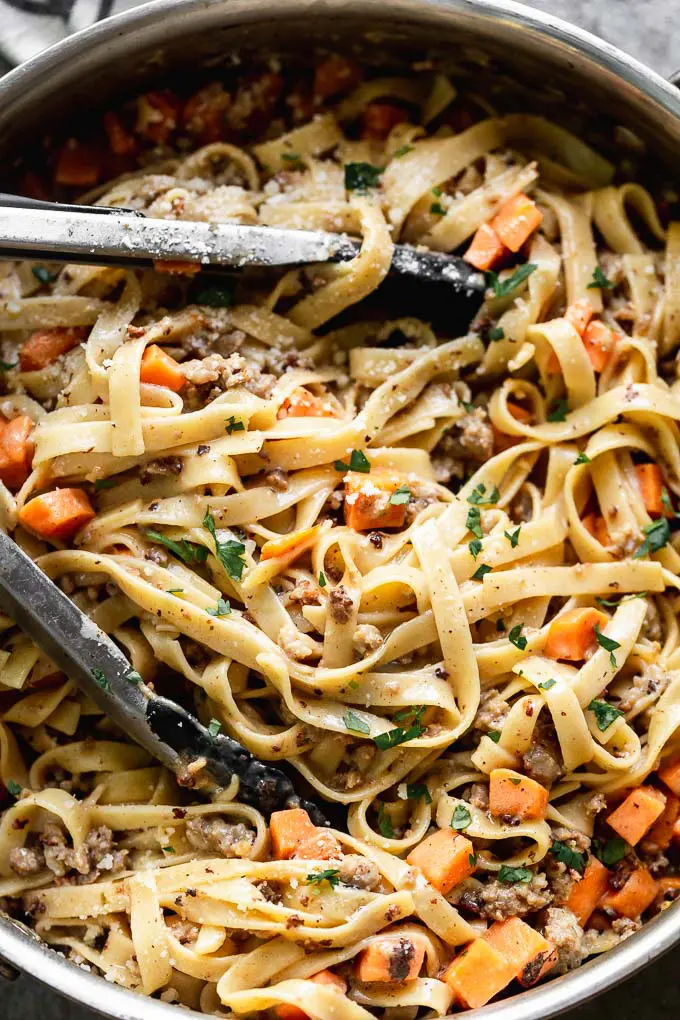 Creamy Sausage Pasta with Sweet Potato (5 Ingredients)
Creamy Sausage Pasta with Sweet Potato is the perfect fall pasta dish! It's creamy, salty, sweet, and only has FIVE ingriedents! Plus, it comes together in under 30 minutes.
Ingredients
3/4

lb

bulk sausage (mild or spicy)

1

large

garlic clove, minced

1

large

sweet potato, diced (abour 2 cups)

3/4

tsp

kosher salt, divided

1/2

cup

boursin cheese

1/2

lb

taglietelle
Instructions
Bring a large pot of water to a rolling boil. Season with salt. It should taste as salty as the sea.

Heat a large skillet to a medium heat. Add sausage. Break sausage up with a wooden spoon . Cook about 3-4 minutes until it's about halfway cooked through. Remove from the pan, but leave grease. Add sweet potato and 1/2 teaspoon salt. Cook until sweet potato is softened, but still has a bite to it, about 10 minutes.

Add garlic and sausage back to the pan and continue to cook sweet potato and sausage until the sweet potato is soft and the sausage is cooked through.

When the sweet potato and sausage are just about done cooking, add pasta to the boiling water. Cook until just under aldente. Reserve pasta water.

Transfer pasta to the sausage and sweet potato along with the remaining salt, boursin cheese, and 1 cup of the reserved pasta water. Toss until creamy. Season to taste with salt and pepper. Add more pasta water if necessary until you reach your desired sauce consistency.
Nutrition Information
Serving:
1
serving
,
Calories:
443
kcal
(22%)
,
Carbohydrates:
40
g
(13%)
,
Protein:
16
g
(32%)
,
Fat:
24
g
(37%)
,
Saturated Fat:
11
g
(69%)
,
Cholesterol:
61
mg
(20%)
,
Sodium:
807
mg
(35%)
,
Potassium:
416
mg
(12%)
,
Fiber:
3
g
(13%)
,
Sugar:
4
g
(4%)
,
Vitamin A:
8286
IU
(166%)
,
Vitamin C:
2
mg
(2%)
,
Calcium:
44
mg
(4%)
,
Iron:
1
mg
(6%)