Amp up your Friday night pizza delivery with this Easy Bruschetta Chicken Pizza! Minimal ingredients, with maximum flavor.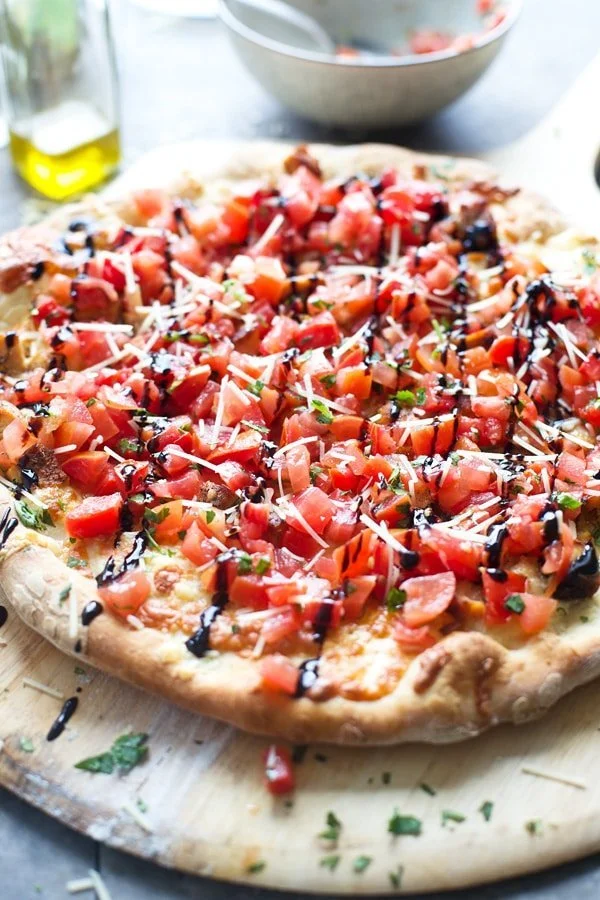 It's Friday!
I started to write this post a few minutes ago, and immediately delved into a bout of complaining on how rough this week was, but as I typed it out, I realized I shouldn't focus on what was difficult, because as long as my family is happy and healthy, that's all I could really ask for.
Plus, I'm guessing you guys didn't come here to listen to me complain, you came here for the food, so food is what I shall give you – and today, I'm giving you this Bruschetta Chicken Pizza.
Because Fridays = pizza.
I would be shocked if this was the only bruschetta pizza floating around Pinterest, so while it's not exactly ground breaking, it's a super easy way to take your pizza game up a notch. I happened to have an exorbitant amount of diced chicken and tomatoes leftover from a bridal shower I hosted over the weekend, and because I can't let anything go to waste, I've been coming up with ways to use both of them all week – this is third recipe I've come up with, and to say I'm proud of my resourcefulness, is a severe understatement.
It's simple. Homemade or store-bought pizza dough is drizzle with olive oil, salt and pepper, covered in mozzarella cheese, sprinkled with cooked chicken, slid on to a screaming hot pizza stone and baked until the cheese is bubbly and the edges are crispy and golden brown. If you want a step-by-step guide on how to make the pizza every time, check out this post from a few weeks ago where I talked in detail about how to make restaurant-quality pizza EVERY SINGLE TIME. Promise.
I know tomatoes aren't typically in season yet, but if you're making your own dough, while it rests, throw the tomato mixture together and let it sit while the dough rises, and again while the pizza cooks. This allows the tomatoes enough time to release some of their juices and soften up a bit. It's a little trick I use when tomatoes aren't at their best yet, and it works every single time. Thank me later.
Once the pizza comes out of the oven, it's covered in the tomato mixture, sprinkled with some shredded parmesan cheese and then drizzled with a little bit of balsamic glaze.
Cut into pieces (I like squares for this type of pizza), pour a glass of vino and enjoy your Friday night.
Easy Bruschetta Chicken Pizza
A classic cheese is pizza is covered in spiced chicken, fresh bruschetta tomato topping and a sweet balsamic glaze. Super easy and a step up from your average pie!
Author:
Nicole ~ Cooking for Keeps
Ingredients
2 cups chopped roma tomatoes
¾ tsp. salt, divided
2 Tbsp olive oil, divided
1 garlic clove, grated
2 Tbsp. chopped parsley
1 small chicken breast (about ½ lb.)
1 tsp. paprika
½ tsp. garlic powder
½ tsp. onion powder
½ batch homemade pizza dough or dough for 1 12-inch pizza
2 cups shredded mozzarella
¼ cup shredded parmesan
¼ balsamic glaze (I get mine at Trader Joe's)
Instructions
Place a pizza stone in the oven. Preheat oven to 550 degrees. Let pizza stone heat for at least 20 minutes.
Add tomatoes, 2 tsp. olive oil, ½ tsp. salt, garlic and parsley to a small bowl. Toss to combine. Let sit at room temperature while you prepare the rest of the ingredients.
Cut chicken breast in half lengthwise. Season chicken breasts on both sides with paprika, garlic powder, onion powder and ¼ tsp. salt. Heat a medium non-stick skillet to a medium-high heat. Add 2 tsp. oil. Cook chicken until golden brown on both sides and cooked through, about 4 minutes per side. Cool slightly, and then cut into bite-sizes pieces.
Cover a pizza peel generously with flour. Use hands to stretch dough into a 12-inch circle. Place on peel and make sure it can slide around. Brush with remaining olive oil and salt. Season with pepper.
Cover in mozzarella. Sprinkle evenly with cooked chicken. Slide the pizza on to the pizza stone and cook until golden brown and bubbly, about 10 minutes. (Be sure to watch it, they cook FAST in this hot of an oven.)
Once the pizza comes out, cover in tomatoes, sprinkle with parmesan and then drizzle with balsamic glaze. Cut into squares or a traditional pizza triangle.
(Visited 14,105 times, 15 visits today)