Sometimes it only takes a few ingredients to make a weeknight meal great, and this 5-Ingredient Creamy Chicken Marsala is the perfect example of just that. Chicken cutlets, hearty cremini mushrooms, rich marsala wine and of course, a little bit of butter are the perfect combination for this easy, but elegant dish.
Creamy Chicken Marsala
I have friends that cook, and friends that don't cook. Obviously.
The friends that don't cook, love to eat, and while we have great takeout options around the city, occasionally they're forced to put a skillet to a stove. For those handful of friends, a recipe must include ingredients that are commonly known, even to the most novice of cooks, it must:
Take 30 minutes or less.
The ingredient list shouldn't have an obscene amount things to purchase outside your standard pantry items.
It must be delicious. 
Creamy Chicken Marsala checks all of those boxes. 
I have a few 5-ingredient recipes within the archives of this site (like this, this and this), and, according to those friends that "don't cook," these are the most prized items lurking around. They're not intimidating, they don't require a trip to a specialty store, and they're still a heck of a lot more impressive than some greasy fast food.
Because I want my friends to be able to actually cook some of the recipes I create, I've made a promise to them to create more 5-ingredient meals, plus now that I'm a new Mom, these easy recipes are a total lifesaver when I don't want to spend any more time in the kitchen than I have to.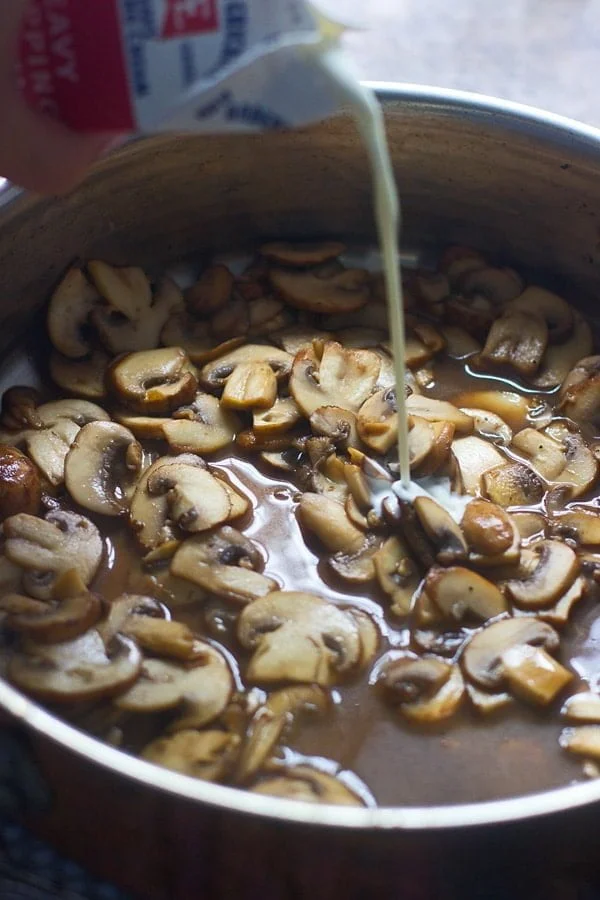 Today's five ingredient meal is a classic, simplified – chicken marsala.
Chicken breasts are seared in a little bit of butter until they're perfectly browned and cooked through, then set aside. A little over half a pound of cremini mushrooms are browned up in a little bit more butter (in the same pan), then hit with a generous pour of good-quality marsala wine and a little bit of heavy cream. The chicken is added back into the pot (along with any accumulated juices), and then everything simmers until the sauce thickens up a bit.
I believe the whole process from start to finish, takes about 25 minutes, making this five ingredient wonder, something to be proud of.
If you want to add one more ingredient in, a sprinkling of freshly chopped parsley should do the trick.
Five ingredients, and full of flavor.
For more easy chicken recipes, check out these posts:
Easy Greek Chicken and Potatoes: The Mediterranean Dish
Lemon Glazed Chicken Nuggets: Damn Delicious
Chicken Mushroom Spaghetti: Cooktoria
Five Ingredient Creamy Chicken Marsala
This easy classic comes together in under 30 minutes, and only required five ingredients!
Author:
Nicole ~ Cooking for Keeps
Ingredients
4 small chicken breasts
4 Tlbs. butter
12 oz. cremini mushrooms, sliced
½ cup marsala wine
½ cup heavy cream
½ tsp. salt
Instructions
Place chicken breasts in a plastic bag. Use a rolling pin to slightly flatten each chicken breast, you want them about ½ inch thick.
Season chicken liberally on both sides with salt and pepper.
Heat a large skillet to a medium heat. Add 2 tablespoons of butter. Once the butter melts, add chicken breasts, cook until golden brown on both sides, about 2-3 minutes per side. Remove from pan and on to a plate, cover with foil. (It's ok if the chicken isn't cooked all the way through, it will finish cooking in the sauce.)
Add remaining butter to the skillet, once butter melts add mushrooms. Cook 2-3 minutes until softened and brown. Add marsala wine, simmer until reduced by half, about 1-2 minutes. Add heavy creamy and salt. Simmer for 1 minute and then add chicken breasts along with any accumulated juice back to the pan. Cover and simmer until chicken is cooked through and sauce has thickened, about 2-3 minutes. Season to taste with salt and pepper.