I heart Mexican food.
Duh, doesn't everyone?
Honestly, I could probably eat Mexican food three or four times a week if I knew I wouldn't blow up like a hippopotamus by doing so – unfortunately my metabolism isn't that good. Plus, I've never actually eaten Mexican four times a week, so who knows? Maybe I couldn't, buuut I'm pretty sure I could. I know Kevin could.
I have a strict routine when it comes to Mexican. I have to have a drink, even if I don't feel like drinking, it's just a rule. Mexican food + cocktails = mandatory. I always salt my chips straight away, I must order cheese dip, and I always always get an enchilada. I try to venture out, but I just can't. If I'm at one of my favorite spots, I know that I love the enchiladas so I get them, at new restaurants I still get enchiladas, because I have to taste every enchilada in the city to rank each one from best enchilada to worst enchilada.
At home? I'm an enchilada making machine, rarely do I make anything else when I'm craving a little homemade Mexican.
Any enchilada with chicken is my favorite, (much like the enchilada obsession I rarely order or make anything other than chicken) but these enchiladas? These are totally out of the norm for me – and I think I may have found my new favorite way to eat my favorite Mexican dish.
These make me never want to eat another chicken enchilada again – ok, maybe a tad bit of an exaggeration, but they are just so so good. And the best part? You can eat them three or four times a week and not blow up like a hippopotamus.
There are two parts to these that make them the best enchiladas ever…
The filling and the sauce.
Sweet potato, chorizo and black beans make up the filling – it's the perfect combination of sweet, spicy and hearty. I only use a scant portion of chorizo since it's pretty fattening and I'm trying to keep these in the "healthy" realm, and really I just wanted a little bit of the sausage to come through since it can be a pretty prominent flavor. Side note – I added chorizo into my chicken enchilada last time I went out for Mexican and they gave me about a pound of chorizo and like no chicken – it did not end well for me.


And while obviously I'm pretty head over heels for the filling, the sauce is really where it's at. This is probably THE most flavorful sauce I've ever made, with the smallest amount of ingredients I've ever used. A lot of times I'm in the camp that more is more, you know more cheese, more cream, more butter, but sometimes less is totally more. There's no cheese, no cream, no sour cream. Just poblano peppers, chicken stock, garlic, onion and Greek yogurt – oh and plenty of salt. I could literally drink this sauce – it's that good.
Who knew enchiladas with no chicken and no cheese or cream could be my new favorite thing? I guess stranger things have happened….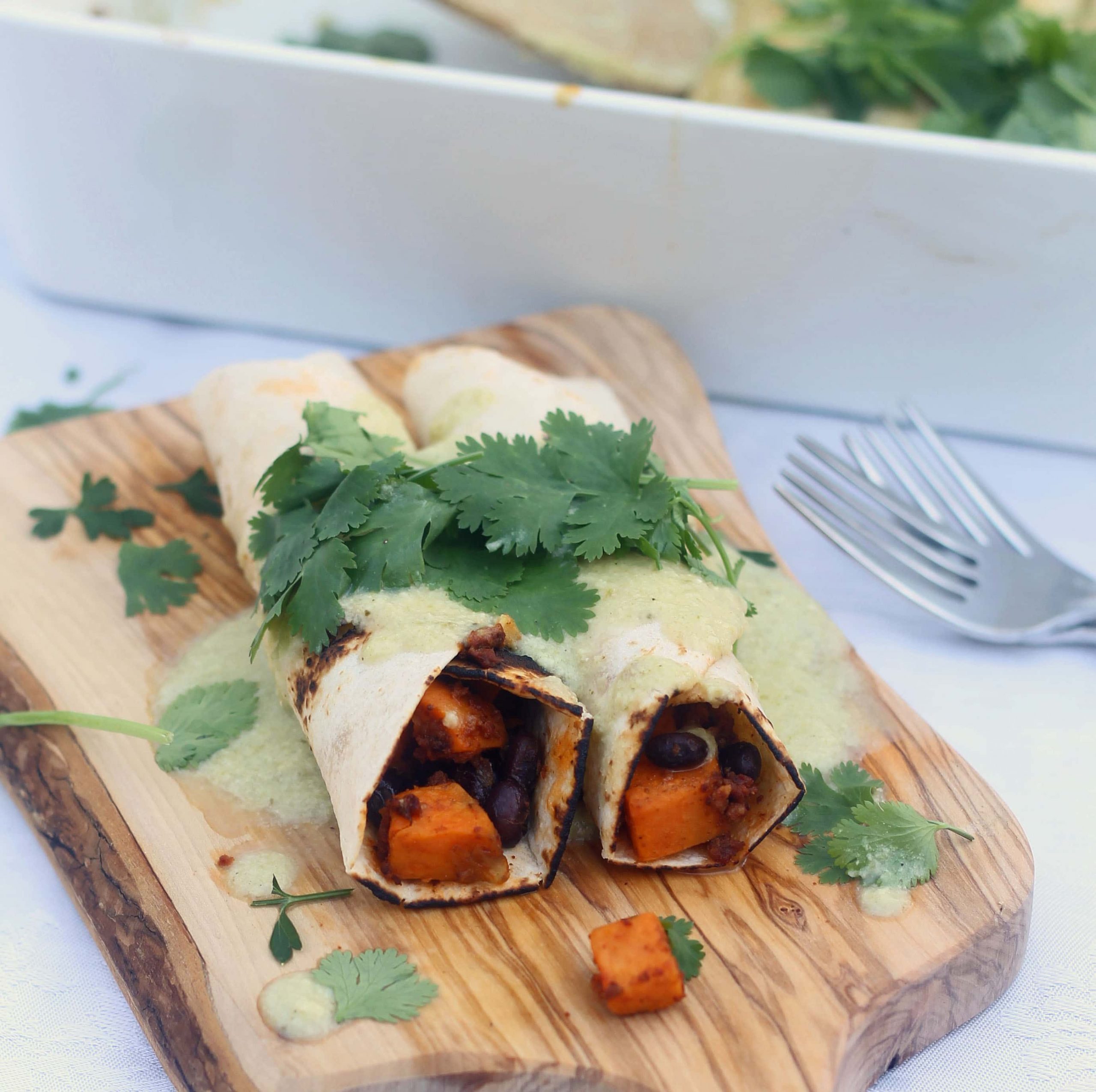 Healthy Sweet Potato, Chorizo and Black Bean Enchiladas with Poblano Cream Sauce
Author:
Nicole-Cooking For Keeps
Ingredients
Filling:
5 ounces chorizo
¼ large onion about ½ cup
2 garlic cloves
3 cups sweet potato
½ teaspoon salt
½ teaspoon cumin
1 cup black beans
¼ teaspoon coriander
8 flour tortillas
Sauce:
2 tablespoons butter
3 tablespoons flour
½ teaspoon salt
¼ cup onion
2 garlic cloves
2 cups hot chicken stock
1 poblano chili
½ teaspoons salt
¾ cup Greek yogurt, like Chobani
Cilantro for Garnish
Instructions
Preheat oven to 350 degrees.
Filling: Heat a large non-stick skilled over a medium-high heat. Brown chorizo. Remove from skillet. Add sweet potatoes, onions and salt, cook until sweet potatoes begin to soften and onions become translucent, about five or six minutes. Add garlic, cumin and coriander; cook another 2-3 minutes. Add chorizo and black beans back into pan and cook another minute or so.
To Make Sauce: Roast peppers over an open flame or broil in the oven until completely charred. Place in a plastic bag or bowl covered with plastic wrap. Let set for five to ten minutes. Peel and seed pepper. In a medium saucepan, melt butter over a medium heat. Add in onions and garlic, season with salt and pepper; cook until onion and garlic are cooked, about three minutes. Whisk in flour, cook for one minute. Slowly whisk in hot chicken stock, add salt. Bring to a boil and reduce to a simmer until thickened. Once thickened, transfer half to a blender with the roasted poblano pepper, blend until smooth. Transfer back to saucepan. With the heat on low, stir in Greek yogurt. Season to taste with salt and pepper.
Assembly: Evenly divide filling between eight tortillas, roll and place seam side down in a greased baking dish. Pour half of sauce over enchiladas. Bake for 30 minutes until golden brown.
Serve remaining sauce with baked enchiladas.