This Neapolitan Ice Cream Sandwich Cake uses store-bought ice cream sandwiches to create a base for an impressive, yet easy summer dessert. Add in roasted strawberries, homemade chocolate fudge and strawberry ice cream and you have the makings for the perfect dessert.
I don't think I can even count how many times I've said on here that I'm not really a dessert person. However, after the copious amounts of pie, cake and brownie recipes I've posted, I think it's safe to say I'm now a dessert convert. While I'll still reach for a salty bag of chex mix or potato chips over a cookie, I've found my life is fuller with dessert in it, and I don't see that changing any time in the near future.
Even in my minimal dessert days, when ice cream was something only meant for girls in serious heartbreak or kids dousing their bowls with rainbow sprinkles, I had quite the affinity for simple store-bought ice cream sandwiches. You know, the ones from the freezer section that stick to your fingers and melt before you can take your second bite. The good stuff.
They're still an item that has a soft spot in my heart, so when I saw Kevin's aunt preparing an ice cream sandwich CAKE at the beach this year, my heart practically skipped a beat.
Her version was layered with soft ice cream sandwiches, cookies and cream ice cream and loads of cool whip — basically the perfect storm of sweet concoctions.
It.was.heaven.
I managed to show some self-control and only inhale one large piece, but the idea totally resonated with me and I vowed to make my own version when we returned home. To not totally dupe her version (which she said was a Pinterest find), I changed my version up a bit to reflect my second favorite type of ice cream sandwich – Neapolitan.
As in every classic Neapolitan dessert, there's a layer of chocolate, a layer of strawberry and a layer of vanilla. Although in this version because more is more, there are two layers of chocolate and two layers of strawberry just to make sure things aren't too simple.
First, there's the ice cream sandwich layer: Any kind will do. The softer the cookie, the better.
Next, strawberry ice cream: Again, any kind will do. I like to let the ice cream sit out for a few minutes so it's easily spreadable.
The third layer, roasted strawberries: Unnecessary, but adds the perfect amount of texture in each bite after the cake chills.
Fourth layer: chocolate sauce. Because more chocolate is always a good idea.
Fifth layer: Plenty of cool whip.
Repeat.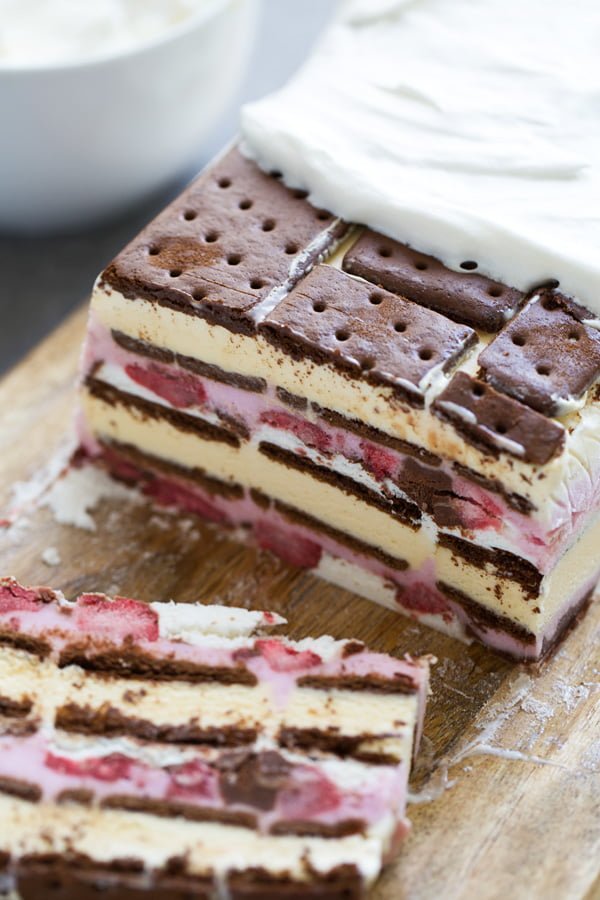 I want to stress that you want all of your ingredients ready to go when it comes to assembly time. Because we're working with ice cream, and you are all privy to the speed at which ice cream melts, the faster you work the better. This means you want your strawberries cooked and chilled and your chocolate sauce cooked and at room temperate.
Once everything is assembled in a loaf pan lined with parchment paper or plastic wrap, it's popped in the fridge to chill for a few hours until it's ready to serve. Also, if you want a flatter cake, you could also assemble it in a larger pan and have less layers, totally up to you.
When it comes time to serving, I invert the cake on to a cutting board or serving platter, slather in more cool whip and then cut into slices.
You can drizzle with leftover chocolate sauce or leave it as is.
Enjoy!
For more easy ice cream cake ideas, check out these posts:
Brownie Oreo Ice Cream Bars: Chelsea's Messy Apron
Peanut Butter Ice Cream Cake: Also the Crumbs Please
Moose Tracks Ice Cream Cake: Flour Covered Apron
Neapolitan Ice Cream Sandwich Cake
Layers of ice cream sandwich, strawberry ice cream, roasted strawberries and chocolate sauce make up this easy ice box cake. The perfect frozen dessert.
Ingredients
1

lb

strawberries

2

tsp

sugar

8

ice cream sandwiches

3

cups

strawberry ice cream

1/2

cup

heavy cream

1

tbsp

butter

1/2

cup

semi-sweet chocolate chips

8

oz

cool whip
Instructions
Preheat oven to 375 degrees.

Toss strawberries and sugar together. Spread on a small baking sheet. Roast in the oven until soft and juicy, about 20 minutes. Cool completely and chill in the fridge.

Add the heavy cream and butter to a small saucepan. Heat to a scalding temperature, whisk to melt the butter. Turn the heat off and add in chocolate chips. Whisk until melted. Transfer to a jar to chill to room temperature.

To assemble: Line a loaf pan with parchment paper or plastic wrap. Arrange ice cream sandwiches in the bottom. Cut sandwiches to fit. Spread a thin layer of ice cream on top. Dot with strawberries. Drizzle with chocolate. Spread a thin layer of cool whip on top. Repeat one more time. Transfer to the freezer to chill for 1-2 hours until firm.

Invert the cake on a platter or cutting board. Spread with remaining cool whip. Cut into slices. Serve.
Tips
You can use jarred hot fudge if you prefer and can also skip roasted the strawberries to cut corners.