A quintessential party finger food, Puff Pastry Pinwheels are always one of the first items to disappear off the table of dips, meatballs and other fun small bites at holiday parties So it makes sense that they're one of our favorite hors d'oeuvres to serve when we're entraining as well.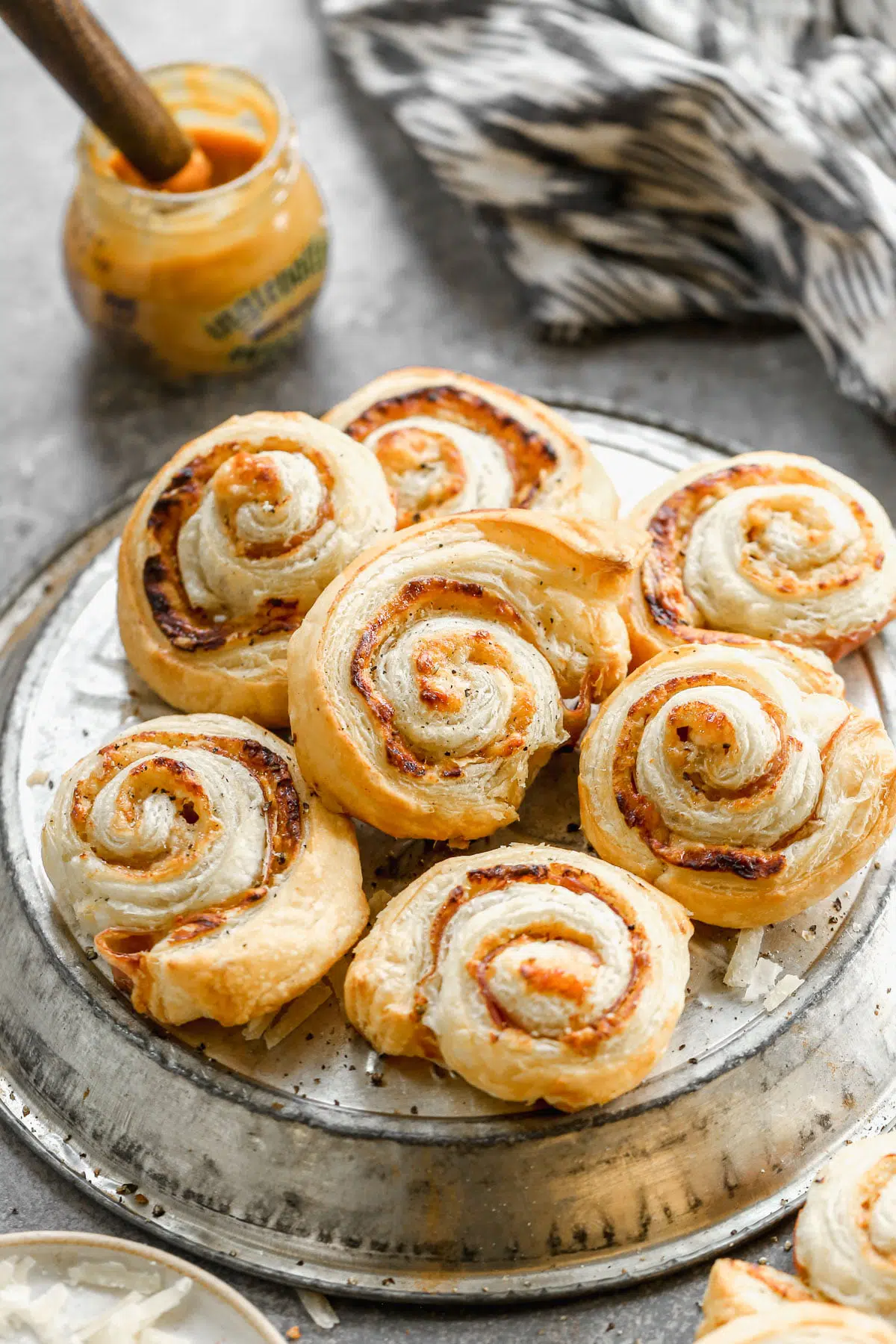 Puff Pastry Pinwheels
Our version of Puff Pastry Pinwheels is something my Mom has been making since the 90s but is surprisingly still very much relevant in today's day and age. Despite the bevy of truffle, brown butter and other trendy flavors (which I'm ALL for), our version is a classic sure to stand the test of time. We slather store-bought puff pastry sheets with just three ingredients – sweet and hot mustard, nutty parmigiano reggiano and salty paper-thin slices of prosciutto.
We wrap everything up, slice the into pinwheels, brush them with egg wash and pop them into the oven until they're irresistibly flaky and brown. You can serve them as is straight from the oven but I also like to serve them with extra sweet and hot mustard and honey for dipping or drizzling.
Pair them with these sausage rolls, this completely addictive dip and roasted shrimp cocktail for a night of finger foods your guests aren't likely to forget.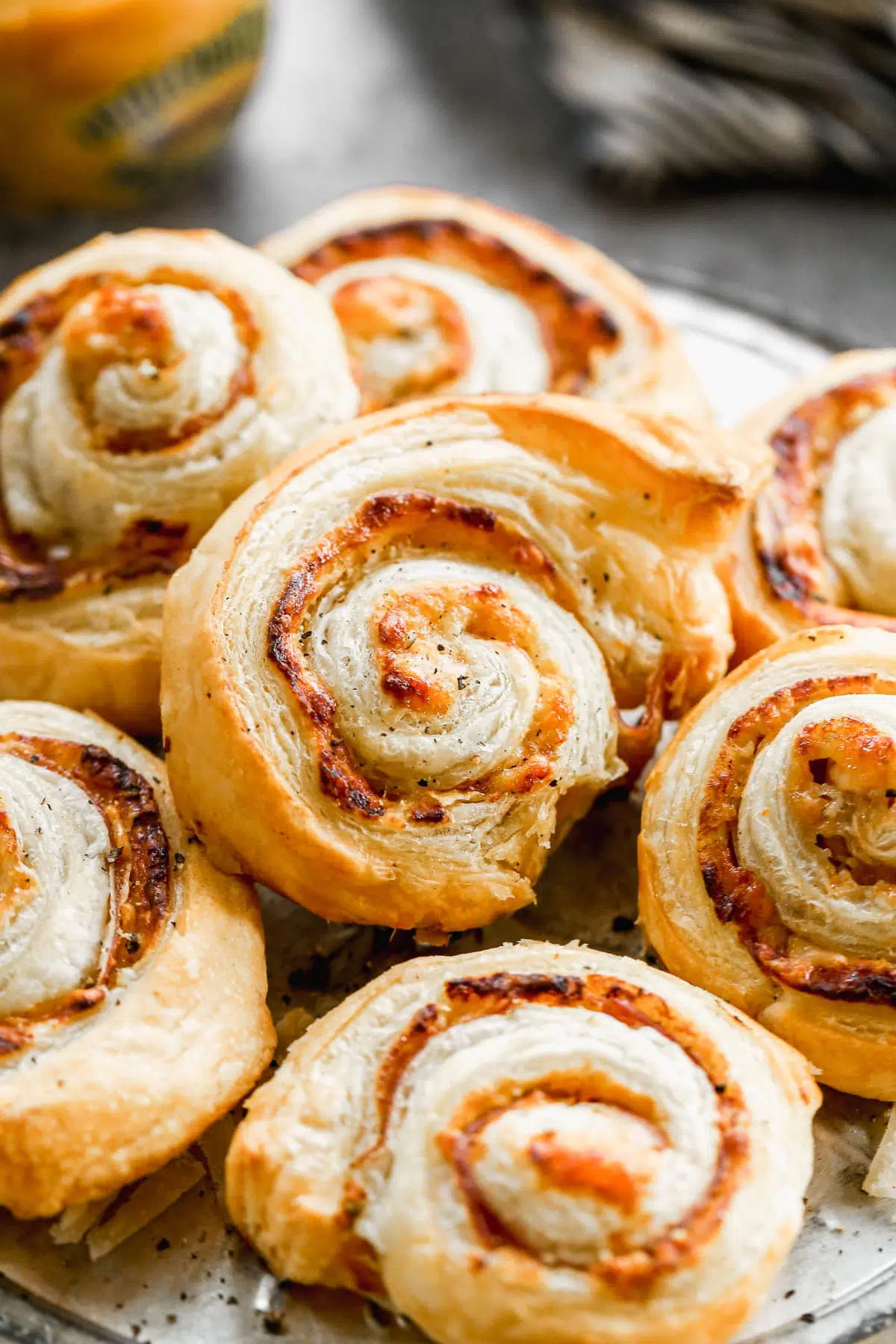 Ingredients in Puff Pastry Pinwheels
Puff pastry. If you haven't worked with store-bought puff pastry before you're in for a treat. Not only is it incredibly easy to work with but it gives you bakery-worthy pastries without an ounce of hard work. Make sure you remember to pull the sheets out of the freezer 30-40 minutes before you want to assemble the puff pastry pinwheels otherwise the dough will break.
Also important is to not let it sit out at room temperature for very long, You want it to be defrosted but still cold.
Sweet and hot mustard. I love the sweet and spicy combination in this type of mustard but you could also use dijon if that's what you have on hand.
Parmigiano reggiano. Because there are so few ingredients in our puffy pastry pinwheels you want to make sure to use quality ingredients. Use real Parmagiano Reggiano if you can, it has a nutty sharp bite to it you can't get with many other cheeses. If you do want to swap it out with something an aged sharp cheddar or aged sharp gouda will also work nicely.
Prosciutto. Again with very few ingredients you want to use quality ingredients. I like to use prosciutto de parma for this. It's super delicate in flavor and for me, it's just the best. I can find it at pretty much any grocery store these days but I always find it
Egg. We use an egg wash to ensure the top of each pinwheel is golden brown and glistening. It's not a mandatory step for the taste but it is for looks.
Let's make puff pastry pinwheels
These instructions are kind of silly to explain since it's so straightforward and easy to follow but let's get started anyways.
Defrost the puff pastry. Pull out the puffy pastry about 30 minutes before you want to start. Don't let it sit out too long. Similar to pie crust and biscuits, for the pastry to expand correctly it needs to be cold.
Layer up. Brush the surface of the puff pastry with mustard. Don't use too much as it tends to burn in the oven. You can always dip them in the mustard after cooking if you want a heavier hand. Next sprinkle the parmesan cheese on top. Layer the prosciutto on top of the cheese and mustard.
Roll. Tightly roll the puff pastry up jelly-roll style. Gently pinch the edges to seal. To make them easier to cut, I like to pop them in the freezer for about five minutes. Cut into 1/2-inch slices.
Bake. Line the pinwheels up on a parchment-lined baking sheet cut side down and up. Brush with egg wash and pop into the oven. Bake until golden brown and crisp!

Can I freeze puff pastry pinwheels?
Yes! In fact I highly encourage it. You can even make these a few weeks in advance. Wrap the whole roll tightly in plastic wrap and then foil and store until you're ready for them. Let them defrost for just enough time to easily slice, about 15 minutes. Bake as instructed.
I wouldn't however bake them ahead of time, they are best served within an hour of baking otherwise the puff pastry loses it's crispness.
Variations on puff pastry pinwheels
We also like to make pesto puff pastry pinwheels Spread the dough with store-bought pesto, sprinkle with parmesan cheese and layer prosciutto on top.
For a simpler pinwheel, brush the pastry with mustard or mayo, sprinkle with sharp cheddar cheese and layer with Black Forest ham.
For a spin on our Italian Stromboli in party app form, layer puff pastry with thin deli pepperoni, shredded mozzarella cheese and pizza seasoning.

Substitutions and Tips and Tricks for Recipe Success
Make sure to keep the puff pastry cold.
Don't be tempted to slather on more mustard than the recipe calls for, the pinwheels will burn if you do. You can always serve them with more mustard later on.
Swap out parmesan for sharp white cheddar or an aged gouda.
You can use dijon instead of sweet and hot mustard.
If you don't want to splurge on prosciutto you could use thin-sliced ham.
Some of our other favorite puff pastry recipe you'll love
Puff Pastry Pinwheels made with store-bought puff pastry sheets, sweet and hot mustard, nutty parmigiano reggiano and  salty paper-thin slices of prosciutto. Sure to be the hit of your party!
Ingredients
2

puff pastry sheets, defrosted

2

tbsp + 2 tsp

sweet hot mustard, plus more for serving

1/2

cup

shredded or grated parmigiano reggiano

6

thin sliced

prosciutto de parma

1

large

egg
Instructions
Preheat oven to 400 degrees. Line a large baking sheet with parchment paper.

Lay one sheet of puff pastry out on a lightly floured surface. Keep the other sheet in the fridge. Make sure to lay the sheet out with the longest side laying horizontal.

Brush the surface with 1 tablespoon plus 1 teaspoons mustard. Leave a small border on the edges. Sprinkle with 1/4 cup parmesan cheese. Layer three slices of prosciutto on top.

Roll up jelly roll style from bottom to top. Pinch edges shut. Pop in the freezer while you make the second roll with the remaining puff pastry sheet, 1 tablespoon plus 1 teaspoon, 1/4 cup parmesan and three slices prosciutto.

Freeze each roll for about 5 minutes. Cut into 1/2-inch slices and line up on prepared baking sheet. Leave about 1/2 inch in between each pinwheel. If needed, you use two baking sheet or bake in batches.

Whisk the egg wash and 2 tsp water together. Brush the tops of the pinwheels with egg wash. Sprinkle with a little bit of salt. Bake for 12-15 minutes or until lightly golden brown and cooked through.
Nutrition Information
Serving:
1
pinwheel
,
Calories:
188
kcal
(9%)
,
Carbohydrates:
14
g
(5%)
,
Protein:
4
g
(8%)
,
Fat:
13
g
(20%)
,
Saturated Fat:
4
g
(25%)
,
Polyunsaturated Fat:
2
g
,
Monounsaturated Fat:
7
g
,
Trans Fat:
1
g
,
Cholesterol:
14
mg
(5%)
,
Sodium:
154
mg
(7%)
,
Potassium:
29
mg
(1%)
,
Fiber:
1
g
(4%)
,
Sugar:
1
g
(1%)
,
Vitamin A:
43
IU
(1%)
,
Vitamin C:
1
mg
(1%)
,
Calcium:
43
mg
(4%)
,
Iron:
1
mg
(6%)