With the help of store-bought puff pastry, these Baklava Cinnamon Rolls are a cinch to throw together and taste EXACTLY like their namesake – cinnamon rolls meet baklava.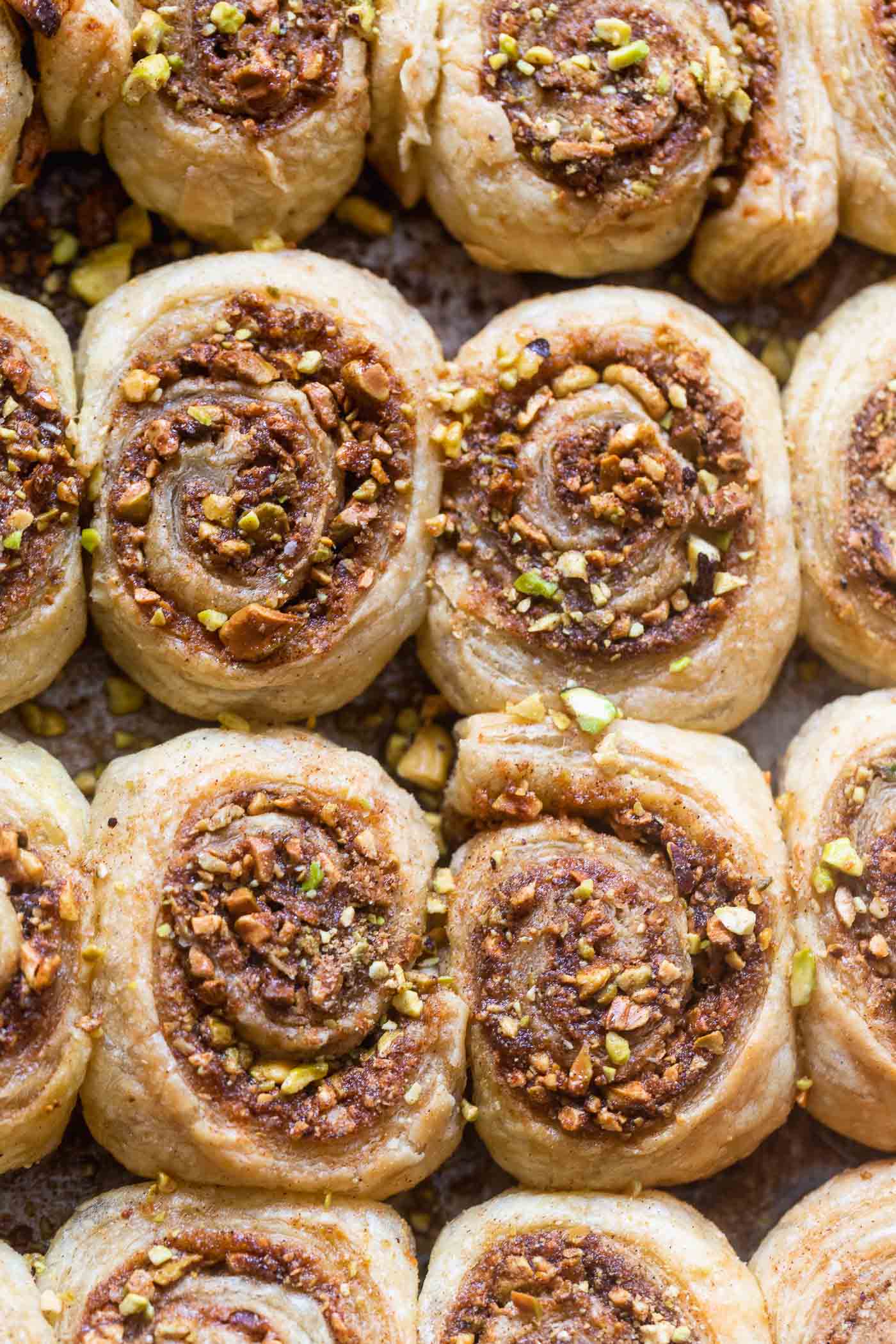 Ok. If there's anything you guys make from the blog these past few weeks, MAKE THESE.
Good lord.
I'm having a hard time coming up with the words to adequately describe them, because they're that good.
But basically they're the most perfect hybrid between cinnamon rolls and traditional baklava. They're sticky, sweet, nutty, buttery and I could definitely down this entire pan (they're smaller than they look!) And what makes them taste even better, is they're a hundred times easier to whip up than regular baklava or cinnamon rolls, yet they taste exactly like both.
The secret? Puff pastry!
Thanks to Ina Garten, I discovered puff pastry dough can not only be used for pop tarts, sausage rolls ups or empanadas, but it makes the perfect substitution for a homemade dough in well, almost anything. While the texture doesn't mimic the soft yeast-based dough of a traditional cinnamon roll exactly, there's enough resemblance that I feel comfortable using it.
The end result is a buttery, crispy on the outside, soft on the inside texture that I adore, which means I'll probably find a thousand other ways to use it in cinnamon roll-like form, because I can't quit a good thing.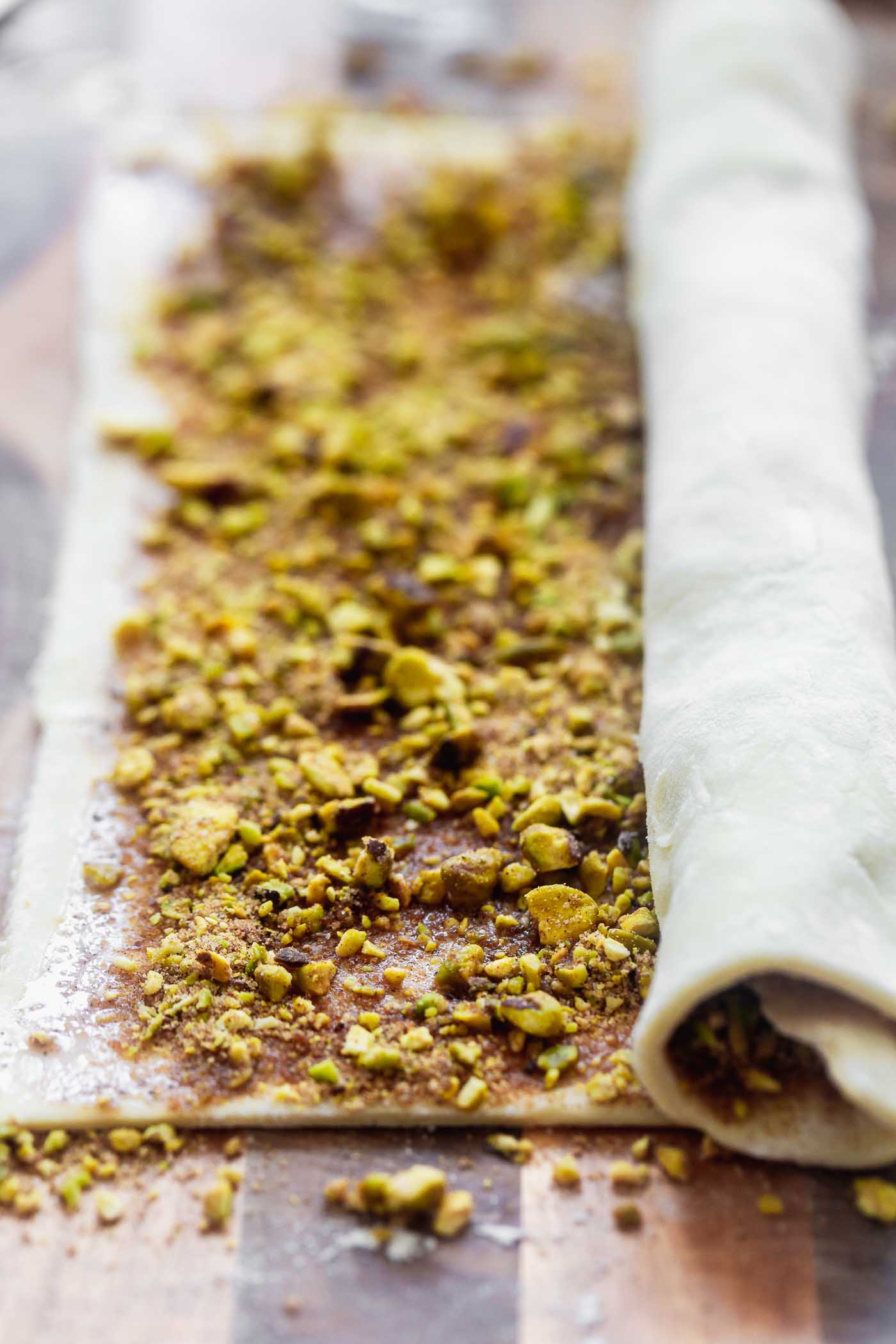 Because puff pastry tends to be more on the flaky, crispy side than traditional dough, it has the PERFECT texture to replace hard-to-work-with phyllo dough sheets. I was honestly shocked at how much these guys resembled traditional baklava, both in actual taste and texture.
Traditional baklava?
Traditionally, to make baklava, a nut and cinnamon mixture is layered between what seems like hundred of layers of buttered phyllo dough. It's baked until golden brown and then drowned in a lemon and honey syrup and left to sit until the crispy layers and nuts soak up all the liquid. It doesn't really sound like a lot of work at first glance, but trust me, brushing individually delicate layers of phyllo dough one after the other after the other, isn't for the impatient.
Being able to sprinkle the nut and sugar mixture on one flat piece of dough, roll it up, and easily cut it into rolls, then bake, is SO much easier. While the rolls bake, the super simple syrup comes together with honey, freshly squeezed lemon juice, plenty of sugar and water.
When the rolls are hot out of the oven, I let them rest for just a minute or two, then pour the sweet syrup on top. Unlike baklava, these really only need to soak for a few minutes for the syrup to penetrate all the way through the rolls, and luckily they're still nice and warm once that happens.
Although have no fear, they're equally delicious once they've sat for a few hours at room temperature, which is perfect for entertaining. And you will want to serve these at your next brunch, baby/bridal shower, casual Saturday morning.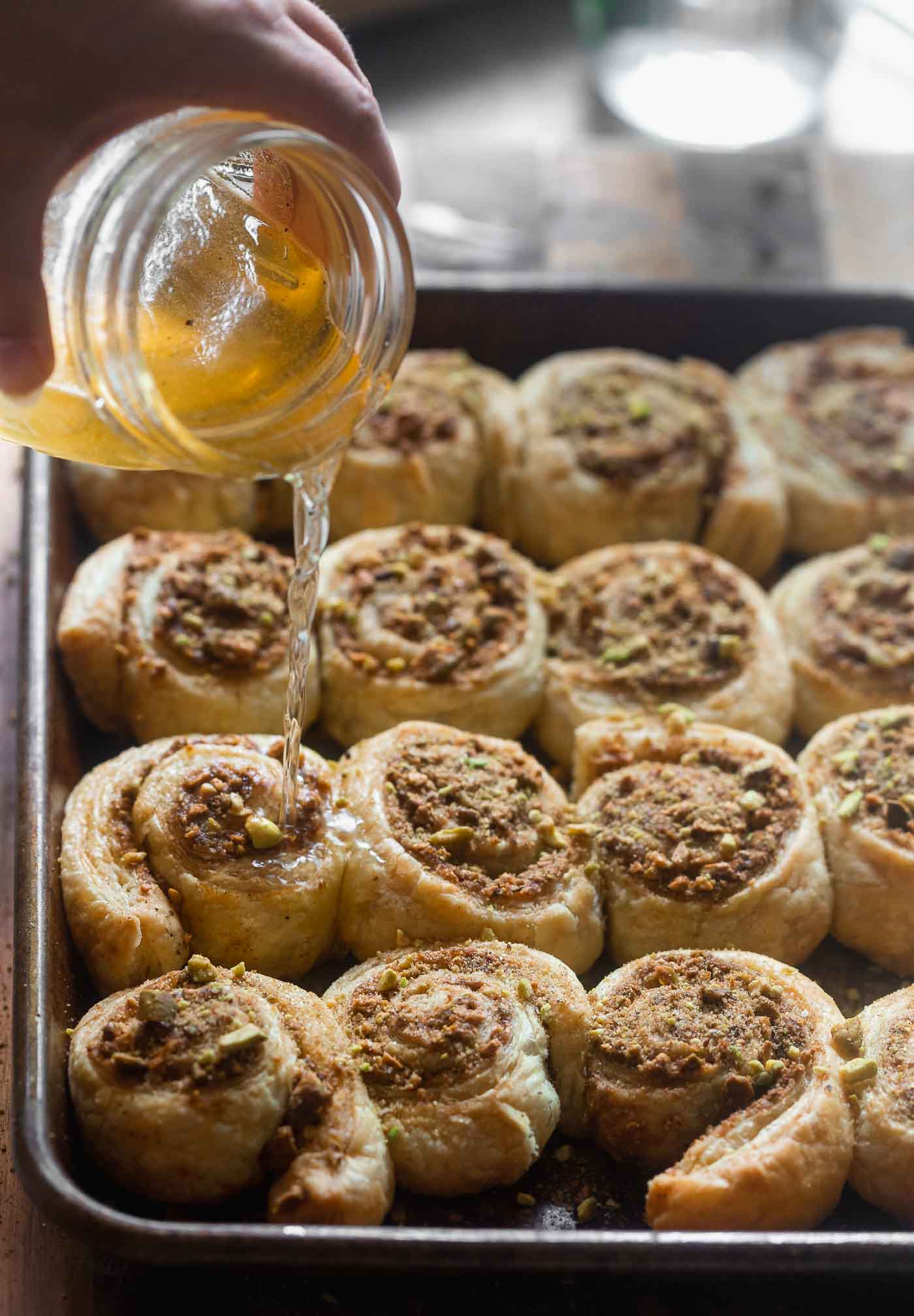 I typically use a combination of walnuts and pistachios in baklava, but here I went with all pistachios, I feel like it makes them a little bit fancier, and I just like they way they taste a little bit better, but you can absolutely use a combination of the two if you'd like.
Unlike baklava, I actually used brown sugar in the cinnamon and pistachio mixture instead of white sugar, simply because I'm more of a brown sugar girl than white sugar, and I somehow convince myself it's better for me. Don't ask. It also, in my opinion, has slightly more flavor than white sugar and transforms into a sticky oblivion a little bit better as well.
While a food processor
isn't mandatory, it does make chopping up the pistachios and mixing them with the brown sugar and cinnamon a heck of a lot easier, so I highly recommend it. If you don't have one, just use a really sharp chef's knife to finely chop all of the nuts, then toss them in a bowl with the sugar, cinnamon and salt.
Also, because I need a salty to bite to pretty much anything sweet, I used quite a bit of flaked Maldon salt (I put this on EVERYTHING), but if sweet and salty isn't your thing, leave it out.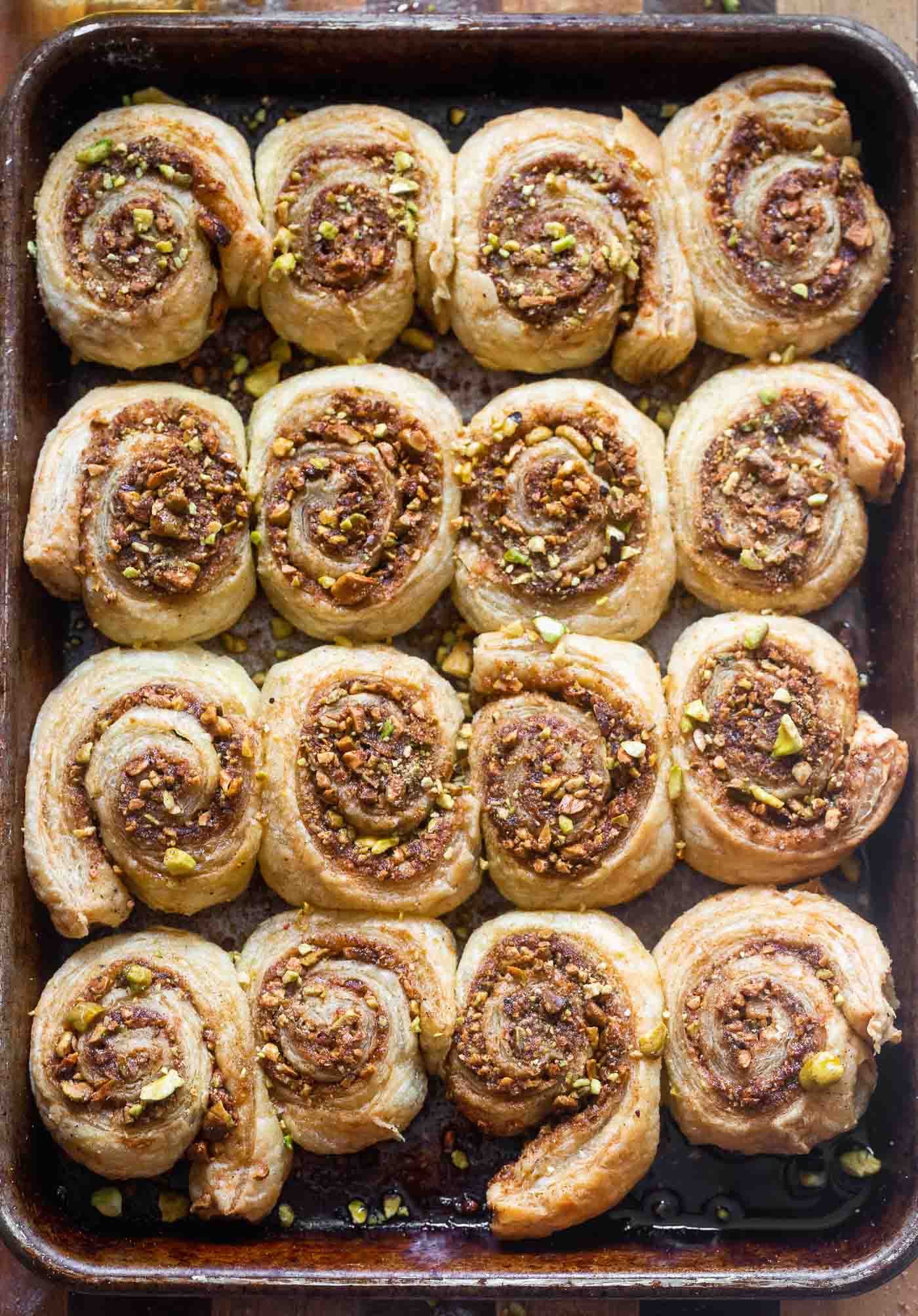 I make a LOT of food here, obviously, and these guys were one of the only things I've made lately where every single morsel was gone by the end of the day. This makes SIXTEEN rolls, and we only have so many people in our house. Take what you want from that.
With the help of store-bought puff pastry, these Baklava Cinnamon Rolls are a cinch to taste together and taste EXACTLY like their namesake - cinnamon rolls meet baklava.
Ingredients
1 3/4

cups

raw and unsalted pistachios

1

tbsp

cinnamon

1/4

cup

packed brown sugar

1/4

cup + 1 tbsp

white sugar

1/2

tsp

maldon salt

2

sheets

puff pastry, thawed

4

tbsp

butter, melted

1/2

cup

water

1

tbsp

lemon juice

1/8

cup

honey
Instructions
Place a rack in the bottom third of the oven. Preheat oven to 350 degrees. Butter or grease a quarter baking sheet or 9x12 baking pan with non-stick spray.

Add nuts, brown sugar, 2 tablespoons white sugar and cinnamon to a food processor. Pulse until the nuts are finely chopped. You want mostly very small pieces, but also a few bigger ones. (See photo). Add salt and pulse one more time. You don't want the salt to be broken up!

Slightly roll out each sheet of puffy pastry on a lightly floured board or surface. Brush each sheet with two tablespoons of butter. Evenly sprinkle the nut and sugar mixture between the two sheets. Roll up jelly roll-style. Cut the very ends off of the rolls, so you have an even edge. Cut evenly into 16 equal rolls.

Place the rolls, nut side-down in prepared baking dish. Bake until golden brown and cooked through, about 25-30 minutes. Keep and eye on them and make sure they don't burn.

While the rolls cook, make the syrup. Add remaining sugar, water, honey and lemon juice to a small sauce pan. Bring to a boil and reduce to a simmer until thickened, about five minuets. Set aside.

When the rolls come out of the oven, let them rest for 2 minutes. Pour the syrup on top. Serve after a few minutes. Can also be left at room temperature for a few hours.
Nutrition Information
Serving:
1
roll
,
Calories:
227
kcal
(11%)
,
Carbohydrates:
21
g
(7%)
,
Protein:
4
g
(8%)
,
Fat:
15
g
(23%)
,
Saturated Fat:
4
g
(25%)
,
Cholesterol:
8
mg
(3%)
,
Sodium:
139
mg
(6%)
,
Potassium:
149
mg
(4%)
,
Fiber:
2
g
(8%)
,
Sugar:
11
g
(12%)
,
Vitamin A:
124
IU
(2%)
,
Vitamin C:
1
mg
(1%)
,
Calcium:
25
mg
(3%)
,
Iron:
1
mg
(6%)