At this time on a Sunday (10:04pm), I usually have a serious case of Sunday night blues – so serious, that I prolong sleep even if I'm dead tired just so I can soak up a few more precious hours of the weekend. But tonight is different. I'm going to go to bed before midnight instead of 2 am. I'm going to put my computer away after I finish this post instead of cruising around reading other food blogs and online shopping for the Kate Spade purse I don't need. And I'm going to fall asleep to the soft hum of the fan and the methodical breathing of my hubby and puppy instead of the raucous voices of the Real Housewives.
Why the sudden change of heart?
Well, because it's the week of Thanksgiving which means it's a three day week! So really, instead of tomorrow being Monday, it's actually Wednesday – or at least that's the way I like to think of it. So tonight, I'm going to relax, unwind and try to forget the fact that the weekend is over and focus on Thanksgiving being just three short days away.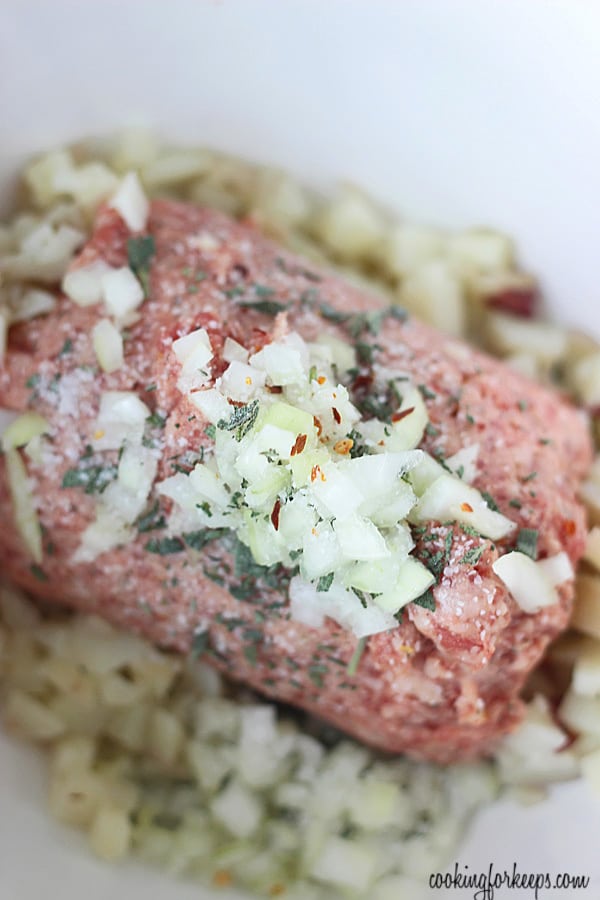 Thanksgiving is one of my favorite days of the entire year. Family. Friends. Food. Drinks. What more could you ask for?
We always have "dinner" late in the afternoon, around three, preceded by an hour or so of chatter and appetizers. Why we feel the need to have appetizers before an enormous meal is beyond me, but that's what we do and I love it. The appetizers vary from year to year, but the one thing that is mandatory each year are these little sausage rolls – no holiday is complete without them. And let me tell you. These are addictive little suckers.
My Mom got the recipe years ago from a Colin Cowie cookbook and we've been making them for holidays and parties ever since. We'll even make a huge batch, wrap them in plastic and store them in the fridge to keep on hand for impromptu guests or pre-dinner snacks. Lifesaver.
Simple, yet elegant; buttery, but light. They're filled with a mixture of bulk breakfast sausage, sage, onion, potato and a little red pepper flake for an extra kick. And while cooked potato may seem a little odd here, trust me, it aids in a lighter filling that lets you eat roll after roll without filling up — which could actually be a good or bad thing depending on how you feel about eating more and not less….
With a little help from store-bought puff pastry, these come together in just a few easy minutes. Although be sure to follow the recipe carefully, my Mom has given the recipe out countless times and somewhere along the line, everyone always manages to mess them up. One friend cooked the sausage before hand, one friend added in raw potato, and another filled and rolled them up the wrong way. So as long as you pay attention to the recipe directions, all will end well – and you want these to end well.
I promise these will be your new favorite appetizer — and if I'm wrong, please let me know what you've got up your sleeve Ethat's better, becauase I'd love to try it out!
Puff Pastry Sausage Rolls
Author:
Nicole ~ Cooking for Keeps
Serves:
Makes about 50 rolls
Ingredients
1 package puff pastry
1 pound bulk breakfast sausage (I use jimmy dean)
¾ cup minced onion
¾ cup chopped cooked potato
2 tablespoons fresh sage
1 teaspoon salt
pinch of red pepper flake
1 egg + 1 tablespoon water mixed together
Wortershire sauce for dipping
Instructions
Preheat oven to 350 degrees.
Lightly roll out each puff pastry sheet with a rolling pin. You just want to extend the puff pastry a bit. Cut each into thirds, lengthwise, you should still be able to see the fold line to guide you.
In a bowl mix together, sausage, onion, potato, sage, salt and red pepper flake. Transfer to a ziplock baggie, cut the tip off and pip the filling along the long edge of the dough. Should be about ½ inch of filling.
Roll dough, jellyroll fashion, seal edges.
Chill for 20 minutes or overnight.
When ready to bake, cut into 1 inch pieces. Place on baking sheet (non-greased), brush with egg wash, and bake for about 20 minutes until pastry is golden brown.
Serve with worteshire sauce.
Recipe adapted from Colin Cowie, can be found
here