Before you get pregnant, you hear about these bizarre cravings. Pickles with ice cream. Cheeseburgers and sushi. Grease upon grease.
Ugh.
Me? I didn't have any of those. At the time, part of me thought the whole "craving" thing was just something pregnant women made up to justify eating odd combinations or to gorge, but now, the other part of me thinks that because I like everything on a normal basis, the cravings just never hit me right on the nose.
However in hindsight, I would say that I ate an extremely large quantity of doughnuts, inhaled my weight in chocolate and ordered a roast chicken more times than I can count.
So maybe I just in denial the entire time…
There's a reason a roast chicken is one of the foods I gravitated towards during my pregnancy – it's a classic, and no matter what the preparation, it's always delicious.
Usually it's our go-to meal when we're craving something a little comforting, and I'll pretty much prepare it the same every time. Rub the whole thing down with butter, season liberally with salt and pepper, and stick a few lemons in the cavity. Done. This time I wanted to turn the classic winter comfort food into something totally appropriate for spring, so instead of rubbing the bird down with softened butter, I stuffed the skin with a springy pesto and roasted a handful of chopped brussels sprouts and asparagus in the same pan.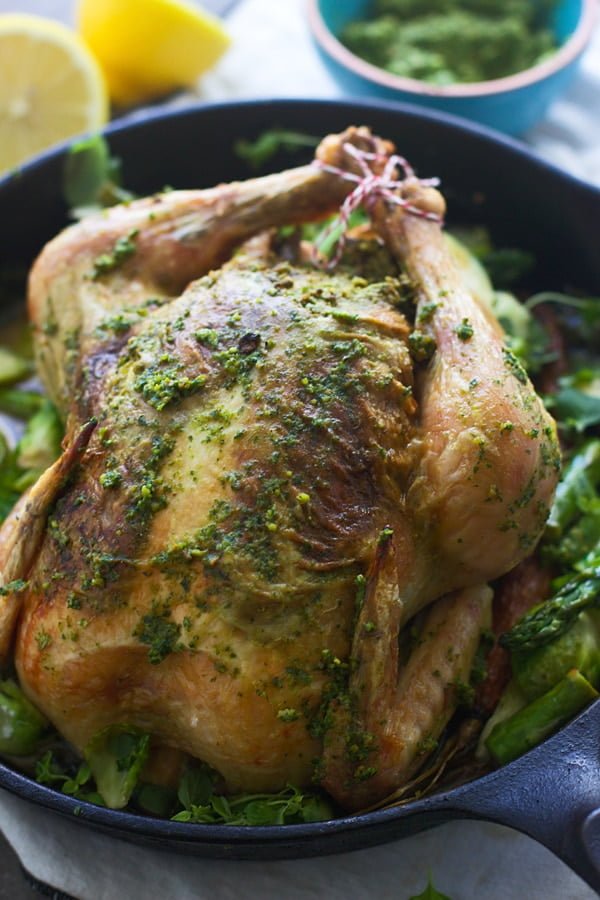 Since basil isn't really in season yet, I went with a different spin on a pesto, and instead used a combination of roasted pistachios and arugula. Bonus? It's a heck of a lot cheaper, since it takes about twenty dollars worth of basil these days (and even in the summer) to make pesto, arugula, on the other hand, costs a fraction of that. Because the peppery arugula pairs so well with lemon, I threw in a few tablespoons of the juice along with a few teaspoons of the zest. A little bit of salt, parmesan cheese, and olive oil finish it off.
Once the pesto is massaged under the skin of the bird it's popped into a screaming hot oven to crisp up, and then about 20 minutes shy of a finished product, I throw in some quartered Brussels sprouts and a little bit of chopped asparagus to complete this perfect spring meal.
Roasted Chicken with Pistachio and Arugula Pesto
Author:
Nicole ~ Cooking for Keeps
Ingredients
1 3½ lb whole chicken
4 whole carrots, peeled
Kitchen twine
¼ cup roasted and salted pistachios
4 cups packed arugula
2 tablespoons lemon juice
Zest of 1 lemon (about 2 teaspoons)
2 tablespoons grated parmesan cheese
¼ teaspoon salt
⅛ cup olive oil
1 tablespoon canola oil
¼ pound brussels sprouts, quartered
¼ pound asparagus, cut into bite-sized pieces
Instructions
Preheat oven to 450 degrees. Rinse chicken inside and out with water. Pat dry with paper towels.
Place carrots in the bottom of a large cast-iron skillet or roasting pan. Place chicken on top. Tie chicken legs together with twine.
In a food processor, add pistachios, arugula, lemon juice, lemon zest, parmesan cheese, and salt. Pulse until the mixture becomes a paste, if needed scrape down the sides of the bowl with a spatula. With the mixer on, slowly drizzle in olive oil. Again, if needed scape down the sides with a spatula. Season to taste with salt and pepper.
Using your fingers, gently release the skin from the breast meat. Take two heaping tablespoons of the pesto and spread it underneath the skin. Rub chicken with canola oil, sprinkle LIBERALLY with salt.
Roast in the oven for 30 minutes. Reduce the heat to 350 degrees and roast for another 15 minutes. Remove from oven and take a few tablespoons of the fat that's accumulated in the pan and toss it with the veggies. Season veggies with salt and pepper. Add to the sides of the pan. Place back in the oven and continue to cook the chicken until it reaches an internal temperature of 150 degrees, about another 15 minutes.
Once the chicken comes out of the oven, spread with another two tablespoons of pesto all over the chicken. Let rest for 15 minutes before cutting.
Serve with remaining pesto.