Shrimp Puttanesca is our almost identical version of one of Italy's most classic pasta dishes. We toss fresh noodles with salty kalamata olives, capers, and an impossibly simple tomato-based white wine sauce. The light pasta is studded with sweet plump shrimp and a sprinkling of parmesan cheese. The perfect way to get your pasta fix without a lot of guilt.
Shrimp Puttanesca
It goes without saying, Mediterranean cuisine offers its fair share of tasty contributions to our diets. Aside from how utterly delicious practically everything that comes out of Italy and beyond is, I think my favorite attribute is their attention to simplicity. Even the heaviest pasta dish such as carbonara or something similar is somehow lighter when you cross the Atlantic.
A classic pasta – shrimp puttanesca – showcases all the thing I love about the Mediterranean diet. Fresh linguine noodles are tossed with an impossibly simple tomato infused white wine sauce and studded with briny, salty capers and olives. With a heavy hand of garlic and a sprinkling of freshly grated parmesan cheese, this easy pasta dish manages to be both delicious and light and healthy at the same time.
If you've got 25 minutes of time and a hankering for pasta, this needs to be in your dinner rotation!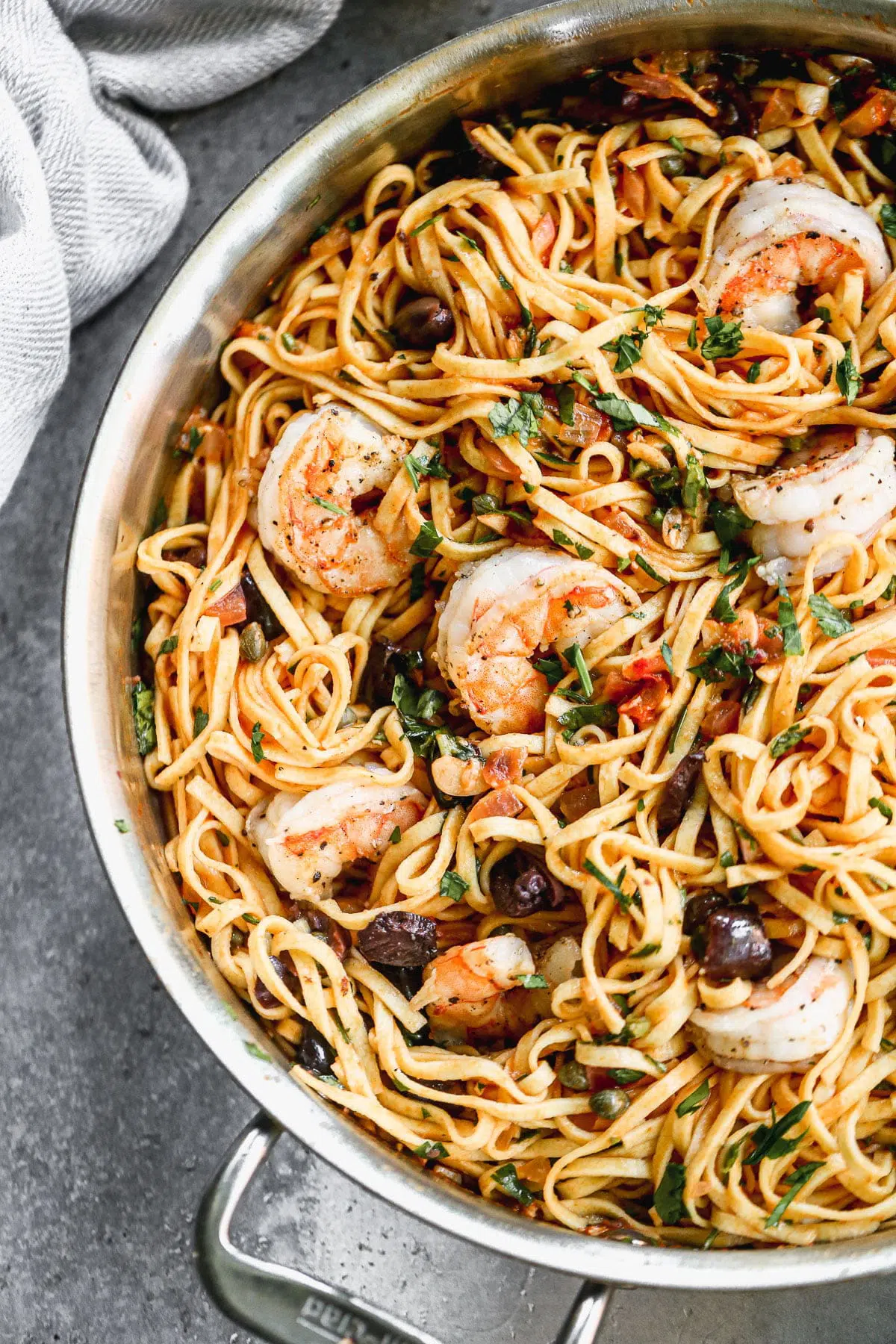 Ingredients in Shrimp Puttanesca
The sauce
Olive oil. Because this is a mediterrean-inspired dish ,we want to stick with olive oil. Not only does it add nice flavor, but it's a great way to add some healthy fat.
Onion + garlic. I normally stick with yellow onion in most of my recipes but I like using red onion here which ends up being a little bit sweeter after the cooking process.
Tomato paste. Adding tomato paste instead of a can of tomatoes or tomato puree is a great way to add a nice concentrated tomato flavor without adding a lot of liquid to the pasta. I want the finished shrimp puttanesca to have notes of tomato, but don't want it to be a tomato sauce. If that makes sense.
White wine. The tomato paste, garlic, and white wine is what makes up the flavor of our simple sauce. Use a white wine you'd enjoy drinking.
Parmesan cheese. Because this is a simple pasta, I highly recommend using high quality parmigiano reggiano.
Pasta water. The starchy pasta water we cook the pasta in is an essential element in sauce. It adds flavor, loosens the sauce up and marries the ingredients together.
The "stuff"
Pasta. It's personal preference, but I'm partial to a fresh linguine or fettuccine in this version of shrimp puttanesca. I love the texture of fresh pasta plus it cooks in a fraction of the time of dried pasta. However traditional pasta puttanesca uses dried spaghetti or angel hair, so feel free to go that route as well.
Shrimp. When it comes to choosing shrimp for pasta, I like to use an extra large version. I love Argentinean shrimp, but any larger guy will work. To save time and hassle, try buying shrimp already deveined and either easy peel or peeled prior.
Olives. Arguably the most important ingredient in our shrimp puttanesca, kalamata olives add saltiness, brininess, and really lovely texture to the pasta. Don't skip them!
Capers. Another great way to add a pop of salt, these little guys are small but mighty.
Parsley. Fresh herbs add a really nice brightness here. We always prefer flat-leaf parsley over curly.
Let's make Pasta Puttanesca
Cook the shrimp. I like to cook the shrimp first so I can get all those yummy bits at the bottom of the pan infused into the sauce. I season them simply with salt and pepper and then sauté them in a little bit of olive oil. They key to perfectly cooked shrimp is to only cook them them until they turn bright pink and slightly curl up. Remove them from the heat immediately.
Make the sauce. Transfer the shrimp to a plate and start on the sauce. If you have some oil left in the pan, go ahead and add the red onion. Turn the heat to a medium so the onion sweats and doesn't brown. Once the onion softens a bit, add the garlic. Cook for a minute.
I always add the garlic in the last minute or so of cooking, so it doesn't burn. It's minced so small, it takes virtually no time to cook.
Add the tomato paste. Give it a stir and cook it for a minute or so then add the wine. You want the wine to simmer and concentrate, so let it cook down until it's reduce by about half. Turn the heat off and add the olives and capers.
Cook the pasta. Fresh pasta cooks fast, so I drop it in the boiling water immediately after adding the olives and capers. Let it cook for a few minutes and then use tongs to transfer it to the sauce. Make sure to save that starchy pasta water!
Toss! Pour in a little bit of water and the parmesan. Toss to combine. Add the parsley, shrimp and more pasta water if you want to loosen up the sauce a bit more. Toss until the shrimp is warmed through. Season to taste with salt and pepper.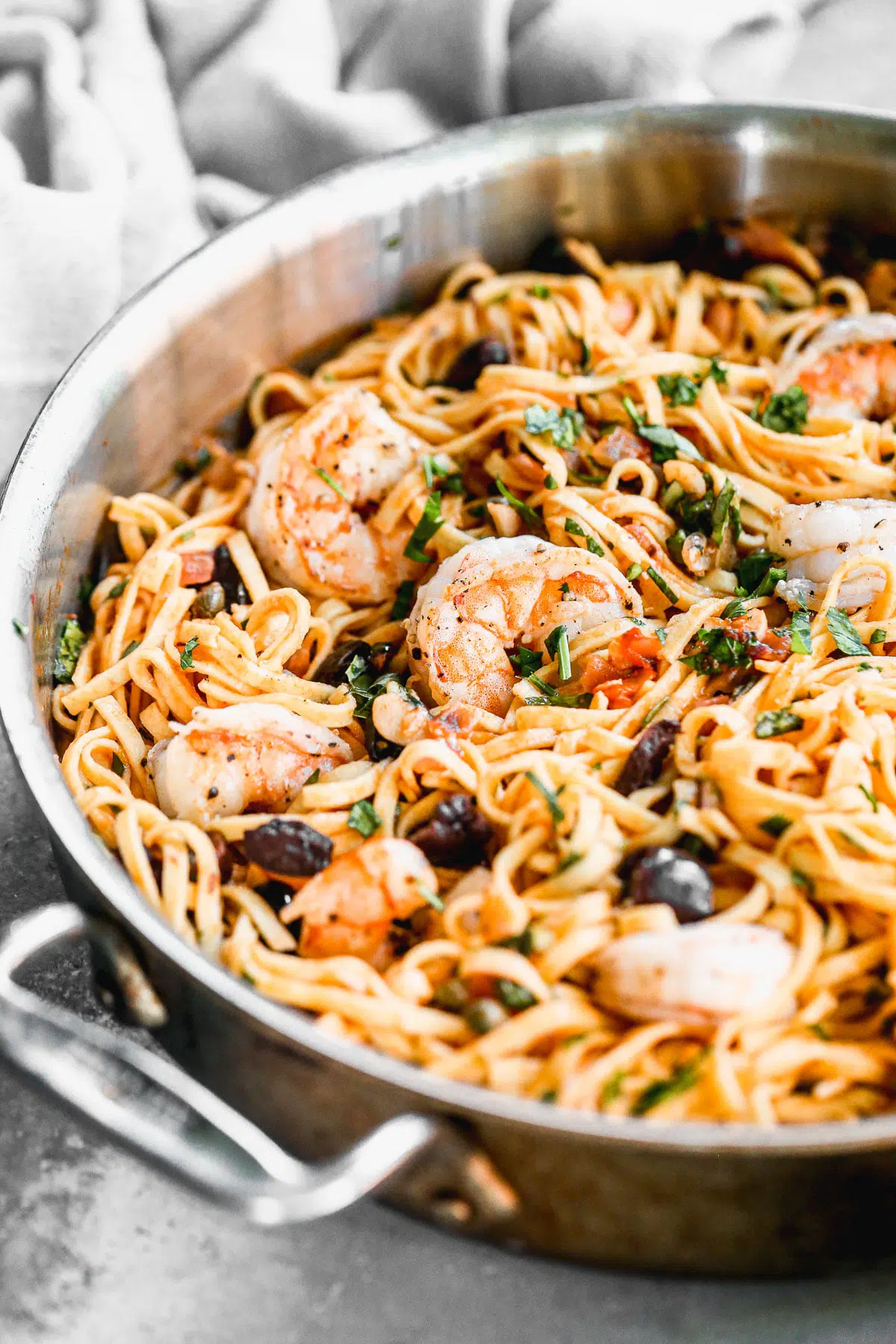 Do I have to use shrimp?
No absolutely not. You can use chicken or even lobster. Another option would be to leave the protein out altogether and make it a vegetarian dish.
Can I make Shrimp Puttanesca in advance?
I wouldn't recommend making this too far in advance. Luckily it takes a very minimal amount of time to throw together, especially if you use fresh pasta.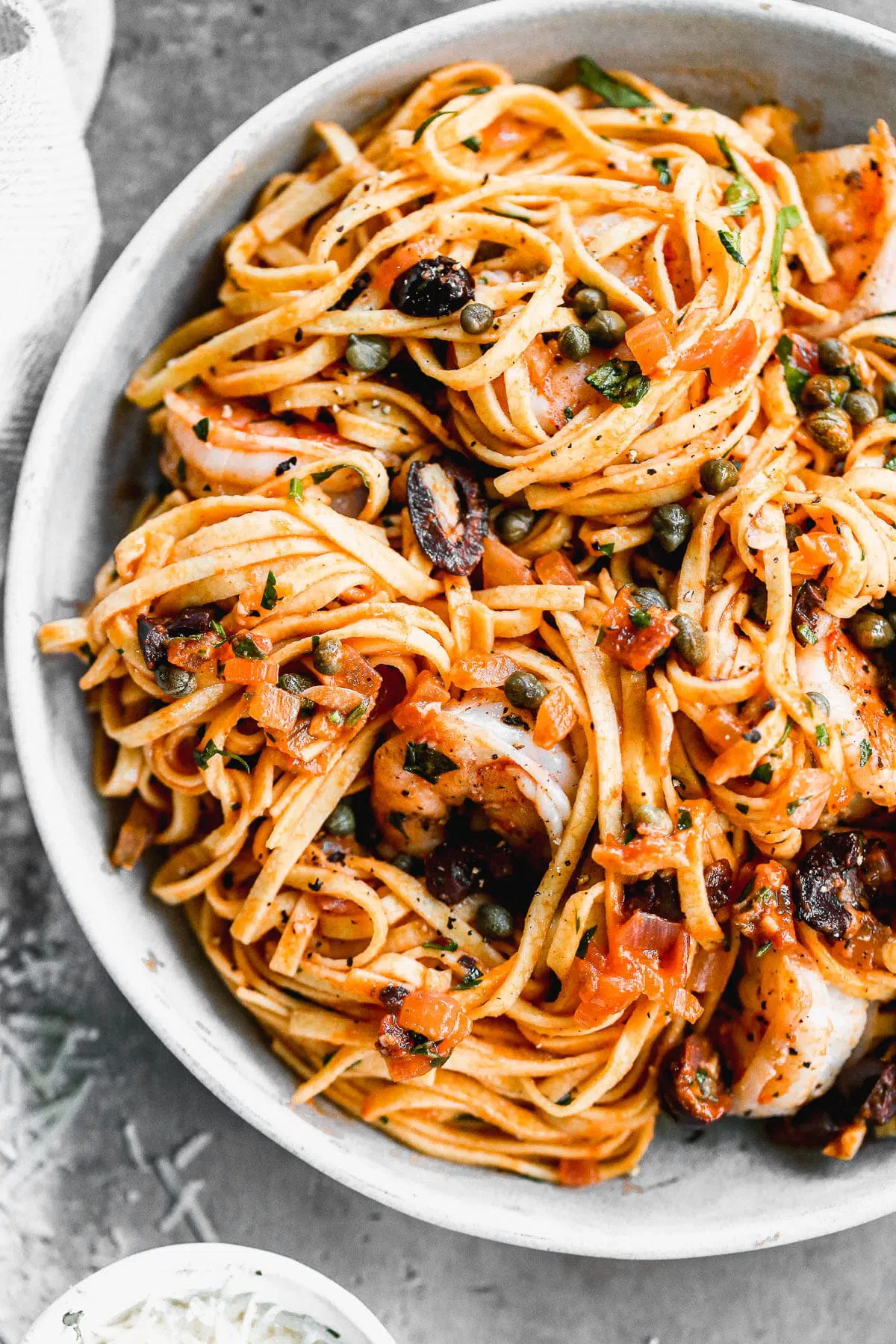 Substitutions and Tips and Tricks for Recipe
As mentioned you can swap out the shrimp for chicken or lobster. Additional vegetable such as spinach or squash would also work nicely.
Do not overcook the shrimp. Even very large shrimp will only take 2-3 minutes to cook.
I love the freshness of parsley, but chopped basil would be a good addition as well.
If you use dried pasta, make sure to cook it just UNDER aldente.
If you can find them, caper berries are plumper sweetener version of the teeny tiny caper we're all used to.
Other quick and easy pasta dishes we love
This lobster scampi looks involved and over the top, but it's actually incredibly simple to make. Even on a weeknight.
Looking for a healthier pasta? This checks all of the comfort food boxes but won't weigh you down.
Coated in a fiery buttery sauce and served with perfectly aldente rigatoni, this Calabrian Chili Pasta is one of my all-time favorite simple pasta dishes.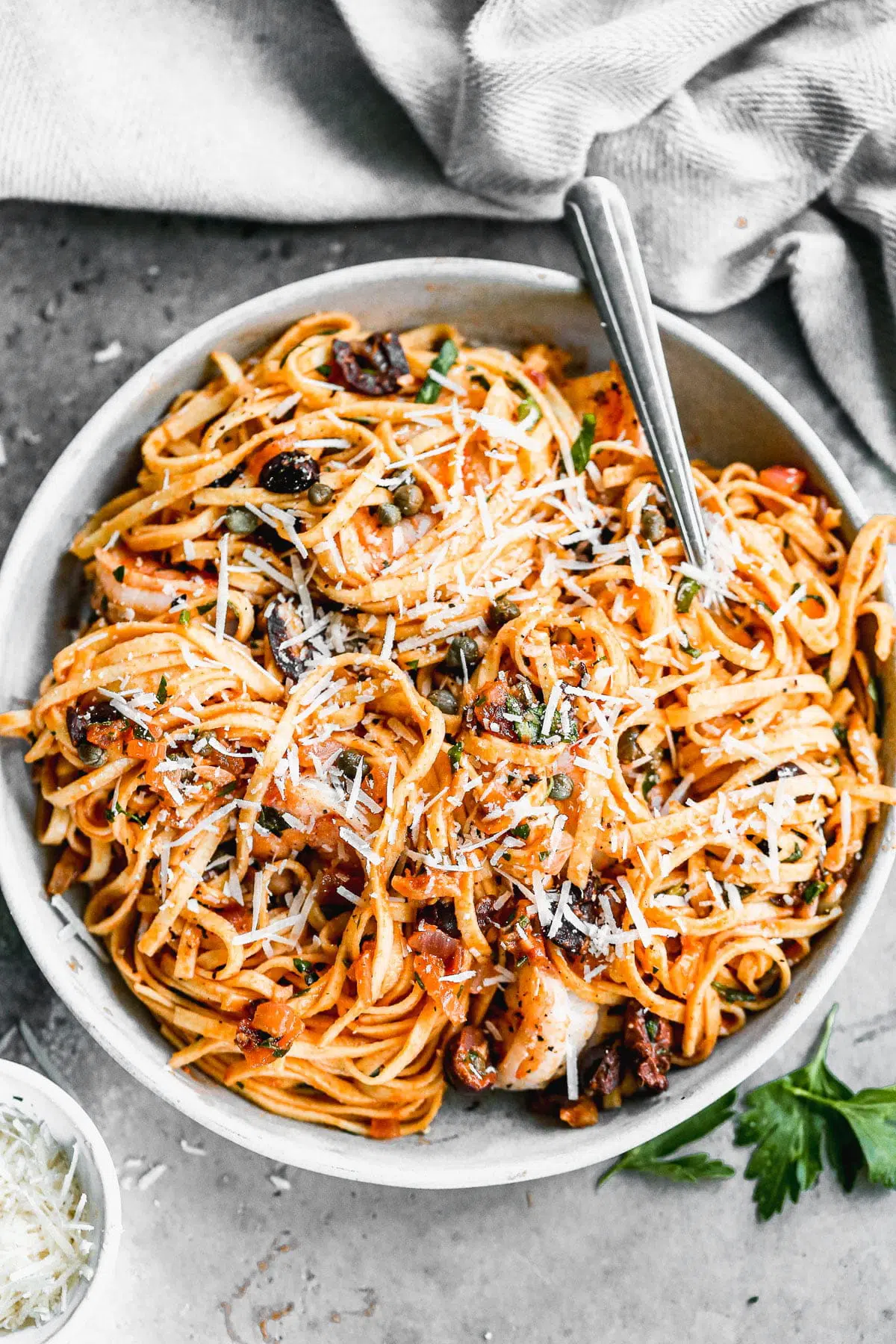 Shrimp Puttanesca is our almost identical version of one of Italy's most classic pasta dishes. We toss fresh noodles with salty kalamata olives, capers, and an impossibly simple tomato-based white wine sauce. The light pasta is studded with sweet plump shrimp and a sprinkling of parmesan cheese. The perfect way to get your pasta fix without a lot of guilt. 
Ingredients
1

tbsp

olive oil

1

tbsp + 1 tsp

unsalted butter, divided

1

lb

extra large shrimp, peeled and deveined

3

large

garlic cloves, minced

1/2

cup

finely diced red onion

1/2

tsp

kosher salt, divided

3

tbsp

tomato paste

3/4

cup

dry white wine

1/4

tsp

black pepper

1/2

cup

halved kalamata olives

2

tbsp

capers

1

lb

fresh linguine (dried is fine as well)

1/3

cup

freshly shredded or grated parmesan cheese

1/4

cup

finely chopped parsley

1/2

cup or more

starchy pasta water
Instructions
Bring a large pot of water to a rolling boil. Season generously with salt.

Heat a large skillet with high sides to a medium heat. Add olive oil and 2 teaspoons butter.

Pat the shrimp dry with paper towels. Season on both sides with a little bit of salt and pepper.

When the oil and butter are hot, add the shrimp. Cook for 1-2 minutes on each side until bright pink. Remove from the pan.

Add the red onion and 1/2 teaspoon salt to the pan. Sweat the onion for 1-2 minutes until slightly softened. Add the garlic. Cook one more minute. Stir in the tomato paste, cook for one minute. Stir in the white wine and remaining 1/2 teaspoon salt and pepper. Bring to a simmer. Continue to simmer until reduced by half.

While the wine simmers, drop the pasta in to the boiling water. If you are using dry pasta, cook until the pasta is just shy of aldente.

Add the olives and capers to the white wine sauce. Stir in remaining butter. Using tongs to transfer the pasta to the tomato and olive mixture. Toss to coat. Add 1/2 cup of starchy pasta water along with parmsan and parsley to the pasta. Continue to toss. Add the shrimp back in. Add more pasta water if necessary. Season to taste with salt and pepper. Garnish with extra parsley and parmesan.
Nutrition Information
Serving:
1
serving
,
Calories:
467
kcal
(23%)
,
Carbohydrates:
60
g
(20%)
,
Protein:
28
g
(56%)
,
Fat:
10
g
(15%)
,
Saturated Fat:
3
g
(19%)
,
Polyunsaturated Fat:
1
g
,
Monounsaturated Fat:
4
g
,
Trans Fat:
1
g
,
Cholesterol:
200
mg
(67%)
,
Sodium:
1189
mg
(52%)
,
Potassium:
350
mg
(10%)
,
Fiber:
3
g
(13%)
,
Sugar:
3
g
(3%)
,
Vitamin A:
275
IU
(6%)
,
Vitamin C:
5
mg
(6%)
,
Calcium:
208
mg
(21%)
,
Iron:
3
mg
(17%)