There were a bazillion things I was excited for prior to our Greece trip – the scenery, the clear turquoise waters, the sunsets, the shopping, the excursions – but as you can imagine, what I was looking forward to most was the food. I pictured myself stuffing my face with gyros from street vendors, the freshest seafood (including octopus!), loads of pita bread and tzaziki sauce, pastas, and the most anticipated –tomatokeftedes (tomato balls). I'd been hearing about these little jewels for quite some time from sources like Giada in Paradise, Trip Advisor reviews etc, and knew I had to get my hands on them. They're a Santorini specialty and are on almost every single restaurant menu that litter the streets. Rightfully so, since they utilize one of Santorinis most treasured fruits (or vegetables depending on where you fall), the tomato.
The volcanic soil, bright sunny days and lack of rainfall make for immaculate tomato growing conditions, so Santorini tomatoes are sweet, juicy and absolutely perfect. We were there right when the tomatoes were starting to peak, but I can only imagine what they taste like in the latter part of June. Of course, we had tomatoes in just about everything we ate, but just as I anticipated, my favorite way to eat them was in a traditional tomato ball. Now, I'm not really sure why they call them tomato balls, because they definitely are not shaped into a ball form, they're more like what we, in America, would call a fritter.

Ripe tomatoes are peeled, seeded and chopped into tiny pieces and then simply combined with a mixture of herbs, onions, a little bit of salt and flour. They're shaped into patties and then fried in a bath of good quality Santorini olive oil until they're puffed and golden brown. Most are served by themselves as an appetizer, but I preferred mine dunked in a vat of tzaziki sauce (of course). I think I ordered them almost every day, and even had them for breakfast one time, so of course, they were on my immediate short list of Greek dishes to make when I got home. (The guys below are ones we had from a cute little wine bistro on our first night in Satorini, they look pretty close to mine, don't they?!)
I made mine almost identical to how I'd heard previously. I threw a couple of tomatoes into a pot of boiling water for a few seconds to make peeling the skin off easier, seeded them, (it's important to get ALL of the seeds and juice out, otherwise they will come out soggy.) and then chopped them up into tiny pieces where they become almost pulp-like. I tossed them with some fresh basil and mint from my garden, lots of finely chopped onion (I go heavy on the onion, because I LOVE it), and a little bit of salt. To aid in a crispy texture and more puffed up ball, I combined a little bit of baking soda and baking powder with the flour and then tossed everything together. They're then fried up in good-quality olive oil until golden brown, crisp and ready to be devoured. A little note, it's important to use good-quality olive oil here, because you really want that olive oil flavor to be distinct in the fritter, I guess it's part of the ensemble, if you will.
Again, you can eat them just as is, they're delicious, but I I like to serve mine with homemade tzaziki sauce (Is that an American thing) or salty whipped feta.
Now, just in case you don't want to see any more Greece pictures, I saved them for the bottom here, so if you just want the recipe, go ahead and scroll down to the bottom.
I'm going talk a little bit about where we stayed in Santorini. There are a few towns in Santorini, but the two biggest and perhaps most well known are Fira and Oia. Fira is in the center of the island and is kind of where all the action is at; Oia is the town you seen in pictures and magazines, it has all the blue-topped buildings and churches, is a bit more serene, and more old-world Greece. Although it's filled to the brink with tourists trying to get that perfect photo as the sun is dipping behind the mountains, and they will push, shove, do whatever they have to do to get that shot.
(Fira below)
We chose to stay in Fira for a couple of reasons; it's centrally located to Oia and other towns and beaches, has quite a few more restaurants to choose from and is generally more affordable. We had heard that the sunsets in Oia were not to be missed, and Kevin and I are all about the view on vacation, so I was a little nervous that we wouldn't have the view we had hoped for, but honestly we were much more impressed with the sunsets and views in Fira rather than Oia.
Just take a look. The pictures below are of the sunsets in Fira.
This picture below is the sunset in Oia – gorgeous, but don't you think Fira is just as beautiful? Plus you can actually watch the sunset in peace with a cocktail instead of being elbowed and ran over by a crazy person. ( I also took this with my DLSR so it's a little clearer than the other two which were taken with my iphone)
I couldn't recommend our hotel enough, Kevin actually found it after Mandi and I had our minds set to stay at the same hotel the Kardashians stayed at (which of course was wayyy on the outskirts of town), aren't we practical? It was perched high up in the cliffs, but right smack dab in the middle of town. Our room was pretty large (for European standards), and two floors, so you'd walk into the room and to your left was a pretty large closet and bathroom, and then you go up the steps where your bed was situated back into a cave (so cool!), and then you had the mini bar, desk, etc. in front, that opened up to a pretty large balcony with an unobstructed view of the Aegean Sea and Volcano.
The view I woke up to every morning.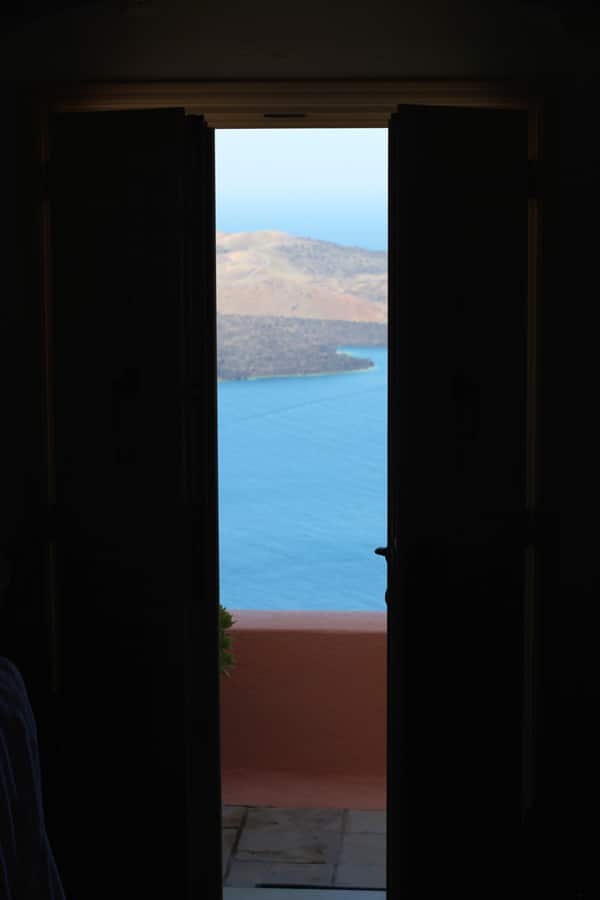 Almost every morning Kev and I would bring our coffee up from breakfast (which was complimentary) and sit on our balcony, just soaking in the beauty that surrounded us – it was truly breathtaking.
Another reason we adored our hotel was the fact that we were literally just steps away from a ton of amazing restaurants with amazing views. We also had an adorable rooftop bar, literally right outside the front of our hotel with the most amazing view of the volcano – bonus? They had fun cocktails, like a spicy coconut mojito – ah-mazing.
One of our very favorite restaurants, Argo, was also just a few steps away from our hotel. It was there I had not only one of the best steaks of my life, but THE best moussaka (an eggplant, beef and béchamel casserole) of my life (recipe to come later when I'm not feeling so large). The restaurant was delicious, had a stunning view (see Fira sunset above), impeccable service, was pretty much the cutest little tavern ever and even gave us blankets when the sun disappeared. I really wish I could go back right about now…..
Ok, enough for now! I'll be back tomorrow, talking about Mykonos! And next week, Oia!! Below is a photo dump of more Santorini pics!
Our rooftop sundeck and teeny tiny pool. The view though!
Just after sunset in Fira…
Riding ATVs along the coast and cliffs.
More views…
The black beach. HOT!
Tomatokeftedes {Tomato Balls}
Ingredients
2 cups tomatoes, peeled, seeded and finely diced (make sure to get ALL the seeds and juice out!)
½ teaspoon salt
½ cup finely chopped onion
1 tablespoon minced basil
1 tablespoon minced mint
¼ teaspoon baking powder
¼ teaspoon baking soda
¾ cup flour (may need more depending on how wet the tomatoes are)
Olive oil for frying
Instructions
In a bowl combine, tomatoes, salt, onion, basil and mint. In another bowl, mix baking powder, baking soda and flour. Stir into tomatoes. Season to taste with PLENTY of salt. You don't want these underseasoned!
Heat a large non-stick skillet with about ⅛ inch of olive oil to a medium-high heat.
Spoon the batter into the oil, making about 3 inch long fritters. Cook until golden brown on both sides, about 1-2 minutes per side.
Drain on paper towels and serve with tzaziki Sauce