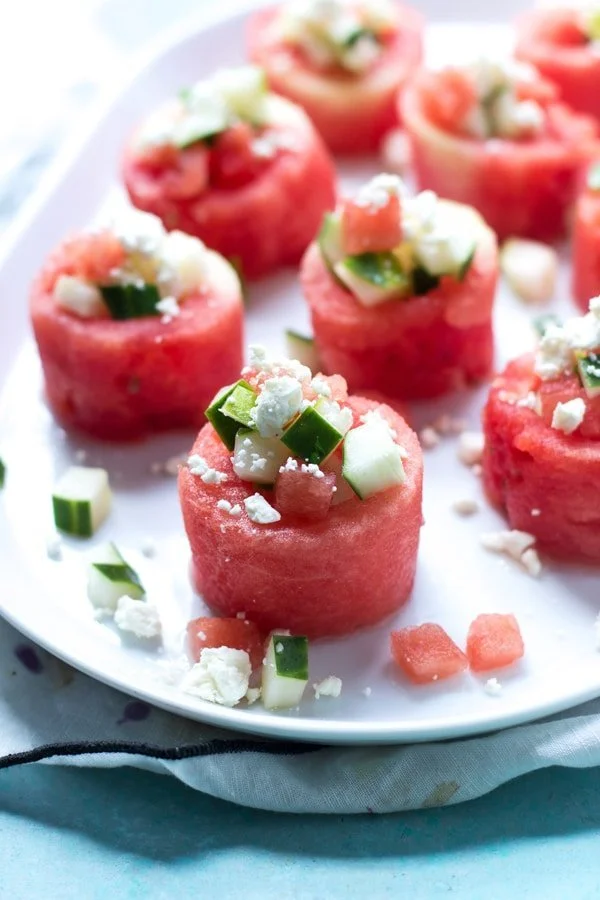 Does this not just scream summer to you??
Even better? It takes about two point five seconds to throw together, and will impressive the pants off anyone who happens to take at a gander at the miniature melon cups.
While watermelon wasn't always my favorite fruit growing up, the past couple of years, my taste buds have switched gears and now, I can't get enough in the summertime. Plus, each time I practically eat my weight in watermelon, I feel as if I'm simultaneously receiving the requisite 60 ounces of water "they" say we're supposed to be consuming daily, and I feel pretty good about that.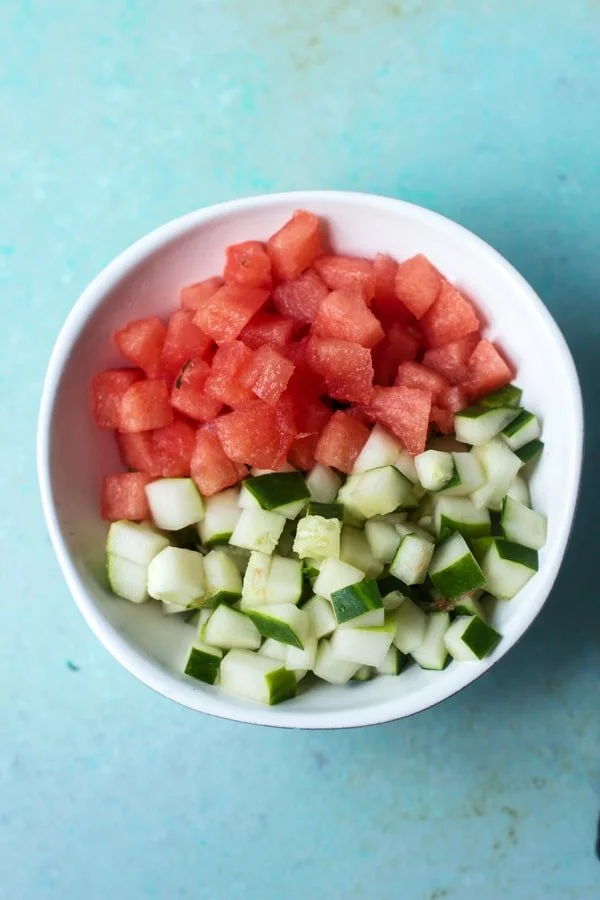 I've mentioned this before, but during Bachelor season, I get together with a group of girls for "watch parties," a different girl hosts every week, provides some nibbles and everyone else brings a bottle of wine, and we "watch" the show. And I put "watch" in quotes, because half the time, we're rolling our eyes, critiquing the Bachelor/Bachelorette's choices and deciphering which guy is the biggest douche bag of them all…Ehhh emmm…Nick…
Somewhere along the line, these low-key get togethers became full-on dinner parties, with each girl slaving away the day before or the evening of, preparing a gourmet feast for everyone. This season, we decided to take a back a notch and just provide a few nibbles and not a full meal….but, being a food blogger, this is extremely hard for me to do. My instinct when people come over is to feed them, a lot. So instead of cutting back on the quantity of food I prepared, I just scaled back on the effort the food prepared and tried to use up a few items I had sitting in my fridge – a solid compromise in my opinion.
These watermelon cups were the first thing that popped into my mind, first of all they're right in line with summer and with only three real ingredients to purchase, this adorable appetizer comes together in no time and won't cost you a fortune.
I start by taking a whole watermelon and cutting it into about two-inch slices, I then use a 2-inch biscuit cutter (you could also use a cookie cutter, but it won't be as tall) and cut each slice into three or four circles. The insides are removed with a melon baller and they're ready to be filled.
Here, I went the simple route using the scraps of the cut watermelon, some diced cucumber and crumbled feta cheese. The mixture is tossed simply in a little bit of red wine vinegar, good-quality olive oil and just a touch of salt and pepper for seasoning.
Not pictured: Right before the girls arrived, I drizzled each salad cup with a little bit of Trader Joe's balsamic glaze, a recommended, but not required final touch. I tried them both ways, and each were equally delicious, so if you have it on hand, great, if not, don't worry about it.
Serve on a pretty white platter, and you've got yourself summer on a plate.
Watermelon, Cucumber and Feta Salad Cups
These adorable watermelon salad cups are perfect for summer entertaining!
Ingredients
1 whole water melon
¾ cup diced cucumber
¾ cup feta cheese, divided
1 tablespoon red wine vinegar
2 teaspoons olive oil
Salt and Pepper
Balsamic glaze (optional)
Instructions
Cut watermelon into two-inch sliced. Using a cookie cutter or two-inch biscuit cutter, cut watermelon into circles. Use a melon baller to scoop out the inside of the watermelon.
Diced leftover watermelon. You need about ¾ a cup, reserve the rest for snacking.
Toss diced water melon, cucumber and ½ cup of feta cheese with red wine vinegar and olive oil. Season with salt and pepper.
Fill cups with watermelon and cucumber mixture. Sprinkle with remaining feta cheese.
If wanted, drizzle with balsamic glaze.