This French Silk Slab Pie is chocolatey, rich and perfect for your Memorial Day gathering! Everything is made from scratch except for one easy swap out…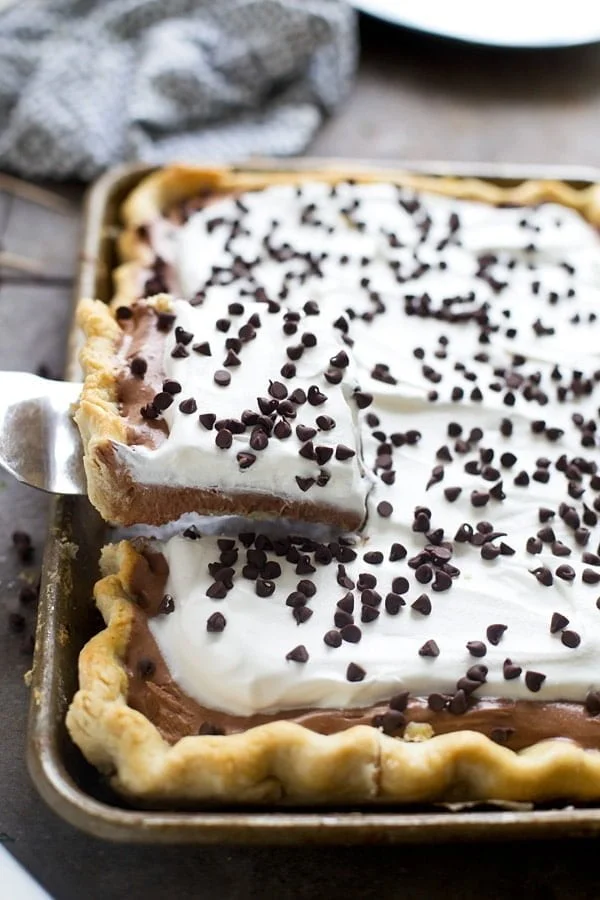 Thanksgiving may be the king of all pie holidays, but there's something about spring and summer that makes me crave pie even more than I do during the holidays. Granted, pumpkin and pecan pie are the furthest things from my mind, but coconut cream, strawberry and French silk?? Give me a fork, and watch every single crumb disappear.
I've been wanting to jump on the slab pie bandwagon for quite some time now, mostly because it photographs way easier than pie, but also because it seemed less daunting than actually making a pie. Which seems silly to me now, because regardless of the vessel in which the pie is made, it's still pie. However, now that I have made said slab pie, I will say, that because it's made in a sheet pan, the depth isn't as high, which means there's less room for making sky-high fillings, which means, I can eat two pieces of pie instead of one, and that in of itself is a win.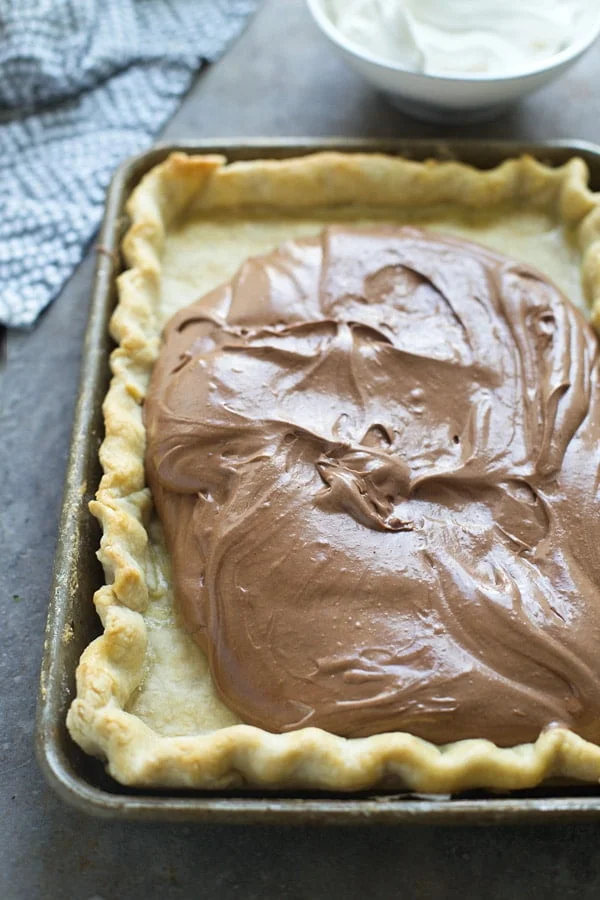 Unlike this peanut butter French silk pie or this pumpkin coconut cream pie, there is nothing fancy or unpredictable about this particular recipe, it's just a damn good French silk pie, in slab form. It's not as dense as some French silk pies out there because of the whipped cream folded in to the chocolate, butter and egg mixture, but it's still every bit as rich.
I'm not going to sugar coat it for you, between the homemade pie crust and the rich chocolate filling, there is an ungodly amount of butter and sugar woven throughout the recipe. So I did something I normally wouldn't do, and used store-bought whipped topping instead of freshly whipped cream – an ingredient I'll only recommend using unless I'm confident it won't completely demoralize the inherent flavor. If it's against your religion to do this, I completely understand, and you are more than free to sub out real whipped cream instead.
Also, if you won't judge me for using whipped topping, I won't judge you if you feel the need to use store-bought pie crust. Normally I have no shame in purchasing a pre-made dough, but when I'm eating French silk pie, I want everything to be perfect, and for me, that means flaky homemade crust. I've talked a little bit about pastry crusts, and I am certainly no expert, but I believe the best crusts come from a mixture of shortening and butter.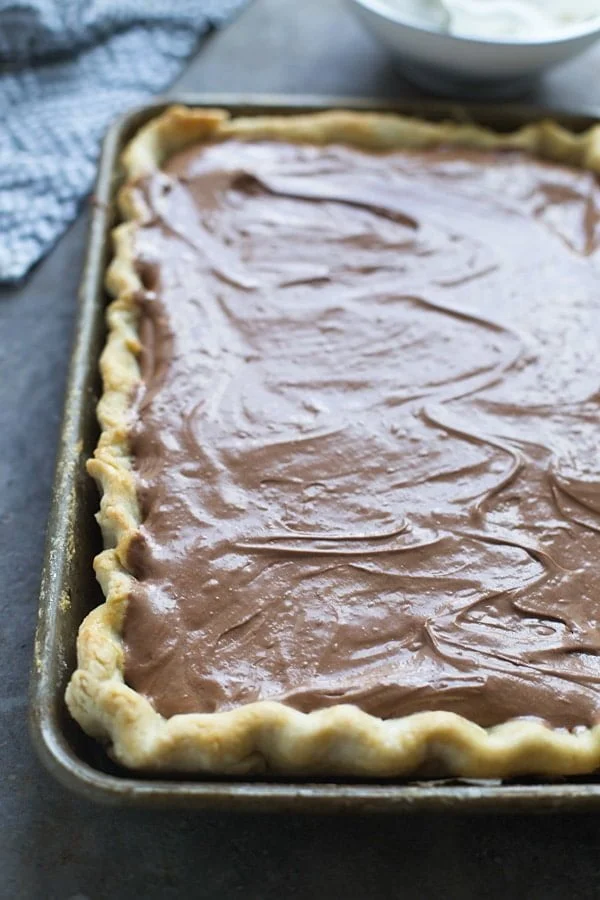 Because it's Friday, I won't delve too deep into the reasoning, but if you want a bit more explanation, check out this post from a few years back.
The process for making the filling isn't necessarily hard, but it does take a bit of time, so it would be best to start making this either the day before or the morning after. Luckily, while the crust is cooking and cooling, you can make and cool the filling, so the two are ready to go generally at the same time. Once everything is assembled it needs to chill for at least an hour or two to set. Right before serving, I pile on the whipped topping, sprinkle it with mini chocolate chips (you can also use shaved chocolate), and cut it into bars.
Even though the recipe isn't a full sheet pan, it still feeds at least 8-10 people, and it's so rich, it could go even further.
Hope you have a lovely Memorial Day weekend! I'll be taking Monday off to really enjoy the long weekend, I hope you do the same!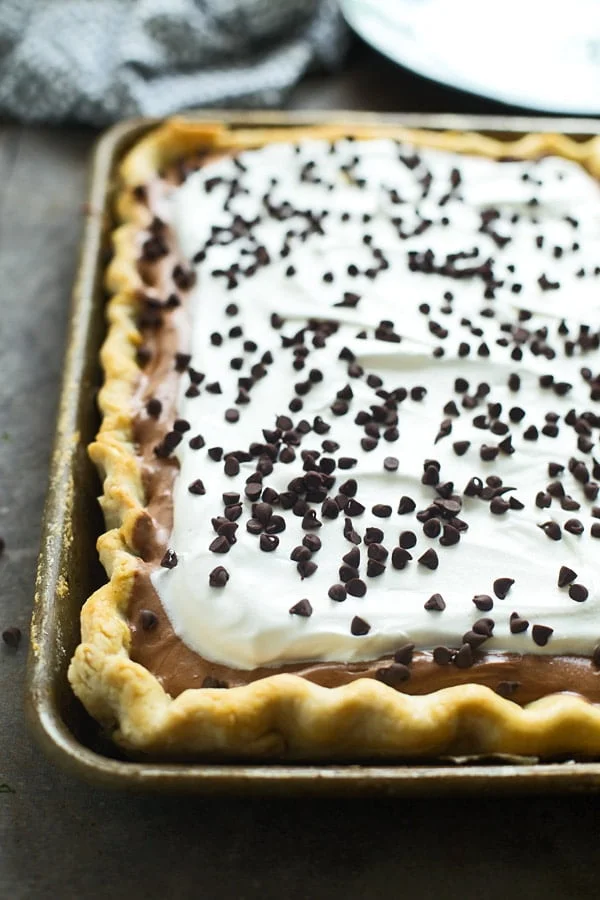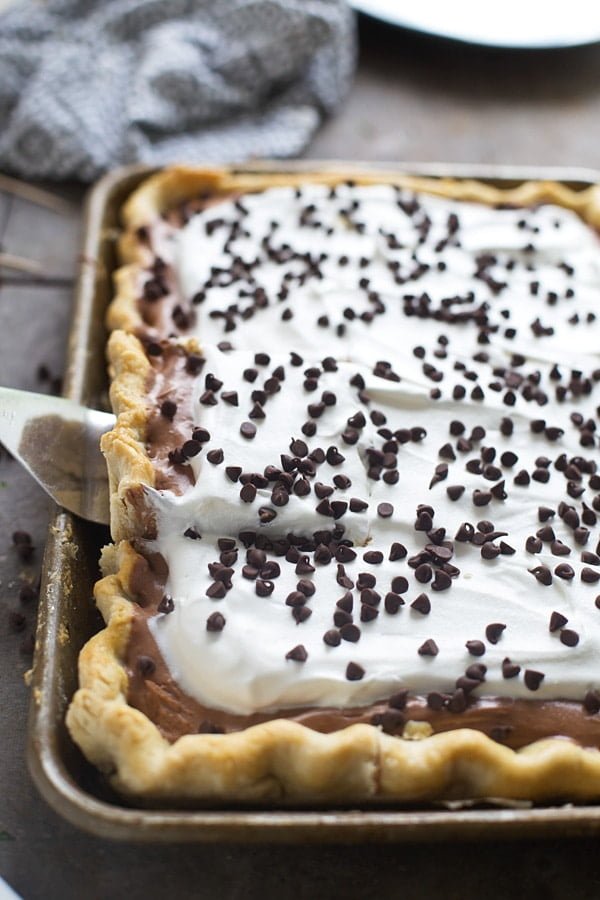 For more perfect summer pie recipe, check out these posts!
Banana Cream Pie with Chocolate Ganache – Cooking for Keeps
Chocolate Chip Pie – The Food Charlatan
Coconut Cream Pie – Baker By Nature

French Silk Slab Pie
Serves:
10 large pieces or 18 small
Ingredients
Crust
3 cups flour
1 teaspoon salt
1 tablespoon granulated sugar
6 tablespoons vegetable shortening
7 tablespoons cold butter, cut into small pieces
1 tablespoon ice cold vodka
6-7 tablespoons ice cold water
Filling
10 ounces bittersweet chocolate, plus more for garnish
4 eggs
1 + ¼ cups sugar
1 stick unsalted butter, softened
8 oz. whipped topping, divided
Mini chocolate chips for garnish
Instructions
Preheat oven to 350 degrees. Grease a half sheet pan with non-stick cooking spray.
In a bowl combine flour, salt and sugar.
Add in vegetable shortening and butter. Use a pastry cutter to blend the fat in to the flour mixture Once there are several small chunks left, but the majority is blended in, stop.
Start by adding in 6 tablespoons of cold water and the vodka in to the dough, gently use a fork to mix at the same time. Continue to use the fork to mix. Once the dough is shaggy, but comes together when you press a ball of it together, the dough it done. If it still falls apart, add another tablespoon of ice water.
Gently knead the dough just until it comes together. Form into a flat circle and chill for 30 minutes.
When dough is ready, roll out to the size of your sheet pan, making sure the excess goes over the edge. Place dough gently in pan, cut off excess and crimp.
Put a greased piece of foil over dough and cover with dry beans.
Bake for 15-17 minutes until slightly golden brown. Cool completely before adding filling.
Filling
In a microwave safe liquid measuring cup or small bowl, add chocolate. Microwave in 25 second increments, stirring in between each interval, until chocolate is almost melted. Once chocolate has just a few whole pieces left, stir until completely melted. (The heat of the bowl will finish melting the chocolate). Set aside.
In a medium sauce pan, whisk sugar and eggs together. Turn the heat on low, and stirring almost constantly heat the mixture up until the sugar has dissolved and the mixture is hot to the touch and coats the back of a spoon, about five minutes. Remove from the heat and add chocolate. Stir until combined. Set aside and cool to room temperature. (I pop the whole pan in the fridge or freezer to speed up the process, and stir every 3-4 minutes until it's cool.
In a medium bowl, cream butter with hand held mixer or in a stand mixer using the paddle attachment. Cream until light and fluffy, about 2-3 minutes. Add the chocolate and egg mixture, beat on high speed until thick, about 2-3 minutes. Fold in 1 cup of the whipped cream.
Spread on to the cooled pie crust and place in the fridge until cool and set, about 1-2 hours. Spread remaining whipped topping over chocolate filling. Garnish with mini chocolate chips or chocolate.

(Visited 32,320 times, 9 visits today)