St.Louis style pizza. Love or it hate it?
I've found that most people are very passionate one way or the other, if you hate it, the mere thought of it elicits cringes and a crinkle of your nose; on the other hand, if you love it, the mere thought of it will make you burst into tears of joy and send your stomach into a hunger-induced tizzy. As you can imagine, I'm on the love the side, in fact, I think I feel a tear welling up in my eye right this very minute…
…oh wait, just kidding, there was just a particle of dust on my contact – false alarm.
Anyways.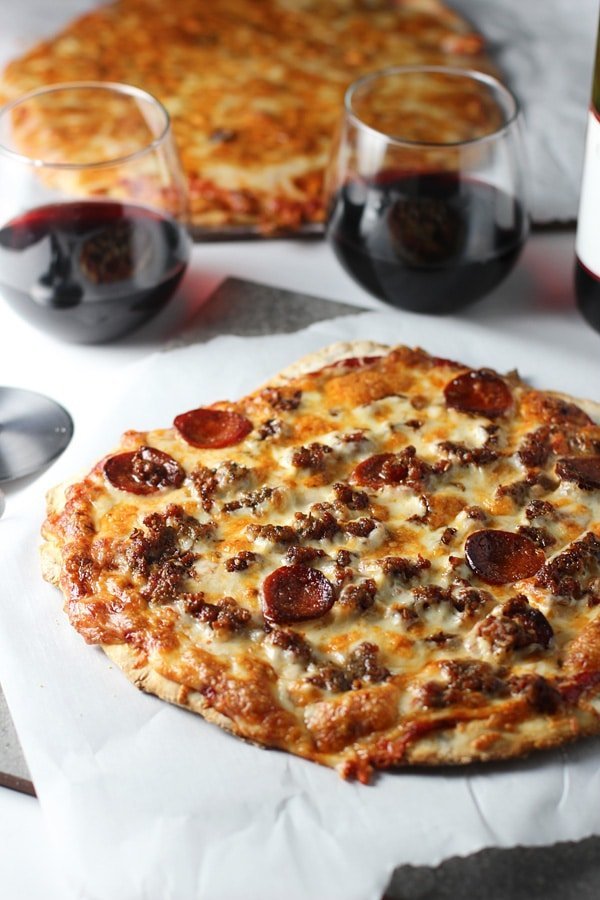 Not only do I adore Imo's pizza for it's tangy-creamy-stick-to-the-roof-of-your-mouth cheese factor and wafer-thin crust, but it totally takes me down nostalgia lane. In high school my girlfriends and I had a daily routine in the summer. Wake up. Throw on a bikini. Head to the neighborhood pool and order a large Imo's pizza – cheese only.. We'd bask in the sun while anxiously waiting for that green and red sign to roll down the hill, and then inhale the pizza straight from the box, while half of our bodies were still in the cool water – because of course, we couldn't hide from the sun's rays for even one minute for fear a golden bronze tan wouldn't be achieved.
To this day, every time I order an Imo's pizza I'm transported back to those perfect lazy summer days when my only care in the world was whether or not the sun was going to shine or not.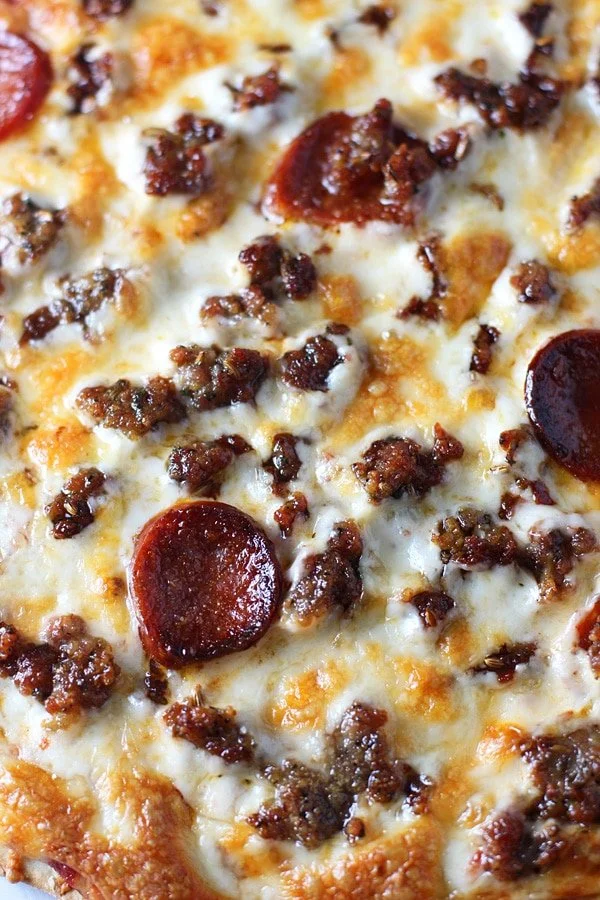 Seeing as I'm not a teenager anymore and can no longer eat pizza on the daily without packing on a good ten pounds, those Imo's trips became few and far between. The trips became even less frequent when my beloved location just steps away from my parents house shut down despite my desperate protests, leaving the closest store no less than 20 minutes from my house.
So I did the next best thing. I figured out had to make it myself.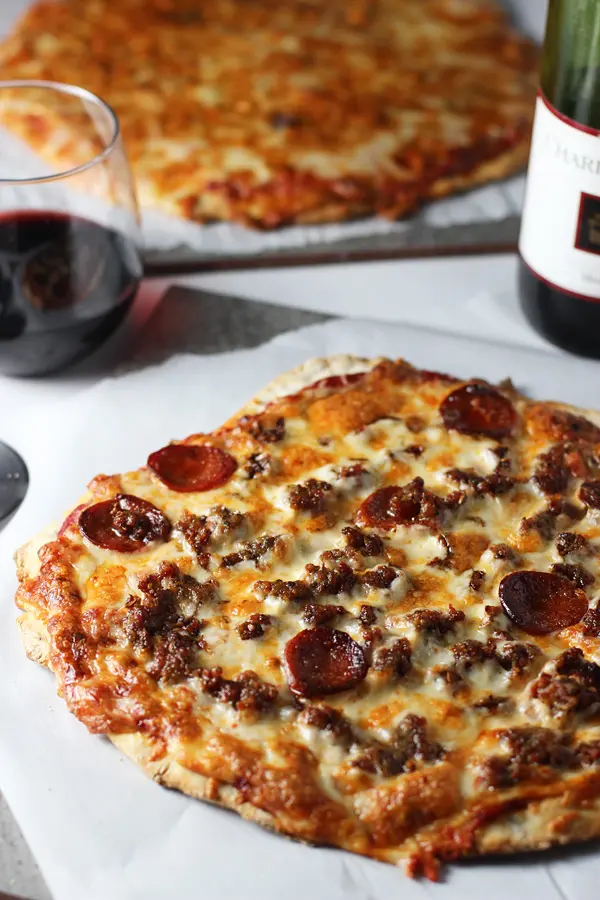 If you've never had Imo's or St.Louis style pizza before, you might be a little lost, so let me give you the rundown.
"St.Louis style" pizza is typically made up of a very thin yeast –less crust, resulting in a almost cracker like texture, it's topped with a sweet tomato sauce and heaps of provel cheese – a processed combination of cheddar, swiss and provolone cheese. Because of the thin nature of the crust, each pizza is usually cut into squares instead of the typical triangular pizza shape to ensure all toppings stay safely on said crust and not on the ground.
Nowww, I'm not really one to go for processed cheese on anything (unless it's a classic grilled cheese of course), but here, I wouldn't have it otherwise. – it makes the pizza. BUT this is also what turns some people off, it's a very pungent cheese, which I, happen to think if fabulous, but other, stinky cheese haters might think otherwise.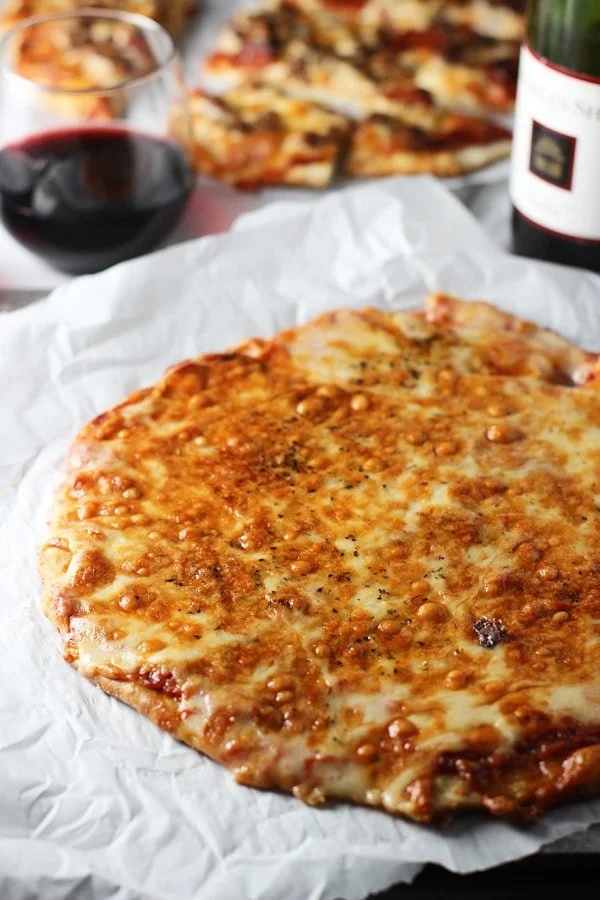 Both the sauce and the dough come together in mere minutes and require zero cooking or rising beforehand. The sauce is made up of crushed tomatoes, tomato paste, sugar, salt and a little bit of dried oregano, basil and garlic powder. The dough is thrown together in minutes – flour, salt and baking powder are whisked together and then combined with water, a little bit of olive oil and sweet corn syrup. I lightly knead it until it comes together and then it's ready to be popped into the oven.
Just how I liked it back then, I still prefer cheese only, but sometimes branch out for the husband who prefers meat on his pies – here, I did both. The first pizza is topped with a combination of Boar's Head pepperoni, a local spicy Italian sausage and mild Italian sausage.; the other is left almost naked, with just a dusting of basil, oregano and sea salt.


Exactly as I remembered – sticky, tangy, sweet, crispy and perfect. Just perfect.
Copycat Imo's St.Louis Style Pizza with No Yeast, No rest Crust
This copycat St.Louis style pizza is made with a no yeast, no rest crust, a raw tomato sauce and that famous tangy provel cheese for an irresistible pizza pie!!
Ingredients
2 cups + 2 tablespoons flour
1 1/2 teaspoons salt, divided
1 teaspoon baking powder
2 teaspoons olive oil
2 teaspoons corn syrup
1/2 cup + 2 tablespoons water
10 ounces crushed tomato
1 6 ounce can tomato paste
1 tablespoon sugar
1 teaspoon crushed basil + more for sprinkling
1/2 teaspoon crushed oregano + more for sprinkling
1 teaspoon garlic powder
3 1/2 cups provel cheese, shredded (about 3/4 pound)
Topping of your choosing
Instructions
Place a pizza stone in the oven and preheat to 550 degrees.
In a medium bowl, whisk together, tomato puree, tomato paste, sugar, 1 teaspoon salt, basil, garlic powder and oregano. Set aside.
In another bowl, whisk flour, remaining salt and baking powder.
In a liquid measuring cup, whisk water, oil and corn syrup. Mix into flour mixture until combined. Gently knead to bring together.
Split the dough in two equal pieces and roll each piece out to make a 12 inch pie.
Transfer to a pizza wheel covered in cornmeal. Spread half the sauce on each pizza and cover with desired toppings. Sprinkle with a little basil, oregano and kosher salt to taste.
Bake on pizza stone for 8-10 minutes until crust is crisp and cheese is melted, bubbly and golden brown.
Cool for a few minutes before slicing.
https://www.cookingforkeeps.com/copycat-imos-st-louis-style-pizza-yeast-rest-crust/
*Pizza recipe adapted from Food.com
(Visited 56,756 times, 1 visits today)