These Easy 5-Ingredient Chicken Enchiladas are still just as cheesy and still just as flavorful as enchiladas made completely scratch, but come together in virtually no time at all. Perfect for busy nights!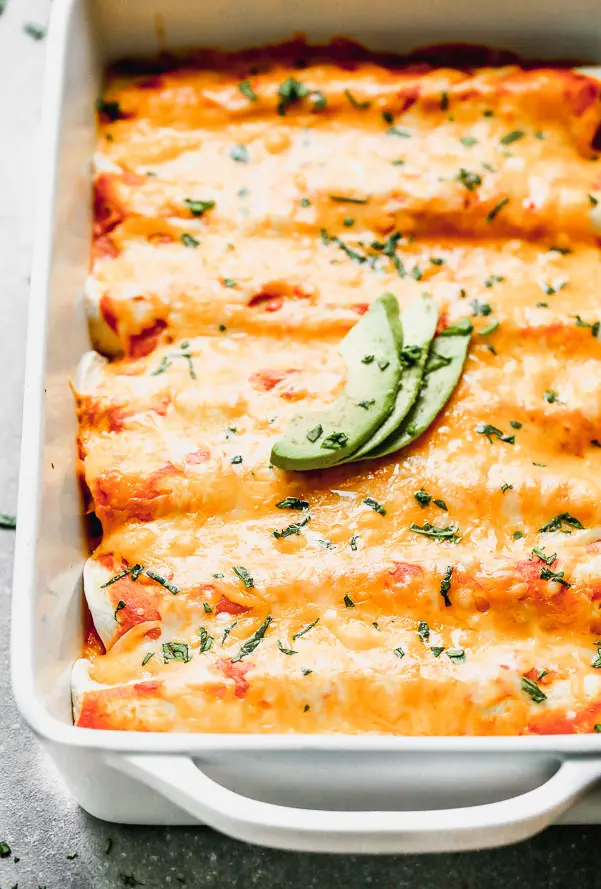 Easy 5-Ingredient Chicken Enchiladas
I'm going to go out on a limb here, and say, over the years, I've become quite good at making homemade enchiladas. If you check out the archives of our Mexican/Tex-Mex section, you'll see we have everything from Authentic Chicken Enchiladas from Scratch, to Creamy Beef and Hatch Pepper Enchiladas, to the most melt-in-your mouth Shredded Beef Enchiladas with Ancho Sauce on the planet. We even have a version of Breakfast Enchiladas that will literally knock your socks off – so good.
The only problem? All of them include homemade sauces, which makes them authentic and irresistibly but delicious, but also takes a little bit more than average effort to make from start to finish.
Today's Easy 5-Ingredient Chicken Enchiladas are for those days when you're craving a cheesy chicken-packed enchilada, but want to do it about 15 minutes.
Our easy version swaps our homemade enchilada sauce for a semi-homemade creamy salsa-based sauce, uses shredded rotisserie chicken instead of a chicken you cook at home, and only includes five ingredients.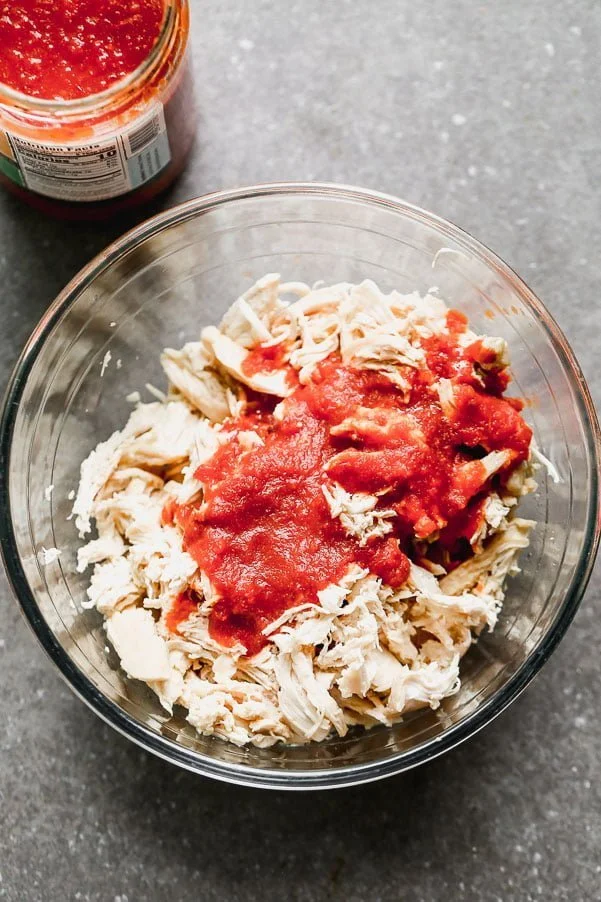 Ingredients in Easy 5-Ingredient Chicken Enchiladas
Chicken. I like to use a rotisserie chicken here for so many valid reasons:
You have a combination of white meat and dark meat which yields a more flavorful filling.
For some reason, a chicken that's cooked rotisserie-style is innately more flavorful than a chicken you would just bake or sear. I'd like one in my home please.
It's just so darn convenient. And if the 5-ingredient name tag is what caught your attention, then I'm sure you share my same sentiments.
Salsa. Because I've already perfected our homemade enchilada sauce, I just couldn't bring myself to use canned enchilada sauce in these 5-Ingredient Enchiladas. Instead, I opted for a salsa-based sauce which leaves a lot of the flavor in your hands. The only thing I'd recommend is using a smooth restaurant-style salsa that doesn't have a lot of chunky bits of onion, tomato or jalapeño in it. Once you hone in on a favorite smooth salsa, pick your choice of mild, medium, or hot.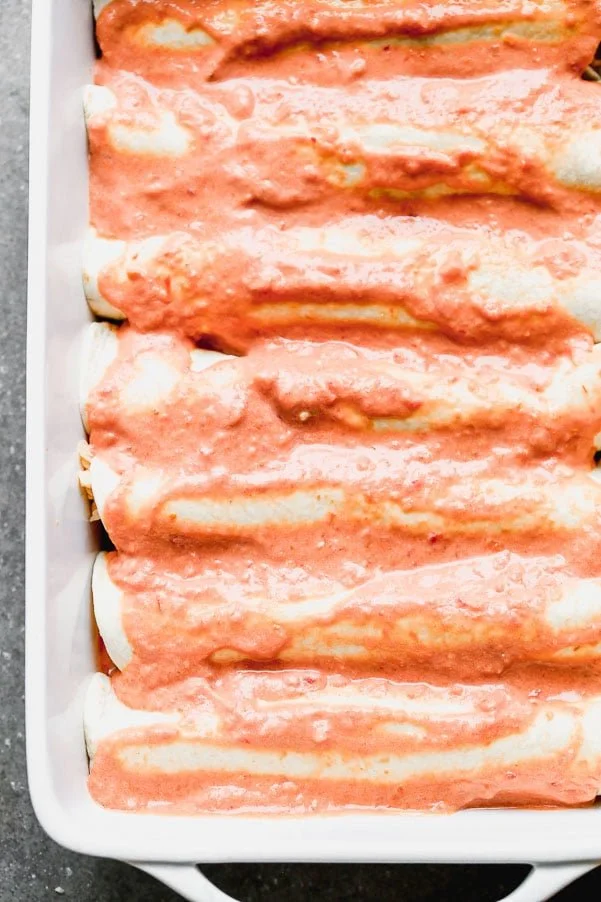 Sour Cream. I love the tang sour cream adds to our Creamy White Chicken Enchiladas. I wondered what it would be like paired with salsa for a makeshift creamy enchilada sauce. It works. It tones done the spiciness of that salsa just a bit, so if you want to end up with a medium spice level for your enchiladas, I'd use hot.
Also, you can use regular full-fat sour cream or light. In this particular recipe, I used light, and it worked great.
Tortillas. Even though I wish my family was into corn tortillas, they're just not, so flour it is. If I can, I'll buy the carb conscious or whole-wheat flour tortillas, but this time around, I used regular ol' soft taco-sized tortillas.
Cheese. When it comes to perfect enchilada, you never ever want to use pre-shredded cheese. It just doesn't melt as nicely as freshly shredded cheese. My favorite cheese to use for a more traditional-style enchilada is Colby Jack, but you could also use an even combination of Monterrey Jack and cheddar as well.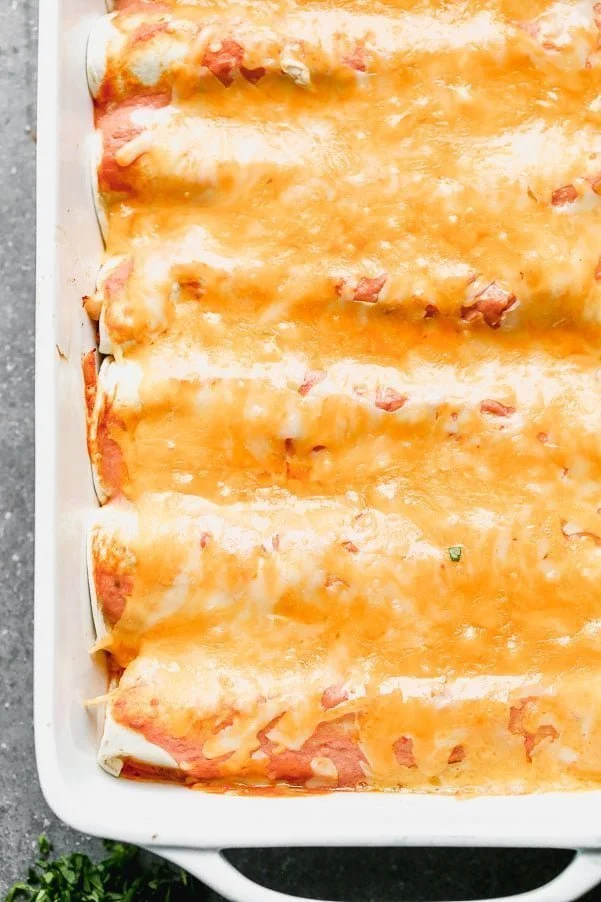 Let's make Easy 5-Ingredient Chicken Enchiladas
Guys. This is so simple.
Make the filling. Add the shredded chicken, salsa, and a little bit of salt to a medium bowl. Toss until combined. Season with salt and pepper.
Make the sauce. Whisk salsa and sour cream together in a small bowl. Season to taste with salt and pepper. Spread a little bit of salsa in a prepared baking dish.
Fill the enchiladas. Put about 1/4 cup of the filling on to each tortillas. Sprinkle with a little bit of cheese. Roll them up and place in a baking dish, seam-side down. Repeat with remaining seven tortillas.
Bake. Pour the remaining sauce on top of the enchiladas. Bake until bubbly and hot.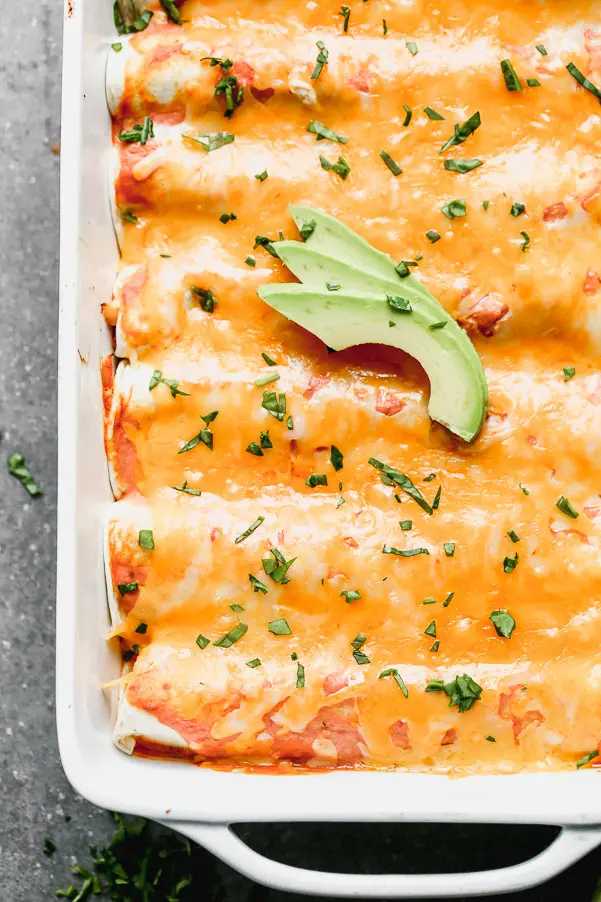 Condiments to compliment enchiladas
sour cream
sliced avocado
chopped cilantro
sliced green onions
more salsa
avocado crema
black olives
diced red onion
the options are endless!
Can I make Easy 5-Ingredient Chicken Enchiladas in advance?
Yes, but keep in mine, the tortillas will get a little soggy. This isn't a problem for me, as it just adds to the melt-in-your mouth aspect of chicken enchiladas made with flour tortillas.
Substitutions and Tips and Tricks for Recipe Success
Make sure to taste both the chicken filling and the sauce for seasoning. Because we are using so little ingredients, it's important every part of the recipe is seasoned up to par.
If co-jack cheese isn't your thing, you could use 100% Monterrey jack, chihuahua cheese, or if you want to keep things light, mozzarella.
To make these enchiladas healthy enchiladas, swap out the flour tortillas for whole-wheat, switch to 2% milk cheese, or leave the cheese out of the inside of the enchilada. You could also use light sour cream or Greek yogurt instead of full-fat sour cream..
Don't over bake. For me personally, I like when the cheese is melted and gooey, but not crispy.
What to serve with Chicken Enchiladas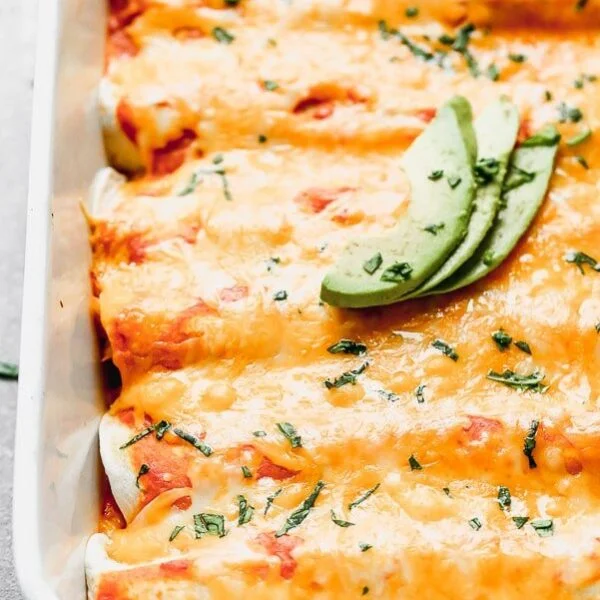 Easy 5-Ingredient Chicken Enchiladas
These Easy 5-Ingredient Chicken Enchiladas are still cheesy and still incredibly flavorful, but come together in virtually no time at all. Perfect for busy nights!
Ingredients
4

cups

shredded chicken

2

cups

your favorite smooth salsa (not chunky)

1/2

tsp

kosher salt, divided

1/2

cup

sour cream

8

medium

flour tortillas (I use soft taco size)

2 1/4

cups

shredded co-jack cheese
Instructions
Preheat oven to 375 degrees. Grease a 9x13 baking pan with non-stick cooking spray.

Add chicken, 1/2 cup of salsa, and 1/4 teaspoon salt to a bowl. Mix until combined. Season to taste with salt and pepper.

In another small bowl whisk remaining 2 cups of salsa, sour cream, and 1/4 teaspoon salt together. Season to taste with salt and pepper. Spoon enough of the sauce into the the prepared pan to lightly coat the bottom.

Set aside 1 1/4 cups cheese to top the enchiladas. Place filling in the tortilla and sprinkle with a little bit of the remaining 3/4 cup cheese. Roll up and place in the prepared pan, seam-side down. Continue with remaining tortillas.

Pour the remaining sauce over the enchiladas. Sprinkle with remaining cheese. Bake in the oven until cheese has melted and enchiladas are bubbling and hot, about 25-30 minutes. Serve with your favorite garnishes.
Nutrition Information
Serving:
1
enchilada
,
Calories:
369
kcal
(18%)
,
Carbohydrates:
21
g
(7%)
,
Protein:
28
g
(56%)
,
Fat:
19
g
(29%)
,
Saturated Fat:
10
g
(63%)
,
Cholesterol:
91
mg
(30%)
,
Sodium:
1132
mg
(49%)
,
Potassium:
576
mg
(16%)
,
Fiber:
2
g
(8%)
,
Sugar:
4
g
(4%)
,
Vitamin A:
793
IU
(16%)
,
Vitamin C:
2
mg
(2%)
,
Calcium:
325
mg
(33%)
,
Iron:
2
mg
(11%)