This Creamy Mashed Cauliflower and Butternut Squash has all of the fluffy, rich goodness of real mashed potatoes without all the starch. It's the perfect easy Thanksgiving side. 
Ok, now that Halloween is over, it's time to talk Thanksgiving. Which happens to be my favorite food holiday of the year, obviously.
And for me, it's all about the sides. Honestly, I could really care less about the turkey or meat entrees. While I love and always have the classics – green bean casserole, stuffing, mashed potatoes – on the table, every year I do a couple non-traditional items.
This year, amongst the pumpkin cheddar gratin and roasted acorn squash, we're serving up this Creamy Mashed Cauliflower and Butternut Squash.
Secrets to making Mashed Cauliflower.
Now, mashed cauliflower isn't really something super new, but I've done a couple things to take if from it from super simple, to inifinitely flavorful.
First and foremost, instead of simply steaming or boiling the cauliflower as most recipes advise, I tossed the florets with a good amount of olive oil, salt and just a touch of pepper and roasted them in a super hot oven. The roasting process gives the cauliflower a wonderfully nutty, almost caramelized flavor that carries over to the finished product without having to add a bunch of other ingredients.
Because you want the cauliflower to be as soft as possible, once it's taken on that roasted, caramelized exterior, I add in a little bit of water, cover the pan with foil and then pop it back into the oven so it can steam.
Second, instead of using only cauliflower, I also roasted a small butternut squash, scooped the flesh out once it was soft and added it to the bottom of a food processor with the cooked cauliflower. This is obviously a step you can leave out, but I just love the combination of the two flavors, and gives the mashed cauliflower a underlying fall feel.
Once the cauliflower and squash are cooked, they go into the food processor along with a couple ounces of softened cream cheese and a good amount of the good stuff, parmigiano reggiano.
A quick seasoning of salt and pepper finishes it off!
An optional, but recommended final step is to brown up a couple tablespoons of butter, and drizzle it on top.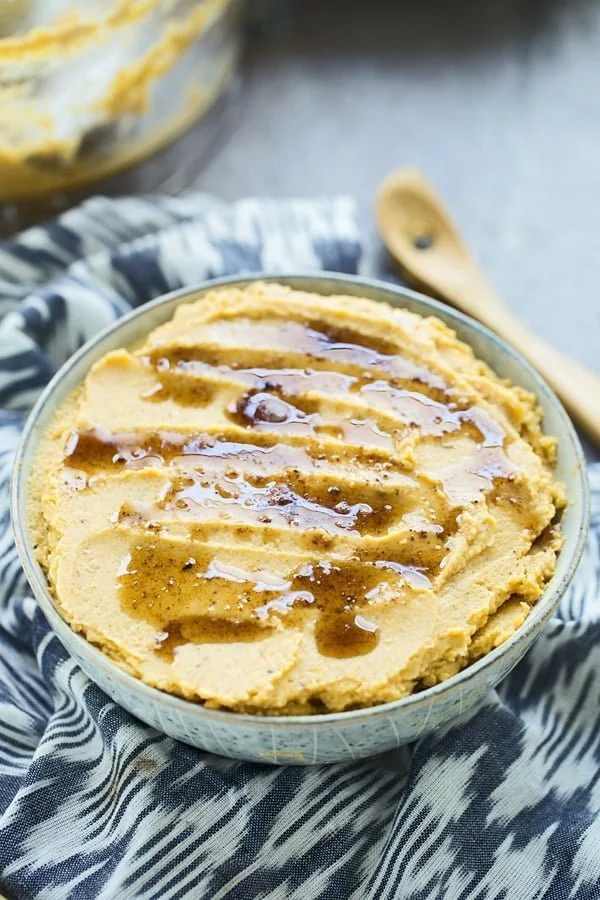 Creamy Mashed Cauliflower and Butternut Squash
This Creamy Mashed Cauliflower and Butternut Squash is a fun alternative for mashed potatoes at Thanksgiving. It's sweet, savory, and so delicious.
Ingredients
1

small

butternut squash

2

tsp

olive oil

1/4

tsp

salt

1

head

cauliflower cut into florets, about 4 1/2 cups florets

1

tbsp

olive oil

1/2

tsp

salt

1/2

head

garlic

2

oz

light cream cheese

1/4

tsp

salt

1/4

cup

shredded parmesan cheese

1/8

tsp

garlic powder

2

tbsp

unsalted butter

(OPTIONAL)
Instructions
Preheat oven to 375 degrees. Split the squash in half lengthwise and remove seeds. Brush with 1 teaspoon of olive oil and sprinkle with 1/4 tsp salt. Place flesh-side down on a large, rimmed baking sheet.

Toss cauliflower with 1 tablespoon olive oil and 1/2 teaspoon salt. Scatter around the squash.

Remove garlic cloves from head of garlic, keep skin on. Place in a piece of foil, and fold edges up to make a small package. Place the garlic on the sheet pan. Roast vegetables until squash is fork-tender and garlic is roasted, about 45 minutes. Check the garlic at 30 minutes to make sure it's not burning.

Remove garlic from the pan and remove skins, set aside. If squash is fork-tender after 45 minutes, remove and set aside. Increase the temperature in the oven to 425 degrees. Keep cauliflower on the pan. Pour in 1/4 cup of water and cover with foil. Steam for another 15 minutes until cauliflower is completely soft. IF THE SQUASH WASN'T COMPLETELY FORK TENDER AFTER 45 MINUTES, CONTINUE TO COOK ON THE RACK BELOW OR ON TOP OF THE CAULIFLOWER.


Once squash and cauliflower are soft, scoop the squash out of the skin and transfer to a food processor along with the cauliflower, remaining salt, cream cheese, parmesan cheese, garlic powder and roasted garlic (skin removed). Pulse a few times to break everything up, and then blend until smooth. Season to taste with salt and pepper. Transfer to serving dish and drizzle with brown butter (optional)

Optional: Add butter to a small skillet. Turn the heat on medium-high. Once the butter begins to brown on the edges, swirl the pan. Continue to swirl the pan until the butter turns a deep chestnut brown and smells nutty. Set aside.
Nutrition Information
Calories:
142
kcal
(7%)
,
Carbohydrates:
16
g
(5%)
,
Protein:
4
g
(8%)
,
Fat:
8
g
(12%)
,
Saturated Fat:
3
g
(19%)
,
Cholesterol:
14
mg
(5%)
,
Sodium:
398
mg
(17%)
,
Potassium:
569
mg
(16%)
,
Fiber:
3
g
(13%)
,
Sugar:
4
g
(4%)
,
Vitamin A:
10120
IU
(202%)
,
Vitamin C:
55
mg
(67%)
,
Calcium:
109
mg
(11%)
,
Iron:
1
mg
(6%)