Is it Friday?
Yup. Although for some reason it doesn't feel like it. At all. Actually this whole week has kind of been a blur. Wednesday I thought it was Tuesday, Thursday I thought it was Wednesday, and today well, I'm not even sure what day it feels like – definitely not Friday, but I'll take it.
What are you guys up to this weekend? Anything fun? Having parties for the big game? Going to parties for the big game? Going to the big game? We'll be hunkering down at our friend's house for lots of food, beer and chit-chatting – you don't think I'm actually going to watch the game do you? And for once I don't have to cook a thing. Glory hallelujah. Sometimes it's nice to sit back and enjoy the food that others have prepared, and I know I'm in good hands because my girl Meghan is an awesome cook.
On a side note. After reading one of Chris' "big game day" posts, I found out the actual word for the "big game" is trademarked and pretty much anyone that uses it while not directly sponsoring "the big game" can be sued. Whoopsies. I only said it about 5,000 times.
So since that game we shall not name is t-minus two days away, what do you say we talk about one last game day treat?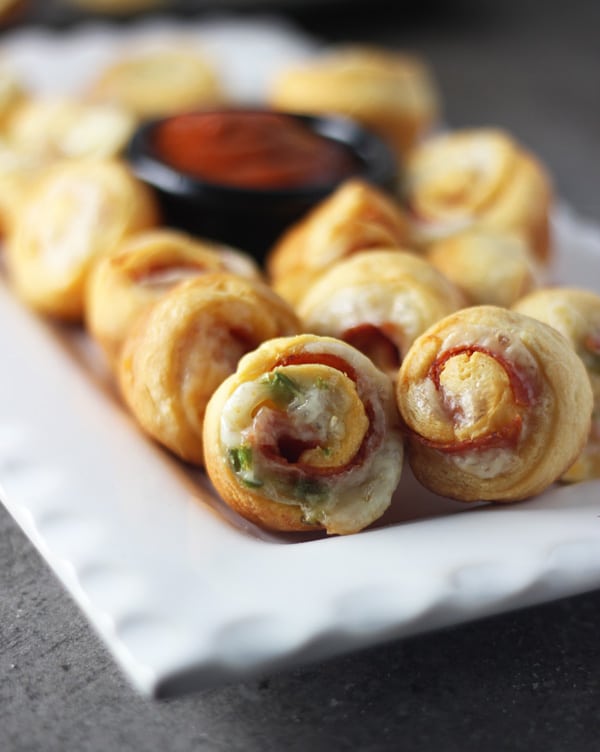 These are actually perfect for today because you can throw them together last minute, no problem. I first concocted them a few weeks ago when Kev had all his friends over to our house for their fantasy baseball draft. (I've just been notified it wasn't a draft, but their fantasy baseball winter meeting. My bad) They were ordering pizza, but I wanted to have a few little snacks for them as well, so I put them together, baked them off and left Kevin explicit instructions to heat them up for just a few minutes when the boys got there, I even left him a pretty little platter to put it on with two different kinds of dipping sauces. Did he warm them up? Nope. Did he put them on a platter? Nope. Apparently the boys devoured them room temperature, straight from the muffin tins with no sauce.
Boys….
It could have been the beer, but I'm pretty sure they were just that good. I mean, what's not to love about pepperoni, mozzarella and green peppers rolled up in a buttery crescent roll and served with pizza sauce?? Hmmmm…absolutely nothing.
Happy Friday all! Have a fun and safe weekend!
Five Ingredient Supreme Pizza Poppers
Author:
Nicole ~ Cooking for Keeps
Ingredients
1 package refrigerated crescent rolls
1 cup mozzarella cheese
48 slices pepperoni
½ cup finely diced green pepper
½ cup pizza sauce for dipping
Instructions
Preheat oven to 350 degrees. Spray two mini muffin tins with non-stick olive oil spray.
When you unwrap the crescent roll package, separate the four rectangles (these also breakdown to triangles). If they fall apart, that's fine, just put them back together. You should have four even rectangles. Slightly roll out the dough horizontally and vertically.
Sprinkle ¼ cup of the mozzarella on each rectangle and then sprinkle with a little bit of chopped green pepper. Press into dough. Layer pepperoni on top of cheese and peppers. There should be three rows of four pepperonis each.
Tightly roll, jelly roll style and cut each rectangle into six pieces.
Place poppers, cut side down into mini muffin tins.
Bake for about 10 minutes or until crescent roll dough is cooked through and pale brown.
Serve with warm pizza sauce.
(Visited 50,788 times, 1 visits today)