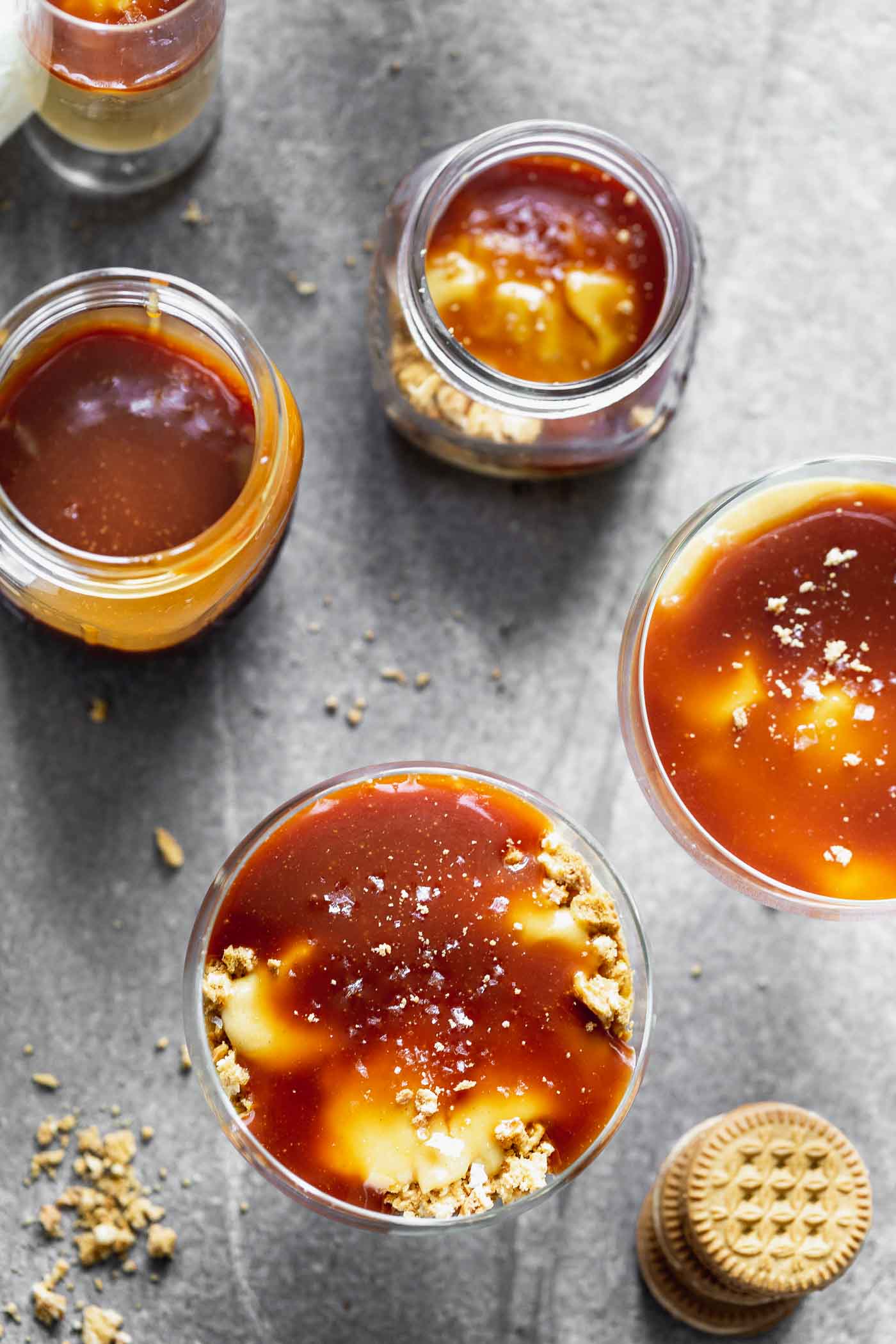 It's no secret that when I make a dessert, I sort of go all out. My desserts don't typically include a lot of shortcuts, and sometimes there are several steps, but the end result is always worth it. Take for example this Banana Cream Pie or these Brown Butter Pecan Pie Bars, which are both heavenly, but require a bit of dedication.
Today's Pumpkin Budino is no exception. It's a minor labor intensive recipe, with layers of silky-smooth, rich pumpkin custard, crushed pumpkin Joe Joe's (From Trader Joe's if you aren't familiar), and homemade salted caramel, but I promise, as you close your eyes while spooning in spoonful after spoonful, you'll be thankful you took the time to make it from scratch. Plus, it's something you can easily make ahead, and the recipe yields quite a bit, so it's a sure-fire way to impressive a group full of people.
I mentioned it's a minor labor intensive recipe because while there are a few components to the recipe, each step is thankfully, relatively easy.
What's Pumpkin Budino?
When I posted some pre-processed photos of the end result in Instagram stories, I actually got quite a few questions on what a budino was. And the real definition is kind of blurry because every cook has their own method and ingredients, but here's the short story: it's basically an Italian form of pudding. From my understanding, it's a bit more solidified in texture than a classic pudding, and instead of using just whole milk, heavy cream is a star ingredient, facilitating, a richer custard.
Basically, it's a custard-lover's dream, and my version, with the addition of smashed pumpkin Joe Joe's and seriously delicious salted caramel, really takes it over the edge.
I'm not even suuuper into sweet desserts, but this is something I could every single day for the rest of my life and never tire of it. It's THAT good. Sweet, but not cloyingly so. Silky-smooth, but there's also plenty of texture from the crushed cookies. And that salty bite, balances out the sweetness perfectly.
Sorry for the short post, but I've got Pumpkin Budino waiting for me in the fridge…
Pumpkin Budino with Salted Caramel
Ingredients
2

cups

whole milk

1

cup

heavy cream

3/4

cup

brown sugar (not packed)

1/2

tsp

ground cinnamon

1

large

pinch nutmeg and ground ginger

1/4

tsp

kosher salt

1/4

cup

cornstarch

1

large

egg

3

large

egg yolks

1/2

cup

pumpkin puree

2

tbsp

bourbon

2

tbsp

softened unsalted butter

8

crushed

pumpkin Joe Joe's, crushed

1

batch

salted caramel (see notes for recipe link)

flaked maldon salt for garnish
Instructions
Whisk egg and egg yolks together in a small bowl. Whisk remaining milk and cornstarch together in a liquid measuring cup.

Whisk 1 1/2 cups milk, cream, brown sugar, cinnamon, nutmeg,ginger and salt together in a medium saucepan set over medium heat. Once the milk mixture is scalding, while whisking the eggs, slowly ladle in a little bit of the hot milk and cream mixture a little bit at a time. Once you've added about half of the milk mixture, slowly whisk the egg and milk back into the sauce pan. Turn the heat down to medium-low. Use a wooden spoon to constantly stir the mixture until the mixture is slightly thickened, about 2-3 minutes. Slowly whisk the milk and cornstarch mixture in with the milk, cream, and eggs in the saucepan.


Continue to stir the mixture until it becomes very thick, about 3-4 minutes. Remove from heat and whisk in pumpkin puree, bourbon and 2 tbsp butter. Pour about 1/4 to a 1/3 cup of custard into dessert bowls or ramekins. Top with one crushed Joe Joe. Pour 1/4 to a 1/3 cup more over the cookies. Place in the fridge and let cool for 1 hour.

Before serving, pour cooled salted caramel on top so that it covers the entire surface. Garnish with flaked sea salt.
(Visited 928 times, 1 visits today)