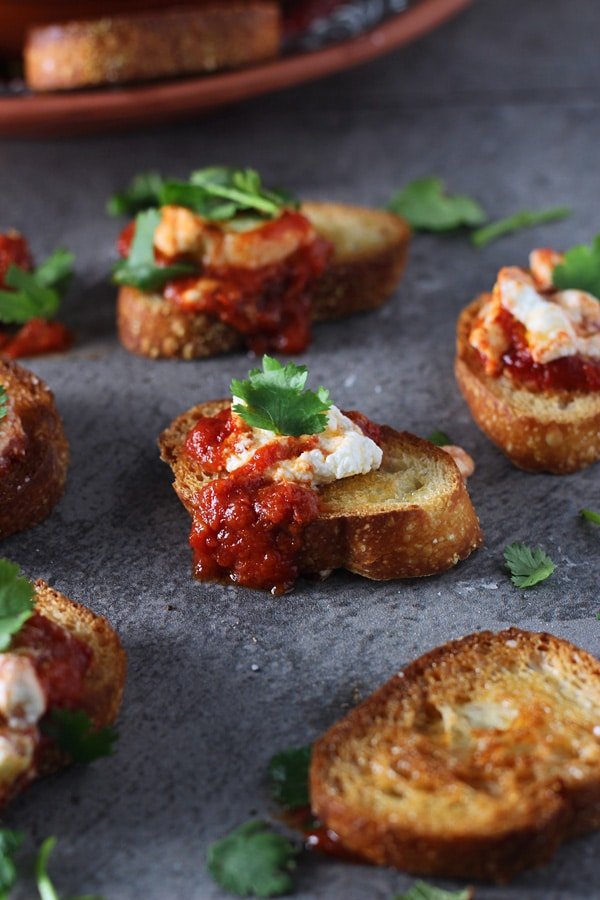 Because it's Friday, because I've had a very busy week and because I just nodded off while typing the word because, I'm going to make this post short and sweet.
This is the easiest yet most impressive appetizer you will ever make. Promise.
I'd love to brag and tell you that this was my brilliant idea, but it's actually a riff on one of my favorite Spanish tapas from a local restaurant here in KC. It's always something my girlfriends and I order when we go, and I've just been dying to try it out myself at home.
Fortunately it turned out almost identical to the restaurant version, and unfortunately it turned out almost identical to the restaurant version, and now I cannot stop eating it.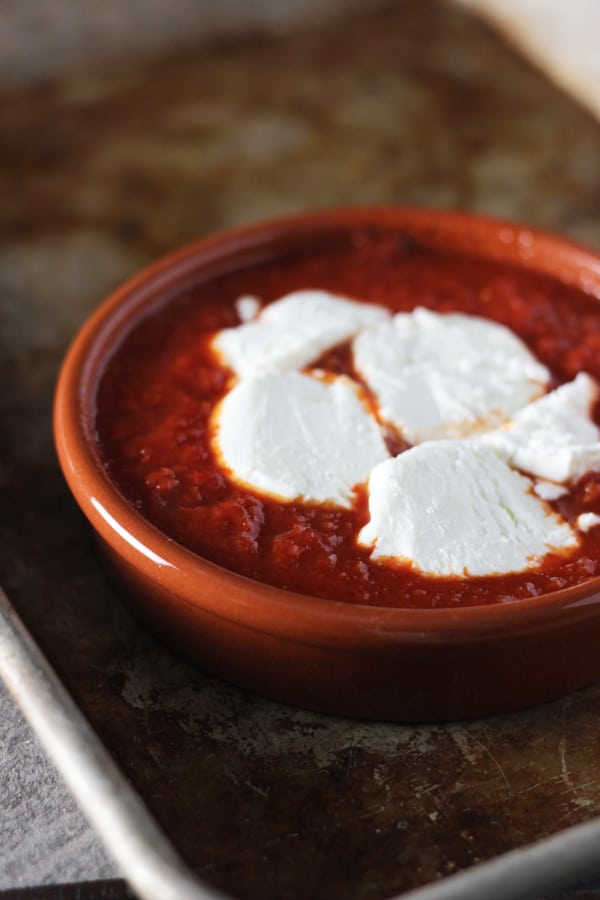 Crushed tomatoes are barely cooked with a little bit of olive oil and garlic, topped with big slices of goat cheese and then broiled until the cheese blackens a touch and slowly melts into the tomato sauce.
Serve with crispy homemade crostini, or if you're feeling lazy, store-bought crostini. No one will know, I guarantee it.
Easiest Ever Baked Goat Cheese in Tomato Sauce
Author:
Nicole ~ Cooking for Keeps
Serves:
4-6 for appetizers
Ingredients
2 tablespoons + 2 teaspoons olive oil
2 garlic cloves, grated
1 cup crushed tomatoes
1 teaspoon sugar
4 ounces goat cheese cut into ¼ slices
½ baguette, cut into ¼ inch to ½ inch slices
Instructions
Preheat oven to 350 degrees. Place crostini on baking sheet and drizzle evenly with two tablespoons olive oil. Season liberally with salt and pepper. Baked until golden brown and crisp, about 10-15 minutes. Remove, and Turn oven on broil.
While the crostini bake, heat a small saucepan over a medium heat. Add remaining oil and garlic. Cook until softened, about one minute. Make sure to not burn.
Add tomatoes and simmer for 5 minutes.
Pour into a small oven safe baking dish and lay goat cheese slices on top.
Place under the broil until the cheese is golden brown, about five minutes.
Serve crostini with goat cheese and red sauce.
(Visited 10,541 times, 1 visits today)