Sometimes I do this thing where I come home, and I'm so hungry I just eat everything in sight – literally. For example, last night, I came home, and before I'd even taken off my work clothes and high heels, I'd eaten two of these leftover artichokes (caveman-style again), the remnants of this pasta, a piece of aged cheddar cheese, a slice of salami, two triscuits, an egg, and one piece of bacon.
Quite the smorgasbord of food, huh?
And I'm supposed to be dieting…
AND all of this was before I even attempted to make my main "snack" of the night – these sweet potato latkes.
I'm sure I'm not the only one that loves to make little nibbles into an all-encompassing meal; it's the perfect way to sample a lot of everything, but not have to actually eat everything, if that makes any sense. Although, admittedly, I might overdo the "little" bit of everything a tad much.
Some of my favorite meals are the times that Kev and I just stay home, sit in our screened-in porch and nibble on prosciutto, salami, marinated olives, stuffed peppadew, peppers, stinky cheeses and chips and dip – and of course, a couple of cocktails.
These little latkes are now being added to my infinitely long list of beloved small bites, and while this time I didn't pair them with a cocktail, I'd imagine they'd pair fabulously with a sparkling glass of proseccco or rosé. Plus, aren't they perfect little hors d'oeuvres for Easter brunch?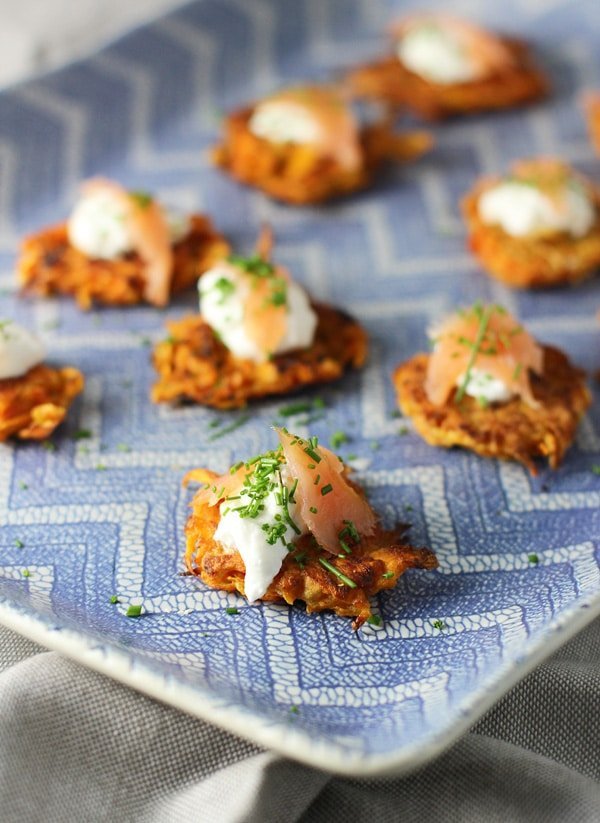 At first glance these may look like your typical, smoked salmon canapé, but the swap out of sweet potato instead of russet and greek yogurt instead of crème fraiche make this an updated (healthier!) spin on a classic favorite.
Sweet potatoes and a little bit of onion are grated and then placed in a thin towel to squeeze out any moisture that may be left — because sweet potatoes tend to retain quite a bit of moisture, it's hard for them to get as crisp as a russet or Yukon gold potato, so when we release that moisture, it allows them to crisp up perfectly. They're then tossed with an egg, a little bit of flour, garlic powder and salt and then cooked in a little bit of olive oil until super crispy and golden brown. A small dollop of Greek yogurt and piece of smoked salmon top off each latke and then it's finished off with a sprinkling of minced chive.
Simple. Easy. Elegant. Bite-size. Enough said.
Sweet Potato Latkes with Greek Yogurt and Smoked Salmon
Author:
Nicole ~ Cooking for Keeps
Serves:
Makes about 15-18
Ingredients
1 pound sweet potatoes, peeled and shredded
½ small onion, shredded
¼ cup flour
1 egg
¾ teaspoon garlic powder
¾ teaspoon salt
2 tablespoons olive oil, divided
3 ounces thinly sliced smoked salmon
⅓ cup plain Greek yogurt
2 tablespoons minced chives
Instructions
Place shredded sweet potatoes and onions in a thin dishtowel. Squeeze out as much moisture as you can. Place in a medium bowl and stir with egg, flour, garlic powder and salt until just combined.
Heat a large non-stick skillet over a medium heat. Add one tablespoon olive oil. Loosely measure out a tablespoon of the potato mixture, and place in skillet. (You should be able to fit about half) Cook until golden brown and potato is cooking through, about 2-3 minutes per side. Repeat with remaining potato mixture and olive oil.
Place latkes on platter and top with a little bit of Greek yogurt and smoked salmon. Sprinkle with minced chive.
Serve immediately.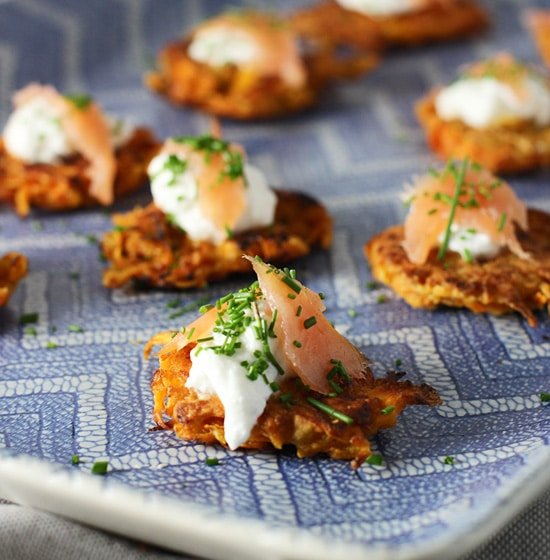 (Visited 7,416 times, 1 visits today)