These Cream Cheese Mashed Potatoes are fluffy, smooth, ridiculously creamy and perfect for fall. They're a more straight-forward version of our ever-so-popular Best Creamy Mashed Potatoes, but we've swapped out the sour cream for luxurious cream cheese and plenty of chives for subtle onion flavor in each bite.
Cream Cheese Mashed Potatoes
And just like that, it's time to start thinking about turkey, stuffing, green bean casserole, and ALL things mashed potato. Or am I a little too premature??
Maybe I am for alll things Thanksgiving, but these Cream Cheese Mashed Potatoes??
You're going to want these to be the supporting role in all your comforting fall dishes. Dishes like these Juicy Pork Chops with Apple Cider Cream Sauce, this 5-Ingredient Chicken Piccata, or basically any recipe that has a sop-it-up-with-something, finger-lickin' sauce accompanying it.
These mashed potatoes are creamy, fluffy, and FULL of flavor. They're basically a riff off our crazy popular Best Creamy Mashed Potatoes, but instead of being infused with garlicky goodness, they're packed with tangy cream cheese, and a subtle onion flavor from a handful of chives sprinkled throughout.
They're incredibly quick and easy to make. They go with EVERYTHING. And, most importantly, they only have five ingredients.
Should we get started??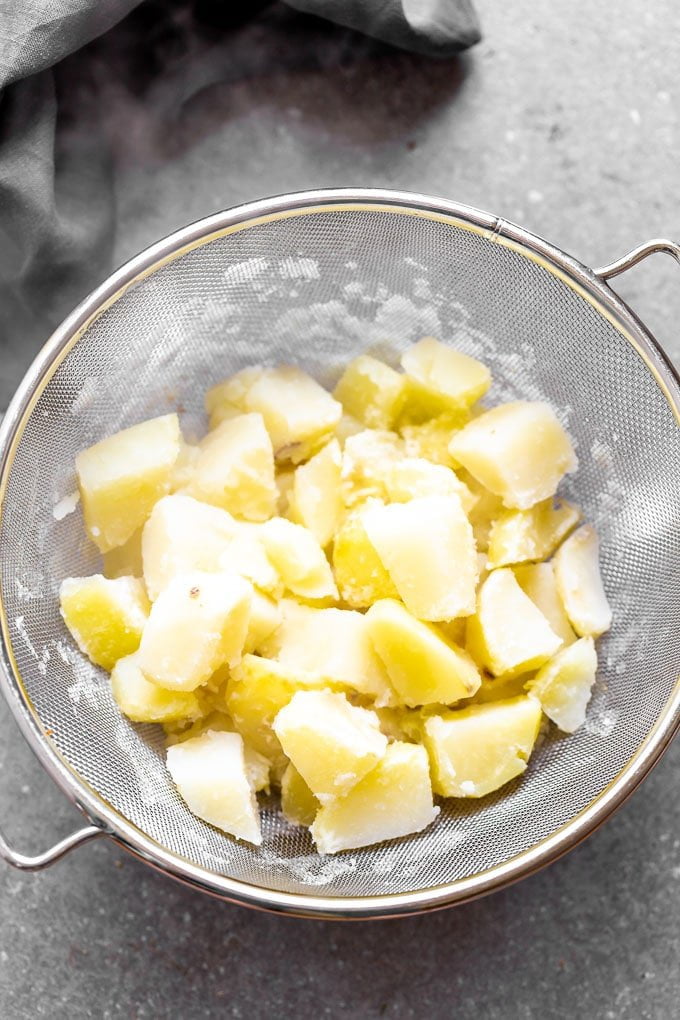 Ingredients in Cream Cheese Mashed Potatoes
Russet potatoes. I am convinced the only potato you can ever use to achieve fluffy, creamy, mashed potatoes is a russet potato. Their high starch content makes them perfect for whipping up potatoes, and they're just so darn fluffy.
I've tested countless varieties of potatoes, and I always come back to the russet potato. I find that Yukon gold or red potatoes are best for smashed potatoes that have a little bit of texture to them.
Butter. What is a mashed potato recipe without butter?? This one doesn't have nearly as much as our creamy dreamy mashed potato recipe, but mashed potatoes do need SOME butter. This calls for half a stick.
Whole milk. I wish I could say you could use any kind of milk, but whole milk is really the way to go. Unless you're using half and half or cream. I'll except that sub. Mashed potatoes aren't really healthy any way your serve them, so you might as well go for it.
Cream cheese. I LOVE the tangy flavor cream cheese give these mashed potatoes. It also allows you to cut back on the amount of butter you use since it also adds a layer of richness to the potatoes.
Chives. This is an optional ingredient, but I find it really compliments the cream cheese. The onion flavor is VERY subtle, but perfect.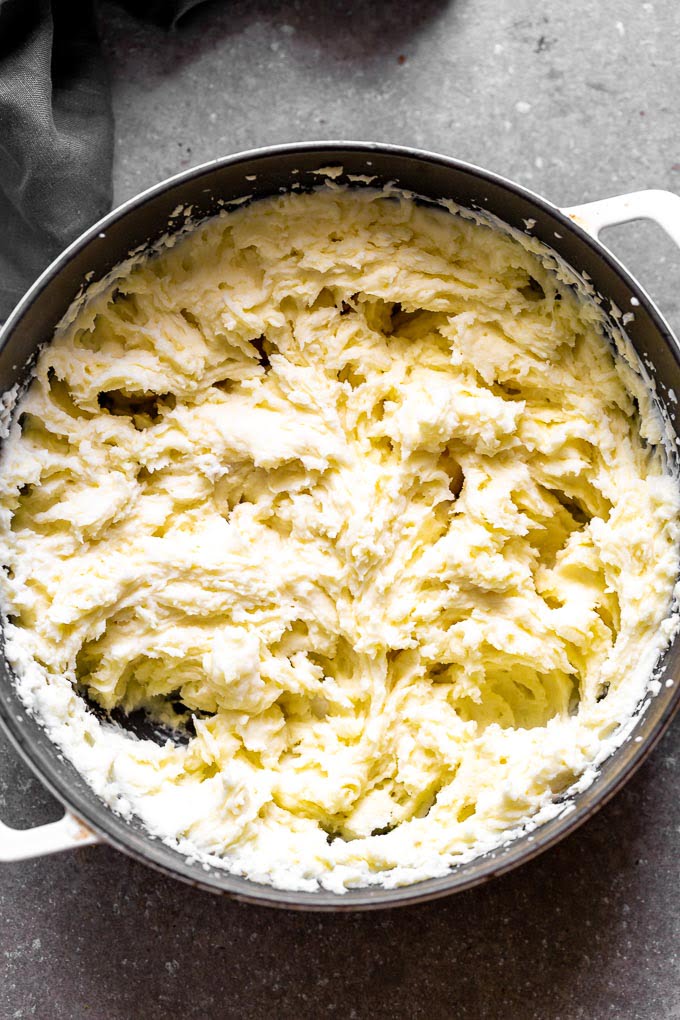 How to make Cream Cheese Mashed Potatoes
Guys, these are SO easy to make. I'm including the simple step-by-step instructions, but I'm also going to delve a little bit deeper into WHY we take the following steps.
Peel and chop the potatoes. I like to cut the potatoes into about 1-inch cubes because I don't want them to take forever to cook. I also don't want too much water to enter into the outer part of the potato, and the longer the middle takes to cook, the more chance water has to get into the potato.
Add the potatoes to a pot large enough so they aren't crowding each other. Fill with cold water. Starting with cold water is important so the potatoes cook evenly. It's also important to add the potatoes THEN the water so you don't make a mess.
Salt the cooking liquid! Potatoes have no flavor on their own, obviously. I like to add a little bit of salt to the cooking liquid, just like I do with pasta so a little bit of seasoning is infused into the potatoes.
Bring the potatoes and water to a boil. Boil until the potatoes are VERY fork-tender. You don't want there to be any give when you try to put a fork through them. It should take about 20-25 minutes.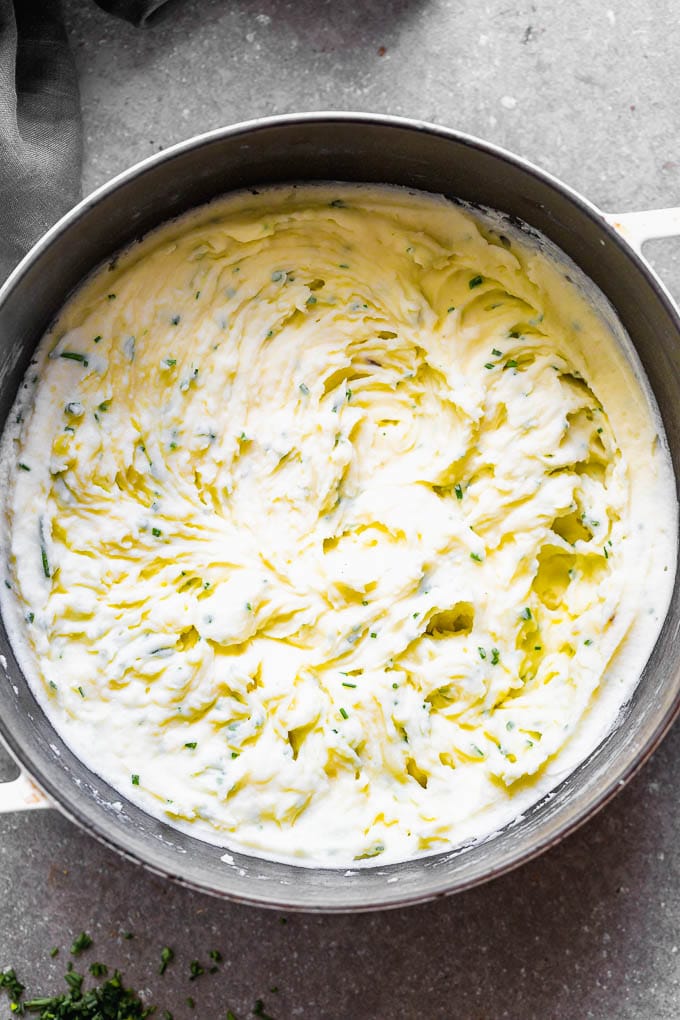 Drain the potatoes and let them dry out. This is such an important step. You want the potatoes to be as dry as possible. If they have any moisture left on them, you risk lumpy, gluey mashed potatoes.
While the potatoes dry out for a few minutes, heat butter and milk. I like to add the milk and butter to a liquid measuring cup, and microwave them until they're both hot and the butter has melted. It's very important to add hot milk and butter to the potatoes to keep the temperature of the potatoes up as well.
Send them through a ricer while they are still hot. This is my number one rule when it comes to creamy, fluffy mashed potatoes. A ricer is the BEST tool to use. It facilitates lump-free, smooth mashed potatoes, and I would not recommend making cream cheese mashed potatoes or any mashed potatoes for that matter, without it. Trust me. It's a very inexpensive gadget that fits nicely into drawers, and you will thank me later.
It's also important the potatoes are still hot when you send them through the ricer. Hot potatoes = smooth potatoes.
Mix in cream cheese, butter and milk mixture, salt, and chives to the potatoes. I know some people say to not do this, but I use a hand mixer on a medium speed JUST until them come together. I've never had gummy mashed potatoes this way.
Can Cream Cheese Mashed Potatoes be made ahead of time?
Yes! 100%. Make them from start to finish, cool and store in an airtight container. When you're ready to serve you can gently heat them on the stove on a medium-low heat. You can also place them in a microwave-safe bowl and cook in one minute increments, stirring in between each until they're done.
Do I have to use russet potatoes?
I would say yes. Others would say no. I just don't think you can get a fluffy, smooth texture with any other potato, but that's just me.
Substitutions and Tips and Tricks for Recipe Success
Swap out half and half or heavy cream for whole milk. Do NOT use low-fat or non-fat milk.
Make sure the cream cheese is VERY soft, almost warm before adding it to the potatoes. One of the keys to creamy mashed potatoes is to make sure everything is hot and you mix as little as possible. If the cream cheese is cold, it will bring the temperature of the potatoes down and you'll have to whip them longer.
Swap out chives for green onions.
Add in a little garlic powder for a slight garlicky flavor.
Full-fat or 1/3 less fat cream cheese both work great.
Add in our easy basil pesto or this chimichurri sauce for a fun spin on classic mashed potatoes!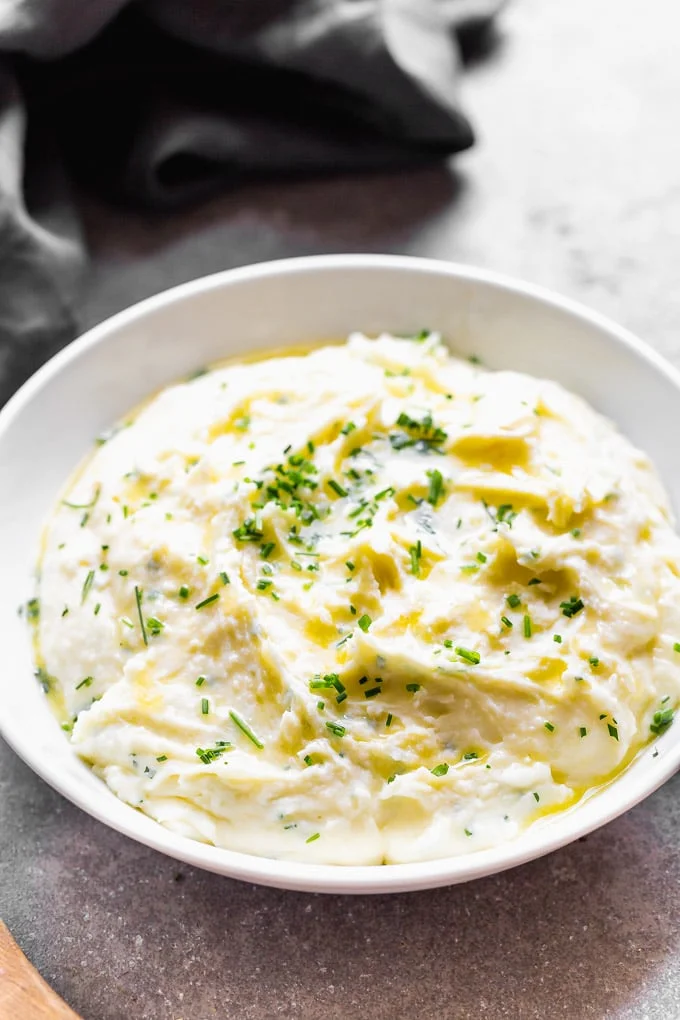 Cream Cheese Mashed Potatoes
Cream Cheese Mashed Potatoes are light, fluffy, and so flavorful! They're perfect by themselves, but also great with gravy for Thanksgiving.
Ingredients
2

lbs

russet potatoes

4

tbsp

unsalted butter, cut into tablespoons

3/4

cup

whole milk

8

oz

cream cheese, SOFTENED

1/2

tsp + 1/8 tsp

kosher salt

2

tbsp

chives (optional)
Equipment
stock pot

Potato peeler

Ricer

Hand Blender
Instructions
Peel potatoes and then cut into a 1-inch pieces. Place in a large deep pot. Cover with cold water. Season water with a little bit of salt. Bring to a boil. Boil potatoes until they are VERY fork-tender. About 20-25 minutes.

Drain potatoes. Let them sit in the colendar until VERY dry, about 3-4 minutes. Make sure there is no excess moisture on the potatoes. While the potatoes dry out, add the butter and milk to a microwave-safe liquid measuring cup or bowl. Microwave until the butter has melted and the milk is hot.

Rice the potatoes into the pot you cooked the potatoes in. Add milk and butter mixture, cream cheese, chives, and salt. Use a hand mixer on a medium speed to whip the potatoes just until the ingredients are incorporated. (It's very important your cream cheese is VERY soft, if needed place it into the microwave in 15 second increments until very very soft.) DO NOT OVERMIX! Season potatoes with salt and pepper. Serve.
Nutrition Information
Serving:
1
serving
,
Calories:
211
kcal
(11%)
,
Carbohydrates:
24
g
(8%)
,
Protein:
5
g
(10%)
,
Fat:
11
g
(17%)
,
Saturated Fat:
7
g
(44%)
,
Cholesterol:
33
mg
(11%)
,
Sodium:
269
mg
(12%)
,
Potassium:
573
mg
(16%)
,
Fiber:
1
g
(4%)
,
Sugar:
4
g
(4%)
,
Vitamin A:
371
IU
(7%)
,
Vitamin C:
6
mg
(7%)
,
Calcium:
84
mg
(8%)
,
Iron:
1
mg
(6%)