Never have lumpy mashed potatoes again! Here, we talk about how to make the creamiest dreamiest mashed potatoes every single time. These guys are silky-smooth, SO flavorful and super easy to throw together.
Mashed potatoes are often the overlooked middle child of the Thanksgiving table. While you may preach that everyone gets the same amount of love, and equal attention is paid to all three children, really the middle child always gets the short end of the stick – or so I've heard. On Thanksgiving, after you've lovingly prepared Grandma's dressing and taken the time to make green bean casserole from scratch, the potatoes are oftentimes a dish that get completely overlooked or haphazardly put together minutes before turkey time.
They happen to be one of the simplest additions to the lineup of food on the big day, BUT they're also one of the easiest sides to screw up. There can be lumps. The starchy flesh can turn gummy in an instant. They can be grainy. And worst of all, they can be completely and utterly flavorless.
Over the years I've humbly mastered the mashed potato process, and I think I have few key tips that will ensure that you too, can become a pro at whipping up the perfect mashed potato. Thus ensuring equal love to all sides.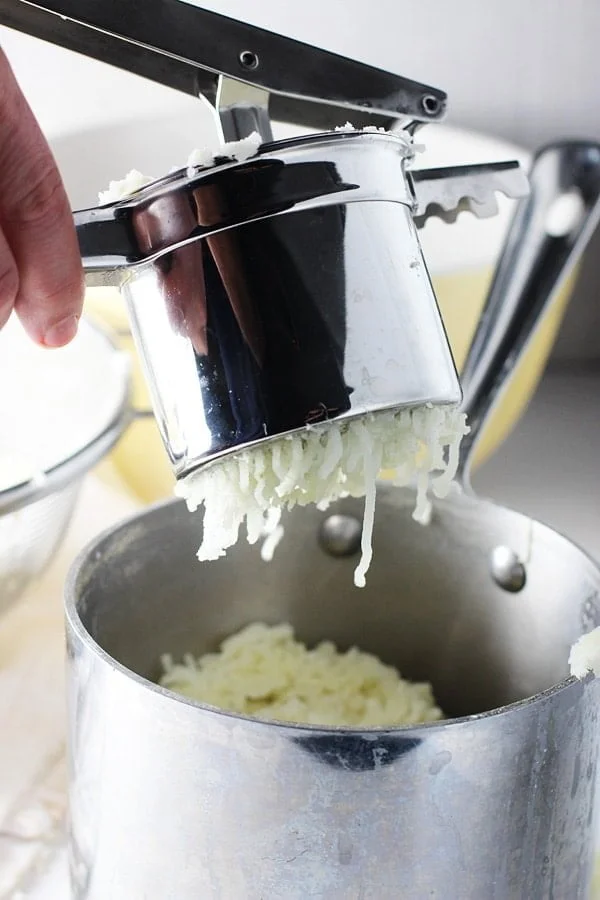 Here are my steps to the perfect mashed potato.
Step 1. Season your cooking liquid! I find that this one of the most important steps, because potatoes naturally have no seasoning or taste, you want to be able to flavor the potatoes in each step. Salting the cooking liquid ensures that ample flavor is infused into the actual potato itself.
Step 2. Use a ricer. I can't tell you how thankful I am for purchasing this guy years ago, it's been a total lifesaver and produces silky smooth mashed potatoes every single time.
Step 3. Rice potatoes when they are still hot.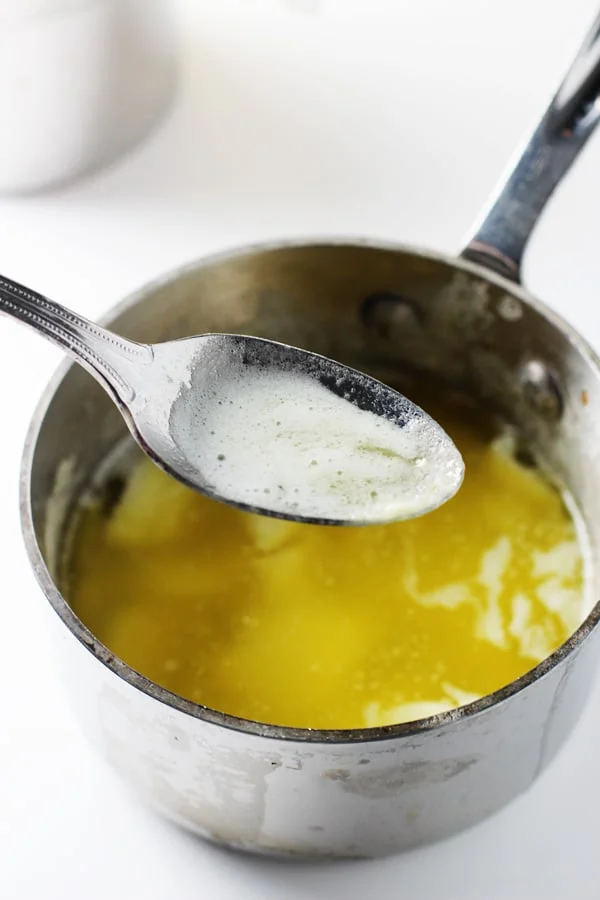 Step 4. Add hot liquid to the hot mashed potatoes. Adding cold cream, milk or butter will actually cool the potatoes down, which will in turn risk a lumpy mash.
Step 5. Infuse the cooking liquid. If you have say, a garlic flavor like in this recipe, but don't want the actual texture of garlic in the final result, adding it directly to the liquid (i.e. the butter, milk or cream) to let it steep will transfer to the potatoes when you add the liquid.
Step 6. Lots and lots of butter. Ok it's no secret that butter makes everything better, and while I normally wouldn't advise you to throw THS much butter into a dish, it's Thanksgiving. I give you permission to consume as much butter as your little heart desires.

Step 8. Work quickly and do not over-mash! This is as important as any other step, working quickly, again, facilitates in a lump-free end result, but it also keeps the potatoes from becoming gummy, something I know first-hand.
I know it may seem like an obnoxiously long list of steps, but they're all insanely easy to follow, and I can assure you, it will put perfect mashed potatoes are your table in less than 30 minutes. Of course you can also make them ahead of time, and re-heat them later, which I'd actually suggest for Thanksgiving Day. Just gently reheat them on the stove, or if there's more heating real estate in the oven, transfer the potatoes to an oven-safe dish and let them warm up in there.
Because I didn't actually make these on Thanksgiving, it was just Kevin and I inhaling these, so this recipe isn't going to feed a group of 10+ people, I'd say this is more geared towards four people, but it's easily doubled or tripled if you have a large Thanksgiving crowd.
If I don't talk to you before the big day, have a wonderful Thanksgiving. I wish for you a lot of laughs, family-bonding time and of course a ridiculous amount of delicious food.
Check out these posts for more delicious potato side dishes:
Creamy Pumpkin and Cheddar Scalloped Potatoes: Cooking for Keeps
Cheesy Garlic Roasted Potatoes: Eatwell 101
Parmesan Potato Stacks: Cooktoria
How to Make the Creamiest Dreamiest Mashed Potatoes
Secrets and tricks to making PERFECT creamy, flavorful mashed potatoes every single time.
Ingredients
2 1/2

pounds

russet or yukon gold potatoes

peeled and cut into large cubes

1

stick unsalted butter

+ 2 tablespoons, divided

1

head of garlic

cloves individually smashed with the back of a knife.

3/4

cup

warm heavy cream

1/2

cup

sour cream

1/2

teaspoon

salt
Instructions
Add potatoes to a medium pan and fill with water making sure all potatoes are covered, Season liberally with salt. Bring to a boil and reduce to a simmer until potatoes are fork-tender, about 15 minutes.

While potatoes are cooking melt 1 stick of butter on a low heat. Once milk solids rise to the top, remove. Add smashed garlic and cook on low to infuse the garlic, 15 minutes. Remove garlic.

Drain potatoes, making sure to get rid of ALL excess moisture. VERY IMPORTANT!

While potatoes are still hot, pass through a ricer and add back to pot.

Pour in melted butter, salt, heavy cream and sour cream. Using a hand held mixer, beat the potatoes on high until all ingredients are incorporated and potatoes are smooth and fluffy, DO NOT OVER BEAT. Season with salt and pepper.

Transfer to serving dish. Melt remaining butter and pour over potatoes. Sprinkle with paprika and chopped parsley.
Recipe Notes
2 pounds of potatoes produces a very thin, almost puree-like consistency, if you like your mashed potatoes on the thicker side, please use 2 1/2-3 lbs potatoes.