Make a showstopper meal any day of the week! These 20 Easy 5-Ingredient Recipes are all delicious, simple, and sure to impress anyone.
20 Easy 5-Ingredient Recipes
If you've been around here for a while, then you know Fridays are all about 5-ingredient recipes. Because while I love making homemade pasta from scratch when I have the time, or cranking out my favorite slow-cooked short rib bolognese, I find true joy in coming up with recipes that are delicious, but don't include a thousand ingredients or take hours and hours to prepare.
Instead of searching the site for all of our 5-Ingredient recipes, I've rounded them all up here in a pretty little package. In these 5-ingredient recipes, you'll find everything from easy chicken dishes to flavorful pasta dishes, to Asian-inspired dishes and beyond.
Enjoy!
This easy Faux Roasted Chicken is one of my favorite ways to make a whole roast chicken without the two-hour time frame. Instead of roasting the whole bird, we use chicken pieces. I'm partial to a thigh, but you could use drumsticks, breasts, wings, whatever goes.
We smother the surface of the chicken with sage butter, roast them at a high temperature and then serve with crispy roasted potatoes. It's the perfect fall dinner!
This classic pasta dish was a no brainer for a 5-ingredient recipe. It's innately simple as is, so we really don't have to alter too much to make it five ingredients.
The twist on this particular cacio e Pepe is instead of using spaghetti noodles as you typically would, we use instant ramen noodles. This swap makes the cook time for this dish under 20 minutes, which we love.
This is one of those well-rounded meals everyone will love. Store-bought gnocchi is tossed with nutty brown butter, tons of salty sausage and sweet peas. It's perfect for kids, perfect for adults, and just plain perfect.
Fall twist? Use butternut squash or sweet potato gnocchi for the perfect fall rendition.
If you're feeling Chinese takeout, these peanut noodles with veggies would be the perfect option. The secret to these easy asian noodles is a bag of pre-bought coleslaw mix. Yup, that's right. My favorite part of lo mein noodles from Panda Express are all those sweet carrots and tender cabbage leaves, which was the inspiration behind this.
Toss cooked spaghetti or Asian noodles with sautéed coleslaw mix, plenty of hoisin sauce, peanut butter, and water. Serve with frozen egg rolls, and takeout night is done.
If you want healthy AND simple, these Blackened Cilantro Lime Chicken Burgers are your best friend. We pack ground chicken breast with TONS of cilantro, lime juice, and lime zest. Cover them in blackened seasoning, grill or sear, and they're done.
Top with an easy avocado smash using the same ingredients in your burgers. So easy.
I adore stuffed peppers, and these are no exception. Instead of using classic rice, I thought it would be fun to stuff these peppers with Israeli couscous, a pear-like pasta. They're also packed with Italian sausage, herbs, and lots of great tomato flavor.
This is one of my favorite 5-ingredient meals. These sweet and salty shrimp are TO DIE FOR. And they're arguably the easiest dish on this entire list to make. The only ingredients you need are shrimp, maple syrup, soy sauce, and plenty of garlic.
We serve the shrimp over white rice and a quick stir-fry of garlicky spinach.
This Garlicky Shrimp Pasta is another favorite easy pasta dish. It's simple, but so delicious. If you can believe it, garlic, crushed red pepper flakes, butter and lots of starchy cooking liquid are the only ingredients you need.
Our favorite lobster-like shrimp are also a star ingredient, and we just love the sweet, salty bite it gives this pasta.
Another great easy way to use instant ramen. This Ramen Carbonara sticks with tradition when it comes to everything but the noodles. Crispy pancetta, creamy egg yolks, and lots of parmesan cheese are intertwined between chewy ramen noodles.
When you want pasta, but also want to be healthy, look to this Roasted Veggie and Chicken Sausage Pasta. This dish takes store-bought help with pre-made pesto, flavorful chicken sausage, and plenty of roasted eggplant and zucchini.
The beauty of this dish is you can swap out the vegetables for whatever is in season. You can also use your favorite kind of pasta, whether it's whole-wheat, chickpea, or classic white-flour, is up to you.
The tomato is a showstopper. I love to serve it for happy hour, or a light dinner with an easy side salad. The base is a super-light goat cheese custard base, almost like a quiche, and we top it with heirloom tomatoes when they're in season.
If tomatoes aren't available, I would dress a big pile of peppery arugula with a little bit of lemon, olive oil, salt and pepper and pile it on top.
This prosciutto-stuffed chicken is one of my favorite 5-ingredient recipes. We stuff chicken breasts with nutty, gooey fontina cheese, wrap each breast in salty prosciutto and then crisp them up in a little butter.
We make a quick pan sauce with a little bit of butter, lemon juice, and white wine. Such an easy, flavorful dinner.
Salsa Verde Chicken Enchiladas are an oldie, but a goodie. And by looking at the photos, I'm guessing you'd be surprised to find out it's only 5-ingredients.
The real hero of this 5-ingredient recipe, is the jarred salsa verde we use in combination with sour cream for a super easy 2-ingredient sauce. Layer chicken in between corn tortillas, the salsa verde sauce, and plenty of Monterey Jack cheese, bake and serve.
Such a classic! Chicken marsala is one of my favorite chicken dinners, and this version with just five ingredients is SO good! Lots of great mushroom flavor, a savory broth, and of course, tender chicken.
Ahh fall comfort at its finest. This butternut squash Alfredo is out of this world. And I love that the sauce packs in a ton of vegetables for my kiddos. Sweet, salty, cheese, creamy, and everything delicious.
I feel like I keep saying this, but this is also one of my favorite pastas. (It's crazy what good-quality ingredients can do for minimal cooking.) Roasted cherry tomatoes + ricotta cheese + fresh linguine = heaven.
Even if tomatoes aren't in season, you can still make this because when you cook tomatoes with olive oil, salt, and pepper, they're ALWAYS good.
Blender butternut squash soup. I love to slurp this up on cool fall nights with a big glass of red wine, cuddled up on the couch. It has tons of sweet butternut squash flavor, but has a great savory taste at the same time.
Another classic dish. Chicken piccata. If you're not familiar, here's what's happening. Sauté chicken breasts in butter. Deglaze with white wine and lemon juice. Simmer and add butter and capers.
Devour the tender chicken in the buttery, lemony sauce and thank me later.
Hi versatility. Serve this Baked Lemon Shrimp with pasta, rice, zucchini noodles, or a big pile of creamy mashed potatoes. I also love to serve Baked Lemon Shrimp on its own for happy hour with a big loaf of crusty bread and a glass of wine.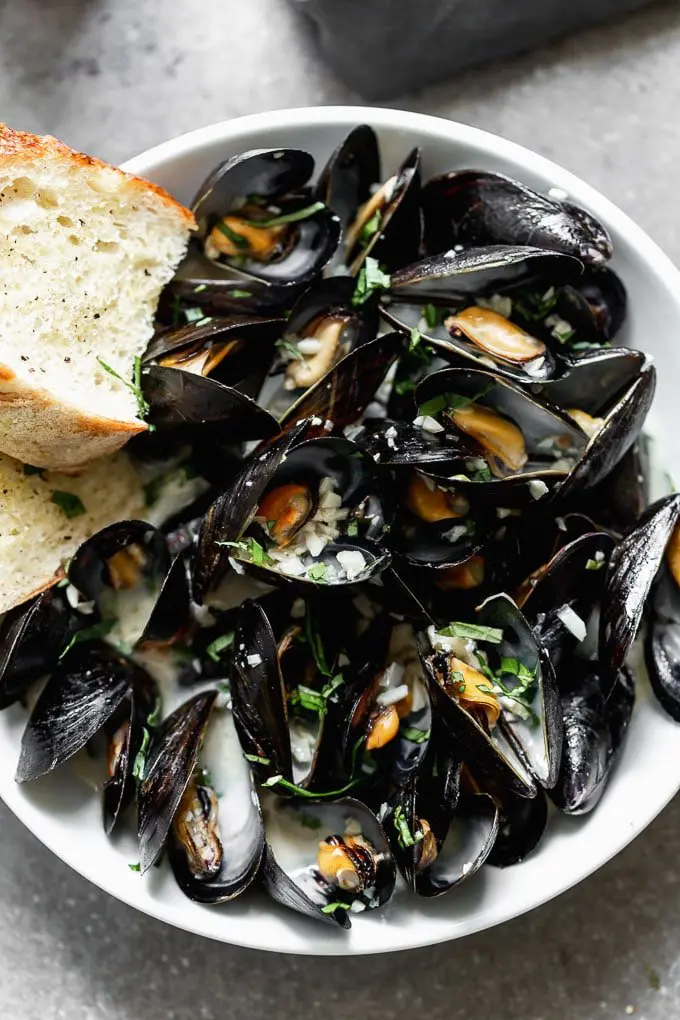 Ahhh mussels. One of my favorite light dinners. This version is nestled in a beer and garlic broth you'll want to drink with a straw. Serve with LOTS of crusty bread for dipping, salad for healthy eating, and wine for lots of drinking.