5-Ingredient dinners are a major thing around here, and if you've been a Cooking for Keeps reader for a while, then you know it. Most Fridays you will find a new recipe that includes only five ingredients, and we're pretty proud of our archives. I've rounded up some of our top 30 favorites, so if you haven't tried them yet, give them a go!They are in ground of healthy recipes, pastas, and miscellaneous.
Healthy meals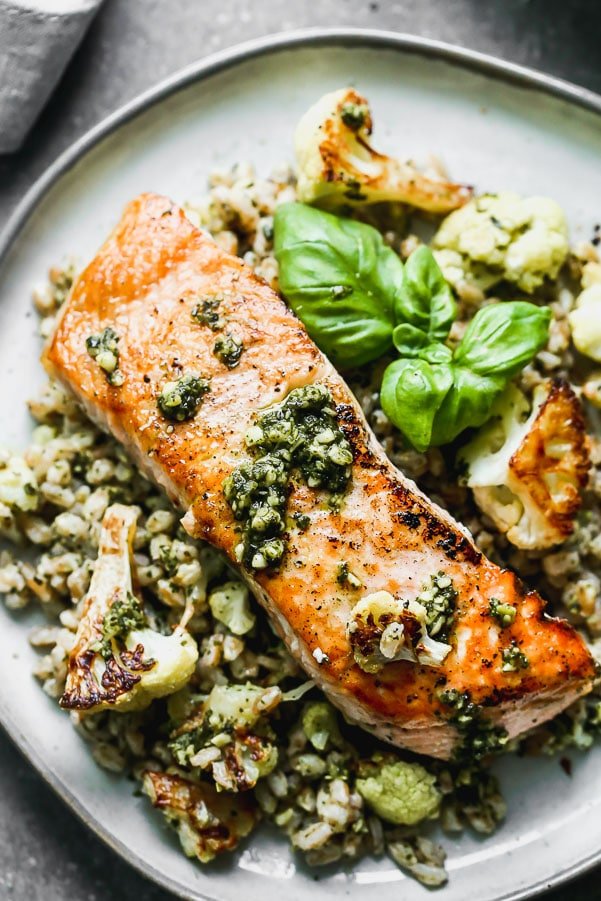 Crispy Salmon with Roasted Cauliflower and Pesto: This might be my all-time favorite 5-ingredient dinner. Center-cut salmon filets are seared in a hot cast-iron skillet and served with nutty farro tossed in pesto and and roasted cauliflower.
Baked Cauliflower Gnocchi with Chicken Sausage: This easy meal takes about five minutes to prepare and 20 minutes to cook. We use store-bought frozen cauliflower gnocchi and toss with with olive oil, salt and pepper and pop it in the oven until it's crispy on the outside and soft on the inside. Same goes for lean chicken sausage. Once everything is crispy, it's tossed with pesto and ready to serve.
Our Faux-Roasted Chicken uses the same process as a classic roast chicken, but cuts the chicken into pieces to it cooks faster.
Pasta doesn't get much healthier than our Penne with Chicken Sausage and Roasted Veggies. We caramelize slices of chicken sausage, eggplant, and zucchini, and toss them with a little bit of store-bought pesto and aldente whole-wheat penne noodles.
Another great all-in-0ne meal are these Sausage Stuffed Bell Peppers. They're packed with a simple couscous, Italian sausage, and tomato filling and baked until fork-tender. So yummy.
These Cilantro Lime Chicken Burgers are really similar to Trader's Joe's cult-followed Chicken Lime Burgers, but better because they're made with just a few easy ingredients. Top them off with smashed avocado, a little bit of salt, and call it a day.
Chicken Piccata is a classic, and we love this five-ingredient version. All you need are a few chicken breasts, white wine, lemon, butter, and a little bit of chicken stock.
Favorite Pastas
Easy Pasta Limone is one of my favorite simple pastas. A little bit of aldente linguine, lots of black pepper, butter, and white wine is all you need for a light, perfectly summery pasta dish.
Ok, talk about delicious. This RAMEN Carbonara is seriously out of this world, and it's so stinkin' easy. Crisp up pancetta, cook ramen noodles in minutes, toss with eggs, parmesan, and pepper. Done.
Easy Shrimp Pappardelle is always a winner in our house. We toss silky pappardelle noodles with TONS of garlic, sweet shrimp, and a little bit of crushed red pepper flakes. Light and really delicious.
Oh my gosh. Do you see all that cheesy goodness? This Cheesy Pasta Gratin is packedaldente campanelle pasta, nutty parmesan cheese, sharp white cheddar, and just enough cream to make the most luxurious, cheesy, thick sauce.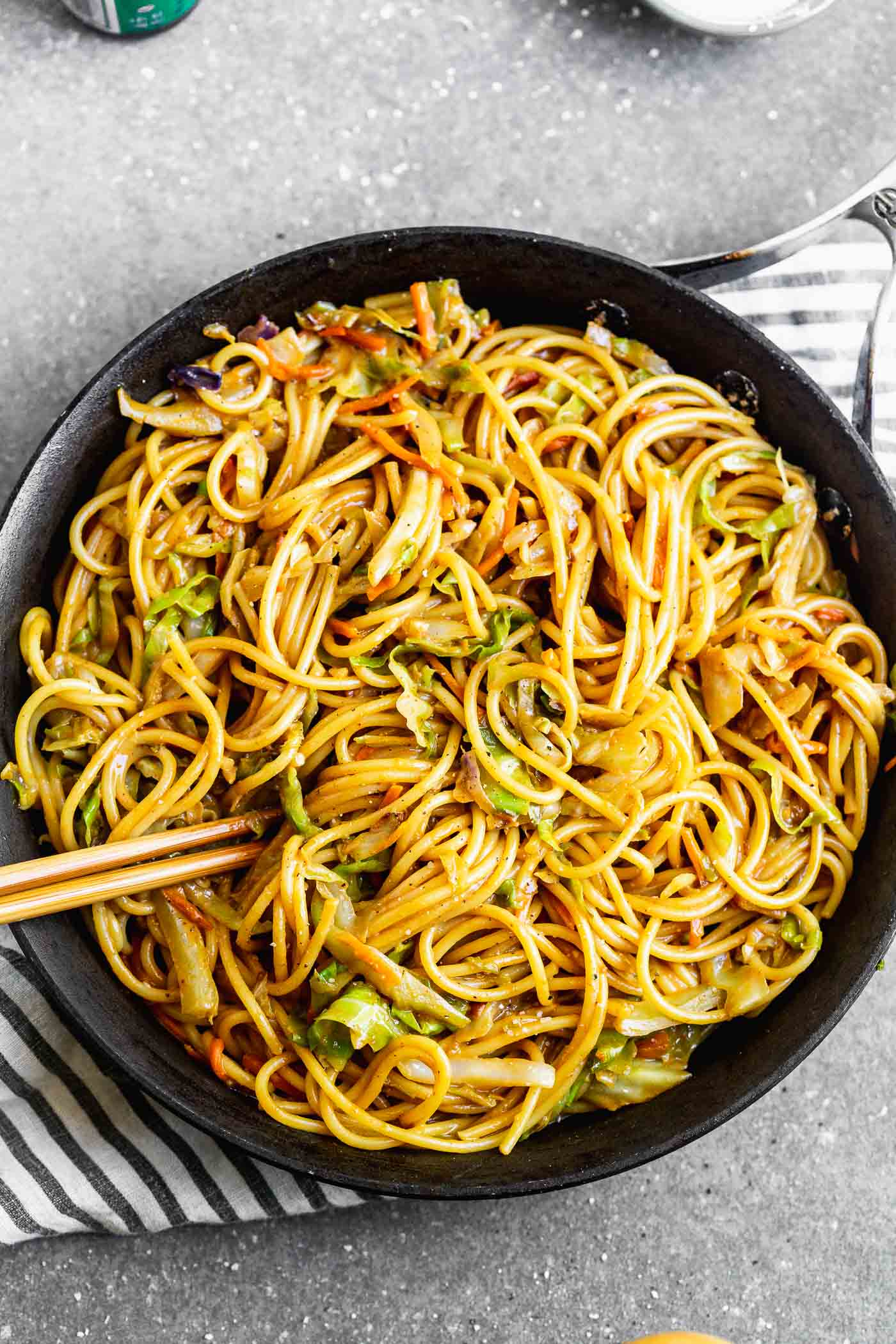 If you love Asian noodles then you'll love these simple Peanut Noodles. Not only do they have an awesome peanut flavor, but they're packed with veggies. Swap out whole-wheat noodles to white flour and make it healthy!
Who doesn't love gnocchi?? While I usually make my own, this version uses store-bought gnocchi and tosses it with a little bit of salty Italian sausage, sweet peas, and parmesan cheese. Gnocchi with Peas and Sausage.
Does it get any more classic than Shrimp Fettuccine Alfredo? Nope! And all you need are five simple ingredients to make this rich, ridiculously delicious meal.
Ahhhh. Oh how I love Butternut Squash Alfredo. A little bit sweeter than any of our other Alfredos, but every bit as delicious. I love this in the fall, but let's be serious, I'll eat it any time of year.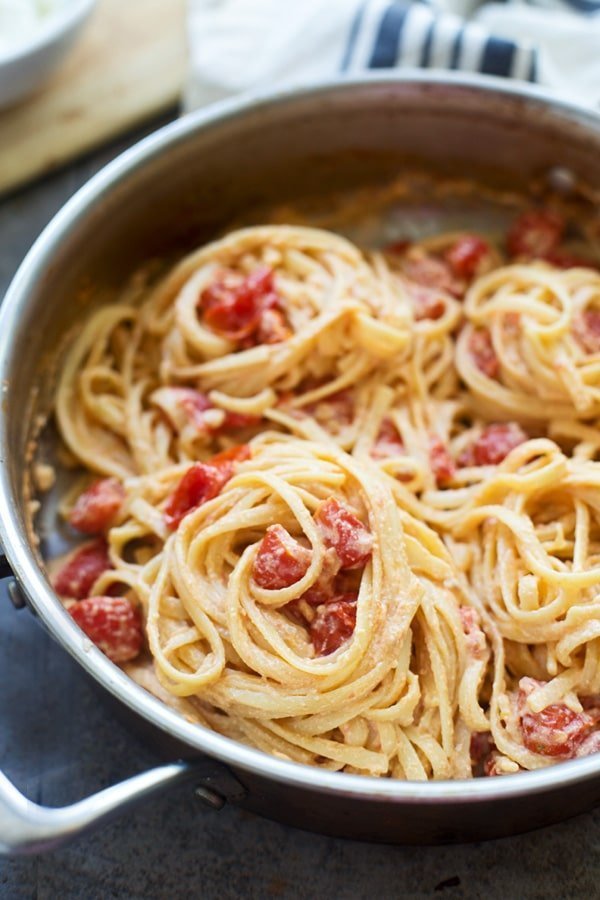 For some people summer means burgers, steaks and everything grilled. And while I share those sentiments as well, my summer isn't complete without several variations of this Ricotta and Cherry Tomato Pasta. We take aldente linguine noodles and toss them in a creamy ricotta sauce studded with burst cherry tomatoes and garlic. Really simple and really delicious.
Creamy Four Ingredient Gorgonzola Pasta: Orecchiette pasta tossed in a creamy gorgonzola sauce, studded with crispy pancetta and seasoned with plenty of black pepper. It's the ultimate in easy comfort pastas and comes together in less than 30 minutes.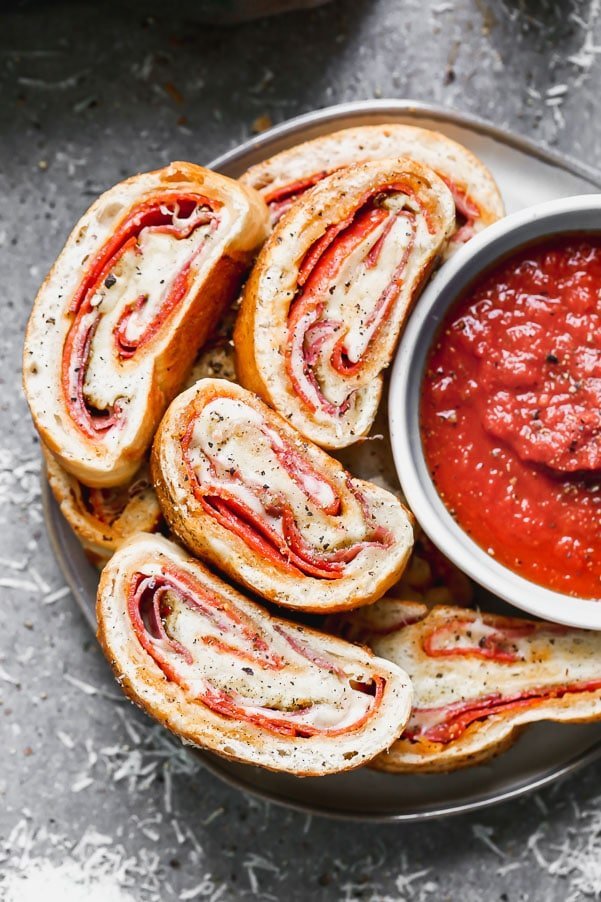 This Italian Stromboli is such an easy delicious way to feed a crowd, and it only has five ingredients! It's packed with spicy pepperoni, capicola, gooey mozzarella cheese, store-bought pizza seasoning, and served with a jarred marinara if dipping is your thing.
These Easy 5-Ingredient Chicken Enchiladas are still just as cheesy and still just as flavorful as enchiladas made completely scratch, but come together in virtually no time at all. Perfect for busy nights!
This Easy Maple Soy Shrimp with Garlicky Spinach is our new favorite way to eat shrimp! They're sticky, sweet, salty, saucy, and will be the only way you'll want to eat shrimp from now until eternity. Bonus? The ingredients are minimal, and from start to finish, the whole dish takes about 15 minutes to throw together.
Prosciutto-Wrapped Chicken Breast with Fontina is an easy, quick (30 minutes!), and delicious chicken dish made with only six ingredients. Stuff the chicken, wrap it prosciutto, sear it in some butter, and make a quick pan sauce. Finish it off in the oven and serve.