These are honestly the ONLY Recipes You Need for Thanksgiving Sides! We've got classics and reinventions, and obviously everything is DELICIOUS!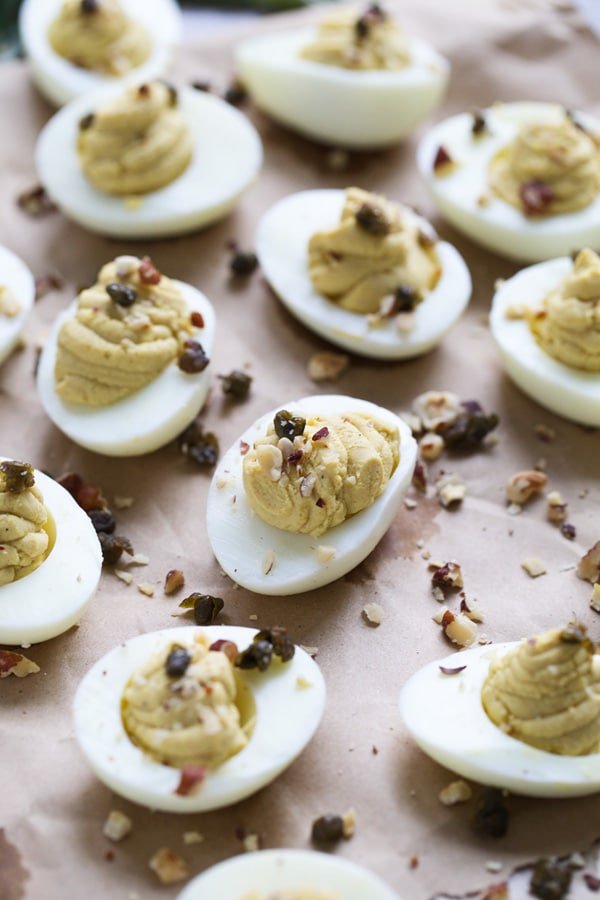 The Appetizers:
We always start our Thanksgiving with some finger foods. Pick one or two of these, set out some cheese and crackers and you're good to go!
Baked Brie with Candied Pancetta and Cranberries: : A showstopper, really. And perfect for a crowd.
Brown Butter Deviled Eggs: Your standard deviled egg, elevated! Plus, they're so beautiful. (See above.)
Easy Olive Tapenade: Salty and addictive.
Fancy Boursin Pigs in a Blanket : Always a winner!
Pear Crostini with Whipped Ricotta A little more work than the rest of the apps listed, but so creamy and delicious!
Puff Pastry Sausage Rolls: These are always a staple at every holiday event we host. Completely addictive and the perfect items to prep ahead of time! We keep them in the freezer for months and pull them out as needed.
Cheesy Caramelized Onion Dip. The ultimate cheesy dip! Serve with crackers and crudités.

Potatoes
Creamy Dreamy Mashed Potatoes: These are the most popular recipe on our site – for good reason! They're SO creamy, flavorful, and easy to make.
Candied Sweet Potato Fries with Marshmallow Cream: Classic sweet potato casserole updated. Plus the fries are perfect for little fingers!
Cheddar and Pumpkin Potato Gratin: One of my very favorite potato dishes! A hint of pumpkin and so cheesy.
4-Ingredient Whipped Sweet Potatoes: Four ingredients, minimal prep. A no brainer!
Brie and Brown Sugar Baked Hasselback Potatoes: Sweet, salty and so good.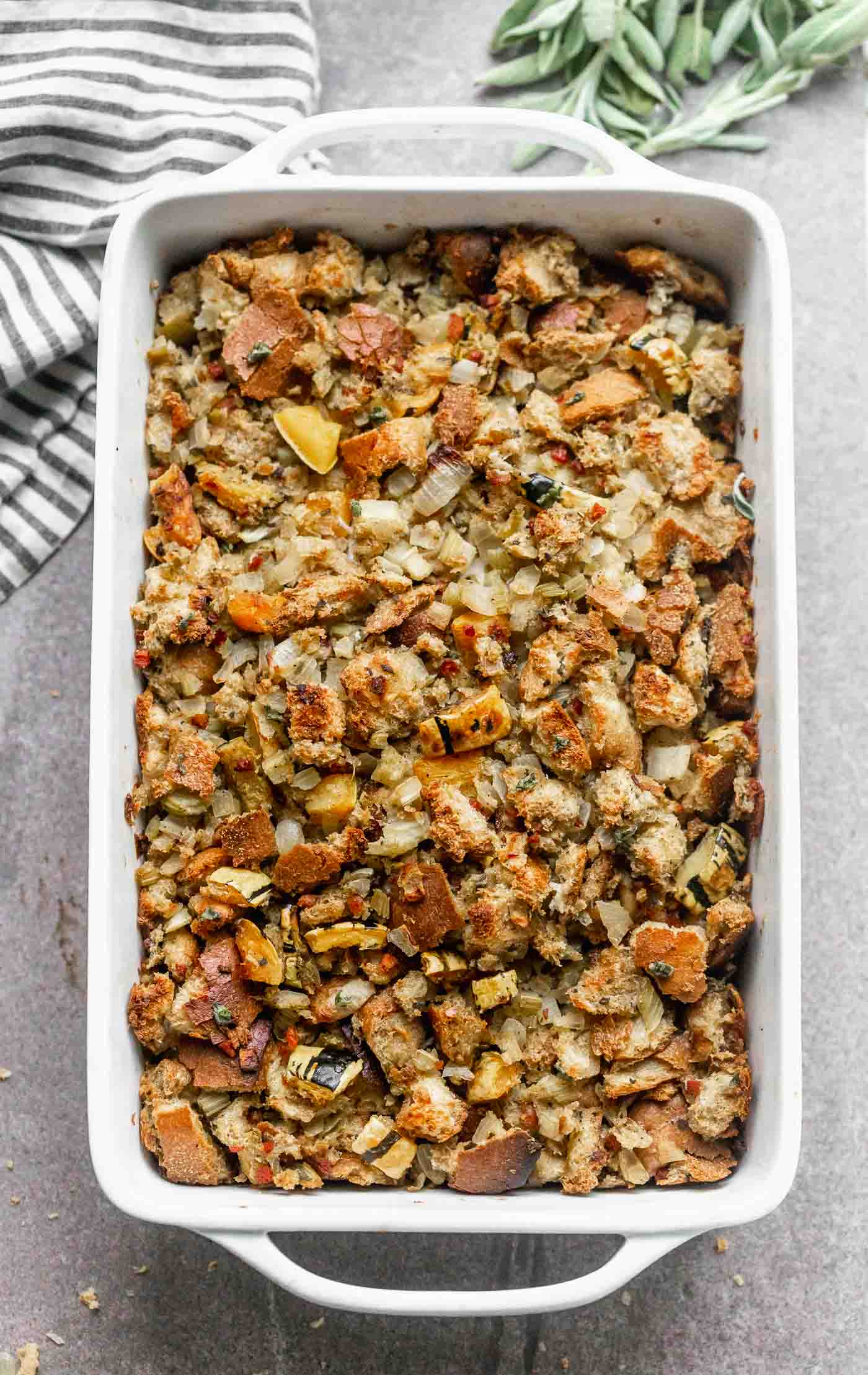 Stuffing:
Classic Sage and Leek Stuffing: Simple and traditional.
Delicata Squash, Sage and Pancetta Stuffing: This is my new favorite stuffing. It has all of the flavors of a traditional stuffing, but has some fun updates like sweet squash and salty pancetta. It's also customizable, which I love.
Cornbread and Italian Sausage Stuffing : We always have a small version of this on our table in addition to a classic stuffing/dressing. It's a half and half mix of cornbread and traditional bread, so it's juuust sweet enough. Salty Italian sausage add heartiness and a subtle spicy flavor.
Vegetables:
Roasted Acorn Squash with Pomegranates: Perfect for a smaller crowd, this screams elegant and is a great visual for the table. Plus those little jewels of pomegranates are divine!
Spinach Gratin with Chive Drop Biscuits: This is for all those creamed spinach lovers out there! (I'm raising my hand!) This is creamed spinach, with a twist, a very fluffy, flavorful biscuit twist.
Roasted Carrots with Orange Pistachio Butter: Who knew carrots could taste this good?!
The BEST Homemade Green Bean Casserole: Skip the canned cream of mushroom and whip up this easy cream sauce! Homemade crunchy fried onions optional!
Salads:
Chopped Brussels Sprout Salad with Pancetta, Blue Cheese and Pears: Umm hi holiday salad! So many yummy things on this salad!
Everyday Kale Salad: Simple, easy and goes with EVERYTHING.
Poached Pear and Brie Salad with Balsamic Vinaigrette : Elegant as heck!
Antipasto Kale Salad: For those that like a heartier salad to accompany their turkey.
Desserts:
Brown Butter Chocolate Pecan Bars: These are HEAVEN. Seriously. These are my favorite dessert on the entire blog. They're rich, sweet, salty, and everything you could possibly want in a dessert.
Apple Cobbler with Sweet Cream: A slightly untraditional apple pie, and the drizzle of warm sweet cream and the end MAKES it.
5-Ingredient Apple Crisp : Easy to throw together, can be made ahead of time and great for a smaller crowd.
Pumpkin Olive Oil Cake : Light, fluffy with just a hint of pumpkin flavor. Perfect with coffee.
Pumpkin Budino: RICH and so good. Can also be made ahead.
Pumpkin Coconut Cream Pie: The pie of all pies. You won't regret making this!
There you have it! The BEST of all the supporting roles of Thanksgiving. Keep these guys in your back pocket and you will win Thanksgiving!